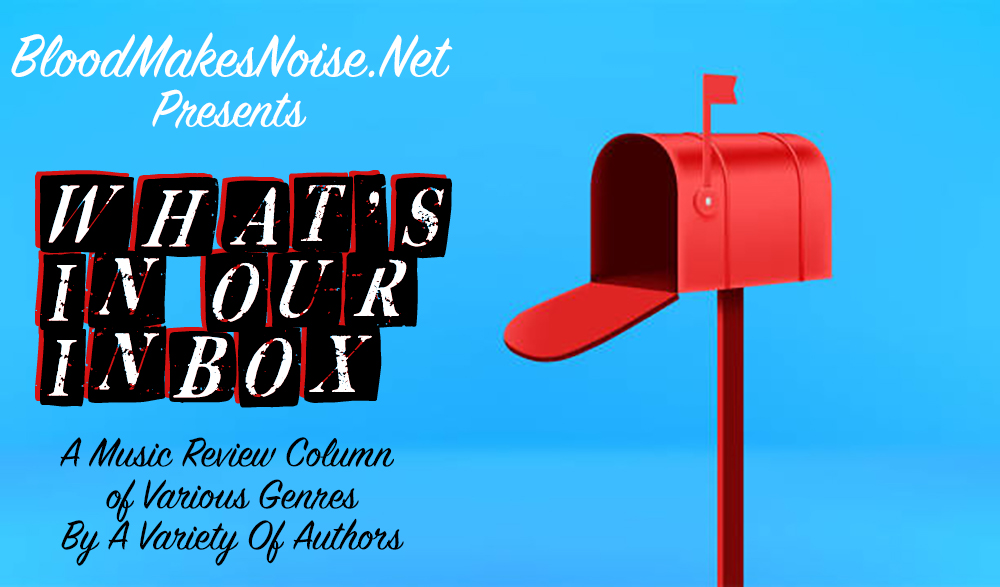 Our inbox is over flowing again so we are letting you good people know exactly what is new and available out there in the music world.  This week musically is a really interesting one. Nobody can accuse of only covering the main stream as this week feels like an odd one, some from the fringes of the indie scene. Won't you join us! If you want to see your band on one of these lists, send us streaming music and as short bio.      

Band Name:  Nyos
BMN Score: 8.9/10
What the band says: "We're thrilled to finally be able to unleash the first taste of 'Waterfall Cave Fantasy, Forever', which for us has definitely been the most fun and upbeat record we've made. 'Follow The Hawk Moth' is one of the most intense tracks we've recorded and a track we already love to play live, so it felt like a great choice for the first impression of the album. We take a lot of inspiration from the diversity and vividness of the natural world and Tommi Niukkanen (aka Tommin Seteli) has cut a beautifully frantic video which captures that vibe perfectly."
What we say they sound like: Ok, first I'm going to say this track may not be for everyone but if you are into instrumental stuff that has JD Beck type drumming but with a chaotic edge and droney pulsing music you are going to dig this. Slightly repetitive for my tastes like around the 2 minute mark I'd love the build to come quicker or the background synth to push forward a little more. However this is one of those tracks you put on like a jazz record, to create a mood and ambience instead of something where it's in a short pop format that needs focus the entire time. The chorus, or what I refer to as the chorus where the buzzy bass comes in like a buzzsaw that adds nice juxtaposition when up against the more subtle verse. 
Song to add to your playlist: Follow the Hawk Moth
 Band Name:  Separatr
BMN Score: 8.7/10
What the band says: We're an indie pop/punk/pixie rock duo with vocals, guitar, and backing tracks like Sleigh 
Bells or The Kills. My partner Joe grew up in NJ, but we met and started playing music together in Washington State.
What we say they sound like: Separatr has a fun garage rock vibe on this track, I can see The Kills, Sleigh Bells or Yeah Yeah Yeahs being a likely comparison. I'm not sure the vocal is as big and unique as those particle comparisons but it's enjoyable and fits musically. Newly relocated to the Asbury Park scene this fits well and already has an NJ vibe. What I find most interesting about this is musically it feels like its building the entire time, creating tension that never quite releases. I think typical music resolves, but this intentionally seems to avoid that and I admire when bands are not typical. 
Song to add to your playlist: Directionless
 Band Name:  The Joy Formidable
BMN Score: 9.5/10
What the band says: Comprised of lead vocalist/guitarist Ritzy Bryan, bassist/vocalist Rhydian Dafydd and drummer Matt Thomas, The Joy Formidable are originally from North Wales and currently split their time between there and Utah, "in the middle of nowhere" and the closest thing they could find in the USA to their home turf. "Cut Your Face" is the first release in a collection of three singles out this year and follows the band's 2021 acclaimed album Into The Blue.
What we say they sound like: I know of The Joy Formidable but I don't know if I ever sat down and listened. At moments the vocal in the verse of this has a little bit of Sneaker Pimps vibe. Even the synth parts in the verse take it a little bit into a trip hop vibe but the heavy buzzy guitar pull us away from that notion. The Chorus is a mix of guitars and synths that create a unique feel. I would have to say this is not a band that I can easily say are a specific genre or disciples of a particular band. The vocals fit the music perfectly and are the focal point among layers of melody. I'm pretty sure the other Joy Formidable stuff I had heard was nothing like this, but to me that's a good thing. I know this is odd but I always enjoy Welsh bands. Must be something in the water over there. 
Song to add to your playlist:
Band Name:  Electric Sheep
BMN Score: 9.8/10
What the band says: The best kept secret of Chicago's psych rock scene, Electric Sheep is the project of singer-songwriting collaborators Jonathan Extract and Devin Nolan. Rooted in the detailed song-craft and elaborate studio recordings of artists like the Beatles, Radiohead, and David Bowie, Electric Sheep's sound is both innovative and nostalgic, intricate and pop, tender and groovy. Extract and Nolan are each unique and accomplished guitarists and vocalists. The duo's iridescent collaboration has resulted in a catalogue of wholly original records overflowing with hooks. While Electric Sheep's music can be intimate, the band is elevated by a tight high-energy rhythm section consisting of Leon Nguyen's bass and Anthony Wojtal's drums.
What we say they sound like: This to me has a very Beck feel musically but vocally feels kind of different. Vocally it's chill and almost 70's in the vein of something like Stealer's Wheel. This is exactly the kind of band I'd want to see live at a cool little indie venue. This feels like a great band that really gels together making fun classic rock. Nobody shows off or does too much it, everything contributes to the overall song and makes it greater than the sum of its parts. 
Song to add to your playlist: Sunlight Switch
Band Name:  Onesie
BMN Score: 9.3/10
What the band says: As a genre bending catch-all project for timeless, obtuse guitar pop, Onesie remain difficult to categorize, but for those looking for a turbocharged testament to substance in an increasingly vapid musical landscape, here comes your band.
What we say they sound like: To me this sounds like the 1990's power pop coming out of the New Brunswick NJ scene or even NYC's Lower East Side. This has a Fountains of Wayne & Weezer meets brit rock chord structures with a Stephen Malkmus meets They Might Be Giants vocal delivery. Lyrically it's right in line with Beck and Pavement. I swear that guitar line is Oasis that they sneak in throughout the song. It's like if you took every component of the band and picked a different 90's persona to replicate. I can't fault any musician for just being an amalgamation of everything they grew up listening to. This one will appeal to Gen X'ers who grew up in the 90's or fans of 90's alt rock. Saw a video of them covering My Bloody Valentine at their release show, that's pretty fucking cool. 
Song to add to your playlist: Another Day In The Experiment