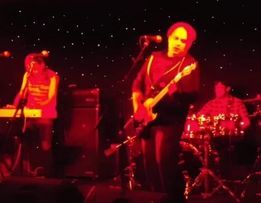 "I'm a pro and all you guys are noobs." 
Pittsburgh's Don Strange returns with his band Strange Monsters on their latest full length "The Thing That Named Itself" (just released 11/11 via Pyrrhic Victory Recordings), and Don and the gang are pulling no punches with this release. The lead track and accompanying video "Pro" are filled with sarcasm and digs until he just comes out with it in the chorus and proclaims "I'm a pro and all you guys are noobs." 
Think about it, he's driving around Pittsburgh in his "sweet dick Altima" and has no idea where he's going, but he feels good about it. He makes this pretty clear after a couple runs and then rips into a sick af ripping guitar solo, followed by more taunts at the listener and another solid chorus to drive the message home, then ending telling us all "you better watch yourself", "you better watch out son, I might be coming for you." Is he serious? Who can say? As usual, Don and Strange Monsters bring their dry wit and mix it with their middle-aged frustration and discontent and make one hell of a fine record, Dead Milkmen vibes and all. 
The rest of the record continues the theme, with much improved instrumentation since their last record: really great guitar solos, more stops and starts, solid drumming and more bass, keys and fun sounds to round out the release. 
Other highlights include "Snow Job", "Lizard Woman" & "Not OK Cupid", although the whole record makes for a great listen. 
Strange Monsters bring us another quirky indie rock work that will leave you nodding and shaking your head at the same time, then hitting repeat to see if you can actually figure it out this time. You won't.
- Mark Strohm