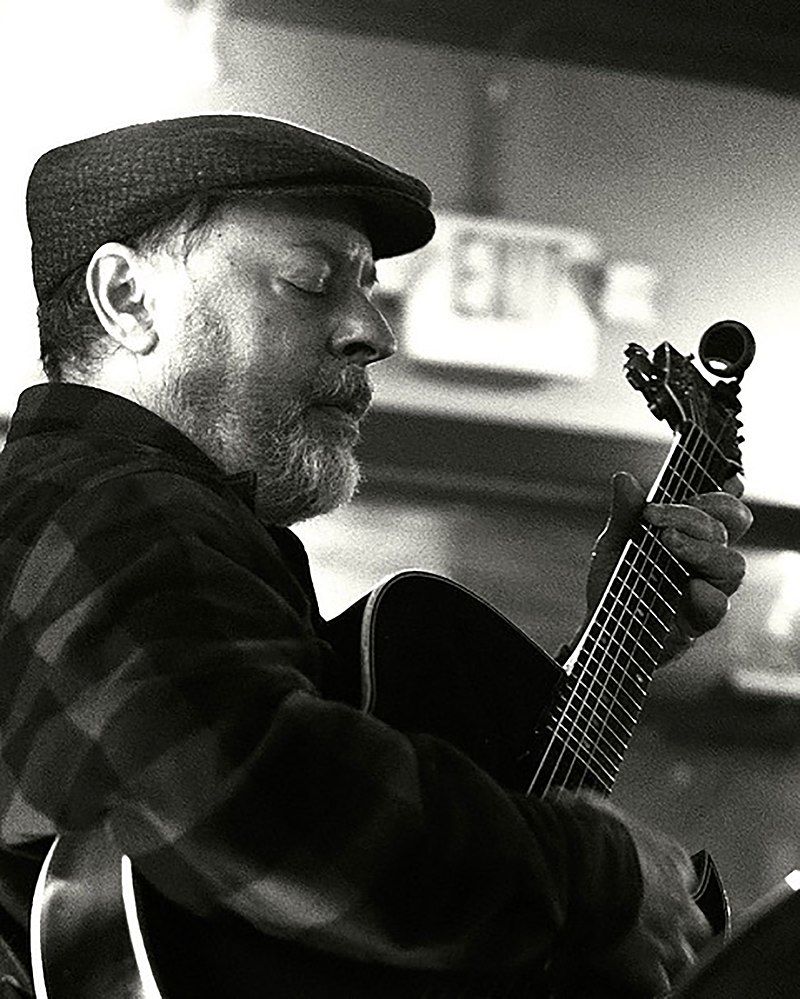 In a pro-career spanning 40 years and 5 countries, Cincinnati-born jazz guitarist Greg Chako has released ten albums and played countless shows around the world. His bi-weekly column, "Notes From The Desk Of A Jazz Guitarist" shares his expert tips on becoming a better player and person.
Jazz Artist Overcomes Covid Circumstances and Relaunches His Recording Career 
Just the financial challenges of recording and marketing one's work can be enough to hold an artist back . . . but add to that the additional difficulties of Covid restrictions . . . and then being a happy and productive artist becomes nearly impossible! 
In Jan. 2020, I secured a steady weekly jazz gig at an upmarket restaurant-bar. My wife was a banquet server working for a major hotel chain. As gig economy workers in the Food and Beverage industry, we were among the very first to lose our jobs and the very last to get them back! One week gainfully employed and the next week hitting the unemployment lines. 
During Covid, we couldn't even socialize the way we wanted. The loss of personal interaction was the worst aspect of Covid-times from my point of view, and it meant that teaching in-person guitar lessons, one of my main sources of income, was gone too. 
Those circumstances are draining and can lead to creative stagnation. And in my case, it had been around seven years since I recorded my last album, My World on Six Strings. That recording drought was in itself difficult for me to deal with emotionally, even without Covid! 
But I am not unfamiliar with "creating in a vacuum." Where an artist like me lives, for instance in a foreign country where you don't have a community of family and friends, and where you do not speak the language . . . or . . . in a small to medium size, ultra-conservative Midwest American city, far removed from the comparatively vast hustle, bustle, and multi-cultural diversity of cities like New York and Singapore, has a big effect on one's creative work. I must try extra hard to remain positive and forward thinking despite my outer circumstances. 
What I did with my solitary hours at home during Covid, was to compose solo guitar arrangements (Xmas songs on classical guitar), and original songs with a specific playing format in mind. For example, I composed a complete album's worth of music for two guitars and rhythm section (Swingin' Axes), for guitar and bass duet (A Place for Bass), and for a traditional-like guitar and organ group (Friends, Old & New). 
I also tried to upgrade my lesson plans and better organize my teaching materials. Of course at first, I couldn't be sure if I'd ever get the chance to actually record those songs I was writing, or to put my renovated guitar teaching materials to good use with actual students. I was simply trying to keep busy with new work that I could complete at home. But, something else I was also doing then was to make a huge difference in where I am now with my music career. 
I studiously applied online for various teaching jobs, and to labels and synch licensing companies, in the hopes that I'd get hired or signed to a record company. And so when that finally happened, when I got a new teaching job and was signed to a label, I was prepared for it. I guess my time as a kid in the Boy Scouts came in handy, because their motto is BE PREPARED! My lessons were well organized and I had lots of music ready to be recorded. 
Thanks to my new label, Mint400 Records and Raining Music, I now have a regular bi-weekly blog. It's instructional in nature. The last one published was titled, Fear and Loathing on the (Jazz) Campaign Trail (https://bloodmakesnoise.net/home/blog/notes-from-the-desk-of-a-jazz-guitarist-by-greg-chako-83705adf-d458-4328-981a-407746d71ad8). Its' subject matter is networking, and it is my networking that helped to enable this new record, and in fact all of my records, to be made to fruition. 
Prior to being signed in 2022, I made a lot of calls to meet musicians in my area, and when I did perform at local bars and restaurants, I was never afraid to strike up a conversation on my break time with whomever was willing to converse. I've done this type of networking everywhere I've ever lived. I believe this type of behavior on my part led to my meeting all the participants of my newest recording, Friends, Old & New. Had I never taken a pro-active approach to meeting people, I fear I would never have have found the right people to play on my recordings. 
It's inexplicable to me that some musicians that I called initially to play on my new record never even called me back! It befuddles my mind that any self-respecting jazz player would be too busy or too demanding to make a new record of great all-original material with a reputable and signed recording artist after almost two years of Covid lock-down! The individuals on this record all wanted to be there, and they were willing to do whatever was necessary (and within reason) to be a part of this project. And a few of them went to great lengths to make it happen. Because it has now happened, and because of the support of all those around me, I am well poised to make the next 5-10 years the most productive recording period of my life. Below I am sharing the actual liner notes of my newest record: 
For years now, I've considered my primary artistic identity to be that of a composer/arranger more than that of a guitarist/player. This album highlights some of the original compositions I've been anxious to get out to the public at large. 
Four of them (Spring Rain, Walk With Me, The Whole Truth, & Samba Summer) were composed around 2008 when I lived in Japan. Recorded in Chiba at the home studio of engineer and friend Michael Fogarty, only myself and vocalist Kaleb James played at the initial 'demo' session. I have resurrected these songs on this album by adding bass, percussion, and another vocalist, giving them new life and long-awaited publication! One of them, titled Samba Summer, is a favorite among the players, so I recorded it twice, once with vocals and once as an instrumental. 
The remaining five songs (Organomics; Giles Smiles; Wayne's Waltz; Bent Metal; & Groove Time) have an interesting background story. They were all composed around 2020 (Covid time) when I was driving a semi-truck for a living! I was being trained for the truck-driving job by a totally humorless trainer who didn't permit radio or music of any kind. So, I wrote the songs in my head while driving thru the night by imagining the melodies, then writing them down with my guitar when I got home the next day. Special thanks to a wonderful friend and musician Gabe Morrow, who coined the phrase "Bent Metal" for me, which in this case refers to just that . . . what often happens in a trucking accident! The jagged rhythms and strident harmony of the song conjure up that sort of scene in my imagination. 
That's a brief story of the music itself . . . but, I needed people to help me make it all come together . . . and for that, I drew upon old and new friends! I've known the friends involved in this project for as little as only 3 months to as many as 50 years, hence the album title: "Friends - Old and New." 
I'm so grateful to all those who have participated on this album, for without any one of them, I could not have achieved this long-awaited milestone of finally recording again and thereby launching a new chapter of my music creation!         

-Greg Chako 2022