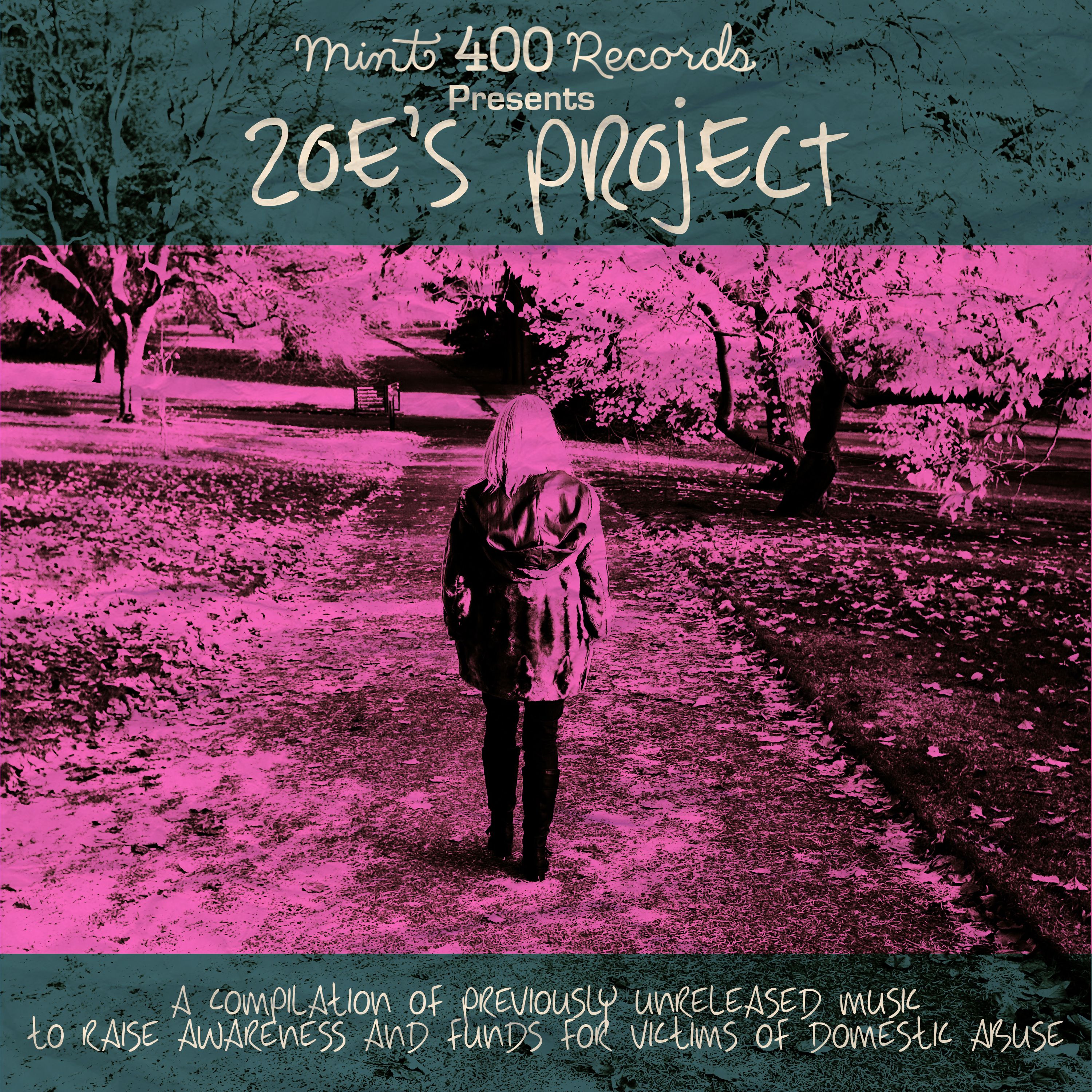 When label owner Neil Sabatino of Mint 400 Records got a teary phone call from one of his artists he admits "It was one of the most heartbreaking phone calls I've ever received". A long time artist on their roster, drummer Zoe Ekonomidis of the Jersey City band The Components had called Sabatino to talk about an abusive home situation she had been dealing with for years. Immediately the two started to discuss how to bring awareness to the situation and what could be done to help others that were trapped in similar situations. 
The compilation they put together bears the name of the brave person who put this all in motion and is aptly titled "Zoe's Project".  The plan was for the compilation to be available for just $5 and 100% of the proceeds from Bandcamp are being donated to Janie's Fund. Janie's Fund is a philanthropic initiative created by Steven Tyler in partnership with Youth Villages to bring hope and healing to girls who have suffered the trauma of abuse and neglect. As well the label offers a direct link for anyone who just wants to donate to support the cause. That direct link to donate is: https://janiesfund.funraise.org/fundraiser/zoesproject. Also if you are feeling generous that link works now and you may donate today!!! 
The album will also be made available on all streaming services but the hope is that people feel strongly enough about the situation touching someone they might know personally and feel like helping out. The first goal is set at the reasonable amount of $500.00 and Sabatino has said, " We have to start somewhere and hopefully this inspires others to get involved." 
Recently Zoe posted on her facebook feed:
"In 2020, I had opened up to a good friend and label owner Neil Sabatino about my living situation (at the time) and how Covid made domestic violent situations as a whole so much worse. 
In my opinion, Domestic Violence is not talked about enough. Just like mental health, it has always been this form of "we just don't talk about it or put our nose in it. It's not our business." 
A person's living environment and upbringing has a HUGE EFFECT on their psyche, outlook on life, and how they function as an individual. 
This mission is more important to me than anyone could understand. I am hoping that speaking out about my situation people will share their experiences or get the help they deserve. I'm hoping I can give someone the courage to get away from it and show them they are worth so much more."
And she concluded with this quote: 
"While COVID-19-related lockdowns may have decreased the spread of a deadly virus, they appear to have created an ideal environment for increased domestic violence. Extra stress in the COVID-19 pandemic caused by income loss, and lack of ability to pay for housing and food has exacerbated the often silent epidemic of partner violence." 
- University of California, Davis, study. 
Today Mint 400 Records is excited to premiere some tracks from the epic compilation from some amazing indie rock artists like Albany's E.R.I.E., and New Jersey's Lowlight ,Yawn Mower and Jerry Lardieri. Here's what some of the bands had to say about Domestic Violence: 
"The four of us in E.R.I.E. condemn violence in all forms. Domestic abuse in particular has been given a much bigger spotlight in recent years, and the more awareness we can bring to it the better. Believe victims, and if you see any warning signs, it never hurts to try and lend an ear. In times like this, it's impossible not to think of Gandhi's thoughts on violence: "Nonviolence is the greatest force at the disposal of mankind." The more we can try to live by that mantra, the healthier, safer and more compassionate our society will be. " 
- E.R.I.E. 
"Domestic violence is a really heartbreaking issue because it's often hidden. We may be experiencing it in silence. Our friends and family could be going through it without our knowledge. We hope this compilation from Mint 400 is at least some small show of support. That we're here, willing to listen." 
- Lowlight  
"If YM and Mike's songs and this compilation helps to bring awareness to the issue of domestic violence and get funding to agencies like Janie's Fund and 180 Turning Lives Around, then that's the least we can do." 
- Mike Chick & Yawn Mower 
Now when it comes down to it, the hard part was having artists figure out what kind of song to use for such delicate subject matter. Eventually the idea of an underlying theme was entirely impossible to come up with but having the roster that Mint 400 has ensured that the songs were heartfelt and genuine. So although a concrete theme was not established the full compilation feels cohesive and like an intended result.
"Black Rivers" is a b-side from the Don't Wanna Live, Don't Wanna Die sessions. At the time, I had a really hard time visualizing what this song could amount to, so it lay unfinished for quite a while. The pitch for Zoe's Project inspired me to revisit the track, and build upon the bones that were already there. The song reflects on the failures of government as it pertains to its citizens, specifically in regards to the Flint, MI water crisis. I began writing this song at a time when that city had been without clean water for over four years. The repercussions of that are still felt to this day. In an odd turn of events, our drummer - who helped form the full band back in 2020, after this song was written - actually hails from the city of Flint. So, the song got even more poignant and I'm happy it's finally seeing the light of day. 
"The Same Position is one person's claustrophobic car ride through their current situation. Narratively he/she is driving and contemplating leaving, it's not an easy choice especially when family is involved, but I like to imagine the patience implied towards the end of the song suggests it's just a matter of time before it happens. Positions will change. And this time, once they have left they will start anew on their own terms and reclaim their life." 
- John Gleason (singer, Lowlight)  
"Our songwriting has vacillated in and out of Electronicsland lately. Like every new exploration, you have to find the edges before you get down to the center of it. I think "The Same Position" - even in its very nascent form as it is here - begins to incorporate pre-programmed MPC beats with our more organic sound in a very natural way. It's becoming less novel and more instinctual." 
-Derril Sellers (guitarist, Lowlight) 
"YM went through a period where all we listened to was Mike Krol and then we saw him live three times at South by Southwest in March 2019. Sixteen Minutes is the product of all that Mike Krol influence. This is a special acoustic version for the Zoe's Project comp. The full version will be on our upcoming LP, "To Each Their Own Coat".  
-Mike Chick (vocals & guitar, Yawn Mower) 
"I wrote Stiller Life during the pandemic. That was probably the silver lining to being home - I'd work on songs everyday before starting my work day. It was going to be for the next Brixton Riot record but I didn't think it fit well with our other songs; it's a little twangy for us. It's about making it through the pandemic one day at a time. I also think of it as a tribute to our good friend Carmen Verderosa, who wasn't as lucky. He ran the studio we used to rehearse at and used to always pop in and tell us when he liked one of our new songs. I think he'd like this one." 
- Jerry Lardieri of The Brixton Riot 
You can Preorder this compilation now: 
Or Donate Directly.