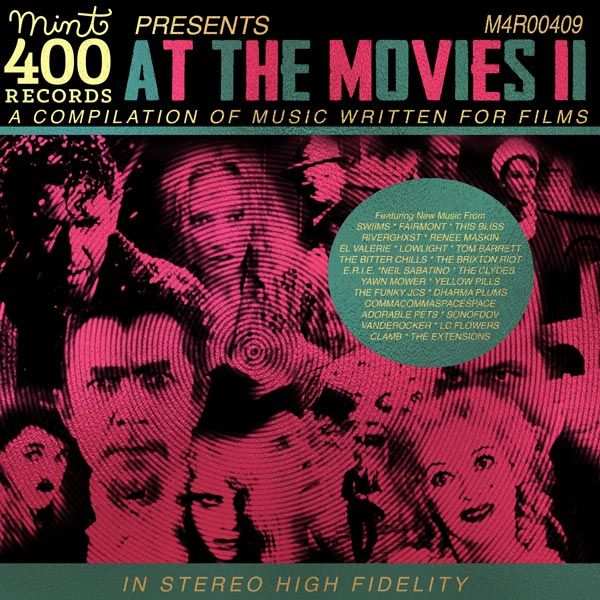 LOWLIGHT VIDEO PREMIERE "Scarface Main Theme"
When Mint 400 approached their artists with an opportunity to work on a cover from a movie soundtrack, Lowlight jumped at the chance to pay homage to 1983 classic, Scarface. 
"First of all, we love movies and particularly music for movies, so this was a really fun project for us. After considering other pieces of music, we arrived at Scarface (Main Theme) by Giorgio Moroder. It just made sense. Coming off of our latest record, Strange Light, this wasn't too big a leap for us musically. Strange Light put us in the right mindset to tackle a huge, dramatic, 80's monster like this. In some ways working on it felt like a continuation of the record." 
We added a little treat for the Scarface superfans—if you know the movie then you know the ridiculous power-anthem, Push it to the Limit, that plays during the montage sequence. We've always loved the over-the-top backing vocals in that song, so we decided to add a little taste of that into our version. A little 'soundtrack crossover action' for the full scope of the Scarface experience." —Colin Ryan (drums) 
The band arranged, produced, and self-recorded the track at their studio, CAKO, in eastern Pennsylvania's growing Lehigh Valley. The track opens as an honest tribute to the original theme by Giorgio Moroder, beginning with ominous, pulsing synthesizers.  
"We had a lot of fun dissecting this song from an arrangement perspective. There are really interesting production tricks that Moroder used, for example, backwards percussion, that we knew we wanted to add to our version. Half the fun was figuring out what this amazing composer did with the original, and then attempting to recreate it (but with our own spin on it, of course)." —Dana Sellers (keys/vocals) 
The song moves to a driving disco dance party jam and ends with a coda—a complete breakdown and reconstruction of the song—allowing room for the band to add their own experimental spin on this iconic score. 
A PLAYLIST FEATURING THE ORIGINAL VERSIONS OF ALL OF THE SONGS THAT WILL APPEAR ON MINT 400 RECORDS PRESENTS: AT THE MOVIES II COMING NOVEMBER 12TH, 2021
It's not often that we think about how important the music that was written for films is to our culture. As Mint 400 Records releases its second full compilation of songs written for movie soundtracks it will remind fans of the fascinating scope that movie soundtrack songs cover. This second full length follows up 2018's compilation, which was a few years in the making and became one of the most popular Mint 400 Records compilations to ever be released. This new collection of songs shows off many new additions to the Mint 400 Records roster like Renee Maskin, Tom Barrett, Lowlight, Swiims, Vanderocker and a bunch more as well as some bands that have been with the label for years like Yawn Mower, The Brixton Riot, Fairmont, The Bitter Chills and many more. The massive 24 song compilation spans movies from the last 70 years and covers everything from Breakfast At Tiffany's "Moon River" to 8 Mile's "Lose Yourself". Of course these are not typical covers as Mint 400's roster re-imagines and interprets the songs in a way only their roster could from jazz to indie rock. 
Here's what some of the Mint 400 artists said about their tracks: 
"Moon River is one of those iconic songs that you probably shouldn't touch, but I gave it a shot. Covers are always difficult and I just went with a feel rather than following the correct chords or time signature." 
Dennis King – Sonofdov (Moon River) 
"As ultimate Ryan Gosling fans, it was our dream to cover a song from the Drive soundtrack.  We sincerely wish Ryan would give us a Nightcall." 
Jessica Baggia – This Bliss (Nightcall) 
"Ever since I saw Beetlejuice as a child, I've had Danny Elfman's melody from that song stuck in my head. It has mutated in my mind over the years but I didn't notice until I listened to the original recently and compared. I decided to just record the version my mind remembered in homage." 
Ben Didsbury – R|verghxst (Main Theme- Beetlejuice) 
"I feel its a well written song that oddly lends itself to any genre/approach & took the liberty of executing it in the heard muzak form. The result worked surprisingly well to even my surprise."  - Ryan Miera - Yellow Pills (The Neverending Story) 
"Françoise Hardy's "L'Amour En Privé", written by Serge Gainsbourg and with music by Jean-Claude Vannier, evokes all the drama and heightened emotion you might expect from a film. Its role in François Leterrier's Projection Privée exemplifies how a story can be captured in song. Music and imagery go hand in hand for me in my own art, and this song is among my absolute favorite songs written for a film.  
Valerie Geller – El Valerie (L'Amour En Privé) 
"Lose Yourself' is a great, powerful track, and it's inseparable from the film itself. It's loaded with a lot of clever language, and I loved the challenge of making those lyrics work in a different style."  
Matt Cheplic – The Bitter Chills (Lose Yourself) 
"It's odd for me to think of myself covering Diana Ross but the song choice was presented by my collaborator Christian Kisala and I had heard the song before. The melody immediately struck me as something I could work with. Little did I know there were 7 key changes and the complexity of such a short song. It was definitely one of those songs you grow as a songwriter after covering it. " 
Neil Sabatino – Fairmont (Do You Know Where You're Going To?) 
"Pretty In Pink" was an obvious choice; we're all fans of the film, we love the song and we're all big Psychedelic Furs fans.  We used the 1981 version of the song as the starting point for our cover and added the intro to put our own spin on it. It was also great getting to work with James Robbins again.  He was able to take a song recorded in living rooms and basements and turn it into something special. "  
Jerry Lardieri – The Brixton Riot (Pretty In Pink) 
 "The movie (The Breakfast Club) resonates with us each feeling a little like a misfit at times, ultimately becoming a close group in the end. It's retro synthy hook with our indie vibe makes for an amazing collab!" 
Lisa LoVell – The Extensions (Don't You (Forget About Me)) 
 "We have been noticing the influence of the bouncy fun and alternative weirdness of many 80s favorites creeping into our newer songs lately, so this song felt like a natural choice and solid fit." 
Becca Cristino – The Extensions (Don't You (Forget About Me)) 
"The original recording (Chariots of Fire) by Vangelis stands out as a modern classic with one of the most recognizable melodies in history.  So we decided to mess with that by changing the rhythmic framework surrounding the melody.  Our version was recorded in a single take with no overdubs or edits and just the live mix running into a computer. We hope it offers a fresh take on the original."    
Christian Kisala - commacommaspacespace  (Chariots Of Fire) 
"A few years back I embraced mindfulness as a way to live presently and monitor my thoughts. Some of the lyrics in "Raindrops..." acknowledge the unnecessary mind bandwidth that worry takes up in our heads and the raindrops (in my opinion) symbolize that which we cannot control in our lives. " 
Luis Flores – LC Flowers (Raindrops Keep Fallin' On My Head) 
"Vision Quest is an iconic 1980's movie with an amazing soundtrack, but in reality, the Madonna song, "Crazy for You", reminded our bassist of his Old English Sheepdog whom he's "crazy" about. We also felt the song was a great vehicle to showcase the wonderful talents of Joie Giordano (vocals), whom we wanted to do a project with for some time. " 
Mike Todd – The Funky JC's (Crazy For You) 
"'Rocky Horror' isn't just a wonderfully weird cult film. Its soundtrack is one of the great '70s glam albums. We covered two of its songs during our very first show, at a Halloween party in central New Jersey a decade ago (Science Fiction: Double Feature). We wanted to cover it again for this compilation. But we always like trying different sounds and ideas. So we took our favorite part of the movie — Riff Raff singing creepily and wistfully while staring the window during 'Over At The Frankenstein Place' — and fashioned a medley out of it. Consider it our little contribution to the 'Rocky Horror' universe." 
Brent & Brian Johnson - The Clydes (Medley: Science Fiction Double Feature, Over at The 
Frankenstein Place) 
"We chose to pay homage to the demon lords of early synth-forward rock music, GOBLIN, and their title theme to George Romero's 1978 zombie movie classic, "Dawn of the Dead". The heartbeat-throb of the song's groove evokes the cold trickle of dread you can only feel when something truly terrible is following you, slowly but surely, in plodding steps, never to rush but never to cease in its foul pursuit. Like a plunge into an icy lake, Goblin startles the listener into their realm of horror in a matter of seconds, and the music grips you with fingers that do not loosen. We in Clamb wanted to pay tribute to the ghastly steadfastness of this song's disgusting pulse, and to recall the wails and howls that made us all so scared in the first place. This is a song about respect, and also about zombies." Pete Danilchuk – Clamb 
"Biff and I have been talking about covering 'Ping Island' forever. Both of us are huge Wes Anderson and Bill Murray fans. I'd venture to say that Wes Anderson is as big of an influence on Yawn Mower as any of the bands we listen to. And it's a dream of ours to someday have Bill Murray be the driver for one of our day van tours. 
The recording of 'Ping Island' is the first song of ours to be recorded exclusively by ourselves. First off, it's a tricky little bastard of an arrangement. Don't let it fool you. Chick recorded the guitars, bass, drum machine, Acetone and spiel at Waving Cat. He then put the song on a floppy disk and sent it to Byrdhouse via carrier pigeon and Biff promptly replaced the drum machine with drums and percussion. Have you ever heard a splash cymbal sound so crisp?" Mike Chick – Yawn Mower 
"We have a mini television with a built-in DVD player in our practice space. More times than not we zone out to The Life Aquatic or The Darjeeling Limited playing on mute in the background. Many times I leave with a kinked neck from cocking it too far to the left in an attempt to keep eyes on the screen while pretending to stay half mentally present in each song. I had a brief encounter with Wes Anderson and Bill Murray at the 2011 New York Film Festival. Life has been better since that day. Any hoot, this track was a no-brainer for Yawn Mower to tackle." Biff Swenson- Yawn Mower 
As you can see the Mint 400 Records roster is one that has a wide array of influences not only from a musical stand point but from a cultural standpoint as evidenced by their selections. We hope you enjoy our interpretations of these movie soundtrack classics.