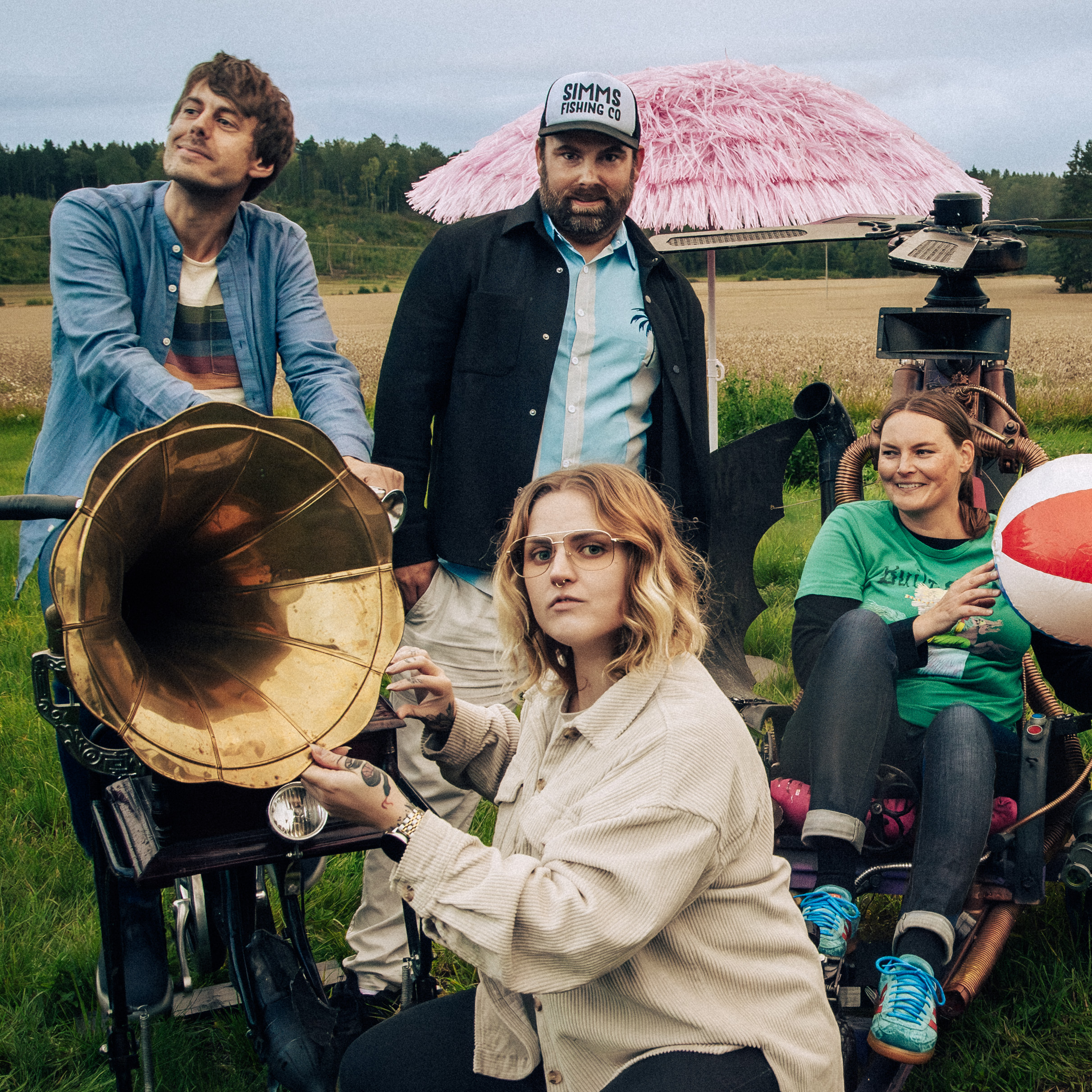 Washing Machina was formed in Stockholm during the spring of 2021, amidst the COVID-19 pandemic. The creative spark ignited when Mark, Karl, and Sara began exchanging musical ideas. Emelie was recruited on drums, completing the puzzle and solidifying the band's unique sound.Inspired by bands like Foo Fighters, Sonic Youth, Breeders, Smashing Pumpkins, Pavement, and Dinosaur Jr, their music weaves together strong pop melodies with avant-garde guitar playing, boldly venturing into unexplored sonic territories.They have already made an unforgettable mark on the Swedish music scene through a series of successful shows. Recently, the band achieved a milestone by performing at a sold-out Heaven Up Here, an iconic indie rock club in Stockholm.The band's musical journey so far includes the release of two EPs: "Perfect Misfits" and "Last Bag of the Belt." Building on this momentum, their highly anticipated debut album is planned for release through Lövely Records in 2024. 

Interview with Karl Nordahl (Guitars & Vocals)
1. How did the band form and what does the band name mean?
The band came together during the COVID-19 pandemic in 2021, born out of the boredom of not being able to play live. We completed the lineup by recruiting Emelie to play the drums, who at the time worked with Sara. The name doesn't mean anything really; it's just a mix-up of two records we really like (Machina with Smashing Pumpkins and Washing Machine with Sonic Youth).
2. Previous musical projects? How'd you first get into music?
I got into music because of my dad; he always loved music and also played in a cover band. They also had a rehearsal place where my friends and I started to play. So we had a lot of different bands then, can't remember the names, but then I met Hasse and formed Bring the Hoax, who are still active.
3. First concert that you ever went to? (Locally and National acts)
The first big concert for me, I think, was when my dad brought me to Tom Petty's 'Into the Great Wide Open' tour when I was 10. I remember I thought it was so cool.
4. What's your writing process like?
Our process usually involves someone coming up with a good melody, and then we add a lot of distorted guitars, which usually sounds really good. When we started out, Mark and I had an idea that we would only add a few guitars so we could play the songs live in full. I think that idea went out the window with the first song, and now we have a lot of guitars on every track we make!
5. What other artists or songs inspire your music?
Well, I think we all love those '90s bands like Sonic Youth, Pavement, Breeders, Pixies, and Smashing Pumpkins, among others. I believe you can hear these influences clearly in our music. We're essentially playing what we want to hear, but with our own modern twist on it. Our playlist consists of some of these classics that we all adore, and we've also added some fantastic Swedish music from artists on the same label as us, such as Statues and Sweet Teeth (we'll be doing two dates in Stockholm and Gävle with them in March). The last song is an ode to the late Rick Froberg of Drive Like Jehu and Hot Snakes. May he rest in peace!
6. What's the live experience like and your philosophy on playing live? Do you think the music live should be identical to the recorded version or should it be it's own thing?
Playing live gives our songs life and makes them more vibrant. While creating and recording songs is enjoyable, it's during our live performances that we truly come together, and that's when the magic happens. We don't necessarily aim for the songs to be just like the recording, allowing for a unique live experience.
7. Has the band toured? What has the touring experience been, best shows? worst shows?
We have done several gigs in the Stockholm area and also some mini-tours in Sweden. The worst show was probably the first one in Hedemora and the best was probably the last in Malmö, where we were amazing!
8. What's up next for the band?
We're releasing our first album on Lövely Records in February and plan to play live much more. We have some Swedish gigs that we will announce shortly, but we're also looking for opportunities in Europe this spring.
Connect with Washing Machina
https://washingmachina.com/
https://www.facebook.com/washingmachina
https://www.instagram.com/washingmachina/
https://washingmachina.bandcamp.com/