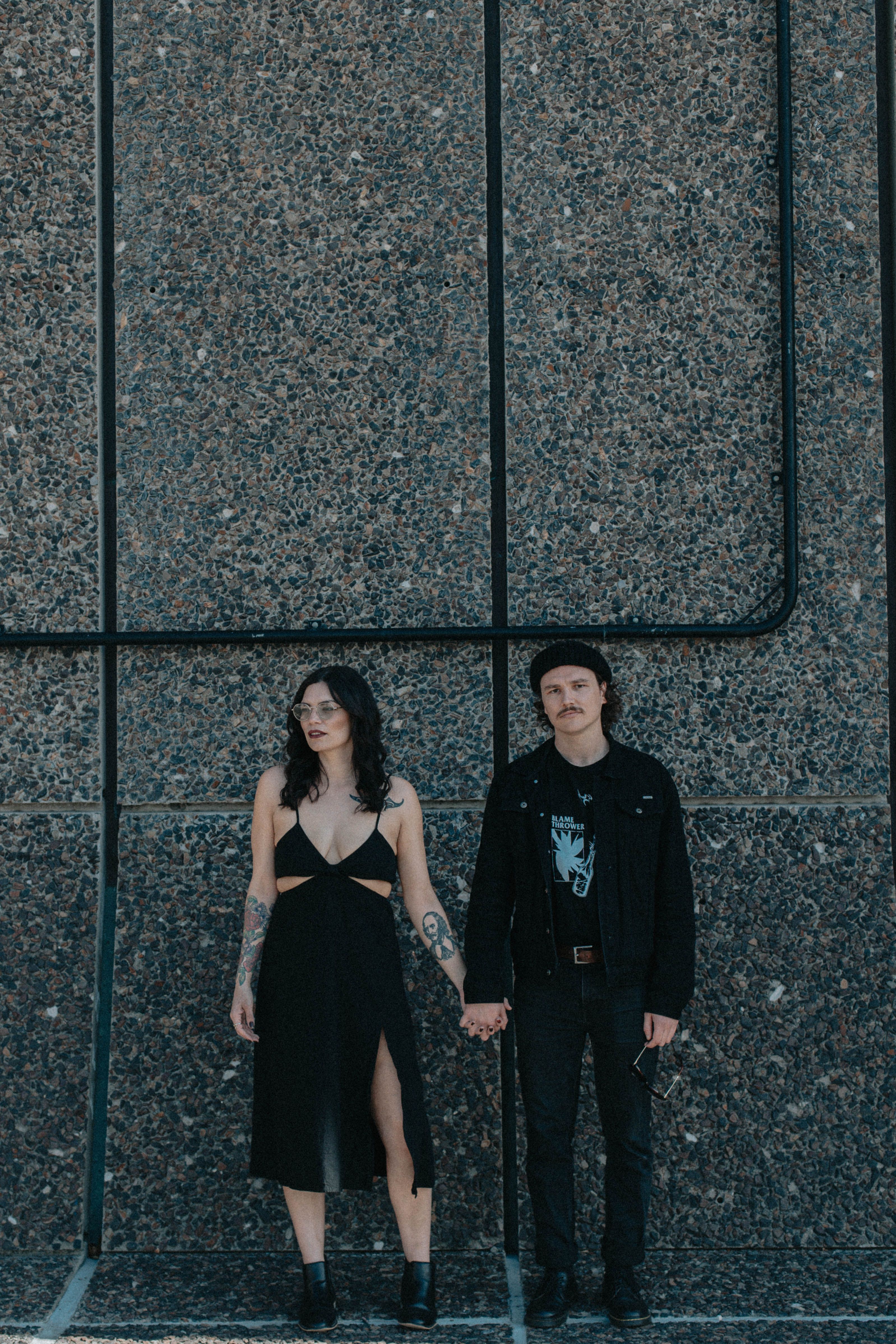 Ōtautahi-based (yes I had to look it up too, it's in New Zealand) duo, Social Union, comprised of Vanilla Martin (Ngāti Uenuku/ Ngadju) and Luke Penrose, have been so kind today to share an interview about how the band got started, what inspires them and a bunch more! The band has a killer new gothy synth pop EP that just dropped and we loved it enough to want to know more about this quirky band from the other side of the world.
1. How did the band form and what does the band name mean? 
V: Luke and I were working from home during a lockdown in 2021. It was a difficult time for us, trying to serve our clients are best we could from a screen (we both work in social services with really vulnerable families who were made more by the lockdown itself. We both really needed a creative outlet and we were both musical. We sat down one night and it just kinda began. 
L: The band name came on a drive Vanilla and I were taking around the city while trying to think up ideas, being that I studied a lot of Marx in uni, work in the social services and am passionate about unions, fair pay, equity, etc; once Vanilla said the name 'Social Union' it stuck instantly. 
2. Previous musical projects? How'd you first get into music? 
V: I have always been very into music, both making and exploring what was out there to listen to. When I was a little girl my mother gave me a four disc box of Edith Piaf live, Metallica (S&M), Ella Fitzgerald, Nina Simone, Mahalia Jackson, Billie Holiday - just a huge variety of music to absorb, and I loved it all. Jazz stuck for me, so up until Social Union, jazz with a side of folk was my thing. 
L: My main musical history has been in the hardcore punk scene here in New Zealand. I have played in a variety of bands 'Master Blaster, Club Stupid, Zhukov, Blamethrower, Catsick and the tacks', I'm sure I'm missing some. Regardless, seeing friends older than myself booking shows, sending emails, recording, making posters etc gave me a good DIY foundation that I try and up hold in Social Union by recording everything myself, doing all the art, layouts etc. 
3. First concert that you ever went to? 
V: I think my first concert miiiight have been Cold Chisel or The Wiggles (the o.g's.) 
L: Locally was a very undervalued band here in New Zealand called 'So So Modern' when they came to my High School to perform! Internationally, the first was a Rage Against the Machine reunion concert in 2008 that 14 year old me saved up all year working on a farm to go and see. 
4. What's your writing process like? 
V: When we decided to make some music together, I whipped out a journal that was full of lyrics and notes and thoughts, that I took everywhere I went but had done nothing with. It was a really vulnerable experience for me, actually, sharing pages and pages of thoughts and experiences with Luke, especially the ones written prior to us dating. Writing for music that had already be composed was a cool challenge for me at first though, I usually come up with my melodies at the same time as my lyrics. 
L: Generally I try and go our practice space alone, playing loud guitars for as long as possible until I like an idea. From there I create some basic drum loops and decide if it needs live or synth bass. Arrangement of songs has always been the hardest for me, however once the general skeleton of the song and synths have all been laid out and I'm feeling confident enough I'll show Vanilla. 
5. What other artists or songs inspire your music?
V: I am drawn to the timbre of voices, if I like your voice I will listen, regardless of genre. I'm a fangirl of The National - I love their lyricism; they're simple, practical, human, raw, relatable but also beautiful. 
L: I'm the same as Vanilla regarding The National. I also really like Ceremony as they started as a power violence band shifting to hardcore punk then to a new wave styled band, I love this progression as it has grown as I have grown. In terms of sounds, I love old Bloc Party, Molchat Doma, self produced 90's New York inspired hip-hop like Oddisee and then more punk leaning outfits like, Chain Cult, Youth Avoiders and Cult Values. I like a wide range for all for different times and spaces! 


6. What's the live experience like and your philosophy on playing live? 
V: Mmm. I, personally, will always find live music hard. After being trained in theatre (stage acting) and working in that industry, playing and singing my own music still feels a little like getting up in front of an audience naked without a character to "hide behind" I guess. I don't have something to interpret and regurgitate. 
We've  been offered some cool opportunities, festivals etc but the 'rona virus put a stop to that. We sold out our first gig which was a seated gig, but I think we're gonna bide our time a little. We definitely want to play more shows and give audiences a really high quality, special experience. In terms of philosophy we have a bit of a "play don't stay" philosophy. We want to give a great show, support the other acts, but then get home to our cats and snuggle up on the sofa to watch some wrestling (AEW) with petrol station snacks we've picked up on the way home. We're both quite introverted and it's the most comfortable way for us to gig (or attend gigs) in a way supports our wellbeing and Luke's sobriety. 
L: Same as above 
7. Do you think the music live should be identical to the recorded version or should it be it's own thing? 
V: I shake things up vocally in comparison to the recorded versions for sure, and w have live intro's to our sets that isn't on the EP also. I like mic yarn between sets and I like for audiences to feel that their experience in their home town /local venue was unique. 
L: Live shows should always feel as though the performers are enjoying themselves, I don't think it needs to sound identical but if it does that's fine also. I always think that people have paid money and taken time out of their day to attend a show so as a performer I have to be respectful to that. Enjoyment from playing live always trumps whether or not it is 'perfectly played'. 
8. Has the band toured? 
V: It's in the works! I'd like to be touring Europe next year. 
L: Not yet! However, we want it to be special and a performance not just another 'gig' so we are taking our time in getting it all together. I also really, really want to come to Europe next year to play shows though as well! 
9. What's up next for the band? 
V: We're onto lyrics for the LP and are whittling down song selections…. 
L: Music video for Fall Into Me coming up shortly, then focusing on the LP and creating the live show.
https://www.facebook.com/SocialUnionMusic