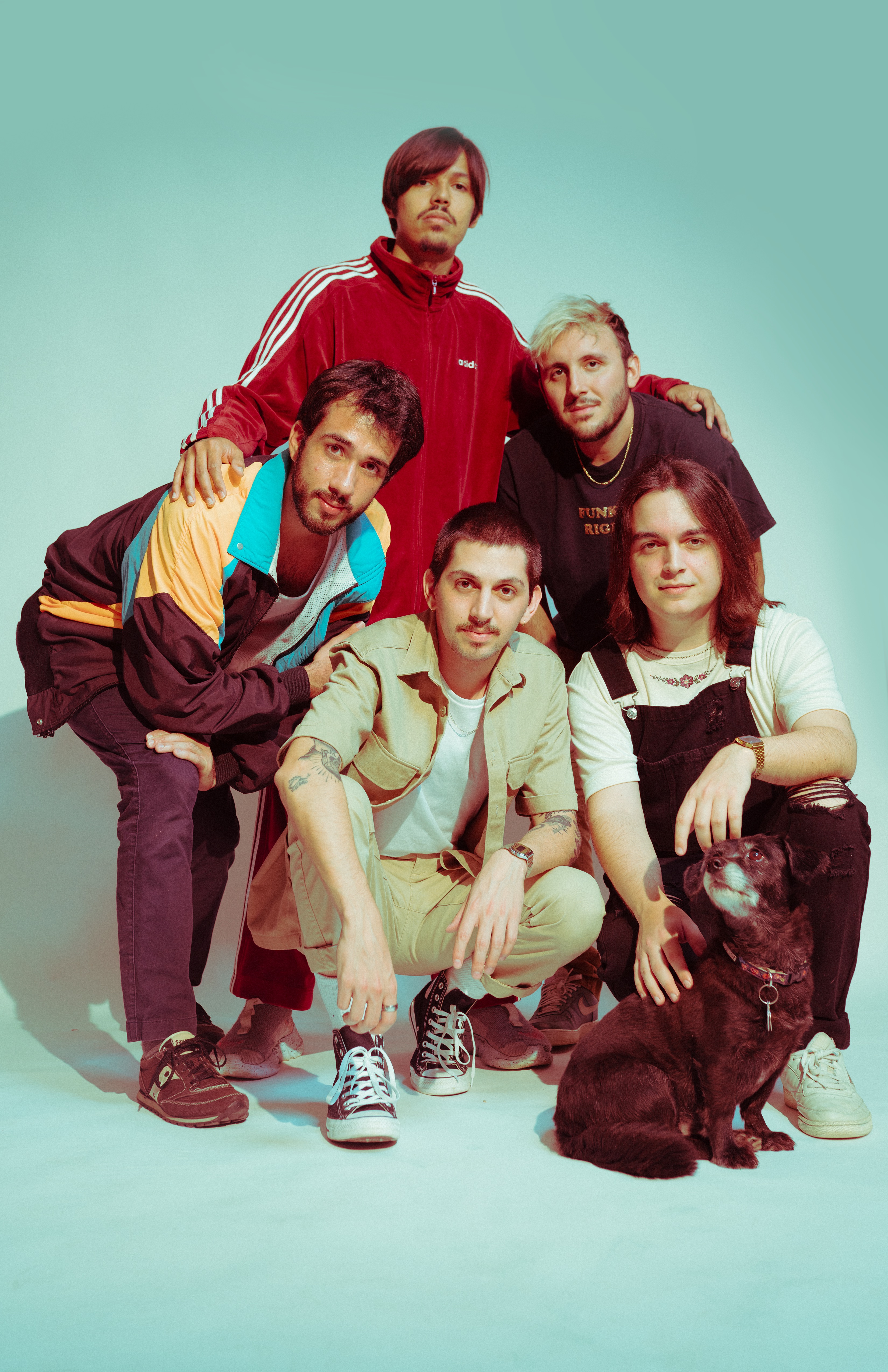 Mustard Service was born when an ambitious college dropout returned from Germany and penned the opening line for their viral hit "Taking up Space" in his Floridian backyard. With roots as sons of Latino immigrants, the five-piece band embraces their "zest pop" identity, blending indie rock, surf, funk, jazz, and bossa nova to represent Miami's alternative scene. From chaotic, energetic shows in Miami-Dade County to nationwide sell-outs and festival appearances, Mustard Service has garnered a devoted fan base seeking an escape through their warm, family-like stage presence. Now, they are preparing to deliver their third studio album, Variety Pack, this August via ONErpm.
 How did the band form and what does the band name mean? 

Marco: We used to go by the name Gorilla Grip but one day we were playing at a hot dog eating contest and one of the contestants would not gobble his glizzy unless it was first dunked in mustard. They had a specified mustard runner to refill his mustard silo but mid way through the competition the mustard runner slipped off the stage and broke his neck (he was ok). In an unprecedented burst of patriotism for this all American cultural phenomena hot dog eating contest Gorilla Grip took it upon themselves to run a relay and supply the contestant his mustard. He was able to gobble all the glizzies and win first place and so at the end he naturally thanked his "mustard Service" and the crowd cheered "MUSTARD SERVICE MUSTARD SERVICE MUSTARD SERVICE" so we decided that had to be the new name of our band, true story 

Nuchi: band name generator 


Previous musical projects? How'd you first get into music? 

Marco: We had never played in other bands before Mustard Service it is all we know 

Nuchi: We had a band back in 2014-2015 where Nuchi played guitar, Marco played bass, and Tuto sang. Our former drummer, Armando, was there and another guitar player called Gato. Leo and Adam grew up playing in a bunch of bands in Miami Beach. 
Adam: I've personally been in all kinds of music projects as i've been performing live since i was 13 years old. My dad is a music producer and as a kid, he would take me to studios with him and i was always fascinated by the drums so i decided to pick it up. 


First concert that you ever went to? 

Marco: my first concert was the Red Hot Chili Peppers in 2011. John Frusciante had just left the band so I was sad I couldn't see him play since he was the reason I picked up a guitar but it was still a good show 
 
Nuchi: The first concert I went to was Iron Maiden at the Florida Panthers hockey arena in 2008 when I was in 8th grade. 
 
Adam : warped tour in 2007 


What's your writing process like? 

Marco: I tend to just sit in my room by myself and wait for songs to come. I find it tedious to sit down and think out a chord progression or melody out of thin air so I find it best to noodle around mindlessly untill a melody or harmony finds its way into the session and just kind of gravitate towards the part of it that feels good and away from the parts that feel bad. Lately more of us have been writing songs to bring to the group so every album has felt more collaborative since our first release. 
 
Nuchi: Most of the songs come from voice memos Marco made where he'll have a chord progression and a melody. Maybe a few lyrics. He brings it in and then we work on the arrangement, solos. Marco usually writes the lyrics after the arrangement is done. 
 
Adam: Normally in the early days of the band, Marco will come up with the skeleton of a song and then we come in and add to his initial creation. Now it seems to be way more of a group effort with everyone involved, even other band members coming up with the skeleton themselves. 


What other artists or songs inspire your music? 

  

Marco: lately we've gotten into a Charly García rabbit hole because he's crazy and he's a genius but we also love Jobim and Brian Wilson's use of harmony. I personally love the beauty and simplicity of folk lyrics like Bob Dylan's. 
 
Nuchi: I think that we've been influenced by Bossa, 2010s garage and surf rock. We love new wave, a little jazz, 80s hits. The Beatles, video game music. Ride the Lightning by Metallica is why I started playing guitar but I still haven't learned it. I wish I could've written What a Fool Believes by the Doobie Brothers 


 What's the live experience like and your philosophy on playing live? Do you think the music live should be identical to the recorded version or should it be it's own thing? 

Marco: the live show experience is something that I don't quite have the words to describe. A live show is the purest form of preformed music; no second takes, just the magic of singular moments. Although we do love to be as tight to the recording as possible, we have to improvise here and there to continue to have fun with the music. We also like to rewrite parts not only for ourselves but for the people who come out to see us. You already have the studio version at the click of the button, I think it's nice to hear something new when you come see it live 
 
Nuchi: We follow the arrangements of the recorded songs pretty closely. Sometimes we'll throw in a solo section that's not on the record, but for the most part we follow the original structures. We let loose live though, we have fun. 
 
Adam: Our live sets are definitely tons of fun. lots of push moshing, jumping and singing coming from the crowds and we definitely have a fantastic time as best friends doing our thing on stage. I think live performances should be very similar to the recording, but with its own taste to it. We will play the songs at the same tempo and same energy as the recording, but maybe add some stops or simultaneous "hits" in certain parts of the song. So you still hear the songs you know and love but also hear another idea for the same song that you might love too. 


Has the band toured? What has the touring experience been, best shows? worst shows? 

Nuchi: Touring is the shit. I think we sound better live than on the recordings. Shows in major cities are usually pretty crazy but I want to give a shout out to some of the more surprising shows in smaller markets for us like Des Moines, Chapel Hill, and Minneapolis. 
 
Adam: Mustard Service has been touring since 2018. Our first tour started as us opening up for a spanish female band by the name of Hinds. Since then, we have headlined 5 US runs. Speaking for myself, I never want to go back home. I wish i could be on tour forever, it's my favorite thing in the world. We really love playing in every city and everyone that comes out to our shows are so incredibly nice, cool, awesome and funny. Some of the best shows have honestly come out of Detroit (Ferndale) and San Fransisco so shout out to all of those wonderful Michigan and Californian residents! 
 
Marco: the best show has probably been Zest Fest in LA, a fan threw a mustard bottle on stage and I got to squirt it into nuchis mouth (sorry if any got on you if you're reading this). There's no such thing as a bad or worst show, they've all been amazing 


What's up next for the band? 

Marco: we have a full ass album coming out August 4th after 3 years and a little festival to go along with it on Aug 5th followed by a full US tour to play the album live. Come and party if you want to. If you don't want to that's fine too love u thank u 
 
Adam: Brand new album comes out on August 4th! Very excited for everyone to listen and enjoy our babies, our songs. Now they're your babies! Next thing on the bucket list is to perform outside of the country and to do a big festival run. 
 
Nuchi: There's a fat ass album dropping on August 4th. It's called Variety Pack because the songs are all pretty different from each other. The musical decisions were all pretty democratic. We tend to take a vote on everything.