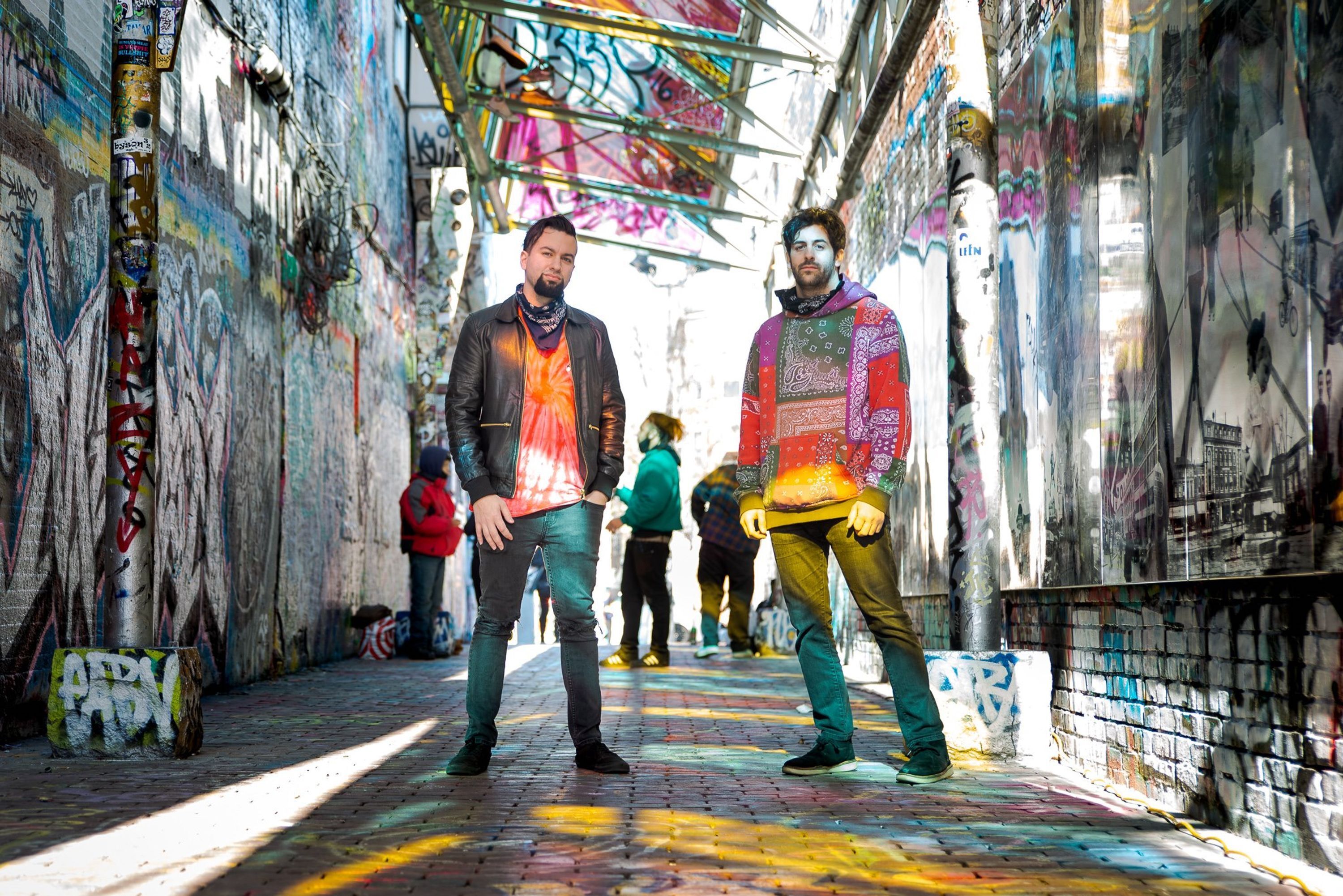 Kooked Out is here for the good times. Emerging from the Massachusetts town of Stoneham, the band's animated and eclectic rock and roll – a combination of indie, surf-pop, alternative, punk, reggae, and whatever else sounds good in the band's musical cauldron – belies its sleepy small suburban town origins. With a tireless and ambitious live calendar, Kooked Out could as easily be found busking across the streets of Boston the afternoon before playing across the city's rock club circuit by night. Their genre-spanning sound, drawing influences from the 1930s to now, has become a calling card, both on record and live on stage, appropriate for a creative outlet that cites its top influences as Chuck Berry, The Beatles, Jimi Hendrix, Dick Dale, The Black Keys,  Cage The Elephant, and Blink-182. In 2022, Kooked Out self-released its emphatic debut album, Vis Viva. The record's response – as well as the band advancing to the semis of the 2023 Rock And Roll Rumble, and a growing organic fanbase around New England – led to its re-release on cassette in Summer 2023.  (Photo Credit Christine Paige Photography)
 
How did the band form and what does the band name mean?

Chris Laskey: John started Kooked Out in 2013 and then I joined the band in 2014 for a Halloween show at The Middle East in Cambridge, MA. We've had various lineup changes since then but the core of it has always been the two of us.
John Fiore: In 2013 a video interview of Kai the Hatchet Wielding Hitchhiker went viral. In the interview Kai says in reference to the story he's telling, "Dude. That guy was fucking kooked out, man." It sounded good and had a surfy undertone to it which seemed to encapsulate the sound and energy we were going for.
Previous musical projects? 
John Fiore: I was playing in a band called Mojo Kick that I really loved that sadly disbanded in 2012. We put out one EP and had a couple decent tracks that I think are still on the internet somewhere, maybe on Spotify.
Chris Laskey: Back in 2012 I was asked to fill in for a metal band called Willow and after a couple gigs with them I ended up joining the band. We didn't really end up recording much but tracked a couple songs at a studio in Maryland, which was cool. The initial experience in that band led me to want to do more musically and when the other guys didn't want to, I left in 2014. A couple months after John had reached out to me to ask about filling in for a Kooked Out show. He had come across a video of me playing on YouTube kind of randomly and that kicked it all off.
How'd you first get into music?
John Fiore: One day my neighborhood friends and I were watching the drive-thru records DVD and talking about starting a band and who would play what instrument. I went home and asked if I could get an electric guitar which I got later that year on Christmas. Thanks mom and dad! I guess I thought everyone was serious when they said they wanted to start a band but that idea fizzled out pretty quickly when the other guys didn't have instruments [laughs]. But I had the bug and that was it.
Chris Laskey: Going to Warped Tour for the first time and feeling the energy of all the live performances helped me realize that I wanted to play the drums. I found myself always watching the drummers at every show I went to and was constantly tapping on shit at school and at home. I finally got an old beat up CB drum set and just totally fell in love with it.
First concert that you ever went to? (Locally and National acts)
John Fiore: There was a spot in our hometown across from the town hall that would host local shows that would get pretty wild. The scene there was mainly pop-punk, hardcore, and metal bands and it was my first real exposure to seeing kids my age moshing and going nuts. Notably the band Transit starting off at these local shows and went on to get signed and tour the world. It was definitely inspiring to see. I think the first National act I got to see was Taking Back Sunday at a free show outside at Boston City Hall Plaza, it was killer. I'm still a big TBS fan.
Chris Laskey: My first local show was probably a house show in a garage. I can't really remember the bands that played but I still love playing a house show from time to time. The first national act that I saw was Lamb of God and As I Lay Dying at the House of Blues in Boston. It was awesome and I haven't been to a crazier show since.
What's your writing process like?
Chris Laskey: John usually comes in with a guitar riff or song idea that we flush out. Other times we just jam on an idea until we hear something we like.
John Fiore: Yeah, it's definitely all random. Sometimes a cool phrase or song title can spark a bigger idea. Mainly, we just try to follow the inspiration and let the feel dictate whether or not we pursue the idea further. Our best songs tend to be the ones we've written in that way and not stressed too much about. It's still something we're trying to find the best way of doing that works for us.
What other artists or songs inspire your music? 
Kooked Out: We'd have to start with The Beatles. The thing we admire the most about The Beatles is that they had many different styles, sounds and evolutions over the years and were never afraid to push the boundaries and change up their sound, all the while always sounding like themselves.
In no particular order, next up would be Blink-182. The energy, the hooks, the nostalgia, the youthful feel and the replay value of their songs is so infectious. We try to mirror the way Tom and Mark switch off vocally and Travis is just a beast on the drums.
John Fiore: In our opinion Chuck Berry is the real king of rock and roll, although we do love Elvis as well. Berry is a great story teller, he had great rhythm and rhymes in all of his songs. And helped pioneer rock and roll guitar. Me and every other guitar player out there have stolen a million Chuck Berry licks over the years. On our song "Like We're 21" I played a riff inspired by Chuck in the chorus and infused it with Punk Rock.
Chris Laskey: A band like The Zombies inspired our song "Crack Up" especially the drum hook and guitar tones. We wanted to emulate the groove in "Time of the Season" and put it to a very '60s riff that John had come in with.
John Fiore: I really started getting into Citizen Cope after hearing his song "Let The Drummer Kick" in the movie "Accepted." I went back and listened to all the albums and loved his lyrics and flow. I've tried to incorporate and learn from his vocal nuances the best I could over the years.
What's the live experience like and your philosophy on playing live? Do you think the music live should be identical to the recorded version or should it be its own thing?
Kooked Out: Our live show is frenetic. For us it's all about connecting with the audience and giving them a wild show. We like the live performance to be raw and a bit chaotic, we jump around a lot and get as kooky as possible. We never want to sound sterile in a live setting so we leave room for unpredictability while not diverting too far from the recorded version. We always want the audience to be able to recognize which song we're playing so we try to hit the key parts of each song.
Has the band toured? What has the touring experience been, best shows? Worst shows?
Kooked Out: Yeah, we've toured a bit mainly short East Coast runs but we're hoping to expand West and jump on a national tour. Recently, we played some shows down in Myrtle Beach, South Carolina, which was a lot of fun. We met a lot of cool people. One of the best shows on tour was at The Grape Room in Philly with another Massachusetts band The Rupert Selection, and at Don Pedro's in Brooklyn – both small club gigs with a lot of energy. Our worst show was in the basement of a coffee shop in Brooklyn. The place was cool but we literally played for the four people in the other band. Those types of shows can be demoralizing but you just try to learn from it and keep pushing forward.
What's up next for the band?
Kooked Out: We recently released our debut album "'Vis Viva" on cassette and we're going to tour it a bit on the road before starting the recording process for our second record. We're feeling very inspired and are looking to turn things up straight through the new year.