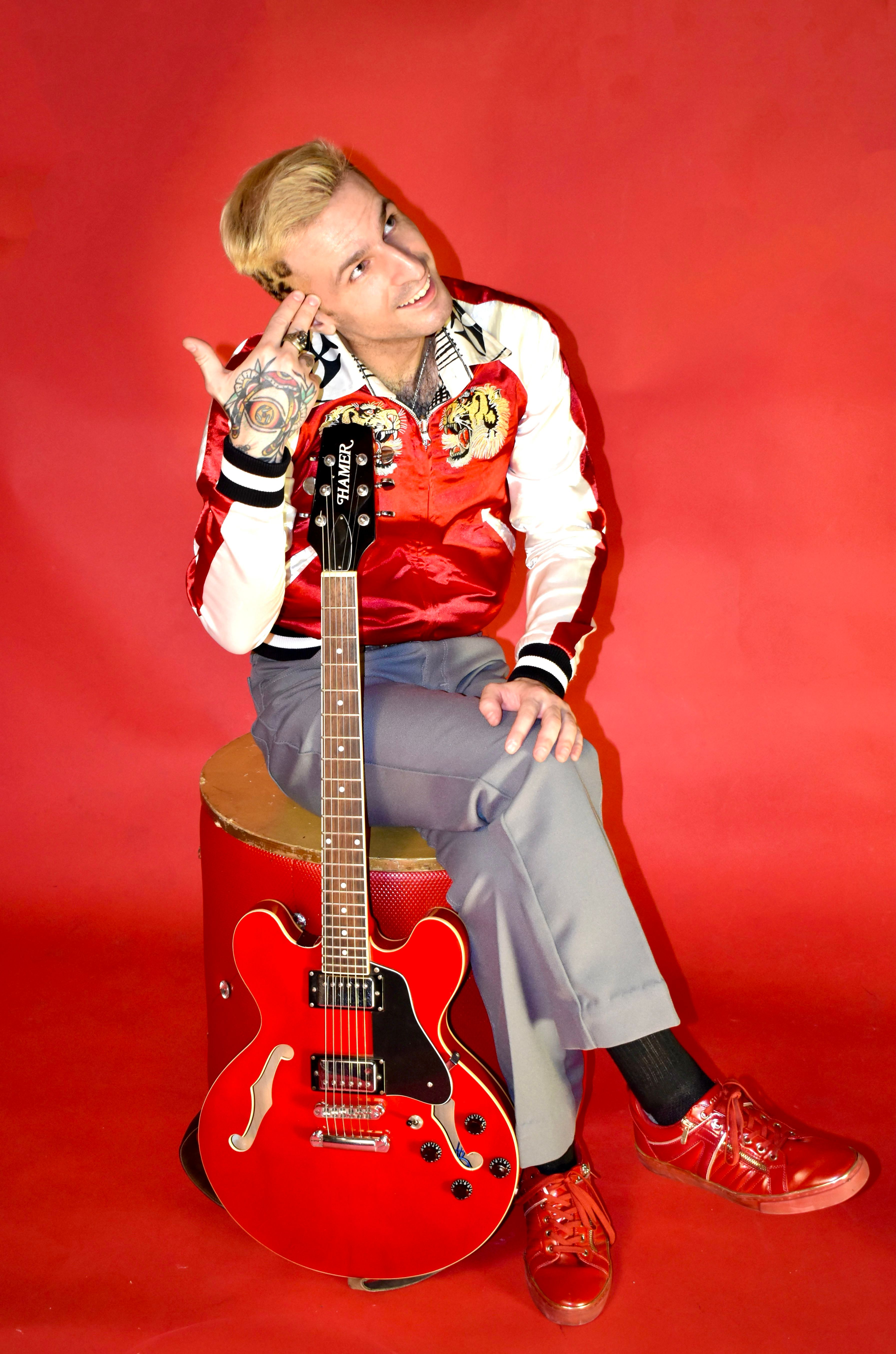 Tony Saxon is a recording artist, soul singer, and multi-instrumentalist. He's been at it for the past decade, strongly influenced by Rhythm and Blues and Soul music from the 1950's and 60's...and while borrowing heavily from early music, he makes it his own... with his 8 octave vocal range and unique style of guitar, organ and piano playing.  As we hear on his latest full length album Thirst & Howl. This 32 year old Jersey City born musician, now living in sunny LA has bended many genres in his music tenure, splitting his time between recording music as well as playing and touring with multiple bands across multiple genres over the years.  But a big part of Tony Saxon's life is professionally sourcing, documenting, buying, selling, and preserving 45rpm Vinyl Records recorded and released by early Rock and Roll, Soul, R&B, Vocal Group, Doo Wop and Blues artists during the period of 1955 through 1969..  
For his latest release "Thirst and Howl" Saxon took on the task of completely re-imaging, re-writing, and re-recording some of his favorite songs from those 1950 and 60's records he's always carrying on about ... songs that upon their release in the 50's or 60's failed to chart but posthumously achieved cult status thanks to DJ's in Europe decades after they released... Saxon out of pure love meticulously recreated songs by groups with household names like The Drifters as well as lesser known songs by cult famous singers like transgender pioneer Jackie Shane, R&B femme fatale Cookie Jackson. Saxon worked to "modernize" the sound of these records while staying within strict recording parameters - no edits, no MIDI tracks, and in his own words "no modern recording trickery"...his goal to usher in a new generation of listeners to this sound and style while staying true to long time listeners and the original artists... 
 How did the band form and what does the band name mean? 
Thats my damn name haha! It was my father's stage name when he sang at clubs in Vegas- but he made it my legal name; so now I joke with him that I'm the REAL Tony Saxon. I use my name because I play 90% of the instruments on my recordings, i usually start my recording process in studio playing my rhythm guitar or bass tracks live with a drummer...then I layer my vocals, guitars, bass, keyboards, horns etc. On my new album I had the pleasure of recording with drummer Nick Fulsher. I wholeheartedly welcome collaborations from other musician friends as well in the studio; I had Joel Giron of The Killing Floors play organ on a few songs and Mark Weddington of Wyldewood Green play piano .     
Previous musical projects? How'd you first get into music? 
 I released 4 full length albums under my own name; all albums varied by "genre" whether they were songs I wrote or didnt. 
Life is too short and too vibrant to "pigeon hole" yourself to playing within the confines of ONE specific group or style but that made it hard for people to follow me over the years. I played and recorded with many different groups across many different genres over the years - starting in Jersey as a teenager in the early 2000s- there were A LOT of pop punk bands at the time...i played with East Coast metal and hardcore bands as well and toured with them even. There were even some national acts; well known Rock and Roll bands and Rappers that I  worked and played with also - but I'm not giving out names because one former band's frontman is a maniac who I'm pretty sure has a hit out on me still. As for the rest, I'm under NDA and can't talk about it...but that's pretty much how it goes in Los Angeles.  
First concert that you ever went to?
Honestly, I don't remember. All my favorite bands, groups, and singers are broken up or mostly dead. Been that way for me my whole life.  
What's your writing process like? 
Regardless whether I'm writing my own compositions or rearranging a song.. I start by writing  a "skeleton" of the song...a rhythm guitar part that I record in the studio live with a drummer. Then I'll take that and sort of paint "a sonic picture" as I go...coming up my lead guitar, bass, or keyboard parts. Then usually vocals but i like to improvise all my solos in the studios whether it's keys or guitar. I've never played the same solo twice.  
What other artists or songs inspire your music? 
My favorite R&B vocal group are the Five Royales, my favorite singer is Ted Taylor - he had an insane high octave register - Link Wray was a big influence on my guitar playing - but so was Glenn Buxton of the original Alice Cooper group.  
 i put together a playlist for this interview mostly rooted in R&B and Soul music with a few exceptions outside those that i've loved over the years that really inspired my singing or instrument playing and the damn guitar solos. 

(Note: We asked for 10 songs, and Tony gave us 100! This guy knows his music)  

What's the live experience like and your philosophy on playing live? Do you think the music live should be identical to the recorded version or should it be it's own thing? 
Mostly all the music I love was recorded live, simultaneously in the studio by groups and singers with session musicians or their bands up until the 70's - a lot of those groups would hire different backing musicians or session players so it would usually vary. That art got kinda lost as multi-tracking progressed and digital recording became a thing. 
I don't really like playing live anymore. I don't have 8 arms and i Can't do everything by myself, believe me I tried.  
It is hard to find people who I can have back me up live that are reliable and available especially with the chops to do it.  
I used to get REALLY crazy when i played live shows, many other bands I played with or around the scene had this "too cool for school" attitude that i despised so i  LOVED taking the piss out them when i performed live. That's my achilles heel. I'm content with just recording now.  
Has the band tour? What has the touring experience been, best shows? worst shows? 
I recently did a small tour of Mexico fronting an LA based Garage band called the Premonitions for their final tour...since their singer quit and left them hanging I jumped in and sang live and we played a lot of the songs I recorded on my new album "Thirst and Howl". That was fun - thing's got a little nuts though... musicians always LOVE to party but believe me I am PARTIED out and completely over that lifestyle.  
But the Best shows my whole life of playing out...both as Tony Saxon and with other bands ...were in the middle of NOWHERE or tiny spots where there no attitudes from other bands on the bill or the crowd; people just let loose and had a good time.   - 
Worst shows were when i started a 2 piece band where I played with only a drummer and an insanely complicated pedal board. That sucked - one wire or cable goes bad and you are FINISHED. 
What's up next for the band? 
More recordings. Maybe round up a bunch of talented folks to back me up again.  I take my life one day at time