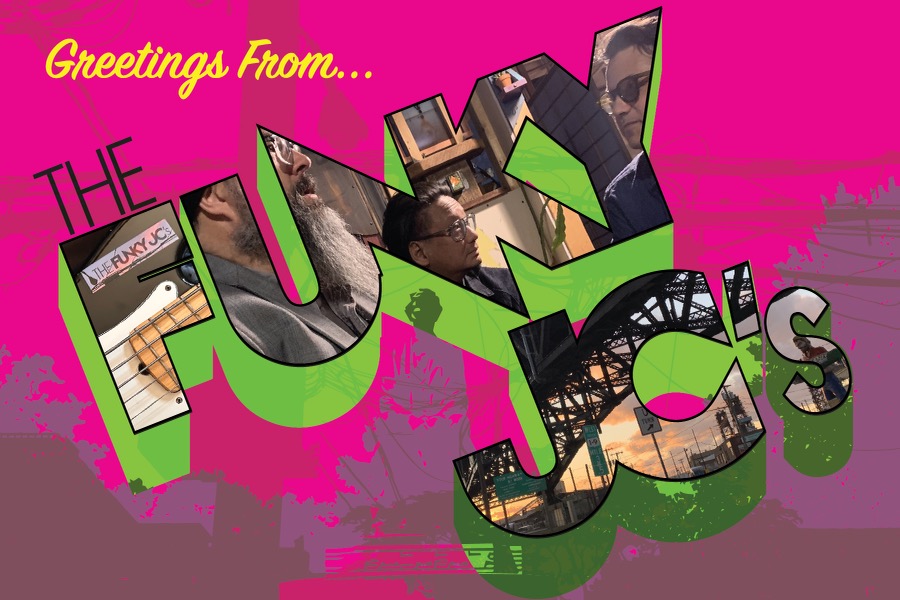 Hailing from "The Heights" section of Jersey City, NJ, The Funky JC's, comprised of Michael Advensky (drums, percussion), Arthur Rodriguez (guitars), and Mike Todd (bass, keys), have a profound connection through their shared background, influencing their distinctive songwriting and improvisation style. After 35 years of playing together in various musical settings, they finally released their debut album, "07307," in 2020, and being signed to Mint 400 Records in 2021 spurred them to create more music. Their second album, "Greetings from The Funky JC's," slated for release TODAY! August 25th, features 8 songs with guest performances from various artists, each track paying tribute to a location or experience in Jersey City, reflecting the city's cultural diversity. Their music embodies the essence of the Jersey City streets, capturing decades of cherished memories and experiences.
How did the band form and what does the band name mean?
Our band formed in 2019 after many years of playing with each other in different musical situations. We all grew up playing funk, jazz, and rock and wanted to create a project that was musically satisfying and original with a nod to our roots. The band name includes the initials of Jersey City, the city that is the heart and soul of our band. The name is also a wink to some great bands we used to listen to like Booker T. and the M.G.'s and The J.B.'s (James Brown's band).

Previous musical projects? How'd you first get into music?
Michael Advensky (drums) and Arthur Rodriguez (guitar) played in a band in the 1980s and 1990s called "Invisible Culture" that was signed to a major label for a time. Michael played with Mike Todd (bass) in the 1980s and 1990s in a jazz fusion band called "Swivelhead" that played in all the original bars in Greenwich Village, NYC. Arthur first got into music listening to the piano of his classically trained grandmother. Five-year-old Michael's mind was mesmerized by the great Keith Moon from THE WHO that was often played on his older brother's turntable. Mike was drawn to music by the sing-songs his Northern Irish family would have on weekends as well as hearing his father and mother playing the records of Little Richard, Johnny Cash, Tom Jones, and The Platters.
First concert that you ever went to? 
Michael's first concert was a Who tribute band called Dr. Jimmy and Mr. Jim. Mike's first concert with his parents was Johnny Cash, but his first concert unsupervised was Bryan Adams in 1985 with Fiona as the opener. Arthur's first concert with his parents was watching the Boston Pops Orchestra playing the music from Star Wars, but his first one on his own was in 1985 seeing Ozzy Osbourne featuring guitarist Jake E. Lee with Motley Crüe opening.
What's your writing process like?
We all write the basic forms of our songs together during rehearsals. Usually, we just jam and see what comes out and often take the most interesting ideas and develop them. Sometimes one person might bring an idea to the group that we will then develop together.
What other artists or songs inspire your music? 
Lou Donaldson's alto sax playing is a major influence on the band. His blues leaning jazz lines always seemed magical yet earthy to us. Jaco Pastorius is one of our major influences as well, especially the way that his playing and compositions blended so many styles such as jazz, funk, rock, Afro-Cuban, and rock. The fire of Elvin Jones' drumming, especially when he worked with John Coltrane and Larry Young helped us learn about passion and power in jazz music. Another major influence is rock, blues, and country music like Willie Nelson and Albert King. Everything that was on the radio in the late 1970s and 1980s had a way of seeping into our collective consciousness as well.
What's the live experience like and your philosophy on playing live? Do you think the music live should be identical to the recorded version or should it be its own thing?
Our goal is to play loose and have fun. Norms can change and shift with the times, but we try to stay true to ourselves and what we believe in musically. Also, if you're enjoying yourself on stage then people will feed into that. We try to engage the audience with as much interaction as possible such as having the audience clap with us and getting them to feel the rhythms and vibes that we are providing. 
Has the band toured? What has the touring experience been, best shows?
We have not toured as The Funky JC's but we have done some tours individually in different projects. Touring was always difficult for us because we have 11 children between the three of us ranging in age from 10 to 30 years old. Some of our best shows have been at Pet Shop in Jersey City, Stosh's in Fairlawn, and Shawn's Crazy Saloon in North Arlington.
What's up next for the band?
We hope to keep playing and recording. It's a privilege to be able to be creative and original and work with friends who we respect and value. 
 https://linktr.ee/thefunkyjcs?utm_source=linktree_profile_share