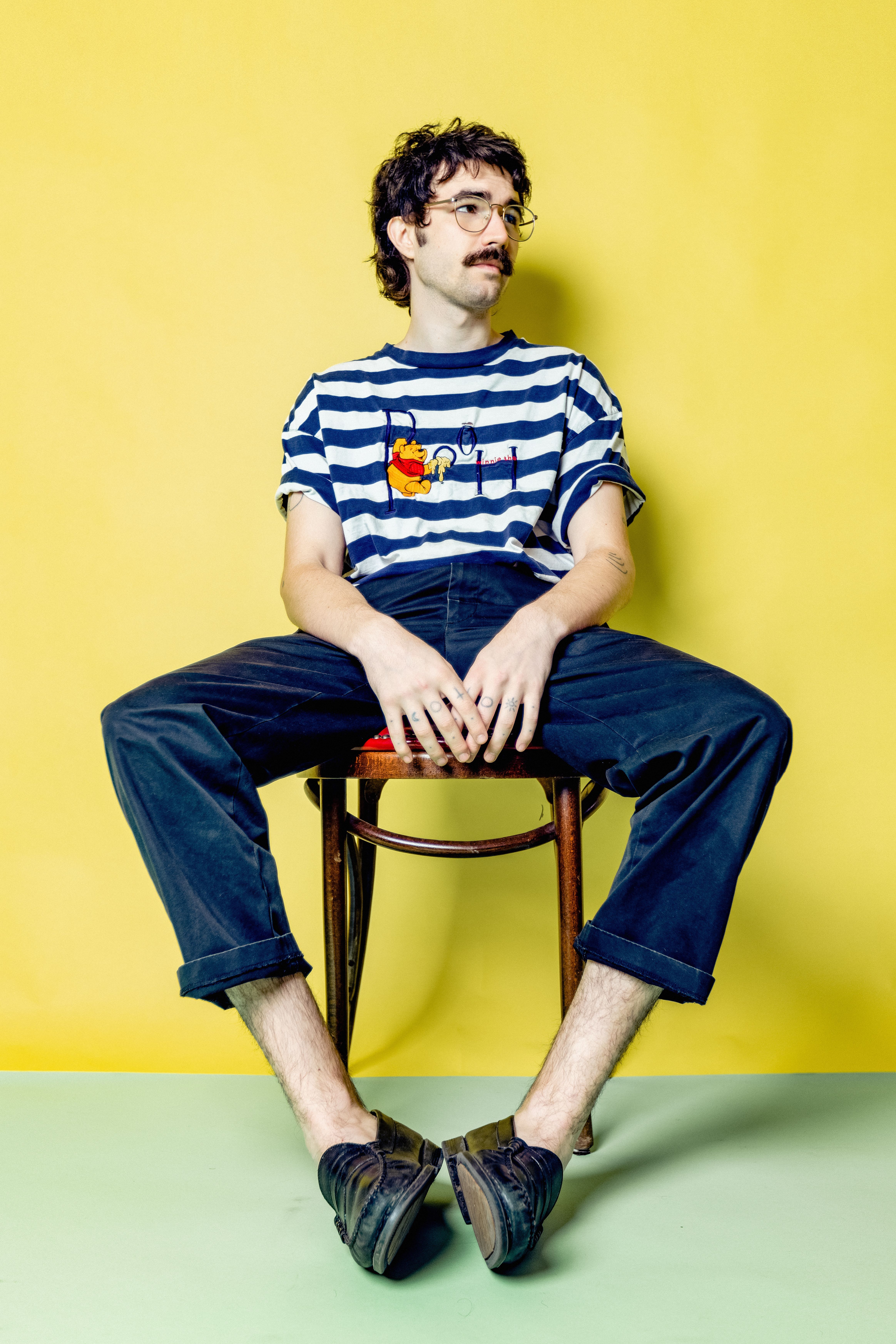 We have loved this artist for a while now, and are glad we finally got to sit down and learn more! Lead singer Tanner says about their newest single… "Going Out of My Mind" is the closest thing I made to a "quarantine anthem" during the first few months of the pandemic. The irony is that even before the stay-home mandate, crippling anxiety kept me home anyway. Here's to everyone who felt stagnant, lonely, and like they were missing out the last couple of years. And here's to making up for lost time! *clink* This is the second song my producer, The KickDrums, and I ever did together. The original beat I made for "Going Out of My Mind" was acoustic guitar driven, so I was pleasantly surprised when The KickDrums sent back this beautiful sample-based beat. We dove into that and a bunch of other topics: 
1. How did the project form and what does the project name mean? 
I had a backlog of demos I recorded over the years, and most of them were stuck in the void;  not being good fits for either of my projects at the time. Long story short, I was catching up with my dear friend Kelli Fannon, she asked what I've been working on, I sent her a handful demos, and she introduced me to The KickDrums. The KickDrums and I hit it off and spent nearly the next year making music together everyday, despite him living in Spain and me being in LA. 
Oh Bummer! doesn't have a deep or significant meaning. My writing style has always had this semi dark weight to it, dealing with heavier themes, so Oh Bummer! just felt like a whimsical light hearted way to say that. 
2. Previous musical projects? How'd you first get into music? 
I've had a couple bands I've written music for, the most significant of which is Follies and Vices, a folk punk turned pop outfit with Rob Auerbach. For most of my music career, I've had to balance my love for rock n roll, screamin hootin and hollerin over loud guitar, with my love for hip hop. That's led me to having two bands simultaneously for many years. I had a very musical family growing up, like my late father playing piano in a candle lit living room every night while we fell asleep as kids, and my sisters writing and singing acoustic songs. My musical journey all started with journaling and poetry as a young teen, and when a big brother figure in my life gave me a mix CD with AZ, Nas, Binary Star, and Clipse on it, there was no going back. 
3. First concert that you ever went to? 
Besides seeing my sister Jessie Siren play growing up- my first concert was The Kooks, and my second was The Cold War Kids. Robbers & Cowards is still one of my favorite albums. 
4. What's your writing process like? 
It all starts with trying to tap into this kind of therapeutic introspective headspace, where I can conjure and feel the weight of life's trauma and trials, and hopefully find the light at the end of the tunnel. The best way for me to get into that head space is to find a riff I like on my guitar, loop it, and freestyle until I say something I think conveys a sincere message in a unique way. Some days I can sit down and it's like magic- just starts flowing and I can't stop it. I won't go to the bathroom or eat or drink water for hours because I'm so hyper focused on what I'm writing. And some days, I hate everything I'm writing but keep going because you never know when gold might hit. 
5. What other artists or songs inspire your music? 
This is an interesting question because I love listening to music and lots of it inspires me in certain ways, but usually not in a musical way. 
The bulk of the musical inspiration I get from my favorite artists is just thinking, "I want to be that good". Whether it's wanting to play guitar like Shakey Graves, come up with a flow as unique and amazing as Smino, or sing and scream like Marisa Dabice in Mannequin Pussy. I don't think I'll ever sound like or come close to the artists I love or look up to, but hopefully I can take some of the pieces I love with me.

 
6. What's the live experience like and your philosophy on playing live? Do you think the music live should be identical to the recorded version or should it be it's own thing? 
Right now my set is very stripped back. I have a drummer, a backing track, and a microphone. I'm excited for the show to evolve and to have some of my other talented friends perform with me- but for now we're keeping it simple, fun and silly. 
I think it's rare to hear a live performance that sounds exactly like the record. Even if the artist is hitting all the same notes in the same way- something about the live environment and watching them actually perform their parts will just always feel different to me. Unless it's like a rapper who's main vocal is still in the backing track and they are basically just doing adlibs live,  that's always a little disappointing to see. 
7. Has the project toured? What has the touring experience been, best shows? worst shows? 
I've only played a handful of local and DIY house shows as Oh Bummer!, but I'm excited to get on the road next year! 
8. What's up next for the project? 
I already have a back log of songs I'm eager to release for the project. So more songs, videos, shows and merchandise are right around the corner.





https://www.ohbummermusic.com/