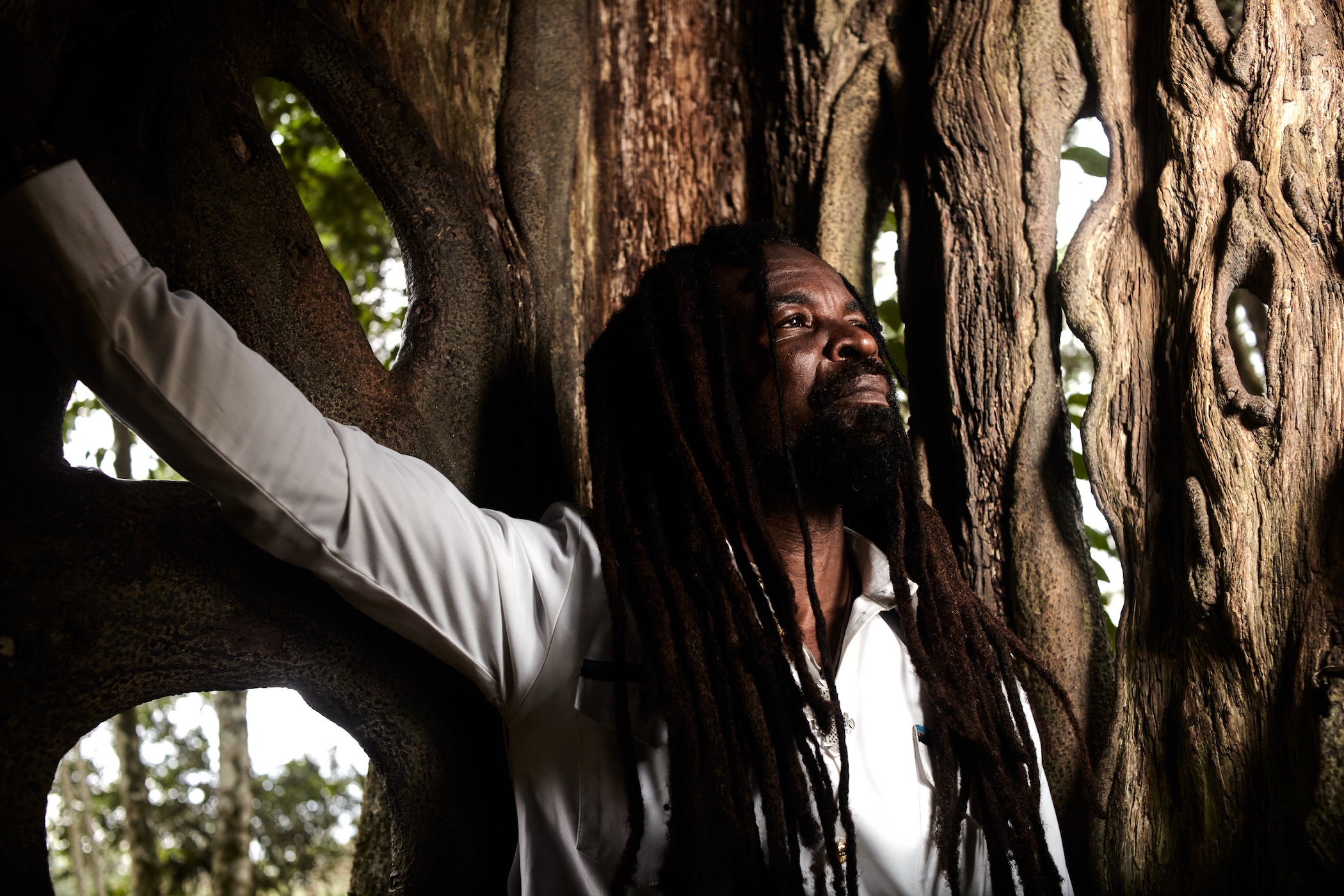 Few artists in showbiz work harder than Ghanaian superstar Rocky Dawuni. Raised by a traveling cook for UN Peacekeepers around Africa and the Middle East, Dawuni found stability in music during his semi-nomadic childhood. Everywhere he went, he soaked up the musical stylings of the locals, prompting him to discover the diverse musical roots within his own country upon return. Forming his first music group with makeshift instruments, it didn't take long for Dawuni to get noticed. His unique blend of sounds from reggae, Afropop, funk, and soul stands out and calls in listeners from all walks of life. His skill and versatility have allowed him to share the stage with the likes of Stevie Wonder, Peter Gabriel, Bono, Jason Mraz, and Janelle Monae. Meanwhile, his personality and global perspective landed him the titles of UN Goodwill Ambassador for the Environment for Africa, and Global Ambassador to the World Day of African and Afrodescendant Culture. On top of that, his 2016 album Branches of the Same Tree received a GRAMMY nomination for Best Reggae Album and he has gone on to receive two more GRAMMY nods for Best Global Music Album and Best Global Music Performance for subsequent releases. Get to know Rocky Dawuni before the release of his next album, due out next year!

Leading up to the release of his album, get a peek at Rocky Dawuni's next (r)evolution with his latest single, "Shade Tree." Expressing Dawuni's full breadth of influence, this new track layers elements from soul, roots, reggae, Highlife and even subtle nods to the West Coast hip-hop beats of Dawuni's  second home of Los Angeles. Dawuni's lyrics invite all its listeners to cool off and seek understanding of one another under the shade of our common heritage. Reconnect to your roots and find your community in Rocky Dawuni's "Shade Tree."

Get closer to the center of the circle with the music video for "Shade Tree," directed by young visionary Brazilian director Ema Ribeiro. In the video, Dawuni beckons us to follow him through the streets of Salvador, Bahia. Across beaches, through markets, and past murals, the vibrant city scenes lead us to a grandmotherly tree at the center of town. Gathered together, the community flourishes and celebrates their roots, calling you in to join them for respite from the harsh world under the "Shade Tree."

How has your upbringing impacted your musical career? 
Growing up in an African military barracks instilled in me a sense of self discipline  and tireless focus that has helped shape my approach to my career. It was a time when the Ghanaian military was also governing the country so that influenced amd shaped me with a keen sense of political and social consciousness which became critical in defining my over all musical world view.

 What inspired you to create "Shade Tree"? 
The song was inspired by the need to project nature as the basis of all human connection. The "Shade Tree" in most African traditional villages was a place of convergence for people from all walks of life. It served as a neutral place for the resolution of differences and a space for protection of human diversity and inclusion - an oasis where dialogue amd conversations serve as the pathway to forging peace and harmony. It is a vision of a reality where our humanity triumphs over our division.

How does it feel to be a global ambassador? 
For me it is an extension of my musical mission. It provides an opportunity to transform the message of my music into real life social impact.

What is the main message/theme of "Shade Tree"? "
We are one but we are not the same,  We are one under one Shade!"
 
Who are your musical inspirations? 
My musical inspirations are Curtis Mayfield, Fela Kuti, Bob Marley, Isaac Hayes, Tupac Shakir among many others.

What was the creative process like for "Shade Tree"? 
"Shade Tree" is a song the was came through me as a gift from God amd the universe. It was not a song that I sat and wrote. I felt it, sang it and then wrote it down.

Who or what motivates you?
 I am motivated by the energy of God and everyday life. It is my belief that conscious music and positive messages are the most important channels to shift the universal mindset and usher a new era of peace on Earth.  

What's next for you?