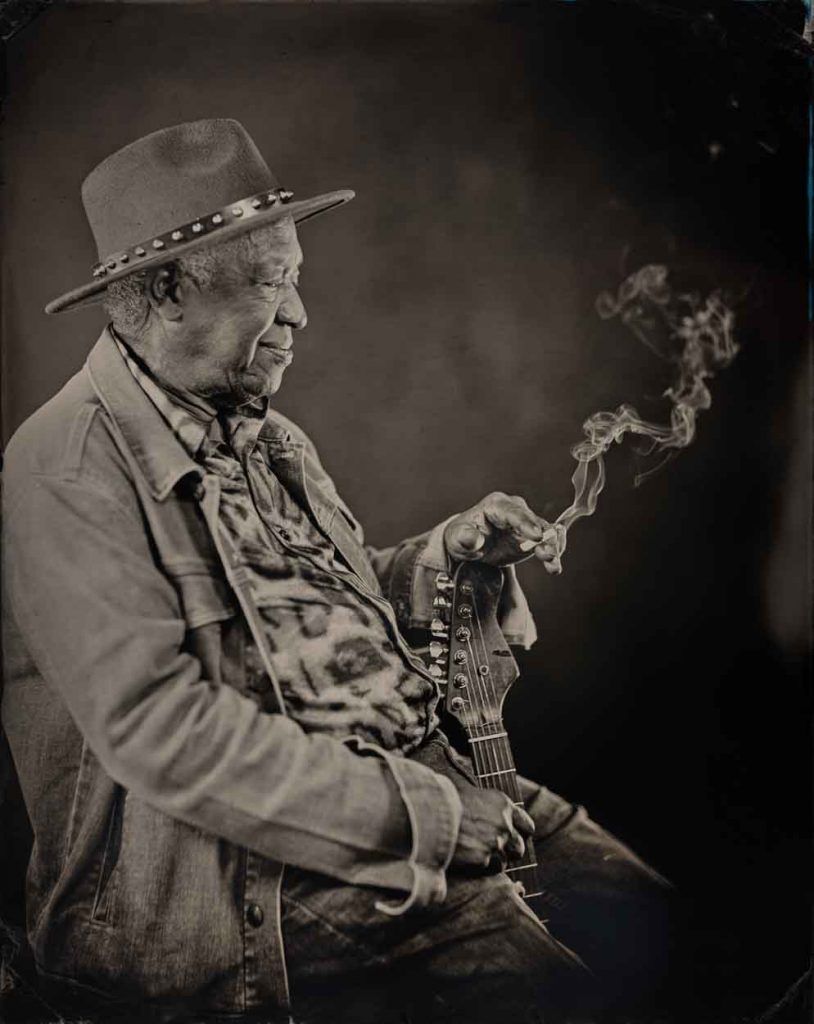 The guitarist has lived a wild life, learning the blues growing up in Georgia and then starting in a doo-wop band; hitting the chitlin circuit with the likes of James Brown, Joe Tex, Bobby Womack, Wilson Pickett, Sam Cooke, Lee Moses; collaborating with his close friend Jimi Hendrix—and then mourning his loss; converting to the Nation of Islam and hanging with Muhammad Ali; getting clean from hard drugs; working as an actor in films; getting wrongly accused of murder; painting as well as performing; and opening for the Allman Bros with Lee Moses. Herman is a legend in the making and we got to sit down with him and hear about his roots: 


How did you first get involved in music in any capacity? 
My mother was singing in the choir in the church and I would go with her; that was how it began to flow through me. I would listen to all different kinds of music, and I wanted to play a guitar. I would give my mama a broom, you know, a straw broom or something like that. I would start hitting on that and knocking straws on that. But these blues players and these jazz guys in Jacksonville, Florida coming down the street with the gift and the harmonicas, and the wine bottles they broke the neck to make the slide on the guitar. And that's when I say, 'I gotta do that.' 
Listening to people like Muddy Watters, John Lee Hooker, BB King, Jack Wilson. That's when I picked the guitar up. The group I had, he played guitar, but he didn't have a guitar. And so we got him one, and he began to teach me guitar. And so that's how that started right there. 
I was about 12 or 13, I would come around to his house and, and he would be playing, and he would always give me a glass of milk and a peanut butter sandwich. 
I began to catch on. I was on my own then, I had to find my own style, because you come up a player like someone else listening to their music over and over and over. After that you gotta find out who you are. It takes a while. So that's what it is now. And I had my first record when I was 19, so I've been doing it ever since. I'm 79 right now. 
What other artists or songs inspire your music? 
The Midnighters had this great guitar player and I would try to mimic him. In Macon, Georgia, there was a guy who had a group called the Pinetoppers. He's a very flamboyant guy. He had his hair processed and he would take the guitar between his legs, behind his back, to his mouth and all that kind of stuff. And he would jump off tables and do flips. And that really inspired me. Country music - now, that inspired me a whole lot. Cause that was all I listened to for a long time before I came to the city. 
To me, music is music. I don't care what kind of lyrics you put on it. Because there's only 12 notes. You see what I mean? Everybody gotta play the same thing. Yours might sound like somebody, somebody might sound like yours. It's only, A, B, C, D , E, F, G and the sharps and the flats. That's why I see God in the music. And I see God in the trees, and I see the trees, when they are doing their rhythm things, when the wind is hitting them and look like they're rocking. And then I say, 'Man, you're looking at God.' That is what excited me, messing around a playing behind Jack Wilson, Sam Cook, hanging around James Brown and all these guys. 
What's your writing process like? 
Back in the day I would sleep with a tape, tape recorder, and my guitar. Sometimes I would dream, I would be dreaming about a session on some gig somewhere on the stage. And the people shouting and going on with a song I never heard. And so, when I wake up, I just hit the tape recorder and talk about it, because I found out if you tried to write it, you done lost it. Sometimes I wake up, I hit the tape recorder, and then I start talking, humming, or singing. And when you wake up sometimes you forgot you did it, and you hit the tape recorder and it surprised you. Sometimes I can write a song in 10 minutes. You just have to write, write a few verses and, and just date it and assign it and come back later on. You can use it. 
What's the live experience like and your philosophy on playing live? 
The people can either shut you down or they can energize you. It's up to the people. You gotta watch the people. When you are on stage, you come up, you are hoping everything going to be right. And you just get up and do what you do. When I first started, I would have stage fright for a little while, but you grow out of that. It's up to you to take control of the people, I've seen many people get run off stage by letting the public take over. 
A person don't know when you made a mistake or you messed, but if you're a professional you won't show that, you just keep going. 
First concert that you ever went to? 
Well, it was James Brown at the Paul's Theater in Jacksonville, Florida, where the big names come. I was a coming up musician and a painter and I wasn't old enough to get in the club. 
I was slipping in sometimes, I would try to put a mustache on that looked big, and I would go in with the band. But the last time the guy stopped me and he told me he wasn't gonna let me come in. And James heard him, and James came up, he said, 'Hey brother, you wanna come in, man?' And I said, 'Yeah.' I was excited, James could say to me, 'Let that brother come on in. Come on in, brother. Don't stop him no more.' And from then on, that was it. 
That was the first time I met him. But after that, me and him became brothers, he called me little brother. I called him Big Brother. And it was me, him and Leon Austin down in Augusta. 
When I did my first record though the guy asked me did I have any songs to record, do I have at least two songs? I told him, 'Yeah,' but I didn't, but I wasn't gonna tell him I didn't. So it was a letter that I had written home to my wife and I used those lyrics for one song, and the other song sound like James Brown. And then James came to me on that one. This was about 63 or 64, and he said, 'Brother, brother, look, look man, number one James Brown brother.' 
When I went to Augusta, they were shouting on my song, and some of the people thought it was James Brown, to tell you the truth. And so we began to get real close.