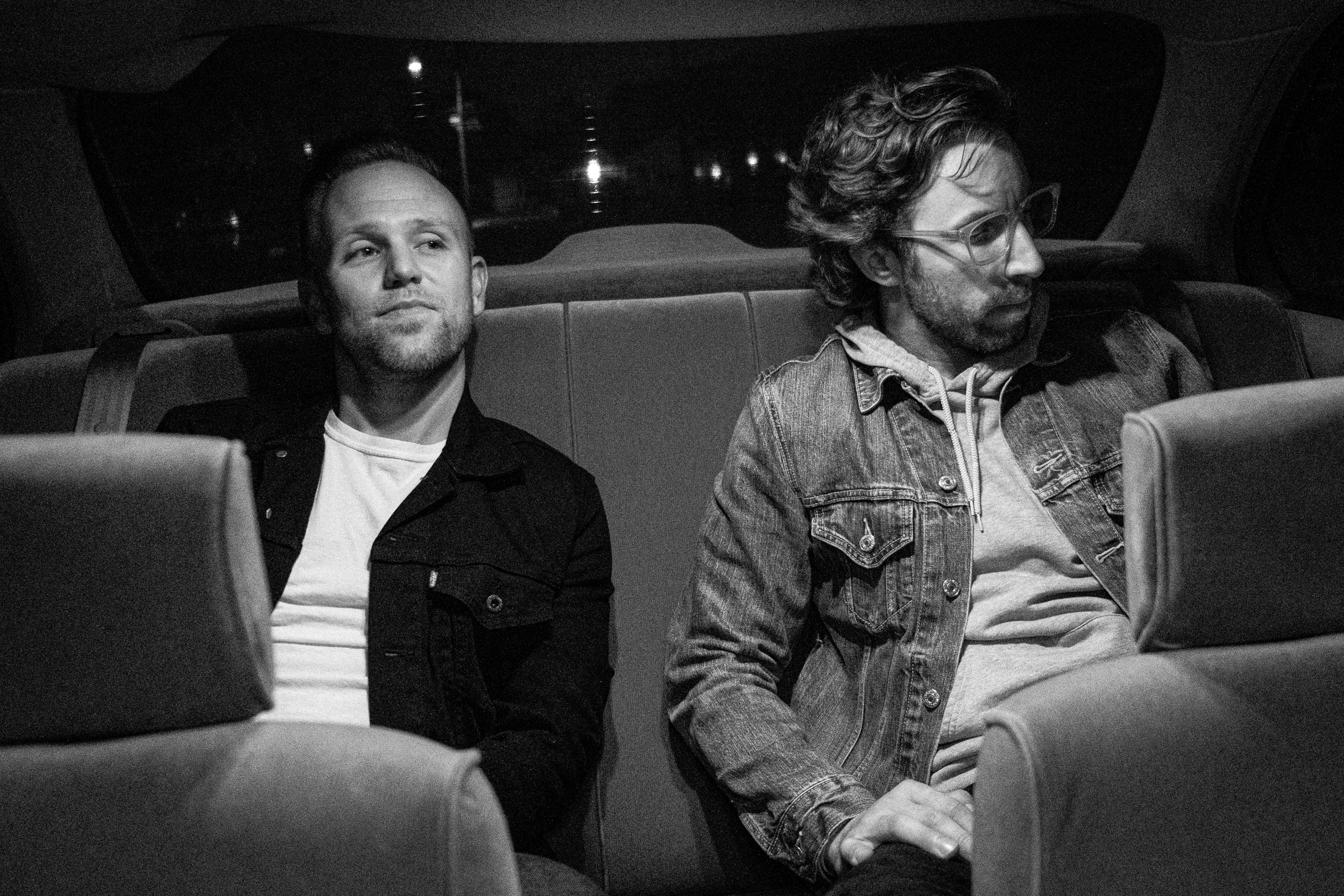 Crozet have an excellent new album titled "Suburbia". The band says the lyrics "speak of love and loss, music evoking the innocence of childhood and teenage angst with a timeless blend of vintage and modern production." The clear hit is "Summer Nights" a tale of teenage heartbreak, maybe the sort of thing that could find a home on a Stranger Things episode. We caught up with the band and asked them about the history of the band, what inspires them and about their live show. We also asked them to put together a playlist of what inspires them. 
1. How did the band form and what does the band name mean? 
Sean and I had been playing in bands prior to Crozet since high school around 2004/2005. Mostly indie rock style bands at that point. We had been huge fans of bands like Tycho, M83, Telefon Tel Aviv, and Washed Out, so wanting to start a project like those was always in the back of our minds. While I was in my senior year of college in 2010-2011 I started writing electronic music with Reason not unlike those bands I mentioned. Since I was too busy with school I would send these songs over to Sean and he would add his parts in and send the files back. We ended up with a lot of material and figured why don't we release it. We had enough original music for an LP and a handful of covers to release as an EP. The name actually was already written down at this point. Crozet (crow-zay) popped up in a project I was working on at school. Our task was to create an album cover for a fake band. The teacher provided each student with 2 wikipedia links and one random google image. One to a random page for the band name, the second for the album name, and the third for the image on the cover. What I ended up with was "Crozet - A Better Class of Enemy" and the image was of a snowy desolate landscape. I thought the name was fitting enough for an electronic group. It has multiple meanings. One being a town in Virginia, and another being a group of islands in the southern Indian Ocean. I'm not exactly sure how either of those are pronounced though. But the "T" is silent for our band haha.  
2. Previous musical projects? How'd you first get into music? 
Sean and I were in a group called Cityscapes in the early 2000's. Kind of a heavier indie rock band similar to Circa Survive I'd say. We toured a decent amount during summer and winter breaks from school for a long time. We got a good amount of exposure at that time from local radio play, licensing music for BMX DVDs, playing out all the time. We were really young. Some shows a few of us including myself couldn't even go into because we weren't 21 yet until we played our set haha. Music started at an early age for the both of us. I started playing guitar at 8 years old and started playing with friends probably by 13-14. Sean was a drummer and a guitarist at a young age as well. Playing in a lot of metal bands we crossed paths in that circle of music. The early 2000's hardcore / metal was huge in NJ and Philly at that time. What brought us together I think was the fact we recognized that both of us had similar musical interests that spanned father out than just metal and hardcore.  
3. First concert? 
The first Crozet concert was at the Medusa Lounge in Philadelphia on April 1st, 2011. We played with Harry Harrison of Baauer who was in the same circle of friends producing electronic music at College during that time. 
4. What's your writing process like? 
It's kind of random. Both Sean and I go through phases where we write a ton, then can't write anything at all. I personally usually start with a synth riff, or a bass and drum line. Sometimes it's written on a guitar first then built around that idea, or sometimes it's just a vocal melody. We both tend to write a chorus or a verse, then share that idea with each other and go from there. 99% of the time I write the lyrics after the music is already complete.  
5. What other artists or songs inspire your music? 
This changes for the both of us from album to album. Early on we were heavily inspired by Washed Out, Small Black, Com Truise, Neon Indian, then the second album shifted more towards Gensis and Phil Collins, Peter Gabriel, Prince, Def Leppard, The Police, Mitch Murder. On our latest album "Suburbia" we were listening to a wider range of artists from different time periods. Newer artists like The Strike, Hotel Apache, Johnny Dynamite and the Bloodsuckers and your heavy hitters like Janet Jackets / Jimmy Jam and Terry Lewis, Dam-Funk, Tears for Fears, Kate Bush, and a lot of Bryan Adams. 
6. What's the live experience like and your philosophy on playing live? Do you think the music live should be identical to the recorded version or should it be it's own thing? 
Our live set is a bit different than our recordings. We play as a 3-piece. I sing and play bass and guitar, Sean plays guitar and synth, and our good friend Matt Weber plays all things drums. We try to keep the core of the song close to the original, but tend to improvise here and there without changing the feel of the songs. I personally like when bands change things up for the live versions, but keeps the vibe right. 
7. Has the band toured? What has the touring experience been, best shows? worst shows? 
We've never actually toured as Crozet. Only played select shows between here in the Philadelphia area and NYC since 2011. We would love to tour,  but from past experiences we've had more fun playing select shows and playing kind of infrequent. It has kept our shows bringing better turnouts. I would say our worst show was our first. The turnout was great, but this was our first time playing this stuff live with little to no prep. It was still a ton of fun because no one really cared. The best show we played was probably a mixture of our record release show when Running Time came out and our last show pre-covid at World Cafe in Philadelphia. Since we don't play often we always seem to have a great turnout with people coming from all over the place.  
8. What's up next for the band? 
We're in the middle of creating the live set for the new album so we can in fact book some shows at some point this year. We collaborated with a label called Electric Dream Records to release the new album on vinyl, which will be available hopefully by fall, and another group called Lunchmeat VHS on creating a short movie / VHS release of the new album which should be available this month. Super excited about both. 
What inspires Crozet Spotify Playlist 
1 - Johnny Dynamite and the Bloodsuckers - Bats in the Woods 
2 - The Blue Nile - I Love This Life 
3 - Janet Jackson - When I Think of You 
4 - Sade - I Never Thought I'd See The Day 
5 - The Mary Onettes - Cola Falls  
6 - Garrett - Room with a View 
7 - Mitch Murder - The Line 
8 - Video Age - Lover Surreal 
9 - The Strike - Miles Ahead 
10 - Hello Meteor - North Shore Rain 
11 - Future Thieves -Dark Spin 
12 - Moon King - Come Around