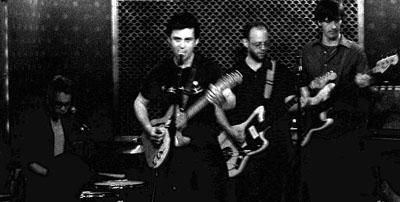 the Pelicans were a NYC quartet fronted by Ari Vais in the early 2000s. The band consisted of Ari's junior year abroad to the UK pals Joe Rosenthal (bass + guitar, from Colorado) and Blain Kennedy (bass + guitar, from Wisconsin). Ari Vais played guitar, wrote the songs and sang, and the group was rounded out by multi-instrumentalist, and producer, Art Tavee on drums. Years later Ari Vais became the frontman for The Campbell Apartment which started in NYC and ended up in the 2010's out in San Francisco. The Pelicans first resurfaced in the digital streaming era with a few tracks on "The Very Best Of Ari Vais and The Campbell Apartment" and soon after plans were made for the Pelicans full discography to be released. We caught up with the band to learn a little about their history. 
How did the band form and what does the band name mean?
Ari: I was back from spending the end of 1999 till the start of 2001 in London, and wanted a new band. Humbert was left in Northampton when I moved to Queens and then hastily to the UK, where I was in a loud and not very good three piece simply called Ari Vais. the Pelicans was my band before The Campbell Apartment and was comprised of a couple good friends I made, also in England, but a decade earlier, where I was an exchange student from UMass Amherst, Joe Rosenthal from Boulder, CO and Blain Kennedy from Madison WI - at the University of East Anglia in Norwich, England. There was already a musical bond and all 3 of us were good friends and happened to all be living in NYC. It was a post 9/11 band. We did a pretty inspired EP called London Crawling, a concept album if six songs made for a concept album, and then I was made over on Queer Eye for the Straight Guy so we rushed out another six song album, this one with our multi-talented drummer Art Tavee serving as producer, in time for the episode to air. It doesn't feel rushed however as there are good songs all over the dozen featured here, and they stand the test of time.
Joe: It was a reunion of sorts. Ari, Blain, I all played in a band called Mind The Gap during our junior year abroad in Norwich, England. We didn't make much of an impression, but we had a blast and became fast friends. After graduating, Blain and I had been knocking around in New York in different bands, including together in a short-lived band called Landlord in 1999-2000. Around this time, Ari suggested we form a new band. It was a no brainer given our friendship and love of the same kind of music. So we placed an ad, I think on Craig's List, for a drummer, and we hit the friend/musician jackpot finding Art. Next thing you know, we are playing gigs and recording EPs. I think Ari came up with the name, and I believe it had to do with Pelicans being both odd and beautiful, but I honestly don't know. It just stuck and it was the least controversial band naming I can ever remember! 
Previous musical projects? How'd you first get into music?

Ari: Prior to the Pelicans, I was in "seminal '90s" Northampton, MA band Humbert. I first got into music in '79-'80 when I immigrated from Moscow, settled in Cambridge, Mass., and fell in love with the Beatles. Soon after, on my classical acoustic, I started writing songs, around age 11. My English was negligible at best but melody transcends space and time.

Joe: I started playing guitar at about age 10, inspired 100% by Jimmy Page like lots of other suburban kids. I learned a bunch of Zep songs, but could never play the damn solos! I was a pretty decent rhythm player and that became my thing – lots of big chords and an obsession with tone. I played in a band when I first moved to New York in '95 called Pseudo that got signed to an EMI development deal. It fizzled but gave me an unfounded confidence I would be able to make a go of music. 
First concert that you ever went to? 
Ari: Aerosmith, the New Year's Eve show in 1980 or thereabouts when they were still in their debauched halcyon years, with my mom, because I'd won tickets on a radio station. We were both wildly unprepared for the chaos and decibels that would ensue and fled the venue in horror as soon as the concert started (as Security pointed and laughed).

Joe: The first concert I ever went to was Pat Benatar and Billy Squier at Red Rocks. My dad took me and a friend. I was 12 and it was a huge moment for me. It's funny, because I just saw this morning that Pat is being inducted in the Rock and Roll Hall of Fame tonight. Didn't see that coming 40 years ago, but she's totally deserving and it's great to see her get that recognition. I recently took my daughter to her first show, Harry Styles, and it was so awesome to see the light in her eyes during the whole experience. There's nothing better than great live music.     
What's your writing process like?
Ari: If I knew I'd be writing something right now. It's really hard and random. But basically you have to actually be sitting down at or with an instrument, messing about, until an idea comes along. If it excites you, build on it, save it, work on it, finish it, record it. Show it to the band, make a demo, then everybody play all their own parts over the demo and you have a hit record!

Joe: Ari is our writer, and with good reason. He's just a beast of a songwriter. I'm biased, but I put him up there with the very best in rock. He's witty, poignant, emotional, and funny – and he paints pictures with his words. He's a poet. He'll bring the songs pretty much baked, and he'll have ideas about what all the instruments should be doing. Like, "hit the toms like this" or "change the tone on the solo and try this melody." That said, we all brought our signatures to the band. Blain's a hell of a guitarist with lots of quirky ideas and a sick soloing ability. Art is just beyond talented on the drums, full of creativity, and also a multi-instrumentalist and producer in his own right. And I would bring some sonic heft and dissonant solos and feedback. It worked out well. Ari is a great bandleader. He has strong ideas, and he expresses them, but he's open to different approaches as long as they serve the song. And he's hilarious and quite persuasive, which helps keep everything on track and on the level. 
What other artists or songs inspire your music? 
Ari: At the time I was pretty excited about Eels and The Modern Lovers, Lou Reed, REM and the Strokes, I was close friends with all the surviving members of Fountains Of Wayne, so much so that I didn't realize what a fan I was, loved the three W's at the time as well, Wilco, Ween and Weezer

Joe: We worshipped at the altar of indie rock. Nirvana. Pixies. Pavement. GBV. Modern Lovers. Velvet Undergound. Dinosaur Jr. Built to Spill. Lou Reed. Big Star. Breeders. And, of course, The Beatles and Bowie. I think we wear all of that on our sleeves and we sound like a part of that canvas, doing our little part. 
 What's the live experience like and your philosophy on playing live? Do you think the music live should be identical to the recorded version or should it be it's own thing?
Ari: I think it should be its own thing, though we do not try to rearrange songs, nor are we perfectionists in any way, so part of the fun of playing live is not knowing how each song will turn out, it depends on so many factors, but the main ones being that there is a group of human beings playing music together at that particular moment in time, and it'll never be exactly the same way twice. Especially with my liberal use of feedback, which you can only control a little. We like to bury our pretty pop hooks with an off the hook stage show that's high energy, good natured and a bit dangerous all at the same time. Making records is very methodical and playing live is all adrenaline (not to mention the energy being passed back and forth from the group to the audience)
Joe: I think we were a good live band. Above all, we stayed true to the songs and melodies, to the parts we had written. But we also never played the same show twice. Sometimes we'd extend solo sections or jams, or maybe add some flourishes to a part. We were always mindful not to overindulge. Ari was great at engaging the audience with funny stories and he kept things fresh. I always enjoy bands that do that. I don't want to just hear the album at higher volume. I want to hear and see bands that are in the moment. It's communication, not a script. That's when live shows are great I think. 
Has the band toured? What has the touring experience been, best shows?  Worst shows?
Ari: We toured Ontario + the United Kingdom. Touring is so rad that all the shows are the best shows and there are no bad shows. You are with your friends on the road playing rock n roll. Even if no one turns up at the shitty club, the staff is there and you'll be that much better the next night for having played and you're not sitting in a fucking cubicle getting fat - you're pounding pint after pint of beer and getting fat! Seriously, the best shows I've done are the ones since I quit drinking two years ago, hands down. Shit just got real, it's professional now, big league.
Joe: We didn't tour much, mainly because New York is so full of opportunity. We played at Fez, Brownie's, Pianos, Arlene Grocery, Pete's Candy Store – all amazing venues. Our best show – or at least the most fun – was when we played a TV showcase for Queer Eye for the Straight Guy. Ari (and The Pelicans) were featured on the show when it was first taking off. The place was packed and all sorts of press were there. It was just a lot of fun. I can't think of any bad shows, but I do recall a very sparsely attended, but cool, show at a war veteran's club in Massachusetts. And one show in Danbury, Connecticut, where I think the audience wanted to see a capital-R rock band and we half expected beer bottles to be flung at us. I think we won them over. We loved to play out and I think we did all right at it.
What's up next for the band?

Ari: My current band of 20+ years, The Campbell Apartment, is working on our 6th album and are about 11 songs in in terms of writing, 2 finished as far as recordings, and all others in some type of demo form, and planning on being completed sometime in spring 2023 

Joe: Great question. I tell my kids maybe this release will strike a nerve and their college funds will be magically taken care of. But who knows, if we get some interest, I can see a reunion tour – or at least a couple dates. That shouldn't just be the province of The Who, right?