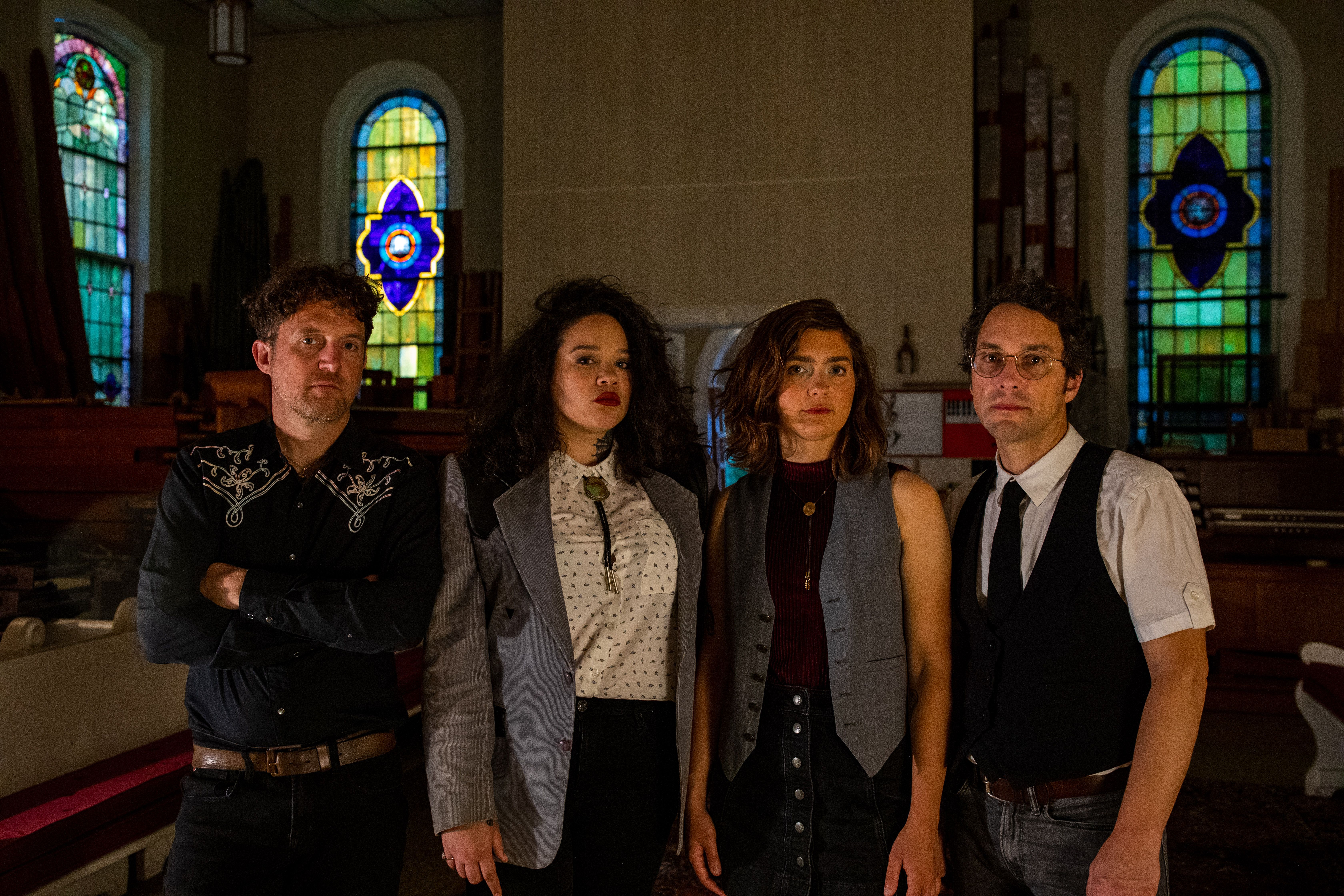 Those Looks is Kelly Bolding on lead vocals and guitar, Sylvia Barrantes on lead guitar and vocals,
Randall Newman on bass and vocals, and Shaun Ellis on drums.
 
Those Looks, an indie rock four-piece based out of Lambertville, New Jersey, will release their debut full-length album, Cults Near Me, with Mint 400 Records on November 11th, 2022. Following a self-released 2019 EP, which garnered local interest in their velvety brand of indie pop. The band spent the pandemic steadily cultivating their powers. Cults Near Me was recorded and produced by Steven Xia (Camila Cabello, Boyish, Scotch Mist) in the band's converted church practice space, where many of the songs were also imagined and written. The album's ten songs represent an expanded sonic range that includes the surfy pop of the band's early days, a grungier, 90s-influenced rock element, three-part harmonies, and just a touch of country. Their sound is one that fans of Angel Olsen, Sharon Van Etten, Julia Jacklin, Warpaint, Wet Leg, and Alvvays will likely appreciate. We caught up with Those Looks to learn more about them and their stellar new release: 
1. How did the band form and what does the band name mean? 
We started playing together casually in 2018, initially under the name Big Muff. We became Those Looks in the summer of 2019, when we decided to release our first five songs as an EP. We picked our name from a long list of ideas. Maybe it stuck because it has a bit of moodiness and also because it sounds like it could be the name of an 80s hair salon, which is fitting because our first practice space was in Sylvia's salon. 
2. Previous musical projects? How'd you first get into music? 
Shaun and Randy have been playing music together since high school. Their first band was called Gravity's Pull, and there are VHS tapes of them playing shirtless on a Jersey Shore deck. It's only been uphill since then. Sylvia and Kelly started playing music together in 2014 in a band called the Forty Winks, focusing on covers and originals written by our friend, Debra Jean. Sylvia played the nyckelharpa, which is a Swedish keyed fiddle, and picked up the electric guitar for Those Looks. But honestly, this band is a lot of firsts for us – it's also Kelly's first time as a front person, Randy's debut singing backing vocals, and it marks Shaun's transition from guitar/mandolin to drums. Beginner's mind is key for us. 
3. First concert that you ever went to?  
Kelly: The Spice Girls in Kansas City, Missouri. It was an outside venue, they were fending off giant cicadas that kept hitting them on the stage, and it was amazing. 
Randy: Embarrassed to admit it was Billy Joel at Yankee Stadium and our seats were so far up that people on stage looked like ants. 
Shaun: Paul McCartney's Tripping the Live Fantastic Tour, I'm pretty sure it was at Giants Stadium. My brother and I got our dad tickets for Father's Day. I thought all Paul's jokes were hilarious, but then I saw him do Live Aid on MTV and he did the same exact routine! I thought it was all spontaneous. It was a bit of a let down, but also a learning experience. 
Sylvia: Saves the Day and Taking Back Sunday in Asbury Park back when it was still pretty sketchy. I was 16 and in my emo phase. My dad completely forbid me from going but there was no way I was going to miss it.  
4. What's your writing process like? 
Our writing process is pretty collaborative. There is no one primary songwriter whose sound drives the band. Everyone brings pieces to the table, whether it's a chord progression, a riff, lyrics, etc. People also sometimes write for other band members' parts. For example, the lead guitar part in Hymnal started out as Kelly's vocal melody that we iterated on through the use of digital delay. Kelly had a few fledgling ideas for Tangier as a song about William Burroughs and Joan Vollmer, and Sylvia ended up researching the whole story and writing most of the lyrics. Shaun is our drummer, but he's also got a great ear for melody and writes a lot of the more dreamy tunes like Tonight and You Know Where as electronic tracks in Ableton, and then we interpret the parts into a full band format. Randy's chord progressions form the basis of songs like I'm Fine and Chelsea.  
5. What other artists or songs inspire your music? 
Shaun: Alvvays is a Canadian band that reminds me a little of us. We once covered their breakout hit, "Archie, Marry Me," and it has a lovely raw sound. They polished things a bit more on their followup albums, and Dreams Tonite has such a beautiful melody. The atmosphere it creates is wistful dream-pop brilliance. 
Randy: In high school I became obsessed with REM after seeing a video on MTV. Mike Mills' melodic bass lines and vocal harmonies inspired me to play bass and sing. Sharon Van Etten was a later obsession after hearing Serpents on the radio. The haunting quality and honesty in her voice is captivating and has many similarities with Kelly. 
Sylvia: I'm a big fan of The Smiths and love the dark yet cheeky lyrics contrasted against the poppy twinkle of Johnny Marr's guitar. "Sleepwalk" is a classic. It's so dreamy and beautiful and the smooth, slide sound has definitely influenced my style of playing. 
Kelly: I love moody vocals that have a lot of drama, which I hear in both Chris Isaak and Orville Peck. Lyrically, it's so hard to beat David Berman – there's something so surreal and relatable at the same time about his words. His book of poems Actual Air is amazing as well.  


6. What's the live experience like and your philosophy on playing live? Do you think the music live should be identical to the recorded version or should it be its own thing? 
For our new album, Cults Near Me, we had the opportunity to record with our friend Steven Xia, who engineered, mixed, and produced the record for us. He added some layers that we don't have in our live playing that really add to the compositions without making the recording so different that it sounds like something is missing when we do play live. Like a good set of eyebrows, the live and recorded versions are sisters, not twins. They each have their own charms, but might seem superficial if they were perfectly the same. 
7. Has the band toured? What has the touring experience been, best shows? worst shows? 
Our touring experience so far has mainly been confined to New Jersey and the Philadelphia area. After the release of our new album, we're hoping to play more regularly in Philly and get up to New York City, maybe further. I think that our best shows have been ones where we get to meet new bands and make friends. We recently played the West Philly Porchfest for the second time and met some great acts including Best Bear and Humilitarian. As a result, we ended up opening for Best Bear at their album release show at PhilaMOCA, which was so much fun. We're also really grateful to have John and Peters as our home base in New Hope, PA, where we get to play with local friends like Christina Ward, Kitty City, Proboscis, the Swiss Guard, and Joy on Fire. 
8. What's up next for the band? 
We're going to be releasing our first full-length album, Cults Near Me, with Mint 400 Records on November 11th, and the record release party will be on November 12th at John and Peters with Kitty City and Best Bear. This album was our first shot at taking the time to really hone our songs into their fullest forms, and we're super excited about how things turned out, so we're eager to share it. Our friends helped us make an awesome music video for our single "Hymnal," so we're looking forward to sharing that soon too. We're also hoping to set up a mini-tour in the spring and start dedicating more of our time again to songwriting.
SONG PREMIERE: "You Know Where" From 'Cults Near Me' LP available on 11/11/22


Official video for "Hymnal" From 'Cults Near Me' LP available on 11/11/22