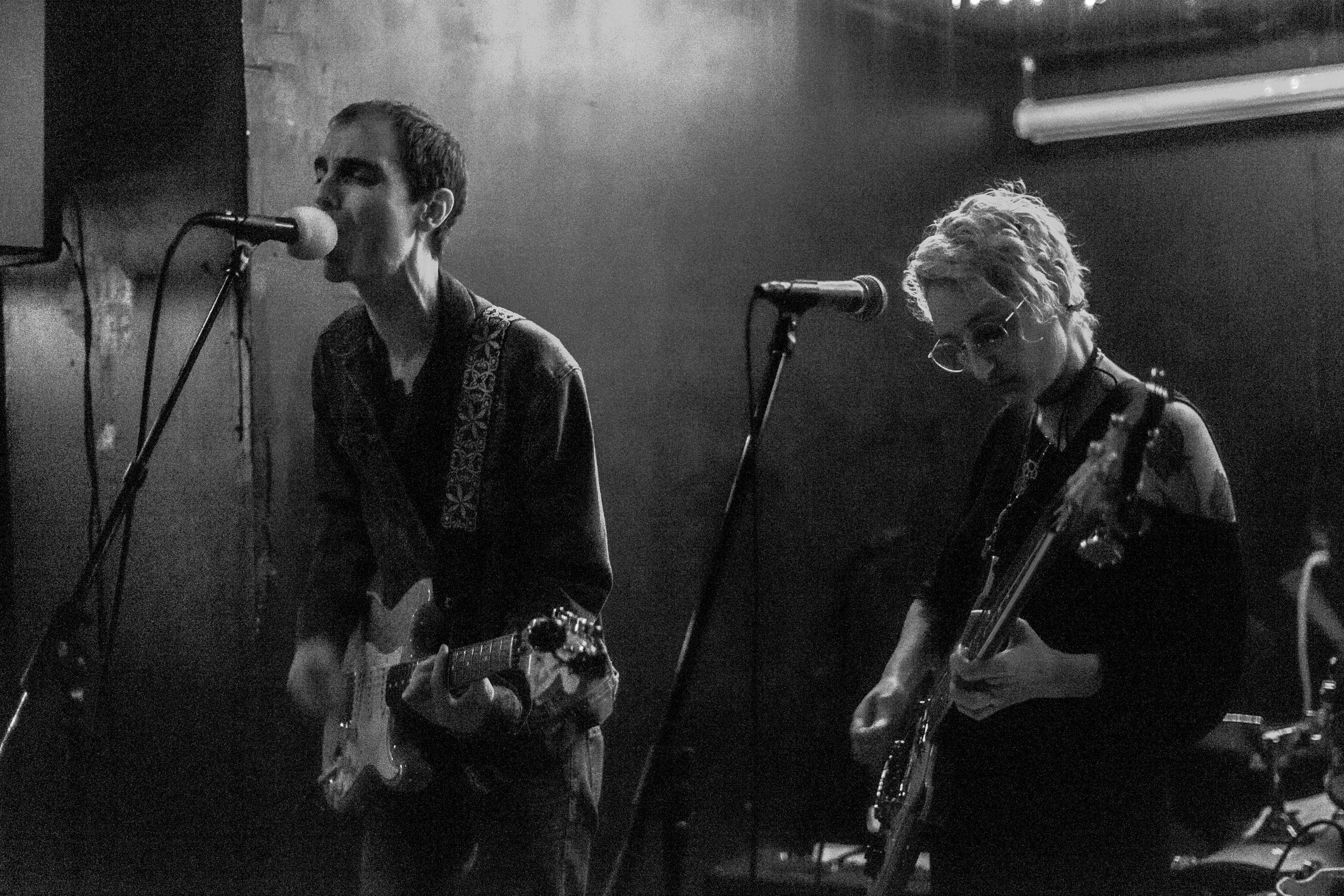 Brooklyn's Hanford Reach continues to push the boundaries of psychedelic rock. Their 2021 album, After Image, rattled off song after song of lush and adventurous music, as frontman Chris Sherman took listeners on an unpredictable sonic adventure. Songs like "Malibu Grey Shades" and "Out of Dreams" are examples of Sherman's sharp world-building instincts, as these immersive wall-of-sound music experiences have a transportive impact. Sherman followed the release of After Image with two new singles in 2022, "Autumn Calling" and "Disappear," which continue to showcase his penchant for swirling, psychedelic instrumentation.  
We recently caught up with Sherman to talk about the band's origins, their music, what's next, and more: 
1. How did the band form and what does the band name mean? 
Hanford Reach formed after the last band (Sky Picnic) ended.  Toward the end, I had been wanting to modernize the sound some as well as move away from the archetypal band situation after eight years.  Leah Cinnamon (also from Sky Picnic) and I officially got Hanford Reach going in late 2016, although it took a few years to get the sounds I was after on those early singles and EP, so in my head, it feels more like 2019 was the real start.  This also coincides with when we got a solid live band going. 
The name comes from being a history geek and happening to have been reading about the Manhattan Project at that time.  One of the country's nuclear facilities was in Hanford, WA, and behind it ran a heavily polluted nuclear runoff water way called the Hanford reach.  It felt fitting in some odd way, feeling like a bit of an outcast musically but also having this project feel like a runoff from the last.   We did try and incorporate a humorous approach, using the inspiration of Blinkey, the three-eyed fish from the Simpsons who lived in contaminated water behind the Springfield nuclear plant, as a mascot. 
2. Previous musical projects? How'd you first get into music? 
My whole family is musical, so I've just been around it my whole life.  It was always encouraged to learn an instrument, so I had basic guitar, piano and drums knowledge by the time I was a teen.  I've been playing in bands since I was 15, starting in pop-punk/emo bands (which was the thing at that time), did the Music major thing while becoming obsessed with the Beatles and Pink Floyd, which changed my musical perspective.  Sky Picnic came from that just post-college dream of moving to the city and making something out of it (as was the thing at that time). 
3. First concert that you ever went to? 
My first local concert was probably to see my Dad's band play.  For touring bands, I hate to admit this, but I saw Bush and Veruca Salt at the New Haven Coliseum in 1997 as my first "real" show. 
4. What's your writing process like? 
My songwriting has completely changed since the pandemic.  I used to work on guitar riffs or chords that fit well and would bring it into the rehearsal room, work out parts and come up with an arrangement.  This completely flipped in 2020 where now I've been building songs around a drum loop and synths and being less reliant on guitars.  I take those basic tracks, and add parts upon parts on top, deciding what to keep in the mixing phase.  The Ephemera EP has the first batch of songs that follow this new process.   
The key though has been spending less time worrying about where the song should end up and not overthinking any parts; if it doesn't come organically (or accidentally), there's no point in forcing it.  Listening back to the last album (After Image), I wanted to push the production values up and incorporate new sounds so I've also been focusing more on textures and dynamics and still working on adhering to the "don't bore us, get to the chorus" adage.   
5. What other artists or songs inspire your music? 
As I mentioned earlier, I've not only changed my writing style but also how I approach the production, and really being conscious of letting it shine.  With that, I should really mention my three main influences in that area, all of whom are notoriously meticulous in their craft yet produce completely different music: Kevin Parker (for the psychedelia and pop vibes), Trent Reznor (for the heavy beautiful darkness) and the RZA (for the layers of dirty loops and raw production).  From this triumvirate, I've included "Breathe Deeper" which was a total "is this for real!?" moment upon first listen, "Down In It", which is perhaps the perfect dark but light NIN vibe (also a partial reason I got an 808) and "Protect Ya Neck", which is my favorite hip-hop song ever, full of grit and raw verses.   
From there, I wanted to focus specifically on the inspirations for this EP, which would be what I was listening to in late 2020/ early 2021.  "International Feel" by Todd Rundgren isn't even my favorite of his songs, but this one is so trippy, it was a nice escape from those prime pandemic days; these vibes definitely permeate through the EP.  "Camera Eye" by Rush is the perfect balance of prog and creamy synth sounds I die for these days.  I even did a partial bedroom cover of this in the spring of 2021; you can find it somewhere on the IG.  Not to get too prog dominant, but I had to include Genesis's "Duchess" from the Duke album, which to me is their pinnacle just toeing the line of 80's slickness and Phil Collins becoming "Phil Collins". 
I've included "America's Cup" by Pond, which was ultimately on one of my top albums of last year.  They've really come a long way from their goofy and scruffy earlier albums, evidenced on this grove laden gem.  I was about 5 years too late to discovering Angelica's Elegy (and the entire super vibrant Norwegian psych-pop scene), but their entire sole full-length was the soundtrack to winter 2021 for me.  Micra was another of my favorite finds and "Undercover Lover" lived on repeat for some time, particularly during mixing.  The Babe Rainbow can cure whatever ails me and "Zeitgeist", which might be their best song to date, was a pandemic rotation regular.    


6. What's the live experience like and your philosophy on playing live? Do you think the music live should be identical to the recorded version or should it be it's own thing? 
I go back and forth on live versions versus recorded versios.  It's two different ways to present a song and can almost be two different takes on a song by the same artist.  When I see a band, I prefer something different, within reason, but when I'm performing, I've moved onto the side of replicating the album as closely as possible.  Essentially, I know how much time has been spent getting it how I wanted it and it feels like a live rendition is missing a layer. 
Right now, I'm just hoping to play a few shows a year where the music can be presented in a way that does the songs justice and we can have fun doing so.  I don't want Hanford Reach to morph into a studio project because performing is still such a rush but if that's how it ultimately goes, I'm at peace with it. 
7. Has the band tour? What has the touring experience been, best shows? worst shows? 
I've yet to tour in this band.  Anytime I had (or even just played outside of the city), there is always some story associated.  The amount of time you spend together, the inane endless conversation, random jokes, and general sleepiness just turn it into this weird traveling summer camp that revolves around getting to your venue in time and playing your heart out. 
8. What's up next for the band? 
I'm working on finishing up the next EP and then an LP right behind that as I've been rife with ideas and inspiration since the end of 2020.  The Ephemera EP and the next EP are essentially from the same batch of material and work as companions to each other; these four songs just happened to be the first completed.  My headspace is really in creating and polishing the rest up right now so I'm excited to finally get everything completed and out into the world.



www.facebook.com/hanfordreach 
hanfordreach.bandcamp.com 
Twitter: @hanfordreachbk
IG: @hanfordreach