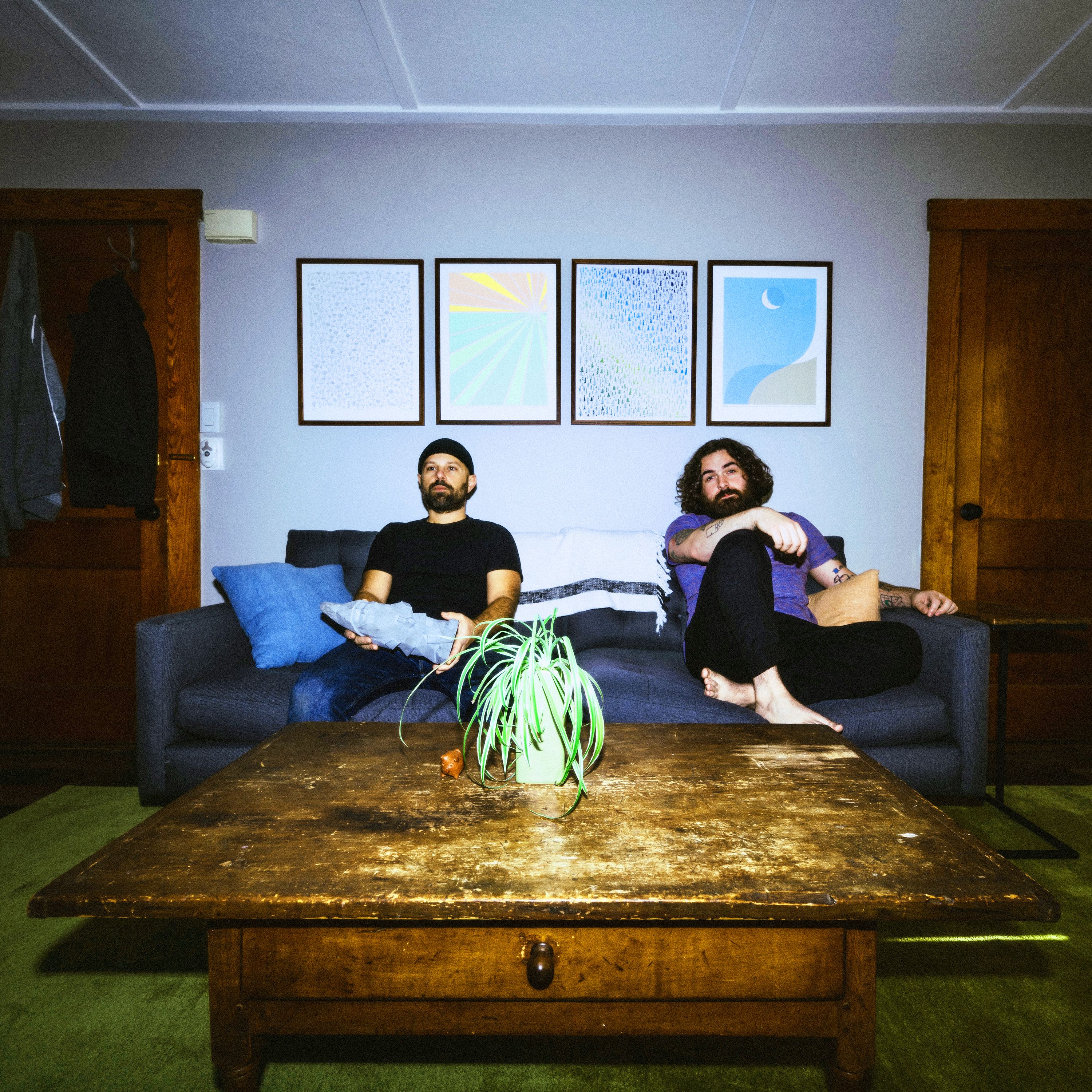 Yawn Mower is a two-piece unit composed of Mike Chick and Biff Swenson.  On September 30th,  2022, Yawn Mower will release their first full length LP, To Each Their Own Coat, of which they have released three singles, "Sixteen Minutes", "Broken Filaments" and "Elevation".  The album pays homage to many of the bands that influenced the duo, some being Mike Krol, Broken Social Scene, mewithoutyou, Dogs on Acid and Death From Above 1979. Yawn Mower has recently expanded its live band for these new songs with help from Nick Gianatiempo & Dana Yurcisin of Grasser and Eric Friedman of Earth Telephone, as well as local Asbury Park singer/guitarist Pam Flores on backing vocals and Nicole Scorsone on violin. A virtual who's who of the Asbury Park and NJ Indie Scene all on one record. We caught up with the band to chat and here's what they said: 

How did the band start? 

YM consists of Mike Chick and Biff Swenson and was born in Biff's basement in Red Bank, NJ in 2015. "When are we gonna start a fuzzed-out garage band?" asked Biff. "How about tomorrow, I just got a baritone guitar", said Mike. YM has since released several EPs and singles via Mint 400 Records. Biff and Mike are both pretty high energy, productive people and aren't fans of being bored or still. Yawn Mower was a name that seemed to capture those personality traits. 
Previous musical projects? How'd you first get into music? 
Biff: My first notable band was Passengers And Their Baggage. We played Asbury a bunch back in the day - well over a decade ago. Then my band Quiltary was the one that toured the most. A few other even less notable ones from there. Then Mike and I started Yawn Mower when I was playing in Denizens of Soil and Year of Glad. As far as when I got into music, I've always wanted to be in a band from as far back as I can remember. When Presidents of The United States of America released Peaches I was like 7 years old. My older cousin and his friends were having band practice and they let me watch. They all had bleached hair, tattoos, earrings, and were clearly stoned when I think back on it. He let me sit down to drum along to Peaches and it was all over from there! Absolutely hooked! 
Mike: I've played in a bunch of surf, emo and indie rock bands over the years. I did a stint as a solo acoustic artist for several years and released a solo acoustic LP in 2011 (Hello Mountain). After the acoustic years I played with various people, but nothing really progressed past jams until I met Biff and we started Yawn Mower. I've been a fan of music forever. My parents would play the Beatles, Rolling Stones, The Doors- bands from that and more current eras. We were always listening to music in the house and in the car. When grunge hit that sent me on my own path musically. I still get excited when I find a favorite new band or album and can share it with friends.    
First concert that you ever went to? 
Biff: My first real concert was Blink 182, Green Day, and Saves The Day at PNC for the Pop Disaster Tour in 2002. 
Mike: First concert was Cracker, Gin Blossoms and Live at PNC in the 90s. 
What's your writing process like? 

Mike: I'll come in with a riff or idea or (as was the case for Sixteen Minutes) a full blown song and run it past Biff. If he's into it we will move on from there. We have similar ideas in regards to where songs should go structurally, so there usually isn't too much arguing about where a bridge or solo should land in a song.  
 
What other artists or songs inspire your music? 
Biff: We saw Mike Krol 3 times in 3 days at SXSW in 2018. Next time we were on tour he was all we listened to, so naturally we wanted to pay homage to that period of our lives with a Fifteen Minutes tribute song. mewithoutYou's Rickie Mazzotta is one of my biggest influences on drums, so it was cool to give them a little nod on the album. I also first heard of The Jerky Boys when I was way too young, and that shaped my sense of humor as an adolescent - so getting Johnny Brennan to do a Frank Rizzo bit on the album was a dream come true. 
Mike: I also was a huge fan of The Jerky Boys growing up. My whole family was. Still is. Whenever I put on that first release of theirs I still lose my sh*t. Musical influences for To Each Their Own Coat for me would be bands like Broken Social Scene, The Shins, The New Pornographers. Bands that have bigger sounds, more instruments going on and different vocals throughout. This record started as a normal YM LP with just baritone guitar and drums, but then became this bigger thing, which I think makes sense and feels pretty natural this many years in.  


What's the live experience like and your philosophy on playing live? Do you think the music live should be identical to the recorded version or should it be it's own thing? 
Biff: I care way more about records than I do how a band sounds live. A rad live performance or high level production is mesmerizing when it hits, but a record lives forever. Long after the show loses its luster, the album is always ready to be spun. I'm not a fan of lofi recordings for the most part, although plenty of bands benefit from that vibe. I like an over-produced, high quality, thoughtful recording. I'm glad Yawn Mower finally got to go balls to the wall with production on this release. We did bulk up our live band to a 4, 5, 6, sometimes 7 piece band so that we can execute the album live with some accuracy though, cause we aren't unaware of the live show being the thing that gets everyone to the album. 
Mike: YM has always been about putting on a fun, energetic live show. With the bigger band, Biff and I aren't flailing around as much, but I think the additional instrumentation makes up for that. Live shows are a great place to hang with friends, meet new people and maybe sell some merch. Or it could be a total nightmare of bad sound, empty rooms and no parking. You take the good with the bad. I enjoy playing shows out of town/state as well, as it adds a whole other sense of adventure. The live performances of some of our songs has morphed over the years, but its been natural. It's funny listening back to a song and being like "Oh, that's how it used to go." Lyrics can change live because sometimes my brain just pops out the wrong word. I don't get mad at it. It's more important how you get out of a flub than the flub itself.     
Has the band toured? What has the touring experience been, best shows? 
Biff: We've done a bunch of weekend tours over the years, or a bunch of one-off out of state shows in CO, NH, TX - but never a full on tour just yet. That is finally changing this fall though! We're doing an 8 day stretch of the Northeast. Very hyped on it! Mike is super easy to travel with and easy going with just about any curveballs thrown our way. Best show we've ever played out of state has got to be the event we did for The North Face up in New Hampshire! It was in a cabin near a college, totally free to enter, and had endless free booze. We were the only band, so we played for over 2 hours AND we DJed between our own sets. The floor almost gave out the entire time from the college kids jumping up and down. 
 worst shows? 
Mike: We played a benefit show at the Wonderbar in AP for the Australian wild fires (remember when that was the major world event going on? I think it was right before pandemic hit.) I broke a string like three songs in and didn't have my backup guitar, so we had to stop playing. We bought matching khaki button-down shirts on in honor of Steve Irwin and learned a Men at Work song for the show, but didn't get to play it. It was a total bummer. Always bring a backup guitar to shows, kids!  
What's up next for the band? 
Biff: Post-tour we're going to take the winter to regroup. Not sure we're going to rush into another album just yet. We want to make a bunch of music videos for most of the songs on the LP, but we haven't had enough time to fully commit to that process during a show-heavy summer for all of our projects. Mike is finishing up work on another solo release. My bands Grasser and Earth Telephone are both dropping full lengths this year. We'll still be plenty busy, just with a million other things.


https://en.wikipedia.org/wiki/Yawn_Mower