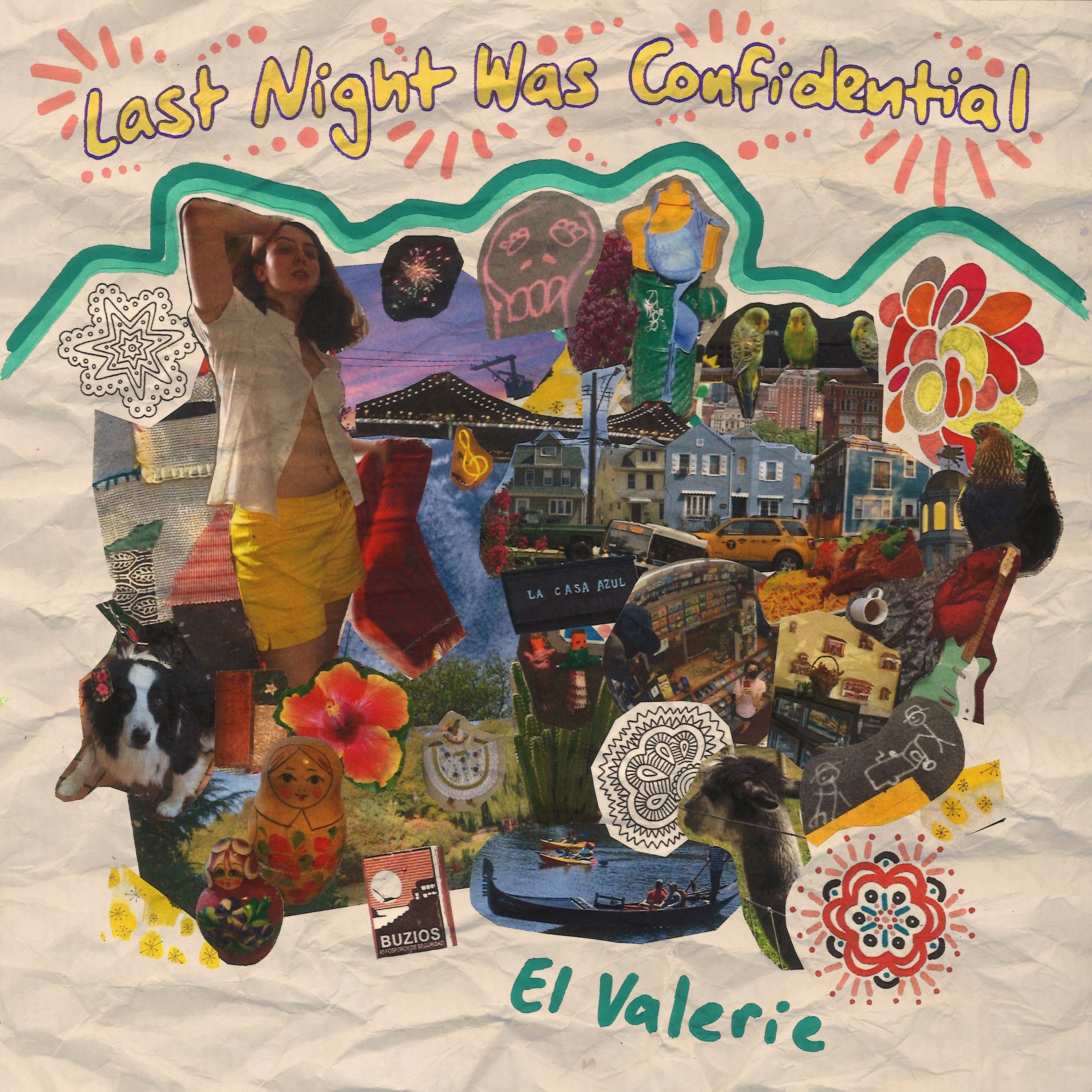 El Valerie is probably unlike anything you've heard. Imagine lofi indie pop created in a bedroom with a few guitars and a casio keyboard. Now picture the songwriter sings in Spanish and English and is inspired by all sorts' of genres from 60's lounge to modern EDM. El Valerie has a special charm and appeal to her music; it's intimate and urgent. It feels at times like El Valerie is whispering softly in your ear. The music at times is simplistic but has South American flair to it which makes it much more interesting than a lot of bedroom pop. Today we present the track "P.h.D." from her upcoming Mint 400 Records release "Last Night Was Confidential" which comes out October 1st.
What made you want to make music? First experiences writing music?  
Wow, where DID it all begin? Music is a powerful energy. It's an art form that is present in other art forms (film, art installations, etc). It facilitates expression in other contexts, but is its own standalone medium too. We're surrounded by music and sound most of the time, down to car horns and ringtones and things like that. 
I'm fascinated by pop music in particular. It can be a whole universe of its own, with emotion and style and visuals and drama. 
My parents both love music and I was exposed to a lot of different genres growing up. I was absolutely enamored with the Beatles from toddler age, who of course are one of those groups that shaped pop music and songwriting in a huge way. I think my very early attempts at songwriting (around age 10?) were modeled after Please Please Me. 
But I really came into wanting to be an artist at 13 or so. I didn't think twice about indulging my creativity in every possible way at that age, I just did it - writing lyrics and drawing and all the stuff I did starting out. In some ways the things I make today are very different from what I made then, and in some ways they're exactly the same. 
What do you do aside from making music?  
I'm a visual artist! I've made nearly all of the cover art for all my releases. The cover of Last Night Was Confidential is a collage I made. The visuals, whether it's an album cover or a music video or whatever, are a vital companion to the music for me, they go hand in hand with the sound. I've been DIY-ing music videos since I was a teenager. I am also in love with stop-motion animation and excited to get better at that.   
Top Ten all time albums? 
Is it okay that I put 11?? I can't eliminate any of these. I feel like these albums are the definition of music: 
Novos Baianos - Acabou Chorare  
Gilberto Gil - Gilberto Gil (1968) 
Véronique Vincent & Aksak Maboul - Ex-Futur Album 
William Onyeabor- Anything You Sow  
The Beatles - Please Please Me 
Brian Eno- Here Come The Warm Jets  
Cate Le Bon - Cyrk  
Pascal Comelade- El Pianista Del Antifaz  
Betty Davis - Betty Davis  
The Slits - Cut 
Kate Bush - The Kick Inside 
Would you say your top eleven directly influences the music you make?  
Absolutely! Maybe not always in obvious ways. The hooks, structures, and rhythms on these albums have given so much to me and my own music. I feel like all of these albums share common ground in a way.
What is the live experience like at an El Valerie show?Do you feel that the whole quiet bedroom pop thing translates well at a music venue?  
Yes and no. The songs are definitely not the same live as they are in the recording because I play solo, just singing and playing guitar. At the same time, I do think they share this intimate quality with my recordings. I also feel like my live sound is bigger in other ways - I can let my vocals stand out more and play more freely, which I love. I don't really get to let it rip when recording at home because it's an apartment and I don't want to annoy people (though I suspect my roommate and neighbors are very familiar with my work at this point). 
The name of the project has changed a few times, how did you settle on El Valerie?  
The name story! The first name I released music under was Val También. 'También' is a Spanish word meaning 'too' or 'also', so that name would translate to 'Val Too' or something. I liked that meaning, and then also if you rearrange the letters in Val También you can spell 'ambivalent'. I'm really into language and playing around with English and Spanish. 
I briefly went by L. Valerie after that, partly based on an album I was listening to a lot at the time ('The Way Out' by L. Voag), and also the initial of my mom's maiden name is L. That L turned into El, as in the masculine Spanish pronoun. Many things in my art have a special personal meaning. 
You used to live in Queens and now are up in Rhode Island, what's the differences in the music scene? Do you still have ties to Queens? 
My family and some friends are still in Queens so I'm there a few times a year! New York City is gigantic and has everything, well known acts and amazing underground acts. I saw Lydia Lunch (!!!!) in Brooklyn in 2018, which was one for the history books.  
Queens is more of a residential and quiet borough, but so rich in history and culture - it's the most diverse place in the world! I encountered amazing music in unlikely places growing up there. A favorite memory of mine is seeing a mariachi band at a restaurant in Jackson Heights when I was about seven or eight. I also saw a jazz trio do a set in a library once. 
Providence is of course a smaller city, but I love that - it's a beautiful, colorful close-knit community. There are tons of local art markets and outdoor shows coming back. The scenes here are also diverse and innovative. I haven't been here very long, just since January of 2021. But there are some fabulous musicians and artists here that I love.  
Tell us about the process of coming up with the tracks that are featured on "Last Night Was Confidential"? Any interesting stories behind the songs? 
I often draw from things that really happened in my life. 'David Attenborough' was inspired by a crazy night out I had in New York. 'Argentina' is literally about an ad for tourism to Buenos Aires. That song actually started out as a poem first! I was walking down the street in Queens and saw the ad on a bus shelter. All the lyrics sort of came into my head at once. That track in particular is one of my definitive accounts of growing up and living in New York City. 
Who's your current favorite local band or smaller indie type bands?  
J. Mamana is based here in Providence and I adore his music. Another friend here who makes music as Bliss Place is amazing - he's also a member of Luongo Collective, a comedic filmmaking squad that makes these hilarious short sketches. 
Another band I've loved the past year is Pinc Louds, from NYC! I got to see them play outdoors in Tompkins Square park last year. Pure joy. 
What are you working on next?  
I'm starting on making an animated music video for the band Fairmont from New Jersey! And I am beyond excited to start another album or EP at some point. I have zero new material at the moment and I can't wait to build it from the ground up.