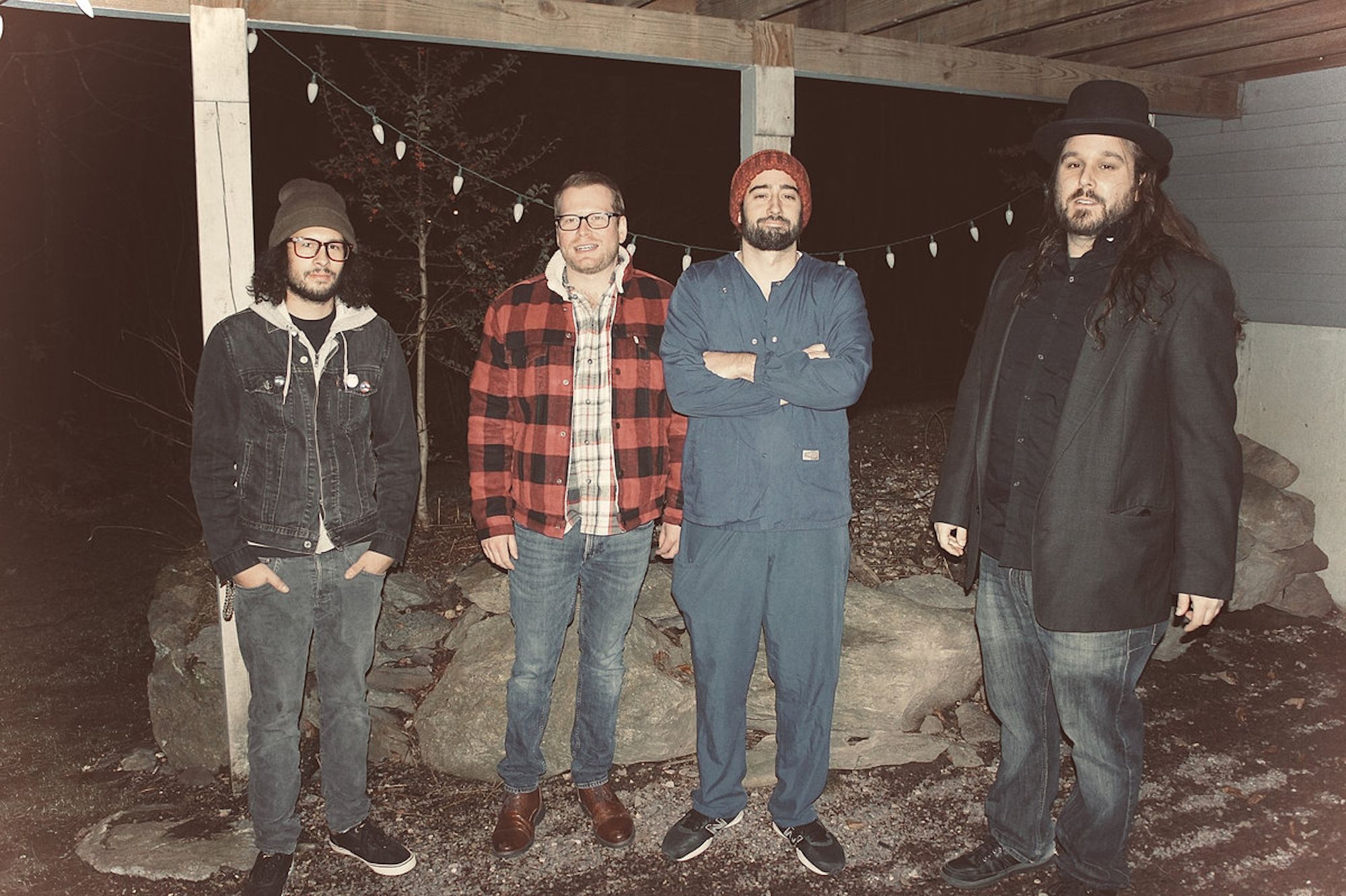 Boston's Sunshine Riot coming off a record engineered by Steve Albini are at it again with their newest Indie Rock Gem "Just Say So" that dropped just last week! The song is from the forthcoming "Sparkle Baby" album slated for the fall and we caught up with the band to talk about their roots and what's new in the Boston scene. Thanks again to Sunshine Riot for talking with us: 

How did the band get its name and what does it mean? 
Jonny Orton: This is a subject of considerable debate actually. I have to say, I don't really know. Jeff and I started this little ball of noise in 2007 and we started playing under the moniker "Sunshine Riot" in 2008. I think it was actually our 4th name in as many shows at that point in time. I used to be a bit embarrassed by it… I'm not entirely sure why. But now, I actually think it reflects the fairly bright, loud music we make. 
Jeff Sullivan: The main reason was that we could get the domain name. At the time, before social media took over the internet, it seemed like a good choice. We didn't have an overriding meaning as I recall, but I always thought of it as waking up with a hangover and a shard of light coming through the window, directly into your eyeballs and setting your mind on fire. Sunshine Riot. 
How long have you been together and what is the current lineup? 
Jonny Orton: Jeff (bass) and I (rhythm guitar) started this in 2007, I have to pause for a moment to reflect on how long ago that was. But, we really became Sunshine Riot in 2011 when Mark Tetreault (lead guitar) joined. Then, when Steve Shepherd (drums) joined in 2016, he really kind of saved us. We'd been at it for a while, and I think we were burnt out; we'd released a few records, done lots of touring, and I suppose felt a bit like we were spinning our tires. When Steve joined, that was a rebirth. His passion and talent helped us remember why we started a band in the first place as kids, all those years ago. 
What is the process for writing? How did the current album come together? 
Jonny Orton: The writing is highly collaborative and each song comes together in its own way – so much so that it feels a little weird to define it as a process. Some songs start as riffs, some songs start as lyrical phrases, some songs just sort of surface when we're warming up. A good song is hard to find, so we're happy to bump into one any way we can. 
Jeff Sullivan: We are constantly writing, and folks just bring ideas and we play through them and if we can make those ideas into a song, we do. Sometimes they live long enough to get recorded, sometimes not, but it's always a kind of group decision and, to me at least, there's nothing more satisfying than knowing that there's a piece of each of us in each song, rather than just being glorified living DAWs. 
Jonny Orton: This record [Sparkle Baby 2000] was recorded over about three years at Galilee Studios in Cumberland, RI with a brilliant producer named George Dussault. We actually cut and released another record right in the middle of making this one, which is utterly strange – but in the post label world you can do things like that. 
What's your favorite Replacements song? Who else would you cite as a major influence? 
Jeff Sullivan: Ooof. Man. How long can this answer be? "Taking a Ride" is my favorite punk Replacements song, whereas "Can't Hardly Wait" is my favorite pop Replacements song. "Skyway" is my favorite sad song, whereas "Unsatisfied" is my favorite Steve Earle song written by someone else. 
Steven Shepherd: For The Replacements it's "Treatment Bound" and "Bastards of Young." 
Jeff Sullivan: Oh shit, I forgot about "Treatment Bound." 
Jonny Orton: "Can't Hardly Wait" is pretty close to perfect. The writing is so sharp. Westerberg has this cool-without-trying way of playing with language – "I'll write you a letter tomorrow / I promise not to blow the address again" is a great example. I think the middle of Sunshine Riot's Venn diagram of "bands we all agree on" is remarkably big. Right smack dab in the center, though, is the early '90s grunge-era stuff. These days a lot of what we do is pretty squarely, and, I think, unashamedly, derivative of Nirvana, Alice in Chains, The Melvins. 
Jeff Sullivan: Influences for me are Morphine, Pixies, Dropkicks, Paul Simon, Steve Earle, Mike Patton, Stanley Clarke and Car Seat Headrest. 
What is your local scene like? What's the best room and the worst room to play in Boston? 
Jeff Sullivan: Wherever we're playin' is usually both. 
Jonny Orton: Boston is, still, a town of great music and lots of great clubs. When it's at its best, the shows in this town are highly free form in terms of genre – and you'll absolutely find some of the best sound techs in mid-market venues in Boston. There was a period there for a while when I think a lot of the local scene was sort of obsessed with some imaginary or illusory Brooklyn aesthetic. That was always weird for us; we'd show up to a Boston club, no doubt looking categorically uncool, and you could sense a kind of yearning amongst lots of folks in the room to be The Strokes or something… I couldn't help but think to myself "We played Brooklyn last night. What you think is Brooklyn, is not Brooklyn." I really think that's changed, or perhaps more likely we're a bit more secure in ourselves. But, I do think Boston is more comfortable in its own skin musically. The rooms are different every time you play them, and I think a lot of that "good room/bad room" game has to do with the crowd and how well you're performing on any given night. The Paradise and the Middle East are great rooms to play. O'Brien's is a club we're loving these days – pretty hard to have a bad night there. 
Who are your favorite other Boston bands? 
Jeff Sullivan: Your Friends in Hell, Diablo Gato and Jimmy Clifford. 
Steven Shepherd: My favorite Boston bands are Salem Wolves and Final Gasp. 
Jonny Orton: So many great bands in town these days, it's really a renaissance period for Boston in my humble opinion. Neon Cowboys are a terrific young band that absolutely get how to put on a dynamic live show – I wish our instincts had been half as good when we were their age. There's a superb band out of New Hampshire called Skinny Miles that we played with a few weeks ago… really beautiful music and storytelling. Paper Tigers put out new music recently that is killer. Just lots of good stuff. 
What's up next as far as writing, recording, touring, etc? 
Jeff Sullivan: We're getting out to play, that's for sure. We'll be recording another EP in the fall as well. 
Jonny Orton: We head back out to Chicago to cut some songs with Steve Albini in October. Until then we'll mostly play in New England and New York. Our last tour was canceled due to Covid, so after years of hitting the road pretty relentlessly, it's been a while since we've done so properly. We're eager to do it again. I suppose we'll wait on gas prices.
-Sam Lowry