Boston based Indie Rock band Air Traffic Controller wrapped up a 13-date tour (their FIRST in nearly four years) in July in support of their most recent self-released album, DASH. DASH was recorded during the Covid-19 pandemic and released in November 2022. While on the road, Air Traffic Controller showcased songs off the album. The band is back home resting before their upcoming shows. In the meantime, you can get familiar with the band as ATC frontman, Dave Munro is giving fans and Blood Makes Noise readers a glimpse of what their first tour post-lockdown was like.
Upcoming ATC shows:
Sat. 8/26/23 - Salisbury, MA - WXRV Riverfest opening for Ripe https://theriverboston.com/attend/2023-riverfest-salisbury-beach/
Fri. 9/8/23 - Cambridge, MA - The Sinclair presented by WERS
https://www.axs.com/events/488900/air-traffic-controller-tickets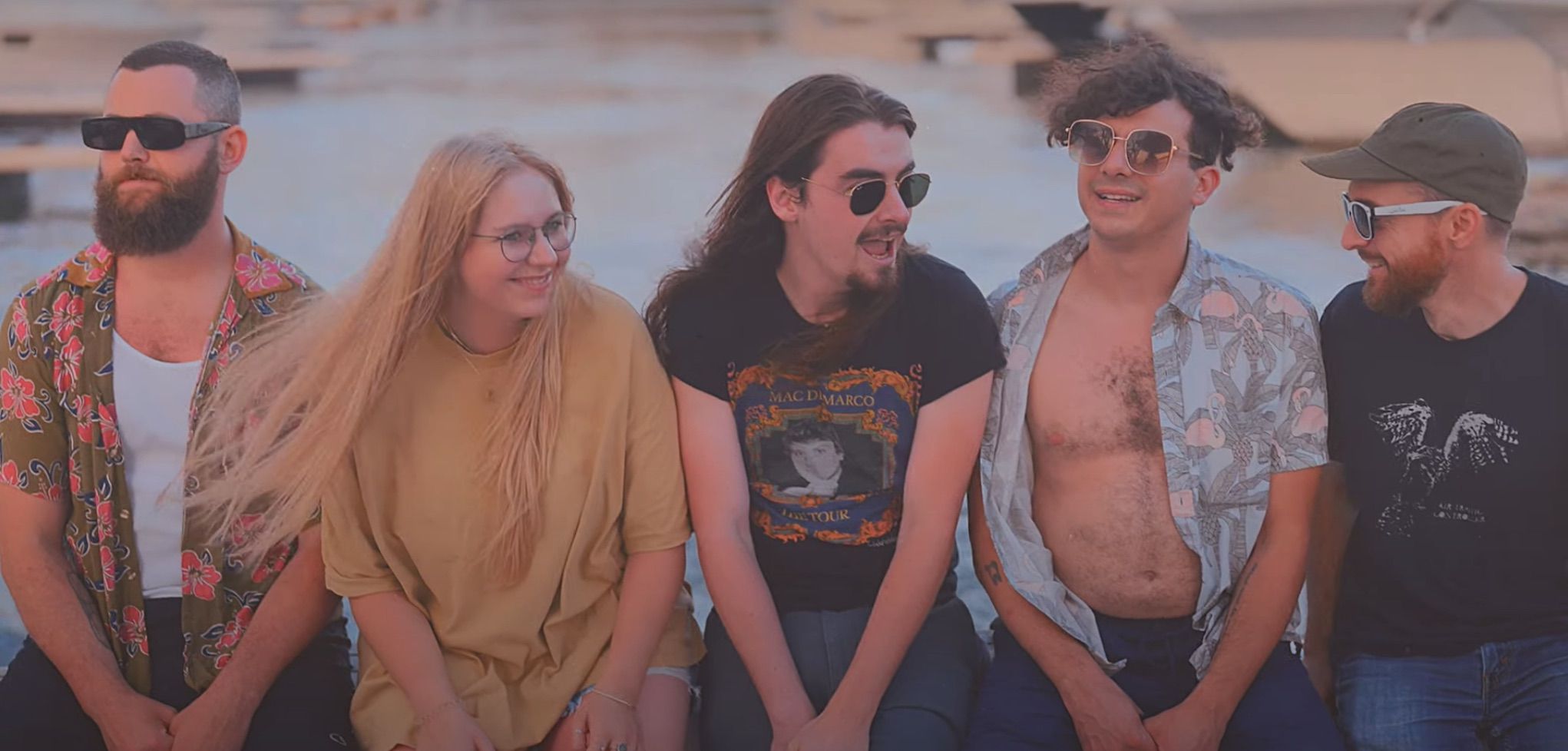 Getting back on the road was so important to ATC, we actually booked our own tour. It was hard work finding venues, openers, good routing, but our team efforts paid off and it's finally happening! For me, signing up for a tour is more than committing to the actual tour dates. The days leading up to it are exciting, but the scramble, anxiety, guilt, the post tour runaround, that's all part of the deal. I'm not going to sugarcoat this, this is my diary dammit, so in ATC fashion, I'm going to do my best to just tell it like it is. As Tenacious D says, "The road is a be-a-itch my friend, but it's the only fuckin' road I know". 
I figured I had time before the tour to get things ready, spend quality time with my loved ones, make a music video…whoops, yes we did that right before leaving, which I now realize was poor time management, but I'm still glad it happened. Our crew was about to spend every waking moment together on tour, we didn't plan for the video to be that too, but again, I am so glad it turned out that way. As you'll read here in my diary, I love this band, a lot. 

We all met up with our "EZbreezy" music video director, Jasper Hamilton to basically have a good time on a boat on Boston Harbor. My wife Sarah was along for the ride as well.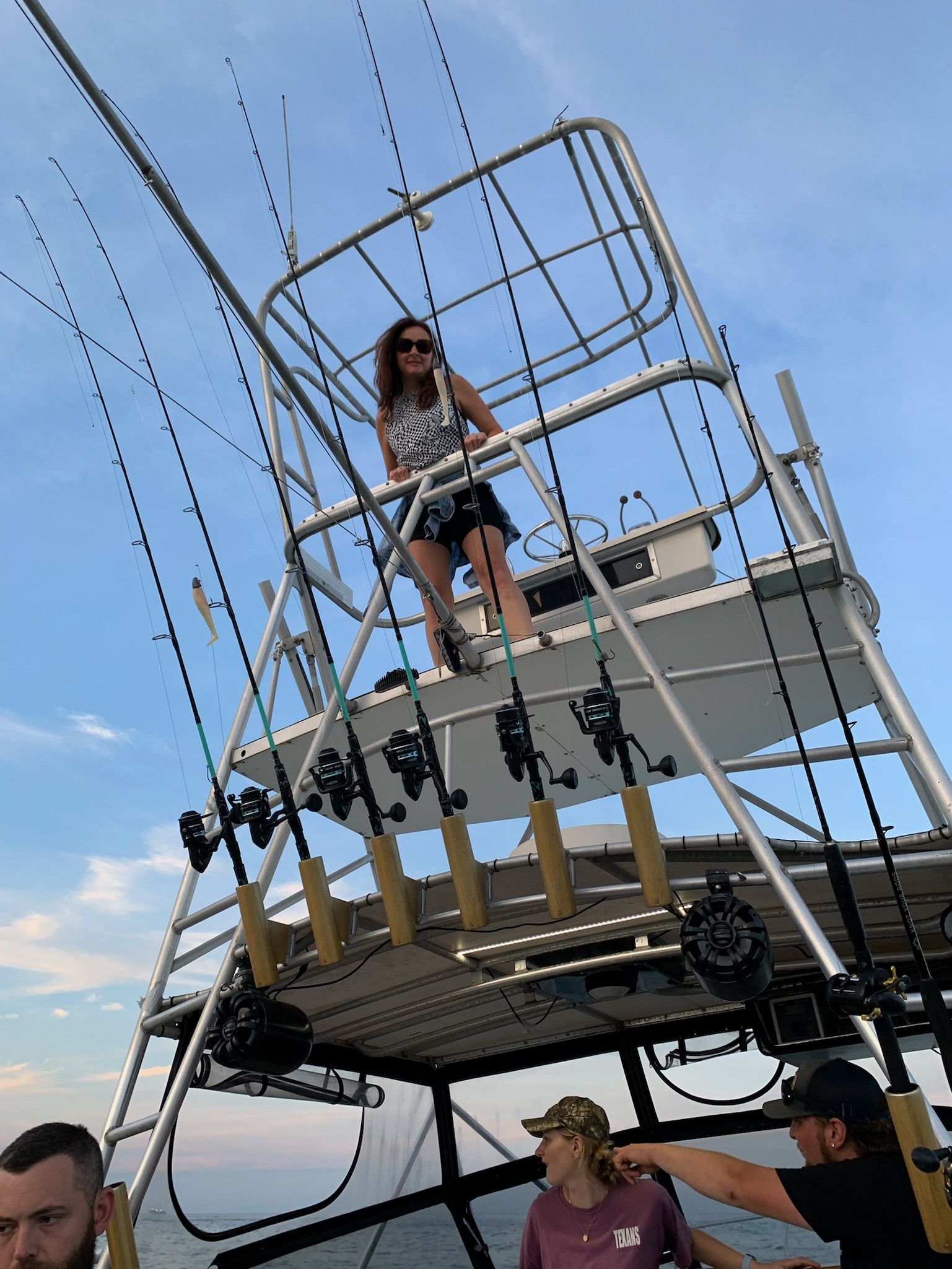 Jasper's instructions were "EZ" - pretend I'm not here, have fun on this boat and it's going to be awesome. So we did just that. (and it is awesome. "EZbreezy" video is out now!)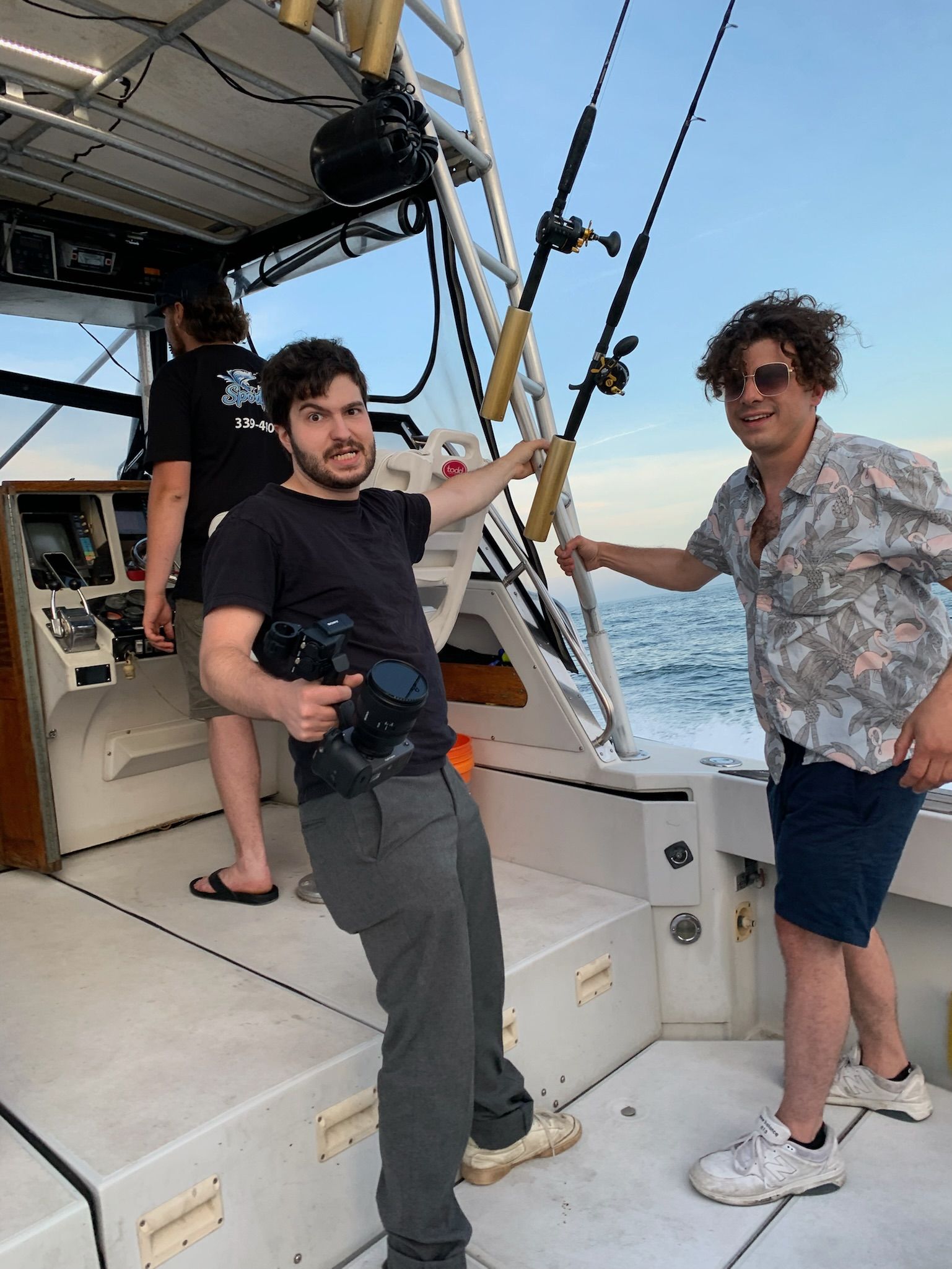 We zoomed all over Boston harbor, passing islands, lighthouses, the beautiful skyline, planes landing overhead, we even pulled up to the seaport and grabbed sandwiches for everyone, we all got the Rueben at Tony's C's, it was worth writing about. Ok, that's all I will write about it. 
The boat captain, Brad and his first mate Alli, brought us to an area of the harbor where the streetlights shine on the water, apparently that makes a great fishing spot. It took about ten seconds for them to prove it. We each got to immediately reel in our own striped bass. A couple of them were huge enough to keep, so our drummer boy Adam Salameh took some home. Yes, he's leaving behind a freezer full of fish while heading out on this tour. Pretty sure he said his girlfriend Chrissy doesn't eat fish.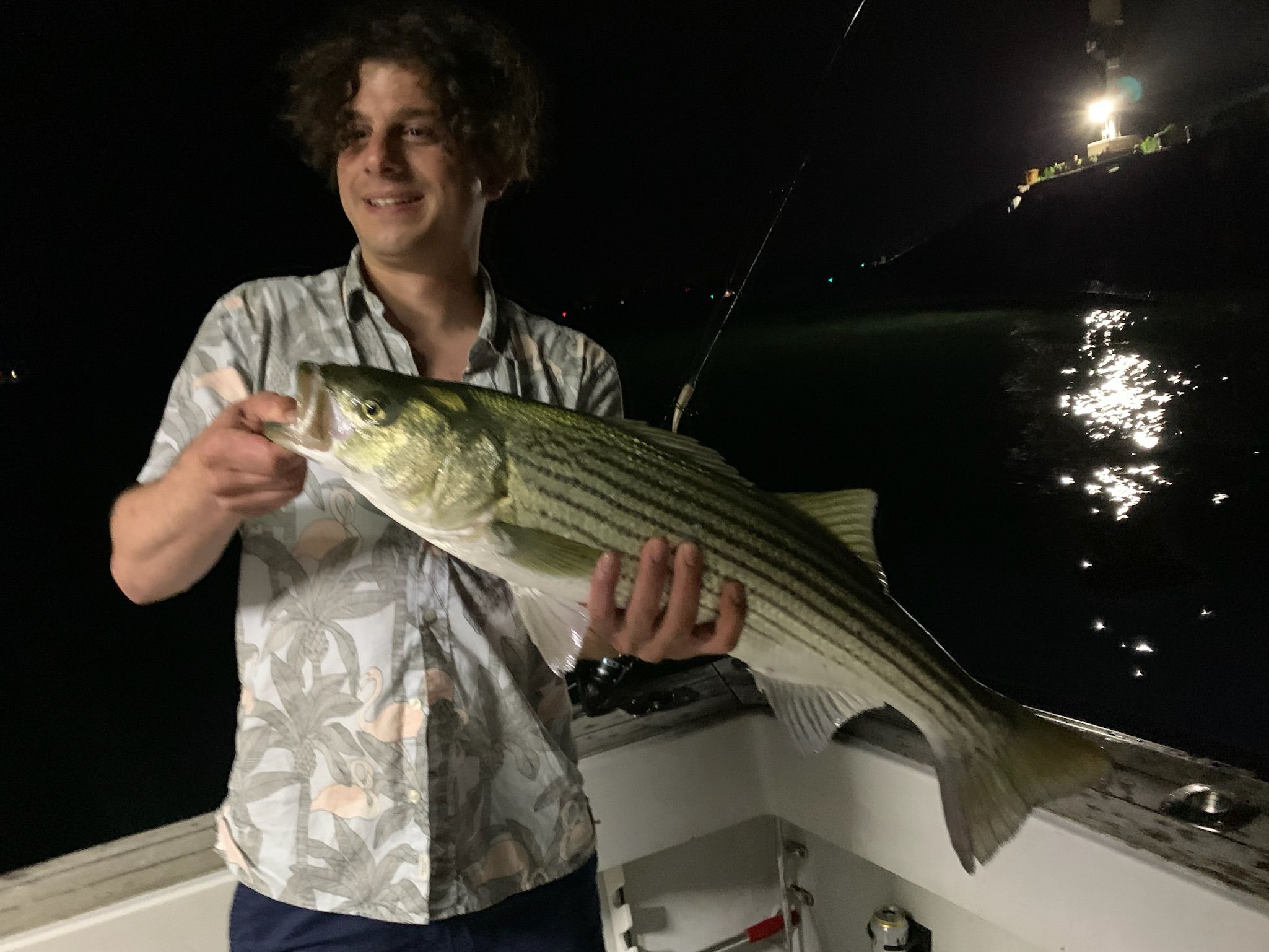 I'm leaving behind two small children, one of them turning 5 just a few days after the tour starts. The guilt is real.  I arranged for an early bday party a week ago, rented an inflatable obstacle course, he was thrilled, I felt a little better, but his birthday is still his birthday and missing it seemed unforgivable, which is why I also had to give him a new scooter right before leaving. He loved it!  
The band met up at my place, where I had consolidated 7 boxes of ATC shirts into just 3 plus a Tupperware drawer situation that was going to change our merch hustle forever. We packed and boarded our Greenvans rental, a beautiful new Ford Transit, and headed toward Buffalo NY.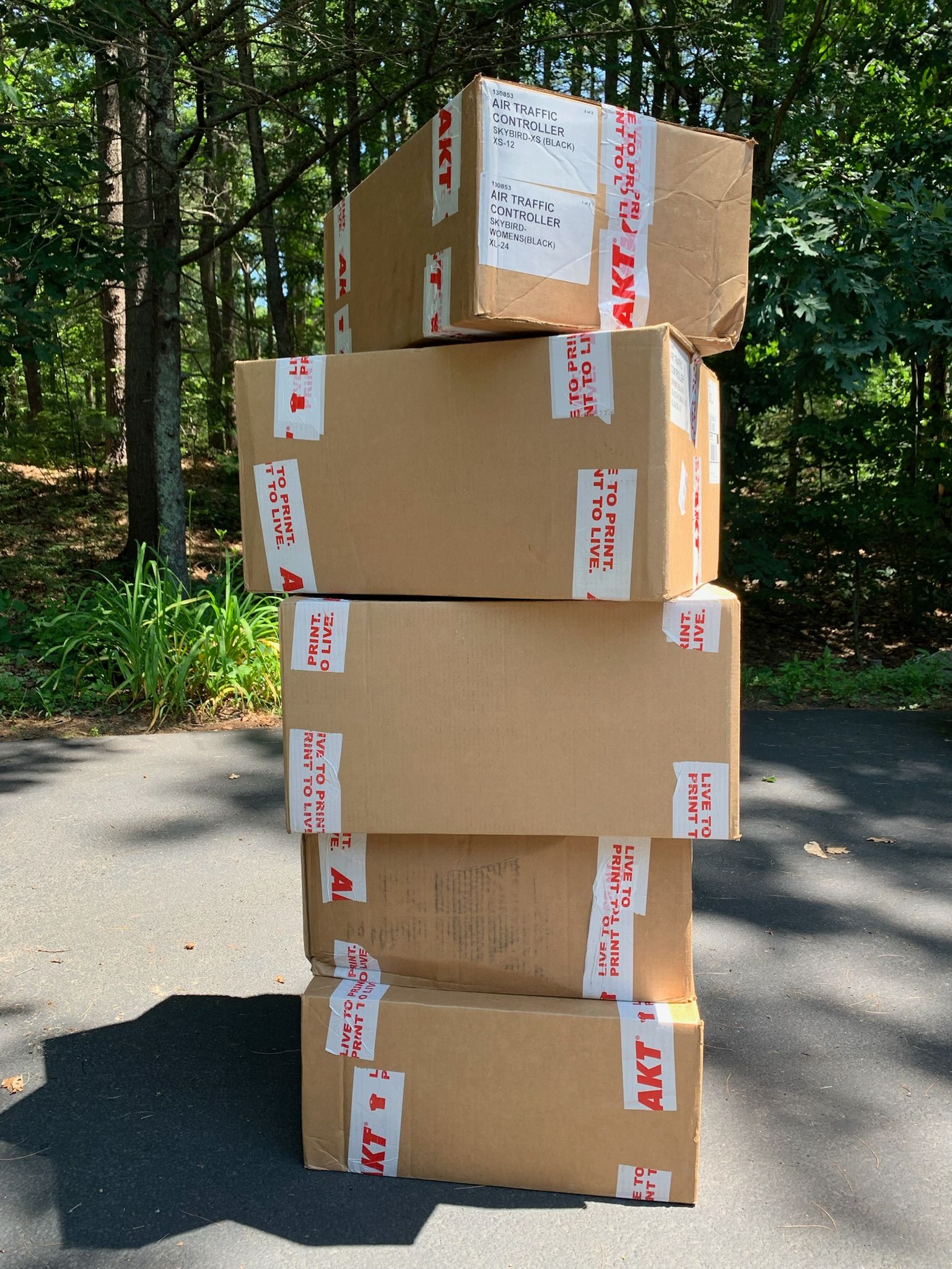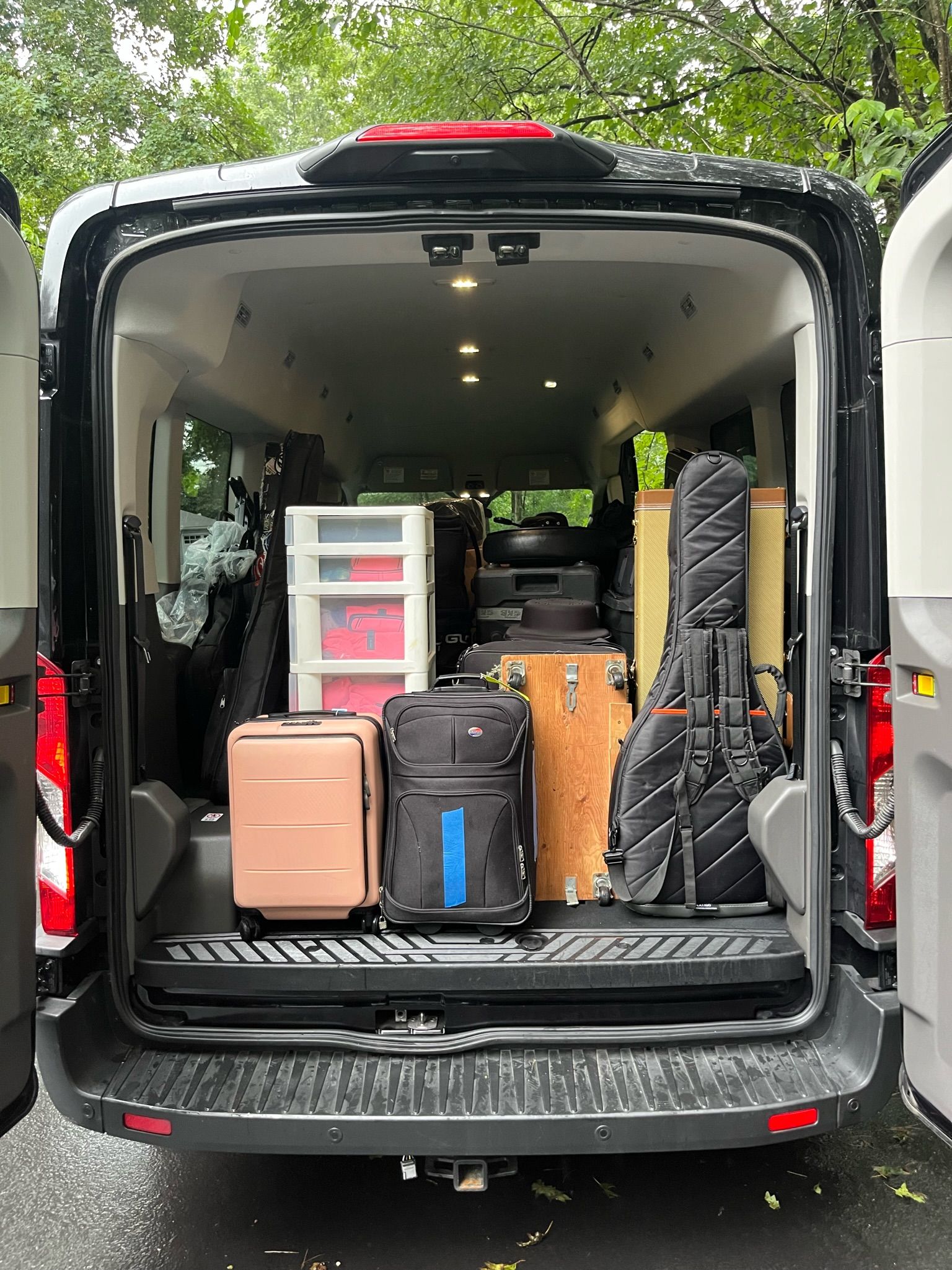 Our first tour meal together was at Excelsior Pub, a classic dive in Albany, with an awesome mural of a beast warrior outside, which Adam named "Joe" after our bassist, Joe Campbell.  Most of the band ordered Beef on Weck, which Adam repeatedly referred to as a "Hyper-Regional Sandwich". I ate a Garbage Plate. Yes, that's the actual name of this meal, basically macaroni salad and home fries topped with 2 burger patties, and smothered in chili. Looks like complete garbage but it was absolutely delicious!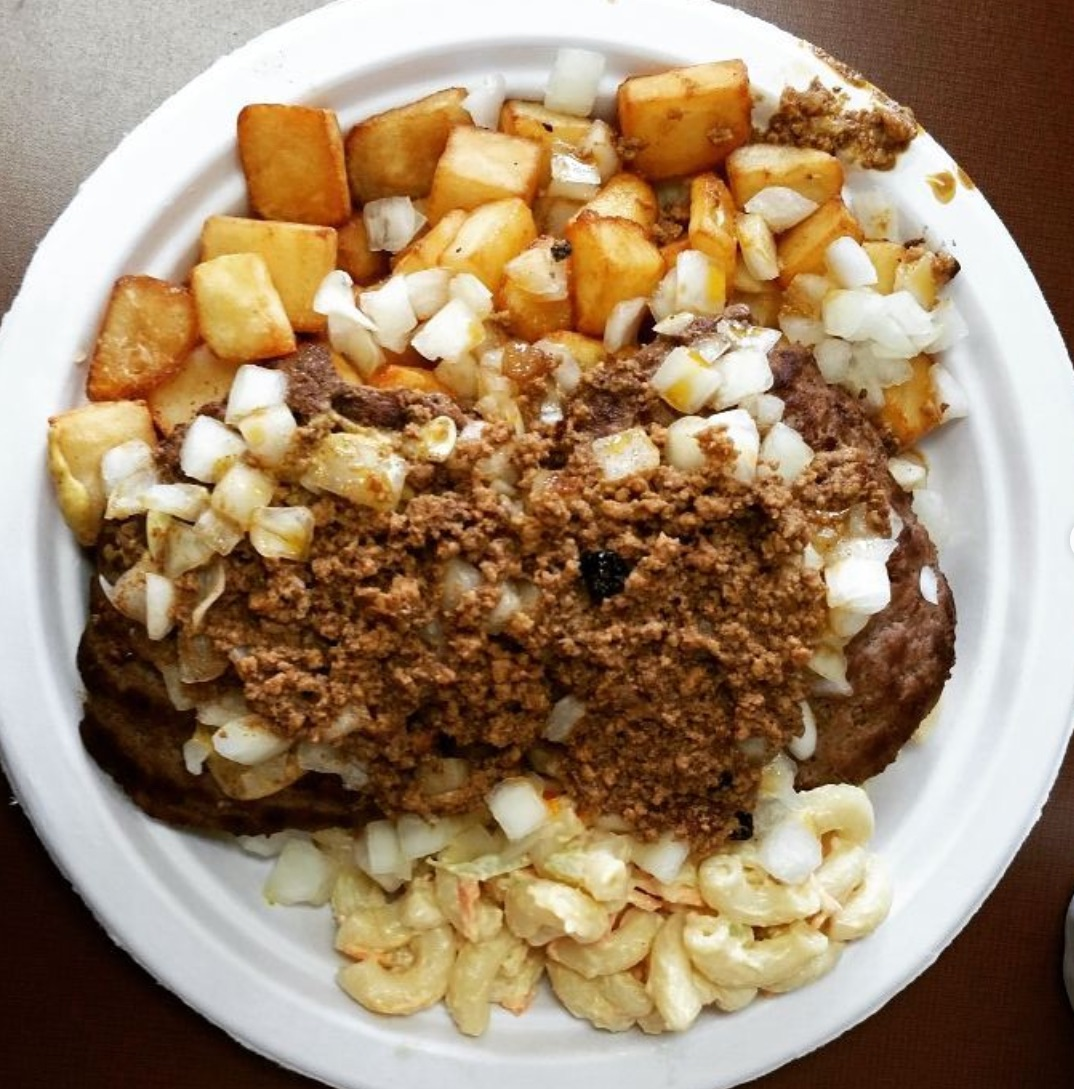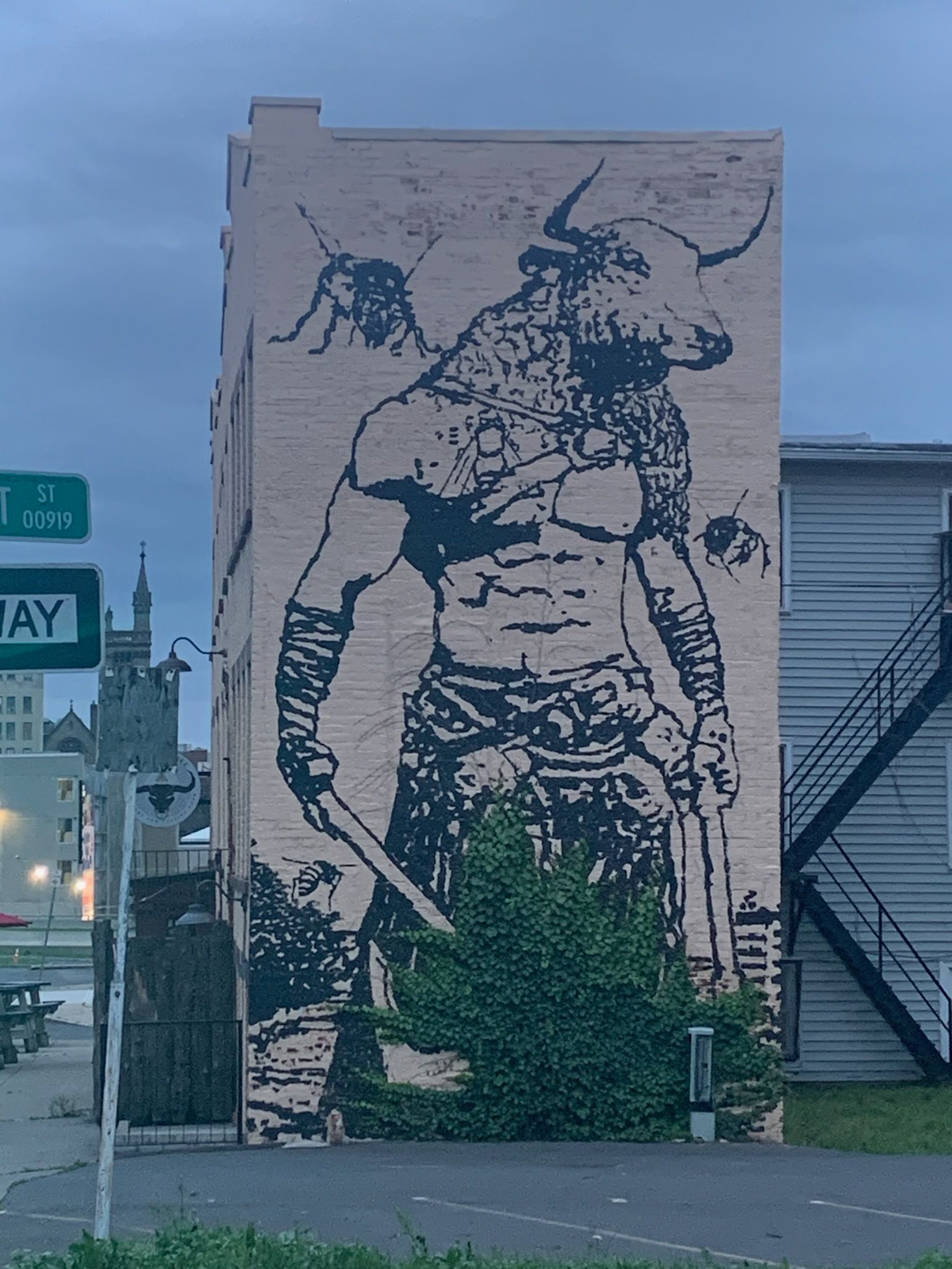 Next day we were off to the Chicago area where my step sister Sue was letting us crash in her beautifully finished basement. On the way, we witnessed the first of several amusing tour purchases by our vocalist/keytarist Emi McSwain. She walked out of the gas station with a plastic egg full of slime that looked just like a real egg, sunny side up. She insisted we all touch the slime. I refused. Maybe I'll touch it later when there's a sink and soap nearby.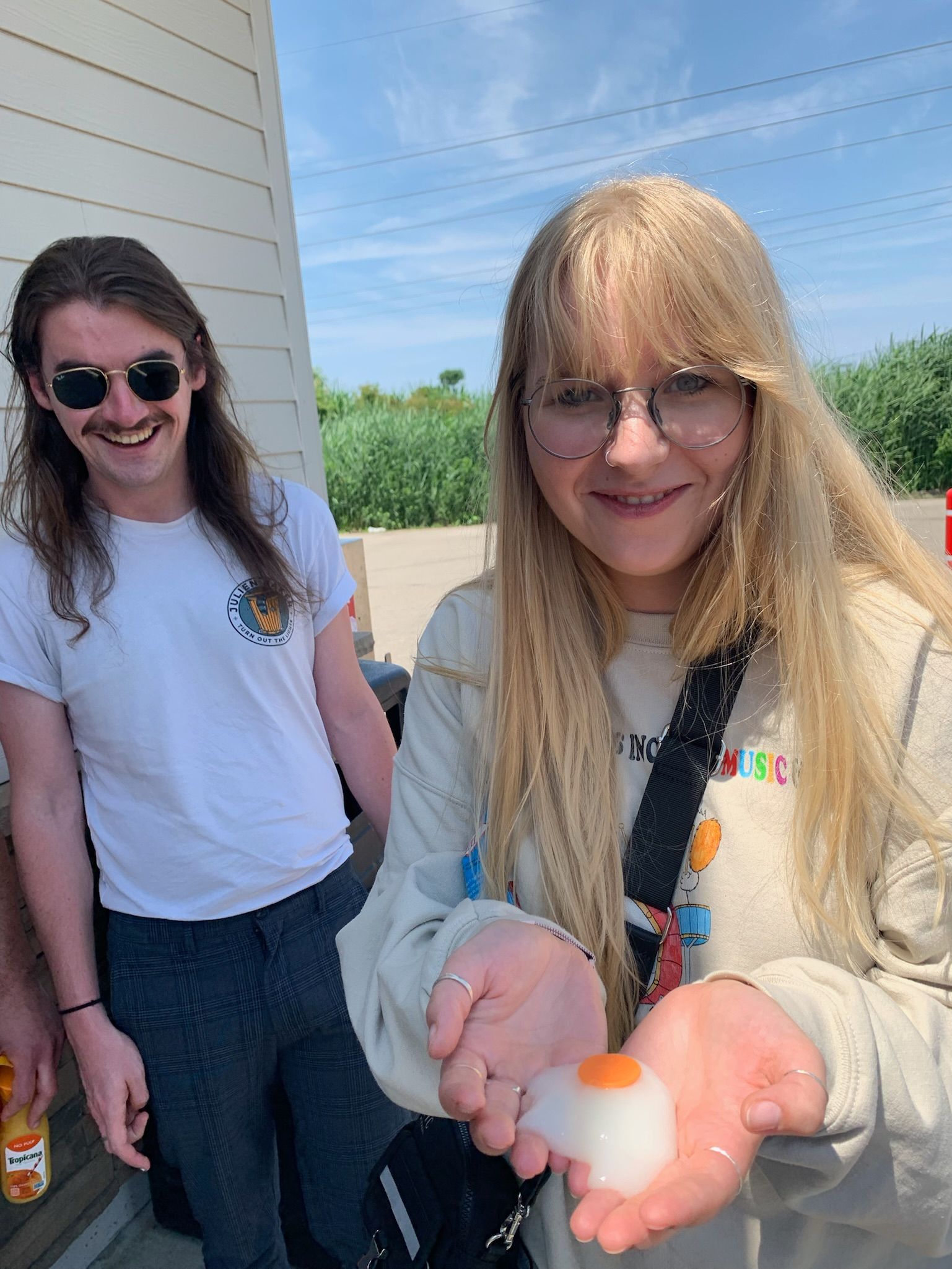 We ate at a diner in South Bend IN where none of us liked our food, and we're not very picky. We won't name this place, but we hope they get their shit together.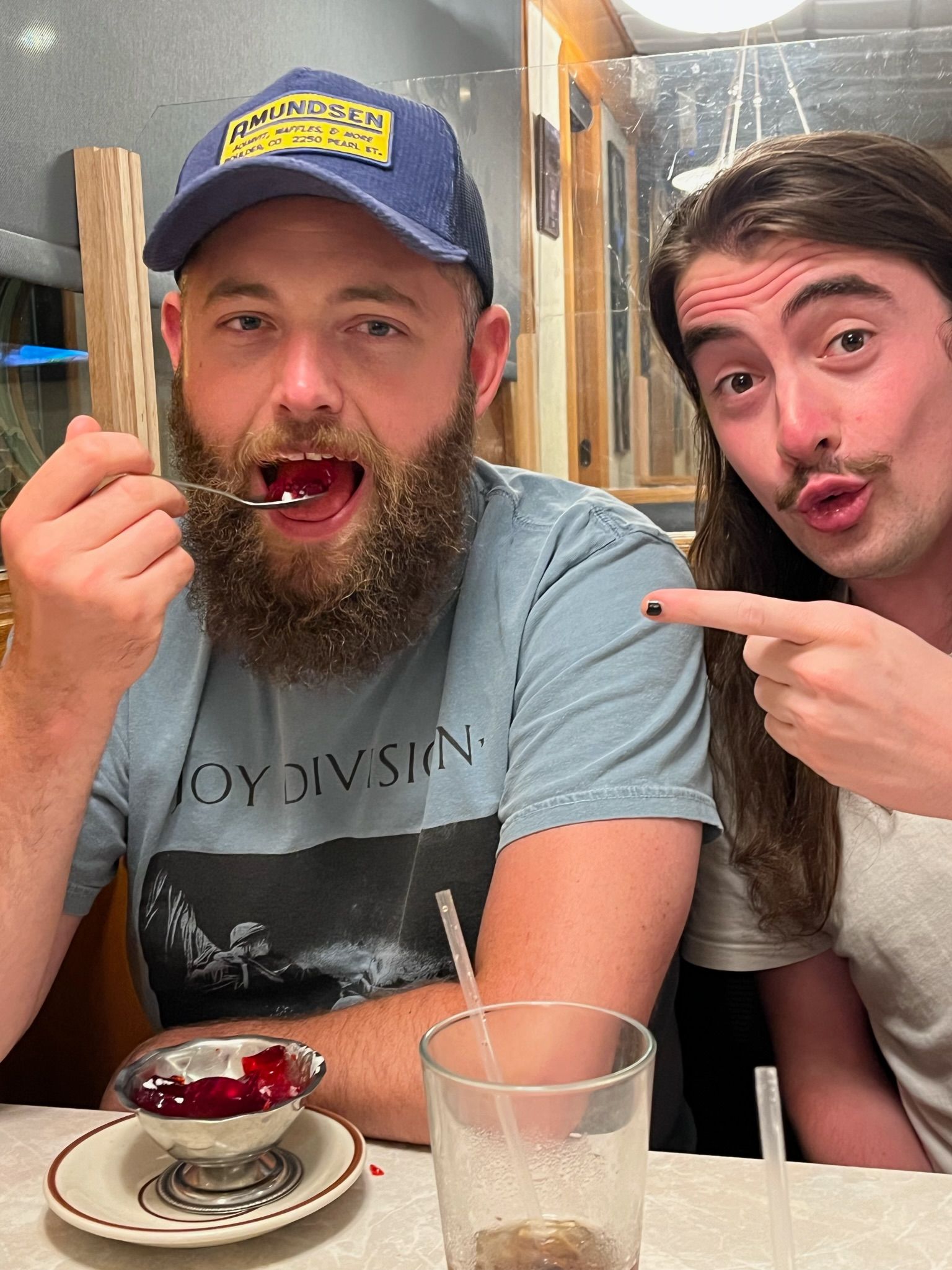 The first time we entered Iowa, it was great (stay tuned, there will be a lot more Iowa). We hit the World's Largest Truck Stop, which was like a mall for truckers. Joe bought a camouflage hat, the boys started state magnet collections, and we saw two full size tractor trailers inside the store. Yes, right there beside all the shirts, was a friggin Mack truck. We got in and took pictures, as you do.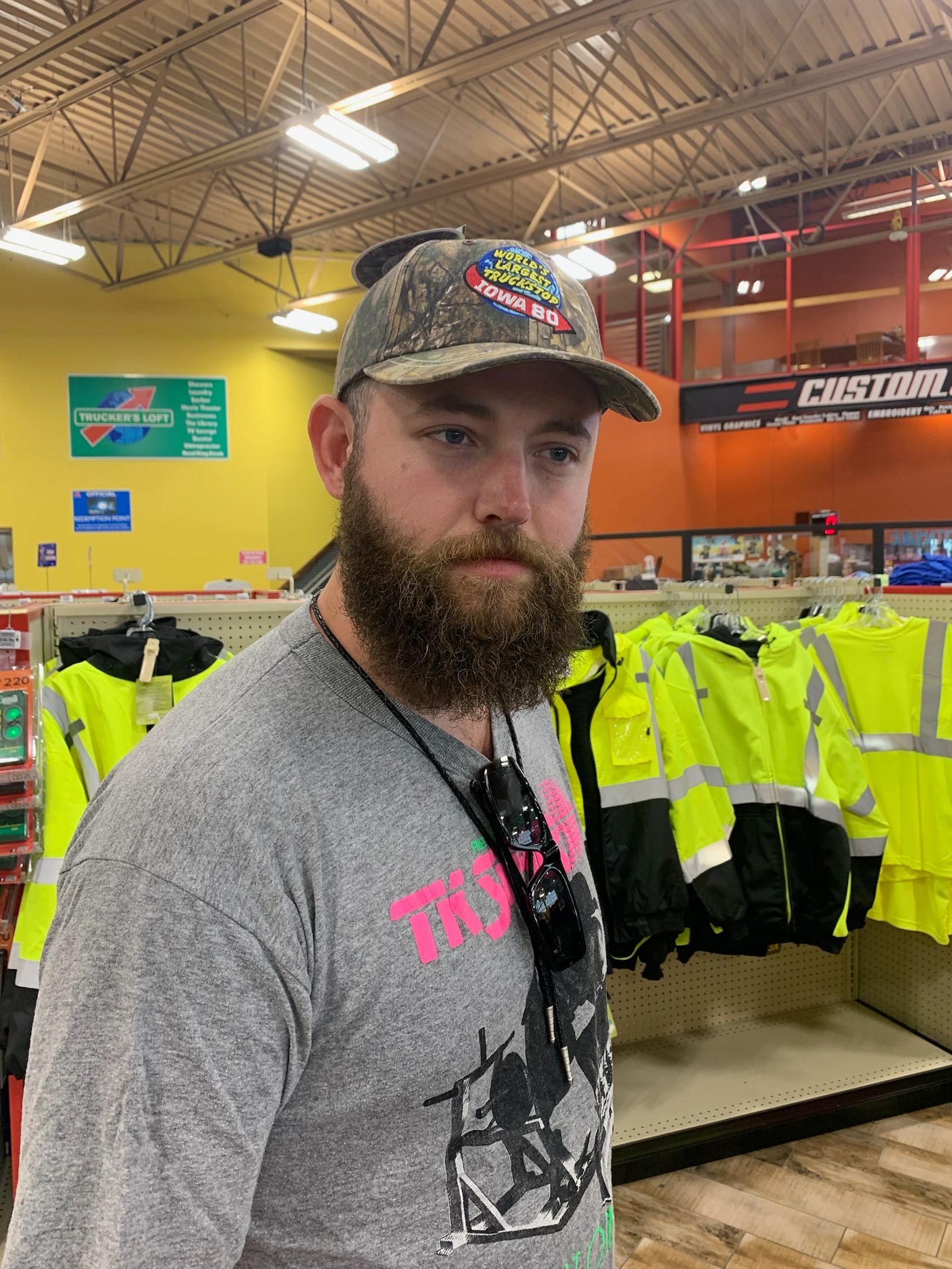 Our first show was Lincoln, NE. Yes, we drove from Boston and our first show was in Lincoln, NE. That's what happens when you book your own tour.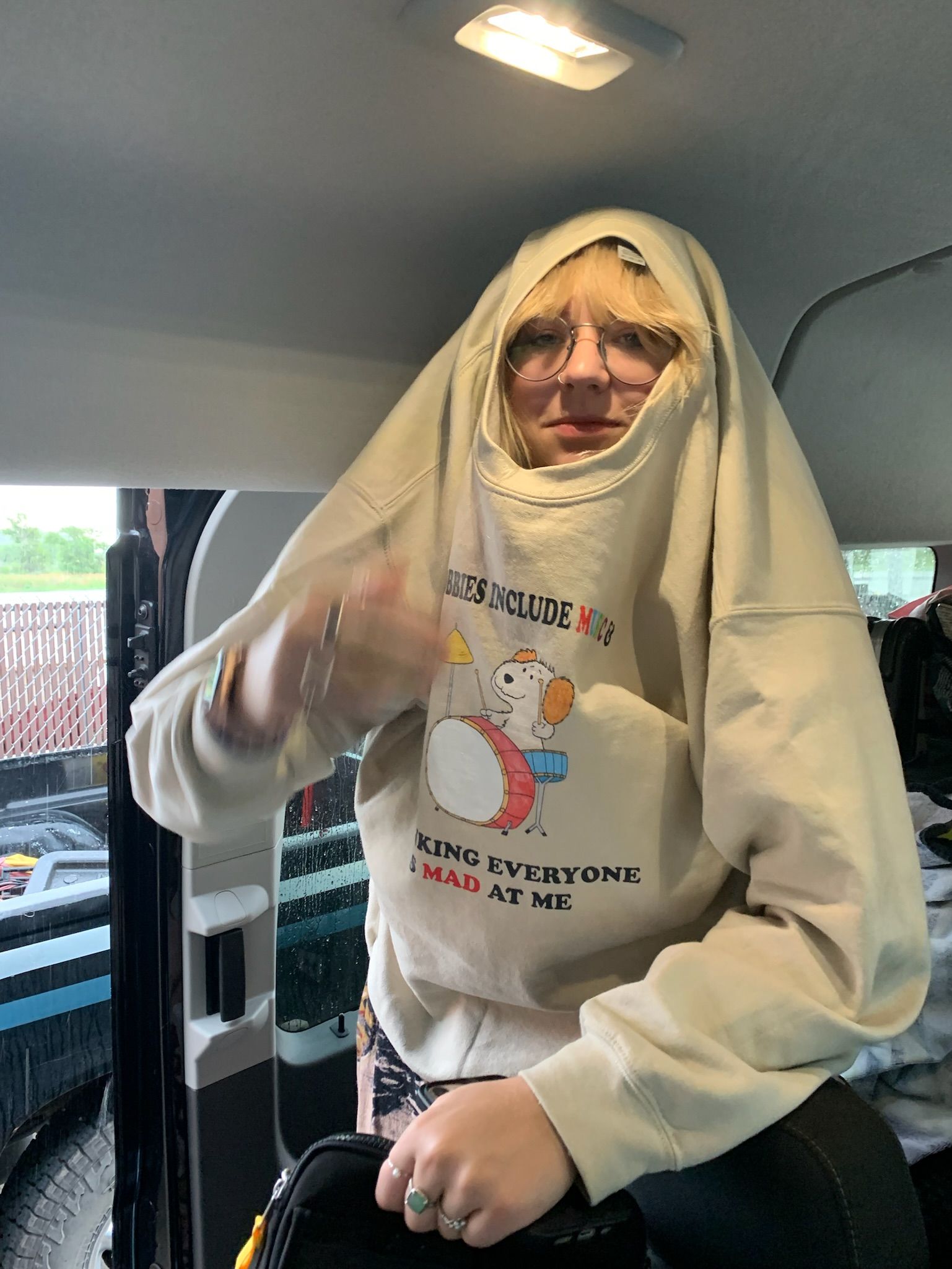 After the show we wanted to drive a few hours toward Denver. I spent those few hours trying to find lodging for the night, but every hotel I called was booked up. How does this happen in the middle of Nebraska, you ask?  A Taylor Swift concert. That is how. We finally found a motel on the route and we were exhausted, but NOT too tired to skip our usual bed bug inspection.  Sure enough, Joe turned over a pillow and found a text book "bed bug".  We had to find another place to stay.  Lucky there was vacancy at a motel pretty much next door.  You can trust, they got a thorough inspection before we finally shut our eyes for the night.  
We played "Rocky Mountain High" loud in the van as we rolled into Denver, then realized there were hardly any mountains visible from the traffic we were in. I had to quote Dumb and Dumber - "Man, that John Denver is full of shit."  My wife's cousin, Jennifer, heard we were coming and insisted on buying us dinner. So we met up with her at a Mexican place Adam was all excited about. As we were ordering, Jen asks for a steak quesadilla with just cheese nothing else in it, that is all, so basically a steak and cheese. We all look at her and she says "What, I don't like Mexican food!". She had us cracking up from that moment, until we got back in the van. My mother in law always said "Jennifer is a hot ticket", but I was unprepared. I'm so glad we're related and I get to hang with her again someday.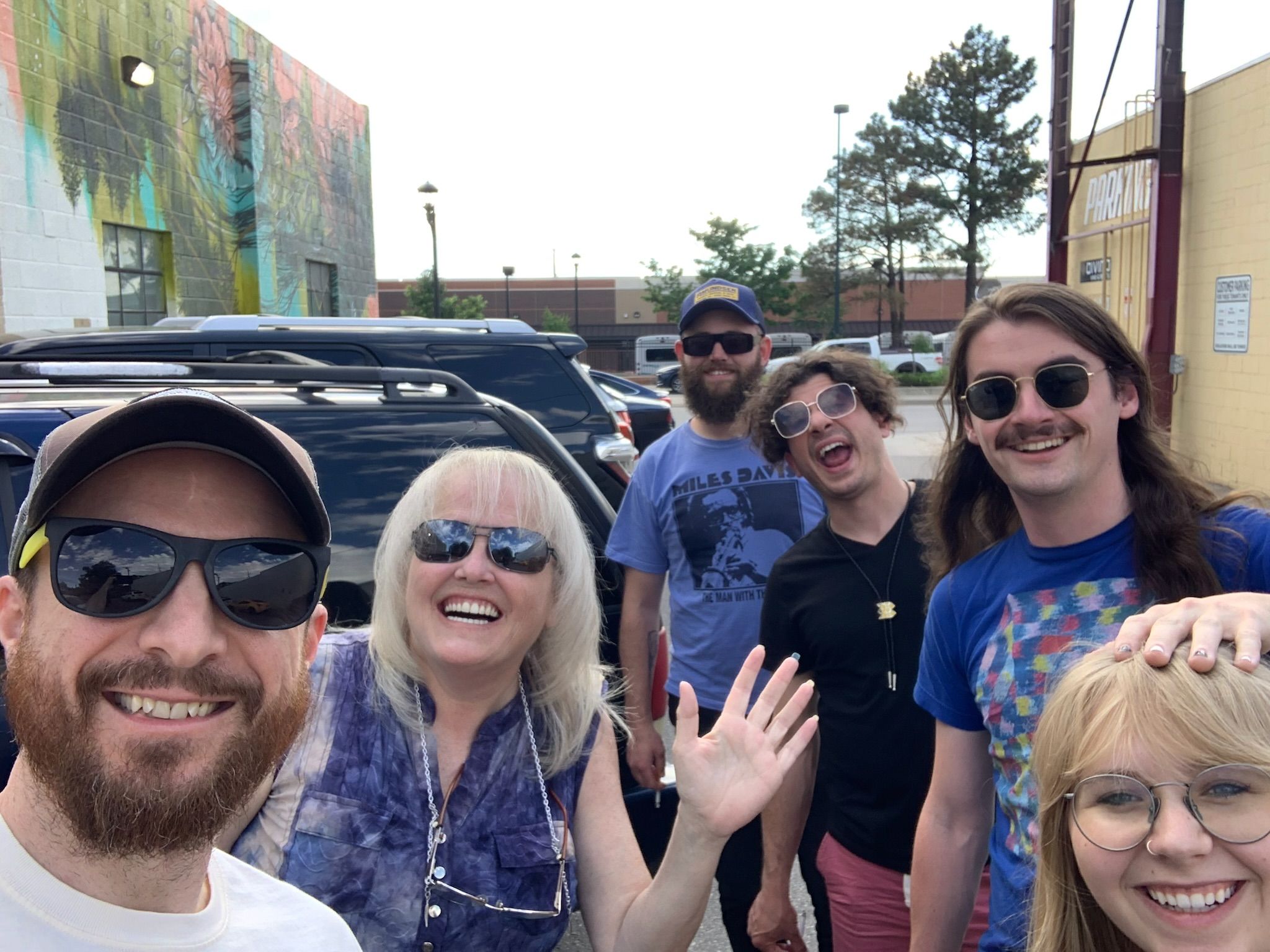 During dinner I got a call from the event coordinator of our show the next day in downtown Cheyenne WY. I had emailed her asking if there was any chance we could check into our hotel one night early. This would save us time and money and make our next day so much easier. She called with the good news - we could have the rooms one night early, no problem.  We all stood up in the restaurant and started hugging, we were so happy to be spending two nights in one place. After soundcheck, we hit a few shops around the venue. Emi came out of a thrift store with a shirt from a legendary BBQ place in Boston, Blue Ribbon. Wicked awesome.
Not to toot our own horn, but our Denver show was amazing. We originally had 3 acts on this bill but one of the bands literally broke up days before the gig. Our one opener, Tireshoe (sounds like "tie your shoe"get it?) absolutely killed it. There were a lot of people there reminding us how important it was that we came to their city, which feels so good to hear. They also warned us that their city's pizza is terrible, however, it was very late and there was pizza right across the street, we didn't have a choice but to try it. Our fans were right, Denver pizza is not great. Emi gave our food to some guys that, to her surprise, were literally peeing in the street. They were psyched about the pizza though.

We got to Cheyenne in the middle of the night, and spent a while finding the right tree to "tour-park" our van.  Tour-parking is when you back the van into a position where no one can break into the rear door because it's simply blocked by a pole, tree, wall, etc. Our lead guitarist Bobby Borenstein is becoming a professional tour parker. The event coordinator gave us 4 separate hotel rooms. This is rare, as we're used to sharing rooms, and beds even. I woke up and had a much needed FaceTime call with my family who were swimming at a friend's house. Their smiles recharged me for the rest of the day, which I needed because Cheyenne was a big one. I'm the only one in the band who doesn't drink coffee. I keep telling them I'm going to drink some when the tour is over in case it freaks me out. 

Emi recently nicknamed Bobby "Meredith" for no reason at all. I ordered at Starbucks and gave them the fake name "Meredith" so when they called it out loud, everyone would laugh. It worked.

As we loaded in for Fridays on the Plaza we could see a crowd already forming. Emi and I met one of the dudes from the headlining act 3OH!3.  I must say, for someone who wrote songs like "DON'TTRUSTME", "Dirty Mind", "Touchin' On My", he could not have been a nicer guy. We waited a while for a very threatening storm to pass around us and finally made it onstage to soundcheck.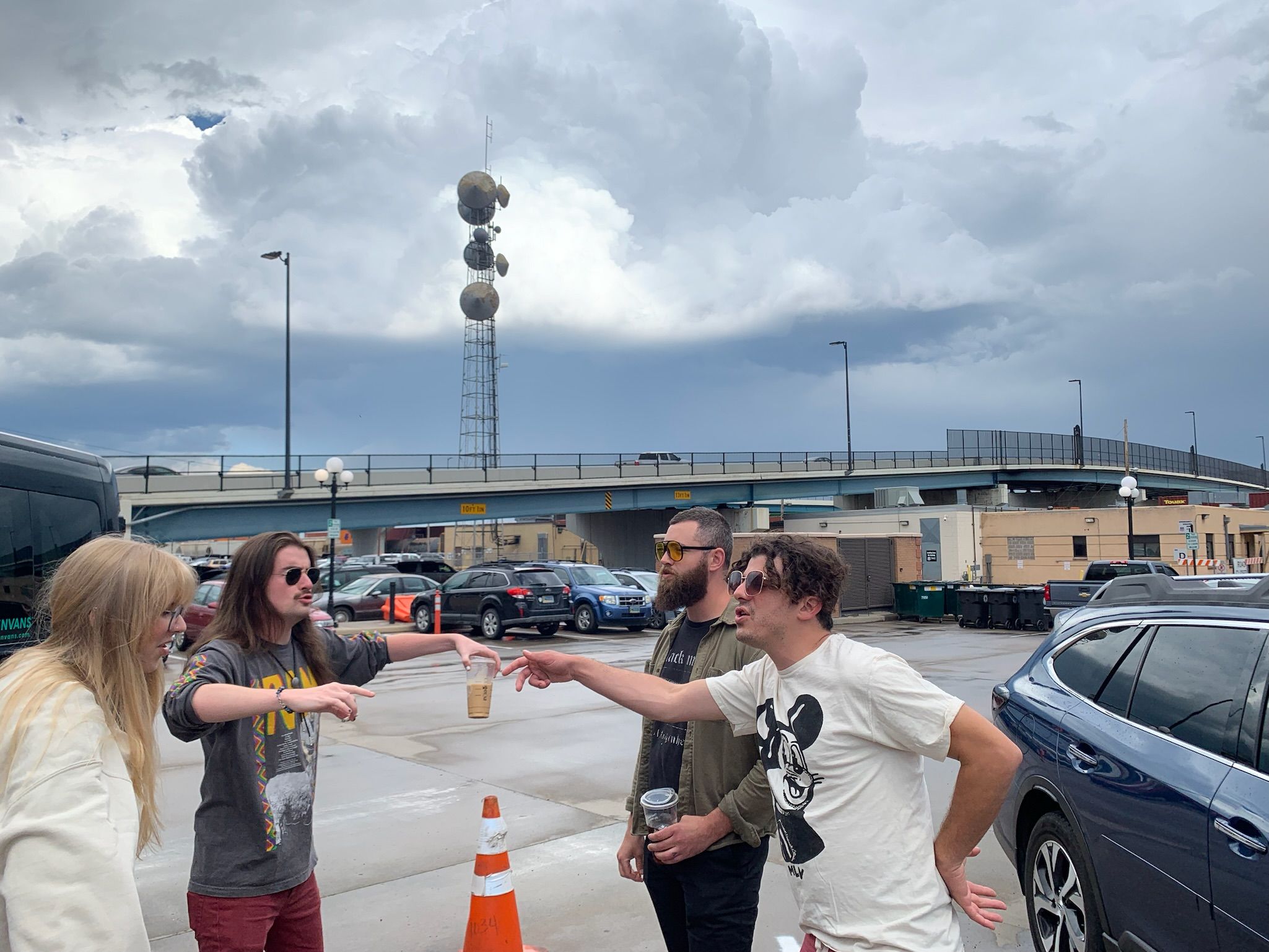 However, our soundcheck ended as soon as it began. They announced to the crowd that a storm producing nickel sized hail was coming any minute, and that everyone could squeeze under the vendor tents for shelter. Our most important show of the tour, appeared to be doomed. I thought, even if the storm passes quickly, most of these people are getting the hell out of here and not coming back. But that wasn't the case at all. I didn't see hail, but it poured, and people hardly took shelter. Many of them just stood there getting soaked with smiles on their faces. What is up with this place? Cheyenne, you are cool.

The storm passed and as we finally took the stage, security informed us that we were about to play for about 8,000 people. Our smiles were glued on for the entire show, the response was amazing! Experiencing this one event with this band, especially with our first timers, our "tour-tadpoles", Bobby and Emi, made this whole tour for me. 

This was our first time in Wyoming and apparently, they loved us. The crowd roared as the set ended with our big closer "Bad Axe, MI", I dragged my stuff off stage and ran to the merch area where I saw the biggest line of customers ever. Well, most of them were customers. Many wanted us to sign their phones, some people even asked us to sign their 3OH!3 shirts…haha… ok!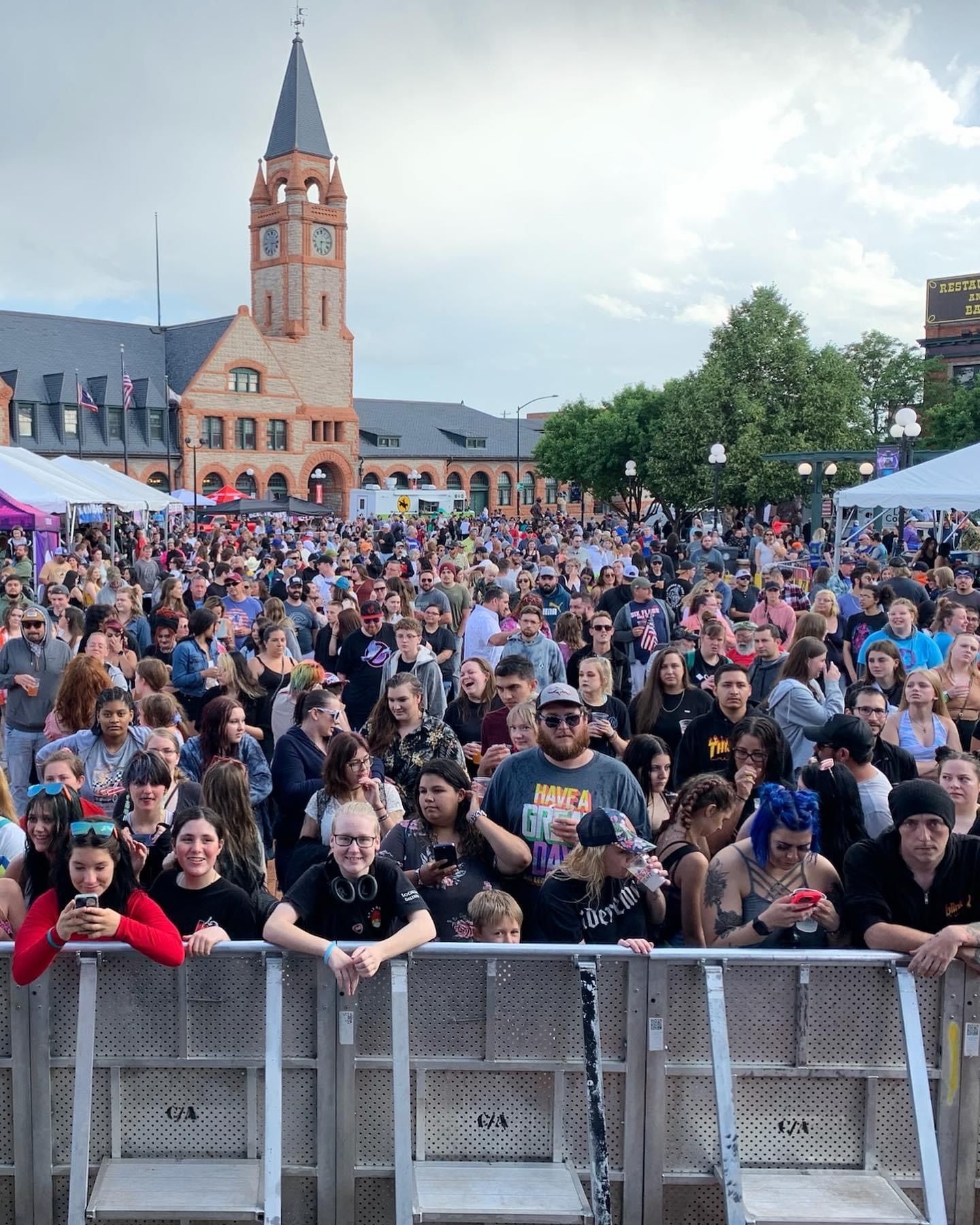 There were a lot of folks there who said they drove hours to see us. I remember one young woman saying our music "saved her life", I nearly starting crying when I hugged her. We then proceeded to have "a night" in Cheyenne as we headed to a nearby saloon with a dance club in the basement. When we were about ready to leave, Emi asked the DJ to play our song "Hurry Hurry", and he actually did! We all hit the dance floor for our song before heading back to our lovely lodging situation.

The next morning we walked around downtown before getting back on the road. I really like Cheyenne, it's like the old west, but with really good smoothies. Emi disappeared and returned with an original painting she bought directly from the artist. 

Fort Collins - I knocked on the door of our old friend, house concert host, Pete, while the band was sprawled out across his lawn. He answered with a smile, said we could jump in the neighborhood pool but it was momentarily shut down due to another potential storm. There are so many good reasons to play house concerts on tour. It's the best fan builder you can ask for. The people that host these events are our champions. They pack the house, everyone buys merch, then they tell everyone about the unique experience. We honestly make a lot more fans and money at people's houses than we do at normal club dates. 

Pete's friend Mike Woodard opened the show with an awesome performance. He and a bunch of guys that work at the nearby New Belgium Brewery explained to me, first hand, why the ever popular Fat Tire Ale changed its recipe and branding. Interesting story, Google it! By the time the show was over the kegs were empty, which is probably a good thing because we had a very long drive ahead. We wanted to get a few hours closer to the next venue in Council Bluffs Iowa. Someone gave me a large bottle of beer from UT that I planned to savor at some point rather than chugging it before our drive. So I stashed it in a cupholder in the back of the van. Did I mention I like beer? I often climb into the mountain of stuff back there and dig around. The band refers to that as "Dave rummaging".

Taylor Swift must've been back in our area again because all we could find for lodging was this scary motel in Nebraska, right out of a movie. There was a note on the office door that said - ring the buzzer and then wait 5 minutes. This old woman came out of a sliding glass door within her promised timeframe, but then it took her like 20 min just to hand me the keys. This gave me time to ponder the late 80s decor and the awards on the wall calling this place the best hotel in the county or something. I'm sorry, but it must be the only hotel in the county to be considered the top one…this place was from another era. No bugs though.

Woke up to Joe flossing and Bobby saying it was time to hit the road and I just disagreed. It couldn't be..we just got to sleep. But no, seriously, we need to be out of here in 5 min. Okay then I'm taking a 1 minute shower. I closed the bathroom door and sat with my face in my hands for a good 15 seconds. I didn't cry, I just wanted to. I stepped into shower for literally 1 minute, just long enough to wash my important parts and wake up. I think every tour I feel like this for at least one moment, where I didn't get enough sleep and have to power through. I got creative in the van and caught a wink on this stretch of more Nebraska and even more Iowa. Bobby snoozed too.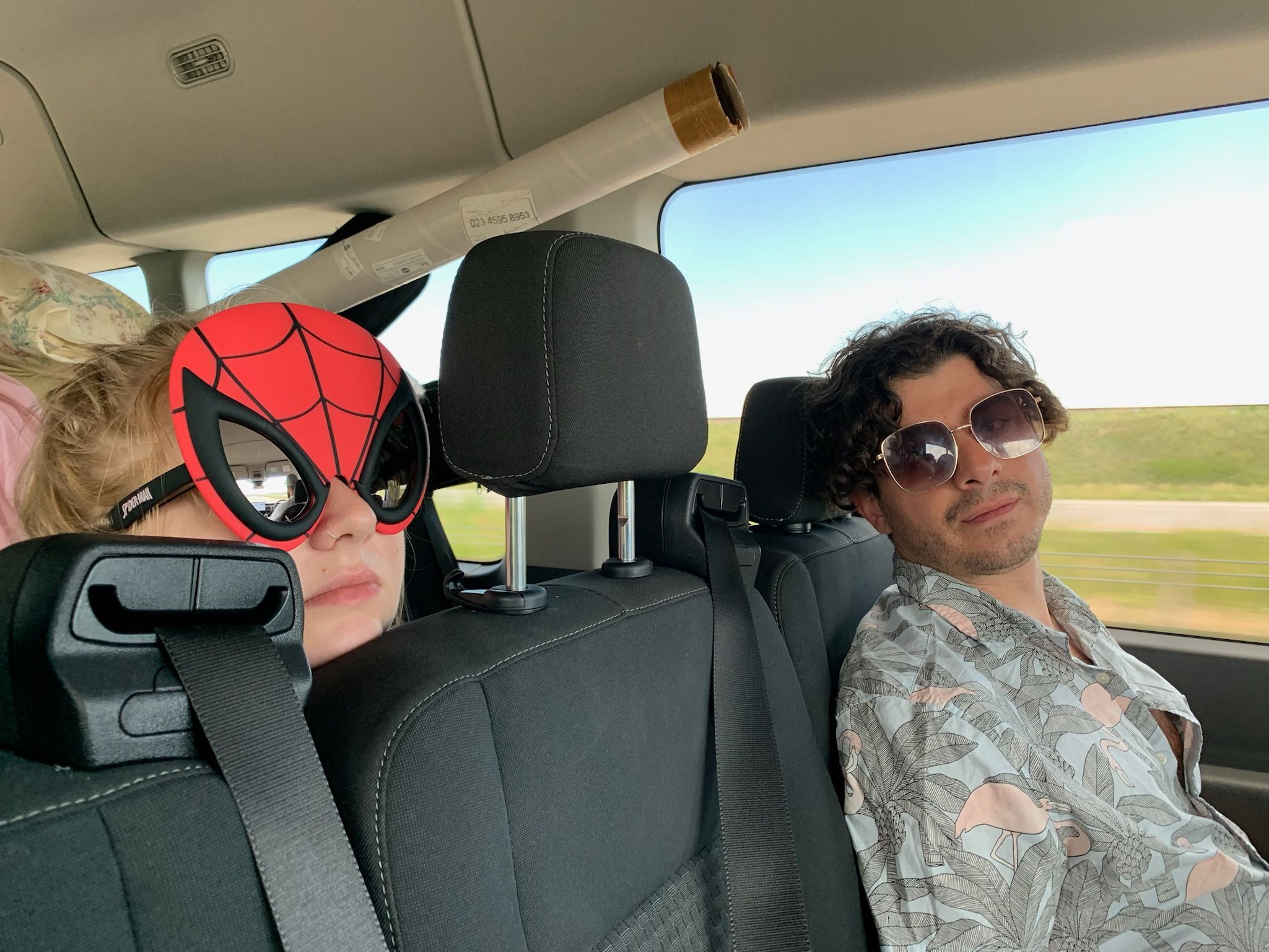 Council Bluffs - we met Emi's friend Josh and his band, our openers - Beachmont. Incredible. Follow them. After soundcheck we ordered salads at a nearby restaurant that is probably great, but is really bad at making salads. Guys, not all salad ingredients belong together. Emi showed us how she makes and drinks mustard water.  Then we had a fun show with the good people of Iowa. 

One guy, an Iowa tractor mechanic, drove over 4 hours to see us, he was the loveliest fan of the tour. I snagged an ATC show poster off the bathroom wall and we all signed it for him.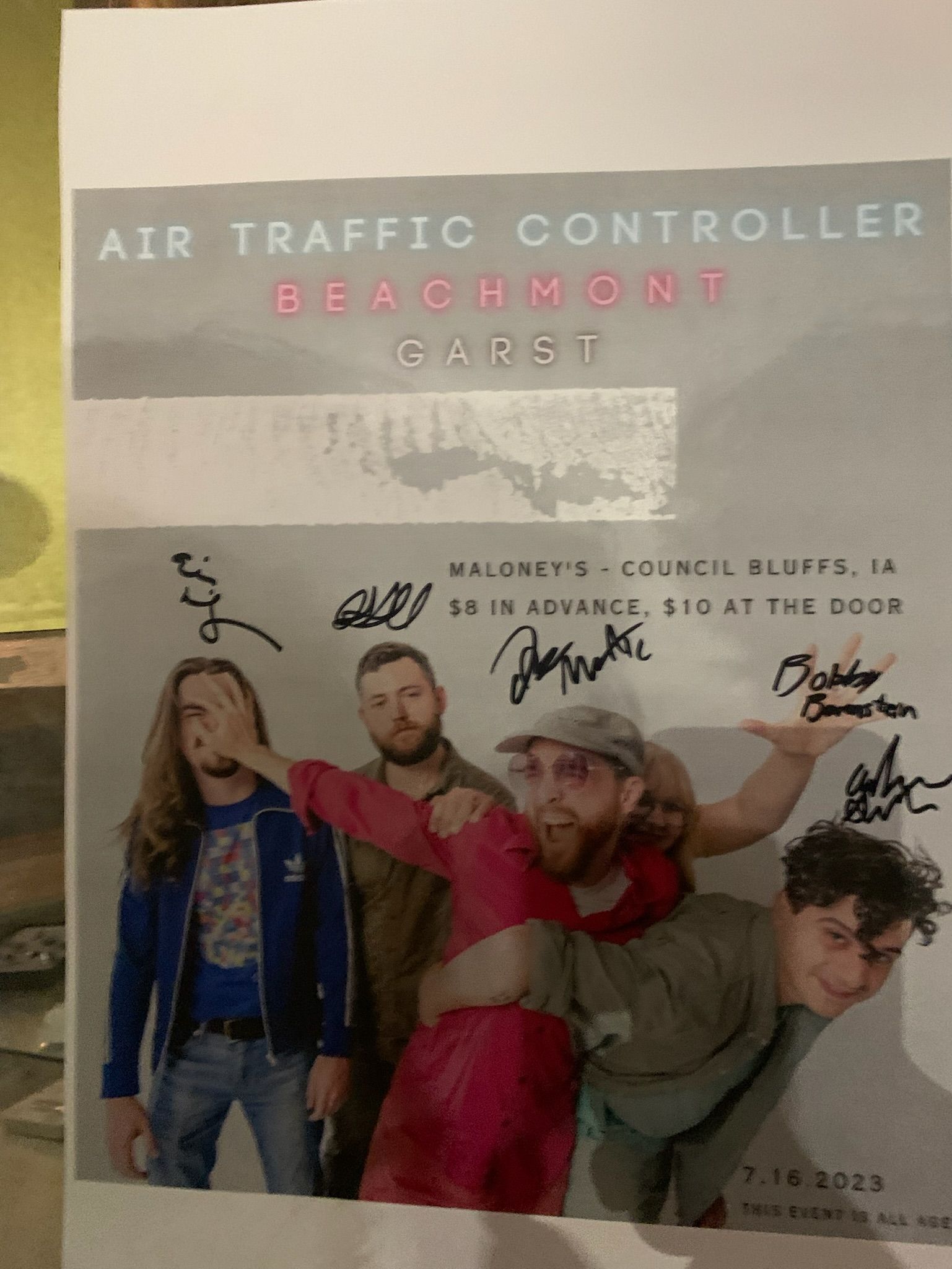 The bartender, also a total sweetheart, is an aspiring standup comedian on the side, and her husband is a skateboarder with a popular YouTube channel. We checked them both out online while eating Canes Chicken, first time for me, love it! We also realized Joe and Post Malone might be the same person.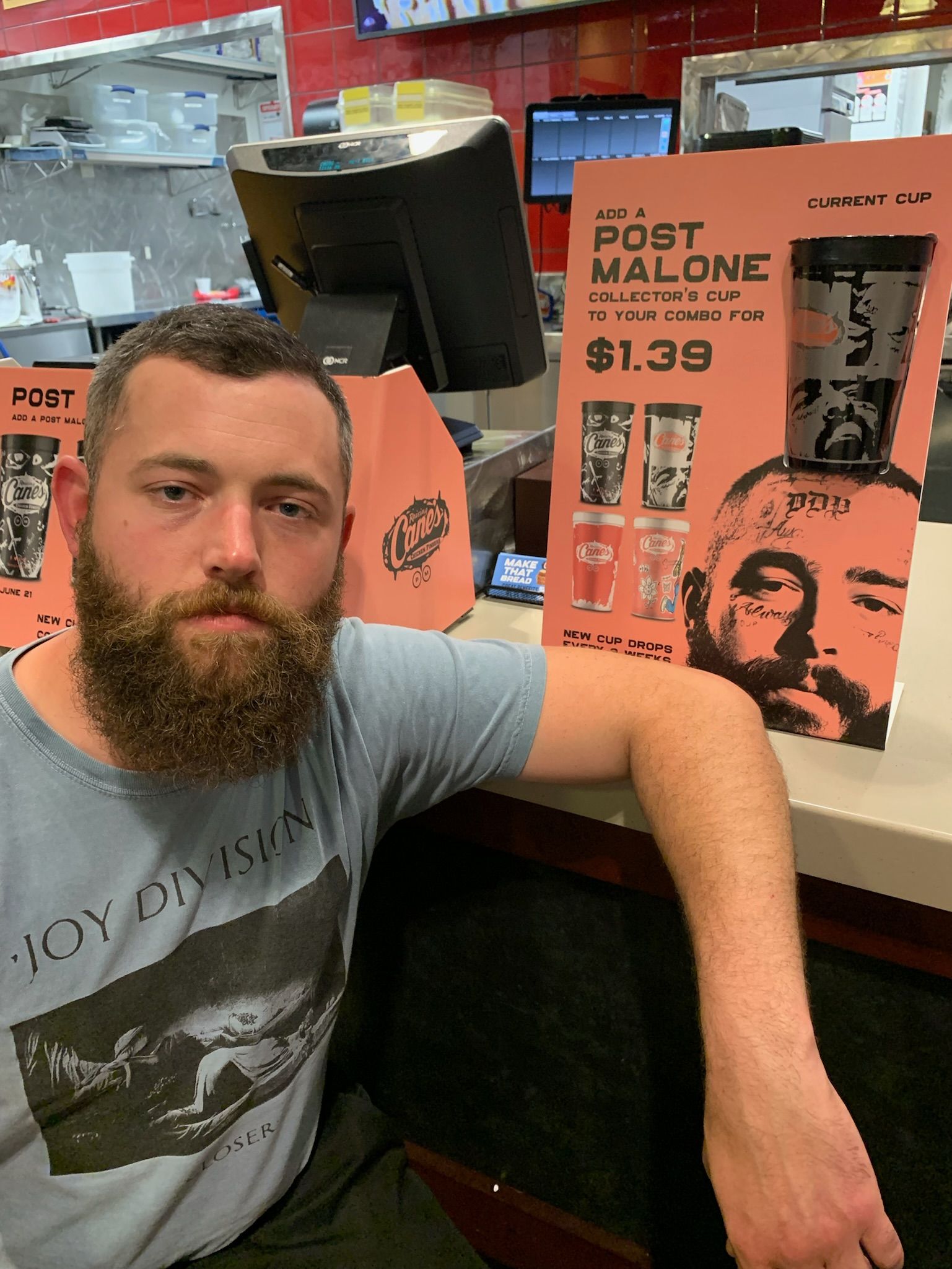 We snapped this glorious photo of Adam outside our Iowa hotel. Notice the bolo tie. He usually puts that on whichever bandmate is driving the van. He also let me wear it onstage a few times. My guy!

We cracked open those beers and had one before bed, which I never do anymore because I suffer from silent reflux. Then Emi bursts in with a bag of beef jerky and a jar of Tostitos cheese. No one was interested, until of course she started dipping the jerky in the cheese and air planing it into peoples mouths. Bobby still wasn't interested but he was force fed the cheesy jerky. I thought I was going to be sick. One of the worst smells - someone else's beef jerky. (Another worst is someone else's tuna) I don't hate it, but when I'm not eating it, I can't stand the smell of it. Emi had mercy on me, god bless her.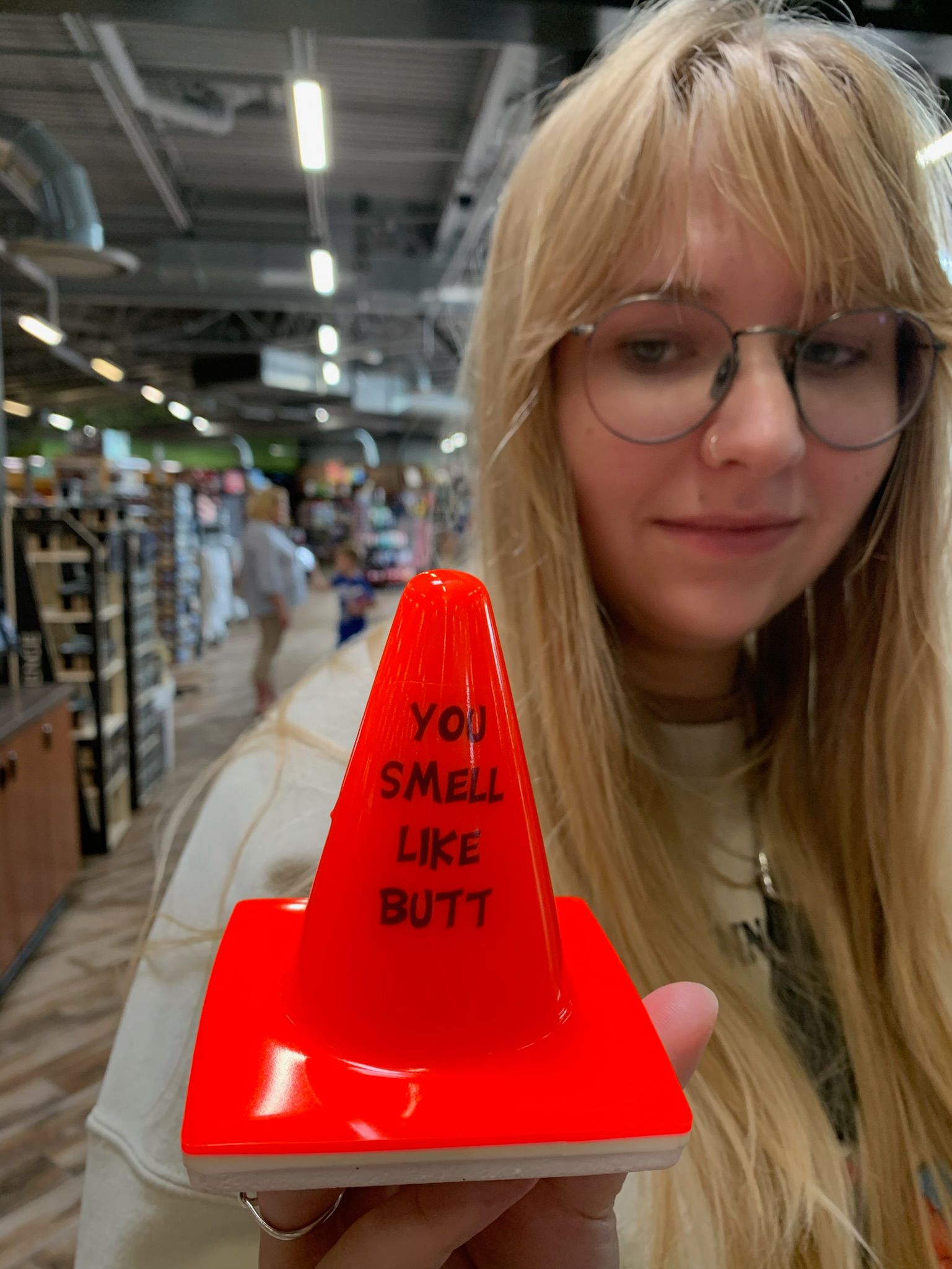 Adam's favorite venue is miniBar in Kansas City. Their NPR station TheBridge909.org has been rotating our song "20" and met us at the venue for an interview and performance taping. The interviewer, Jon Hart, was such a pro, really good conversation. We're psyched this session now lives on their website. We got to eat some insanely good barbecue at "Joe's", which is a restaurant and gas station. You would never expect to have one of the best meals of your life there but…we did.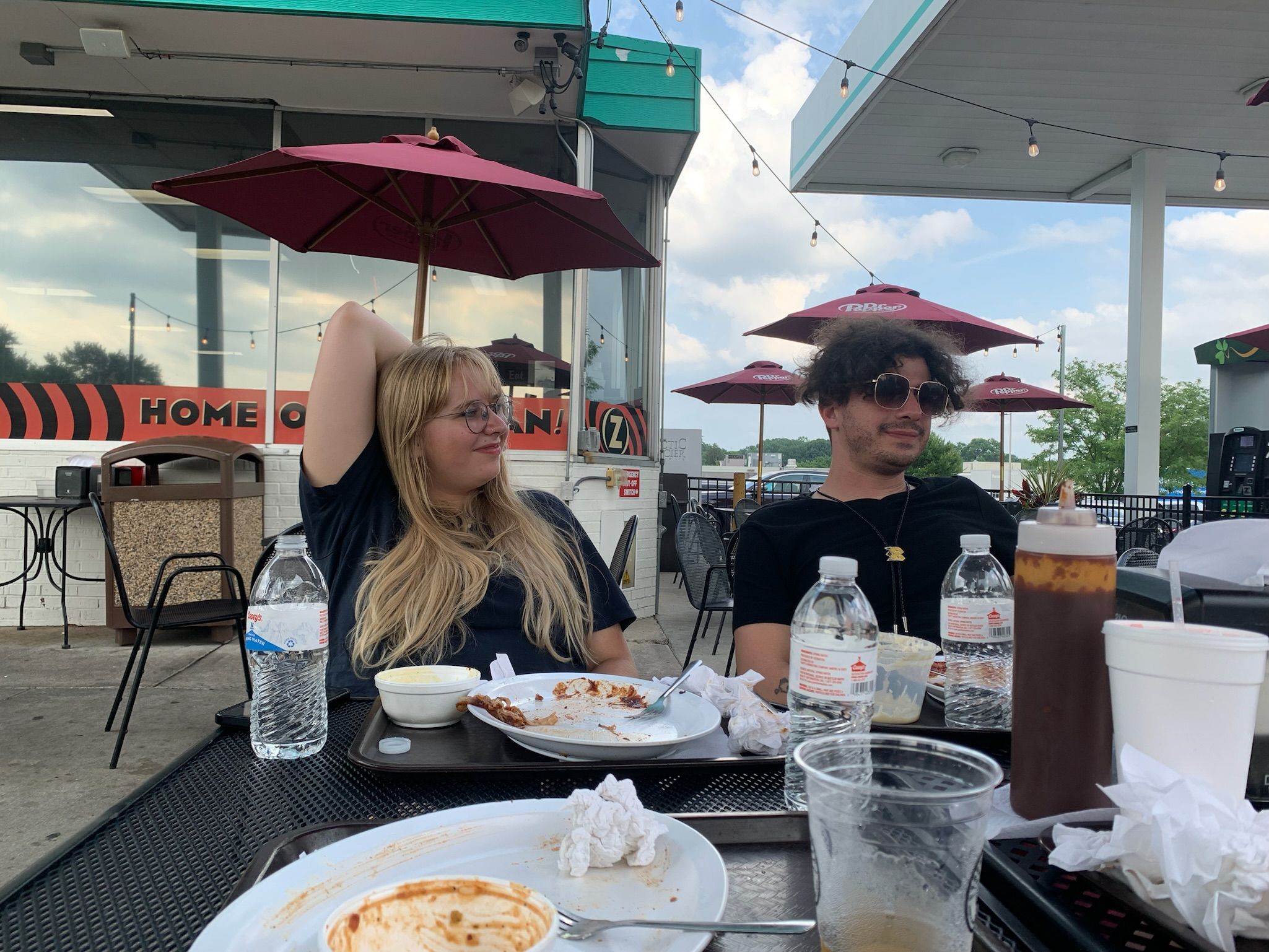 We also had to overcome a puddle situation that can only be told by the video we posted on Instagram @atcmusic. Spoiler - Emi is still with us, alive and well. Before the show we browsed a record store, Adam and Emi drove motor scooters all over KC, I called home, and Joe and Bobby took a nap in the van. 

As we took the stage Emi held out a pack of processed cheese offering me a slice. No, but thank you, Emi. 

This was our last show with our new pals, Beachmont. Afterward, we hit the road hard again for another long stretch north toward Minnesota. Since we can't seem to go anywhere without passing through the great state of Iowa, we spent the night there.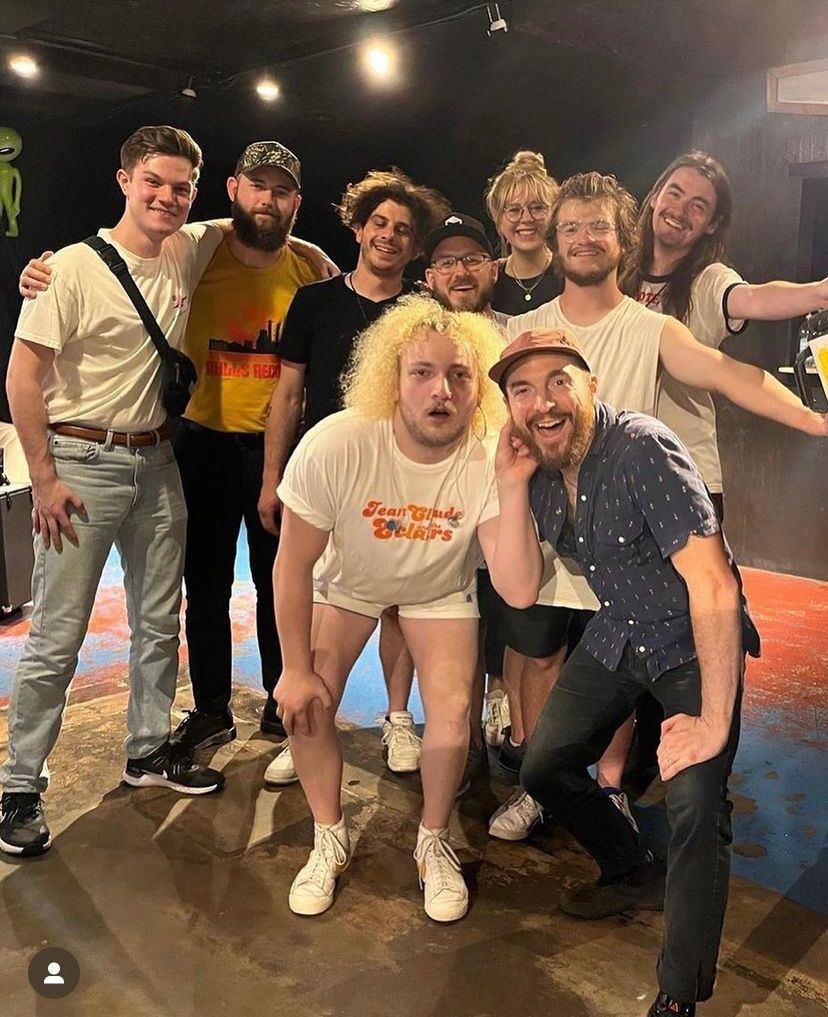 Turf Club in St. Paul, Minnesota is one of my favorite venues and this time I got to meet up with some friends. After soundcheck, a quick Thai meal next door, and an outfit change in the van, my friend Tim arrived. We caught up while I organized our merch table, then I showed him the Clown Bar in the basement. Creepiest bar ever, clown portraits on the walls, horror movie playing on a projector. I could have stayed down there all night, but I wanted to see the openers.

Adam also changed in the van.

Bobby disappeared.

Let's Be Kids and Colin Bracewelll were both fantastic. This was a killer night! My dear friend, and talented radio personality Kendall Stewart, also showed up. I've known her since her college days when she was a Music Director at the best college station in the country, WERS. She was one of the few believers wielding the power to break ATC into the Boston airwaves when we truly needed it. I am indebted to this girl for believing in our music, getting us off the ground and still spreading ATC love everywhere she goes. After the show, she and her friend begged us to come dancing. We wanted to go badly, but already planned to crash at Tim's. We did the math for our minimal sleep and maximum drive time to get us to our next stop, and there was literally no time to squeeze in dancing. I congratulated Kendall on her new radio position and life she created in MN, she's also a traveling party DJ for Gimme Gimme Disco. I know we'll meet again and I know there will be dancing. 

We got to Tim's and did have time for a beverage on his driveway. His neighbor heard us and came over with some Spotted Cow beer only available in Wisconsin. Good to know, as that's our next tour stop. Tim lives on a lake and offered us all a ride on his boat in the morning before leaving. Everyone chose sleep, except me. It was worth the early wake up. Got a glimpse of Tim's chill life on this gorgeous lake. Very inspiring. Someday I hope to have a boat, and a lake, and a house, maybe not in that order. The band van pulled up to the lake just as we got off the boat. We said our goodbyes and were on to the next one.

Madison - A couple hours into the drive we were stopping for gas and I noticed the sign said Eu Claire. That's where Bon Iver is from, it's also where my old friend singer songwriter Beth Jean lives. Like ATC, she recorded albums with Bleu and Ducky Carlisle. She was recently nominated for an Emmy for children's music, and getting married any day now. I had to let her know we were about to stop for gas in her town. She answered – "I live a minute from that gas station, I'm coming say Hi to you guys." By the time I finished pumping gas, there was Beth for a quick - Hi, hug, hello to the band, this is our van, have a wonderful wedding, hug, bye Beth. Literally!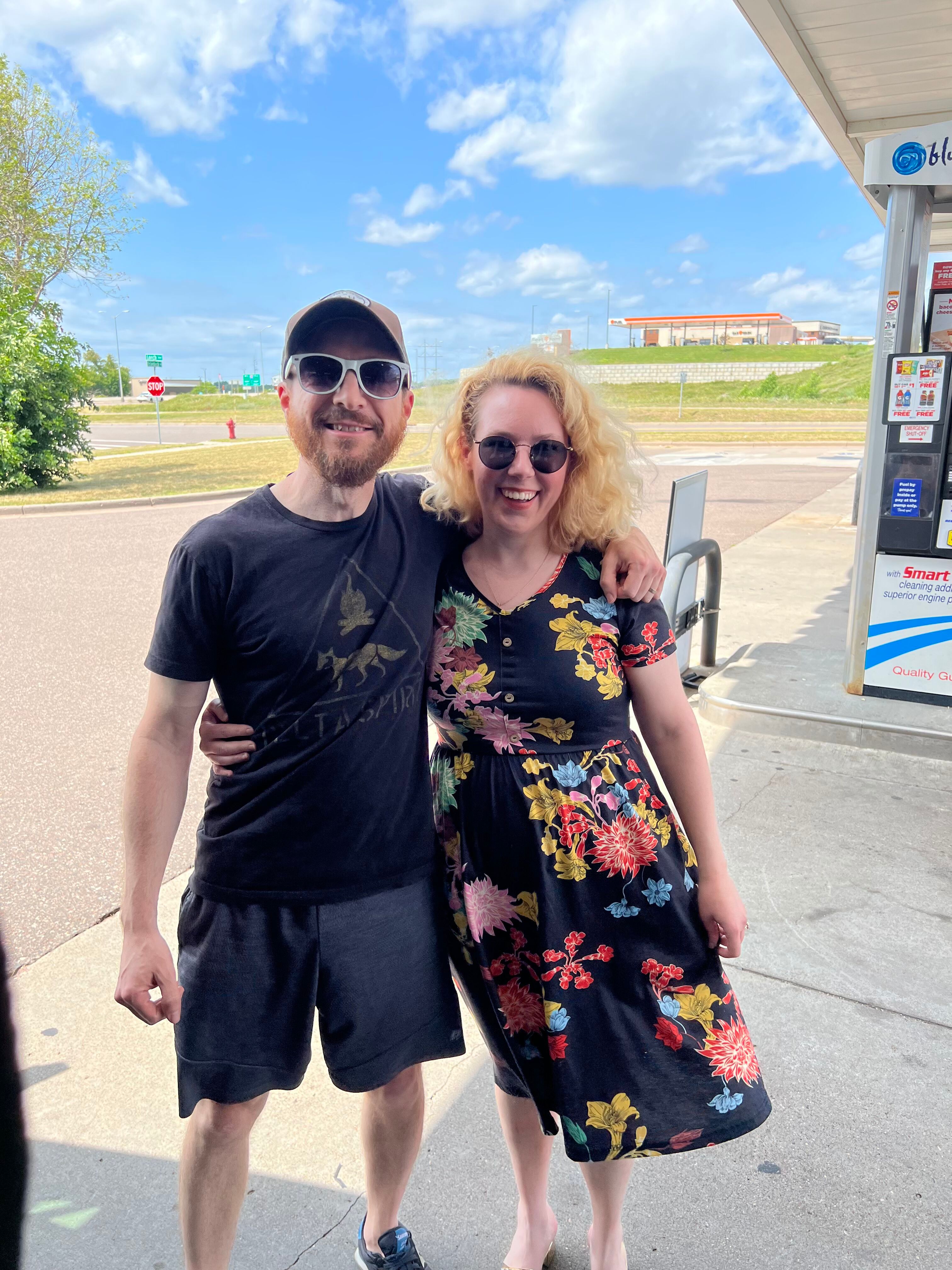 Joe's beer or choice in Madison WI, was Spotted Cow of course. Our opening act was Meggie Shays. She was unbelievably talented and so kind, she invited us to crash at her place, however there was a catch. She would not be there, but… the people who would be there are totally cool and would not mind at all. I locked eyes with Adam, and knew exactly what he was thinking, and I agreed completely. If we did this, it would probably the weirdest night of the tour, and something to laugh about for years, but not tonight. Let's just go to bed. What about Karaoke Meggie and friends asked? No, just… no. Let's find a hotel and save ourselves for Chicago. We booked a hotel using a discount, but it was after midnight, so it actually booked for the following day. I called to correct this and it's normally an easy fix, but long story short, they couldn't help me, I either had to pay full price which was twice as much, or wait til 3am and they'd call it an "early check in" for next day. This night was going south. We actually considered driving south to my sister's in Naperville a night early but she was asleep, and we couldn't just waltz in this late. Emi said jokingly, let's go tell the girl at the hotel we're checking in right now! That was actually our best option, but I decided I will beg the girl instead. We drove to the hotel, I told the band to wait outside while I sort this out. I finally convinced the girl to help us. She did this by closing the hotel's books for the night earlier than usual and treating us like a next day check in right away. It took a while but I finally got the keys and ran back to the van. Everyone was laughing and Emi was dripping wet. What the hell happened?  The sprinklers. 

Chicago - We woke up in Madison with just enough time for a quick swim in the hotel pool.  Only Emi was game. This pool was shallow and hardly for adults, but we got in some laps before hitting the road. First order of business in Chicago - eat something good!  Adam's friend suggested a place that was on a short list of the best Cubano sandwiches in the world. We verified this claim.

We went to a vintage store, Ragstock, and decided we'd all buy matching clothing in red. Adam's choice was only partially red, but what it lacks in red it makes up for in elegance.

Our final show of the tour was a lot of fun, but we can't take all the credit. Our opener CXPITAL was awesome, and the show's photographer was dancing all over the room excitedly snapping these photos. This guy, Zachariah, kept our energy up all night, maybe we should bring him on the next tour. Final order of business was Chicago hotdogs. Adam describes these beautifully in his "jumping into tour" video on Instagram @atcmusic. There was only one place open and it did the thing. Off to my sister Sue's house once more.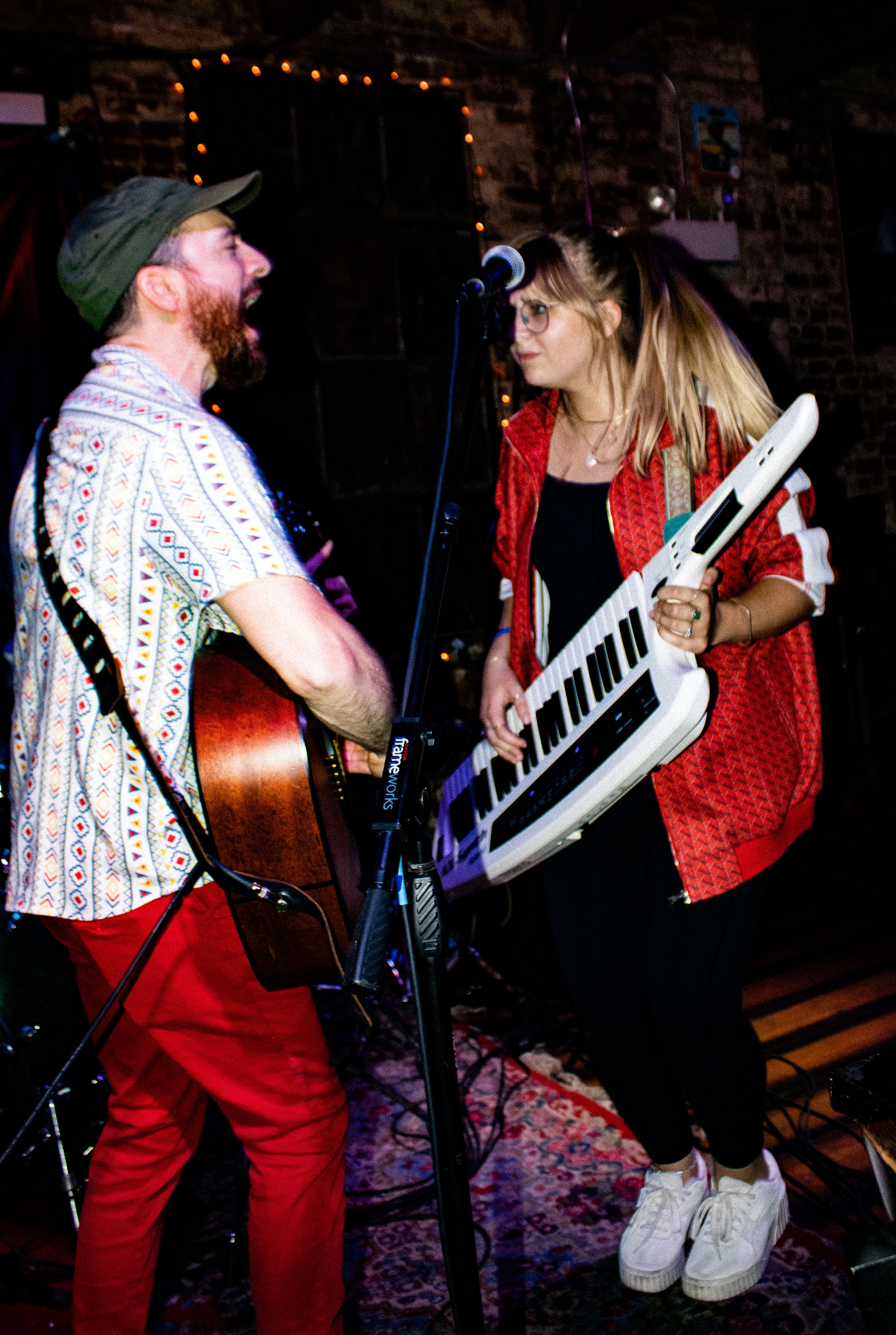 -heading home, almost
We woke up to another delicious breakfast with Sue's family when she told us about the community pool nearby. A celebratory soak before hitting the road sounded good to everyone.

South Bend Indiana redeemed itself with a much better meal, this time at Perkins Restaurant.  Much better than the diner we hit here previously.  Emi did a somersault on the dining room floor, no one was looking, thank god. I did not want to get kicked out in the middle of my celebratory steak!  We explained to the old lady at the register that we are in a famous band. She promised to watch us on YouTube.

At a gas station we started cleaning out the van. Joe threw out Emi's gigantic Rice Krispy Sheet we have been picking at for a week. It was sad, but it had to go.

We almost got through the whole tour without getting in any trouble, but then Emi climbed into this ice box and we were asked to leave.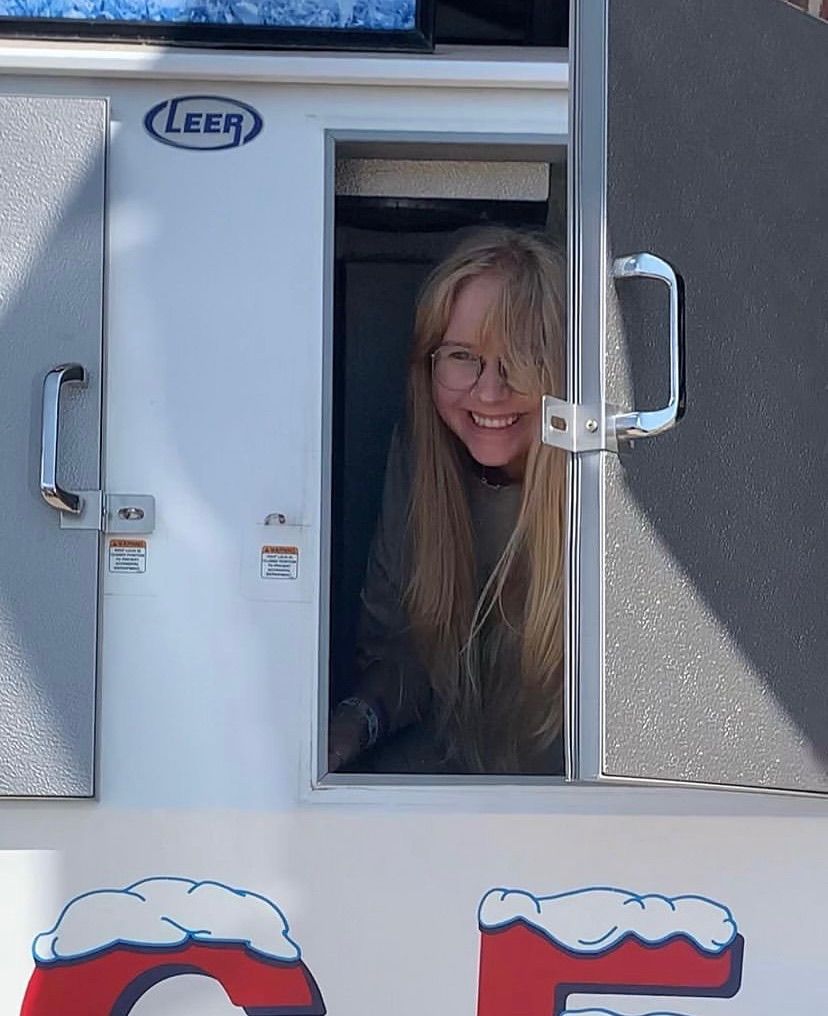 I talked to Bobby during one of our final pit stops. He explained how it was Adam who started calling Emi and him "tour tadpoles" and "taddy-daddies". Before the tour, Adam expressed so much excitement in getting the chance to witness them on the road for the first time. Bobby went on - Adam prepped me for all the delirious late night car rides through the exorbitant amounts of corn in the Midwest, and all of the region-specific meals we were going to try to cram into these stops. About 3 days in, after 2 nights of very little sleep and 500 miles of driving a day, I looked at Adam and asked "am I supposed to feel like I'm a totally different person on the road?" Adam promptly responded "oh yeah, you just become a weird lil feral nomad out here" and honestly, that couldn't have been more true. We became the STRANGEST lil dudes. And I wouldn't have had it any other way. 

Gotta love Bobby. So genuine, hardworking, and talented. I'm honored to be part of his first tour experience.

-Boston arrival
Getting back was not that simple. We had to drop everyone off in town then Joe and I went back to my house another hour away, where his car was. We unloaded the rest of the stuff, I ran inside to kiss Sarah, then had to drive to Greenvans in Providence, another hour, to drop off the van. My cooler than cool stepbro Ricky met me there and took me home, another hour.  I quietly crept into the house around midnight and saw my 7 year old daughter walking to the bathroom half asleep. She was surprised to see me, but I needed her to stay quiet and not wake anyone so I just gave her a big long hug and then walked her to and from the bathroom and then tucked her back into bed.  It was so nice to finally be able to say, I'll see you when you wake up.  And it sure was sweet to do just that.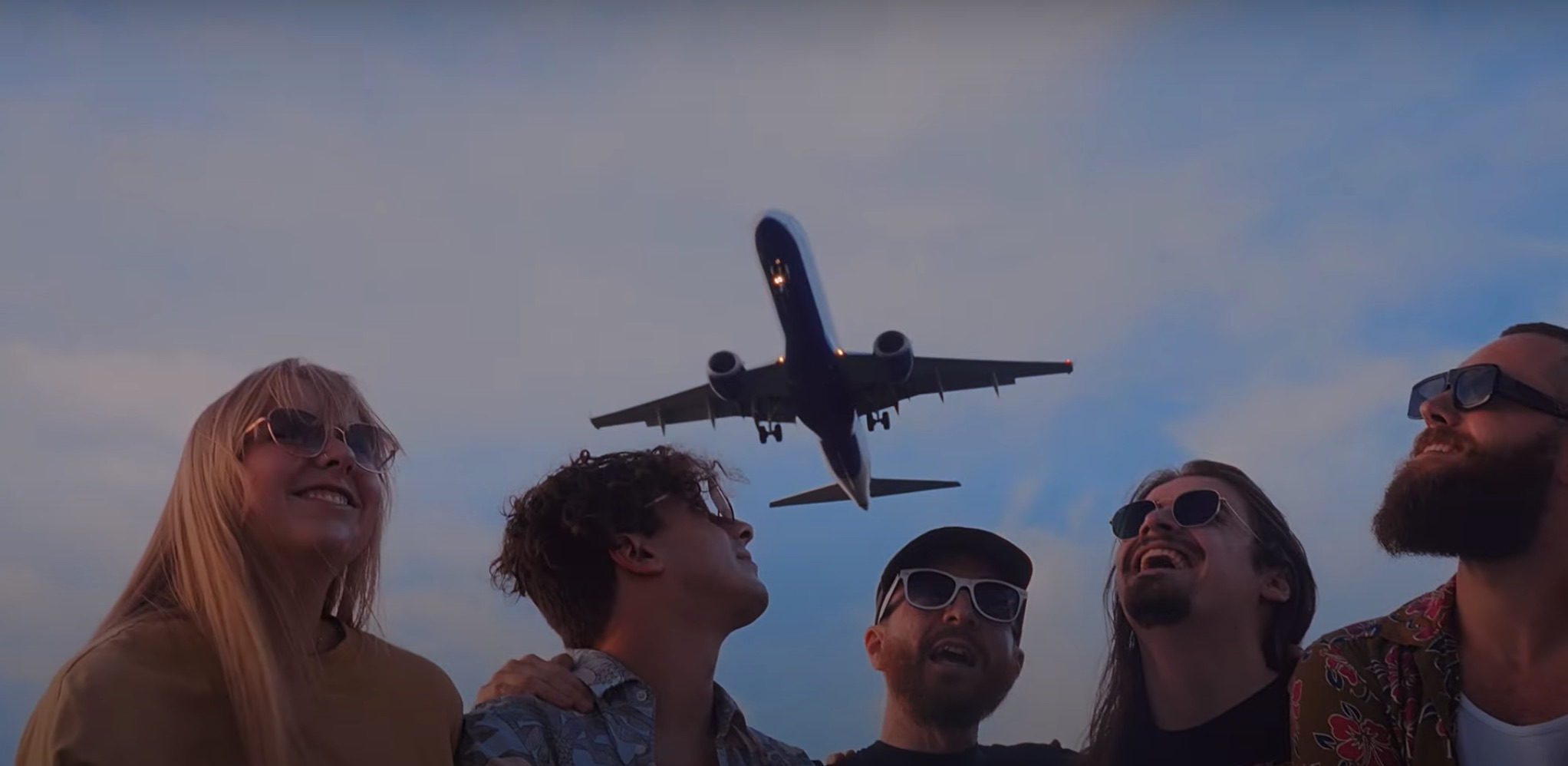 Website 
­DASH on: Spotify | Apple Music
Social Media: Facebook | Instagram | Twitter