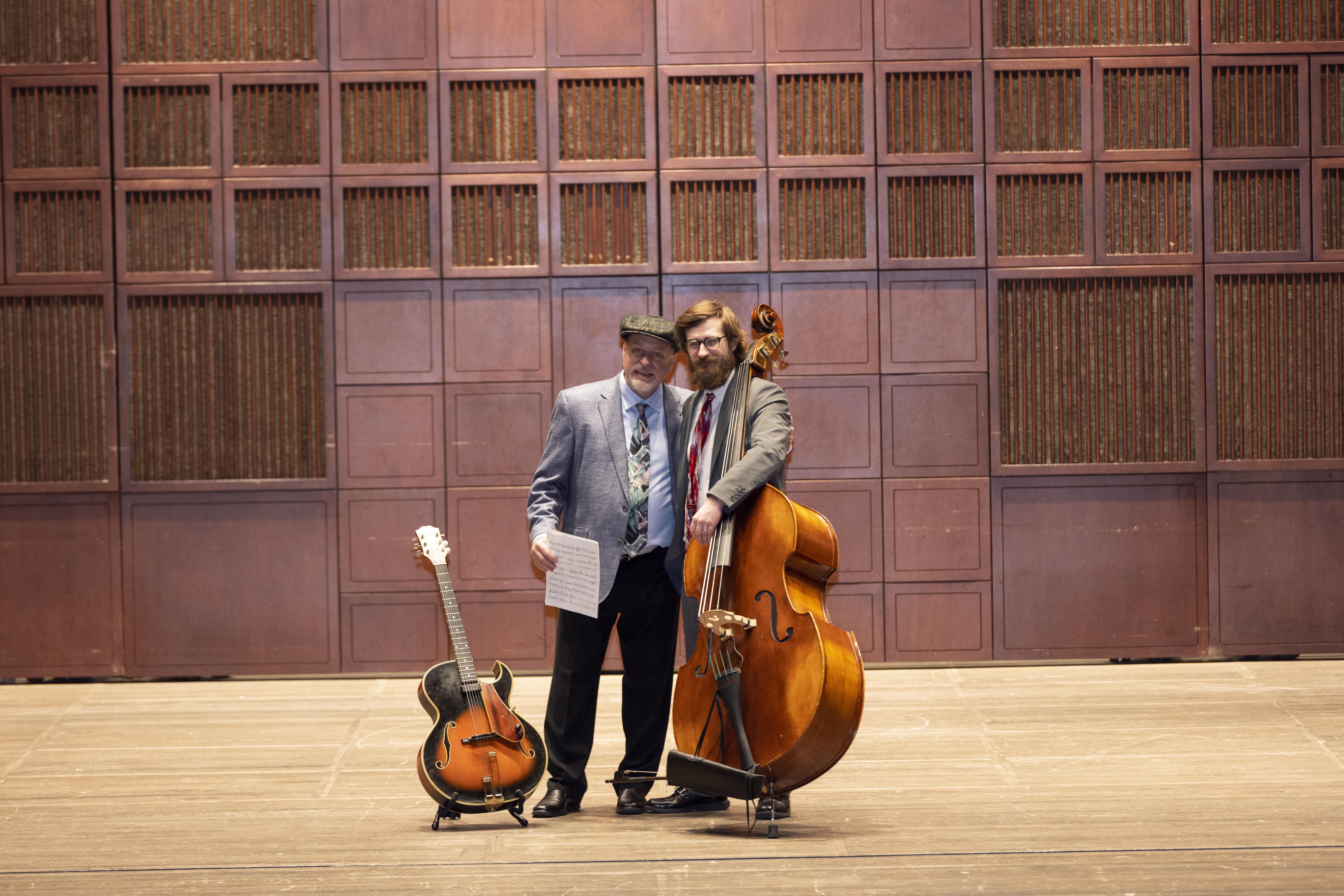 GUITARIST-COMPOSER GREG CHAKO RELEASES A PLACE FOR BASS,  A SET OF CHAMBER JAZZ DUETS FEATURING BASSIST MASON DAUGHERTY By Scott Yanow ( https://en.wikipedia.org/wiki/Scott_Yanow )
Greg Chako is a very skilled jazz guitarist and composer who performs music in his own individual voice with consistent creativity. But because he has spent long periods living overseas, he is not as well-known as his talents deserve. The release of his latest album, A Place For Bass – Chamber Jazz Duets should help improve the situation. The collaborations with bassist Mason Daugherty, which feature the duo operating as equals, is the latest accomplishment in his very productive career.
Born and raised in Cincinnati, Greg played the accordion briefly before, after hearing Jimi Hendrix, he switched to the guitar when he was ten. He developed so quickly on his instrument that just a year later he won second place in a contest sponsored by the American Guild of Music, coming out ahead of over 1,000 other contestants.
"Early on I heard and liked Deep Purple, Led Zeppelin, Ritchie Blackmore, and Jimi Hendrix before exploring the classical rock of Yes and Genesis," remembers Greg. "While I had heard an Oscar Peterson record that my stepfather owned and it had an immediate appeal to me, it wasn't until I went to New York City and attended a summer-long guitar workshop that I became much more interested in jazz. That is when I first heard the jazz fusion of the Mahavishnu Orchestra and Return To Forever. I went backwards chronologically, discovering Wes Montgomery and Charlie Christian, and I studied bebop with pianist Dave Frank who was influenced in his teachings by Lennie Tristano."
Greg Chako attended the Berklee College of Music (making the Dean's list), was an important promoter and organizer of jazz events in Cincinnati and Amherst, Massachusetts, and gained experience as a working musician even while having day jobs as a cook in Amherst and as a successful real estate agent in New York City. He became a full-time musician during his periods in Hong Kong (1992-94), Singapore (1994-2003), and Tokyo (2004-2009) before moving back to the United States. "During my Singapore period, I worked every night and sometimes had as many as ten gigs a week, everything from playing solo classical guitar and leading a trio at the Raffles Hotel to being featured at a regular Sunday brunch with a seven-piece Latin group." Along the way the guitarist has played with such notables as Junior Cook, Bill Hardman, Victor Gaskin, Johnny Lytle, Bobby Watson, Herb Ellis, Jimmy Raney, Slide Hampton, Ray Copeland, Curtis Fuller and Richie Cole, and he produced a full-length documentary, An American Cat in the Lion City.
In addition, Greg Chako had led 12 albums before his recent project. "Integration, a double-CD that I made in Singapore, was the pinnacle of my time overseas. I was so happy at the time, playing every night with great musicians and incorporating my influences in my writing. That was my first major statement as a composer and arranger." Other highpoints in his recording career include Sudden Impact, Tokyo Live! (a 2008 concert with drummer Gene Jackson in a quartet), Paint A Picture, Tell A Story (which has Don Byron and Delfeayo Marsalis as guests), his solo guitar album My World On Six Strings, and a double-album called, Where We Find Ourselves, a tribute to his late-wife (who passed from cancer) featuring a tight, flowing three-horn sextet.


A Place For Bass originated when Greg Chako realized that "I've recorded duos with piano and voice but I've never written anything specifically for the bass. That was ironic because bass-guitar duos are the most common format for gigs. Because I'm less interested in virtuous guitar playing than in composing songs that are close to my heart, for this album I put the bass on top." The bass professor from the University of Cincinnati recommended Mason Daugherty and Greg knew within a couple of songs that the brilliant young bassist would be perfect for the project.
While there have been some notable guitar-bass recordings in the past, most notably by the teams of Jim Hall & Ron Carter and Joe Pass & Niels-Henning Orsted Pederson, A Place For Bass is quite a bit different due to the equal roles played by the two musicians (Daugherty is never just an accompanist) and Greg Chako's intricate arrangements and compositions. A Place For Bass has an impressive amount of variety including a jazz waltz, a major blues, a minor blues, some more contemporary-sounding songs, numbers inspired by Bach and Brazilian music, and a couple of contrafacts (originals utilizing the chord changes but not the melody of standards). It is also filled with unpredictable moments that add to the music's quiet excitement.
The set of Chamber Jazz Duets begins with "As A Button" which is based on Neal Hefti's "Cute" (thus its title). The two musicians play the new melody in unison and, while they have individual solos, they are continually active with the "accompanist" often creating lines as interesting as the lead voice.
"Bass-ic Instinct" is a haunting ballad that has the bassist playing the theme, taking most of the solo space, and applying a pedal point that is a little reminiscent of John Coltrane's "Naima." Of "Bass Up Front," Greg says "I thought of the Paul Chambers record First Bassman during which the bassist often plays a melodic section as part of the arrangement." A contemporary composition without any connection to any previous standard, the catchy "First Bass" finds Mason Daugherty constantly shifting roles and never playing the expected, even in his choice of notes while walking behind the guitar solo. Throughout the intriguing jazz waltz "Three-Quarter Bass," the duo sounds very much like one instrument, mostly playing in the same register.
Greg Chako and Mason Daugherty swing joyfully on "Bass-in' Street Blues," a piece that has two separate lines in contrary motion, and (rather than just repeating the opening melody) a shout chorus after the solos, a technique that is inspired by Horace Silver's writing. "Base Mode" is a complex minor-toned piece that includes some surprisingly rapid moments in its melody. "It is pretty difficult to play and we thought it would take many takes to get right, but it turned out that the first take was perfect." "Base Time," which has the theme being handed off equally if unpredictably between the two musicians, is a bit unusual in that its solo choruses are 13 bars long as opposed to the usual 12, 16 or 32. It came together that way organically in Greg Chako's writing rather than being consciously planned as an exception to the rule.
  "Bassa-Nova," while containing a strong hint of Brazilian music and some abstract similarities to "One Note Samba" (although with much more complex harmonies), is not really a bossa-nova, but it gives the two musicians a different groove in which to improvise.
"Bach To Bass," which utilizes the chord changes of trumpeter Clifford Brown's "Joy Spring," is described by Greg as "close to a Bach invention. We play two different melodies in harmony and both instruments are on an equal footing."  "Bass For Brownie" has some similarities to another song that Brown recorded, "Daahoud," while the closing number, "First Bass," has unusual harmonies and many key changes that the duo plays effortlessly.
Greg Chako, who recently performed his original music during a sold-out return appearance to Singapore (one of the sets can be viewed on his YouTube page), is enthusiastic about playing more often in the United States in the future. While he thinks of himself more as a composer than as a guitarist, both of his talents are very much in evidence throughout A Place For Bass, a subtle and quietly inventive work that grows in interest with each listen.
 
What are experts saying about this new album?
"Greg set out to feature the bassist in more than an accompanying role with these compositions and it is really a seamless conversation between two great players. This is some beautiful music! - Dave Stryker, World-renowned jazz guitarist, composer, educator and recording artist"
"Masterful precision ... constantly lyrical and swinging ... Absolutely amazing! They've redefined playing together!" - Ron McClure, World-Renowned Jazz Bassist
"A great sound! Class musicians" - Jimmy Bruno, Master Jazz Guitarist and Educator
"These guys are attached at the hip capturing the essence of each track with great feeling and clarity … Extremely polished … covers a great deal of moods and harmonic diversity in the entire superb program. There are huge surprises too! This is World-Class and will inspire repeated listening.  BRAVO to two consummate Jazz musicians" - Rufus Reid, Master Jazz Bassist/Composer
"Beautiful CD!! Phenomenal interplay, great compositions, and a vibe that is all it's own due the players' singular voices and mutual respect. Played with courage and great artistry" - Pete Bernstein, Jazz Guitarist 
"Intelligent compositions and swinging, lyrical lines . . . a pleasure to listen to." - Ben Monder, Master Guitarist and Educator
"Greg's got something going with this duo, and I'm a fan!" - John Clayton, Grammy© winning Bassist/Composer/Educator
". . . a beautiful set of music in a rare combination. The tunes are rich, the songs swing, and the tone is warm. This is music to sit back, relax, and enjoy the artistry. Wonderful!"- Rodney Jones, Master Jazz Guitarist/Educator
"I was immediately struck by the cohesion, chemistry, compositional prowess, and brilliant playing. I dare say Greg's outdone himself with this record! The mix is PERFECT. Give this one a spin right now!" - Taylor Roberts, Master 7-string guitarist
"There have been many duet collaborations in the jazz world but none as interesting, challenging and groundbreaking as this one." - Edward Blanco, Allaboutjazz.com and WDNA.88.9FM