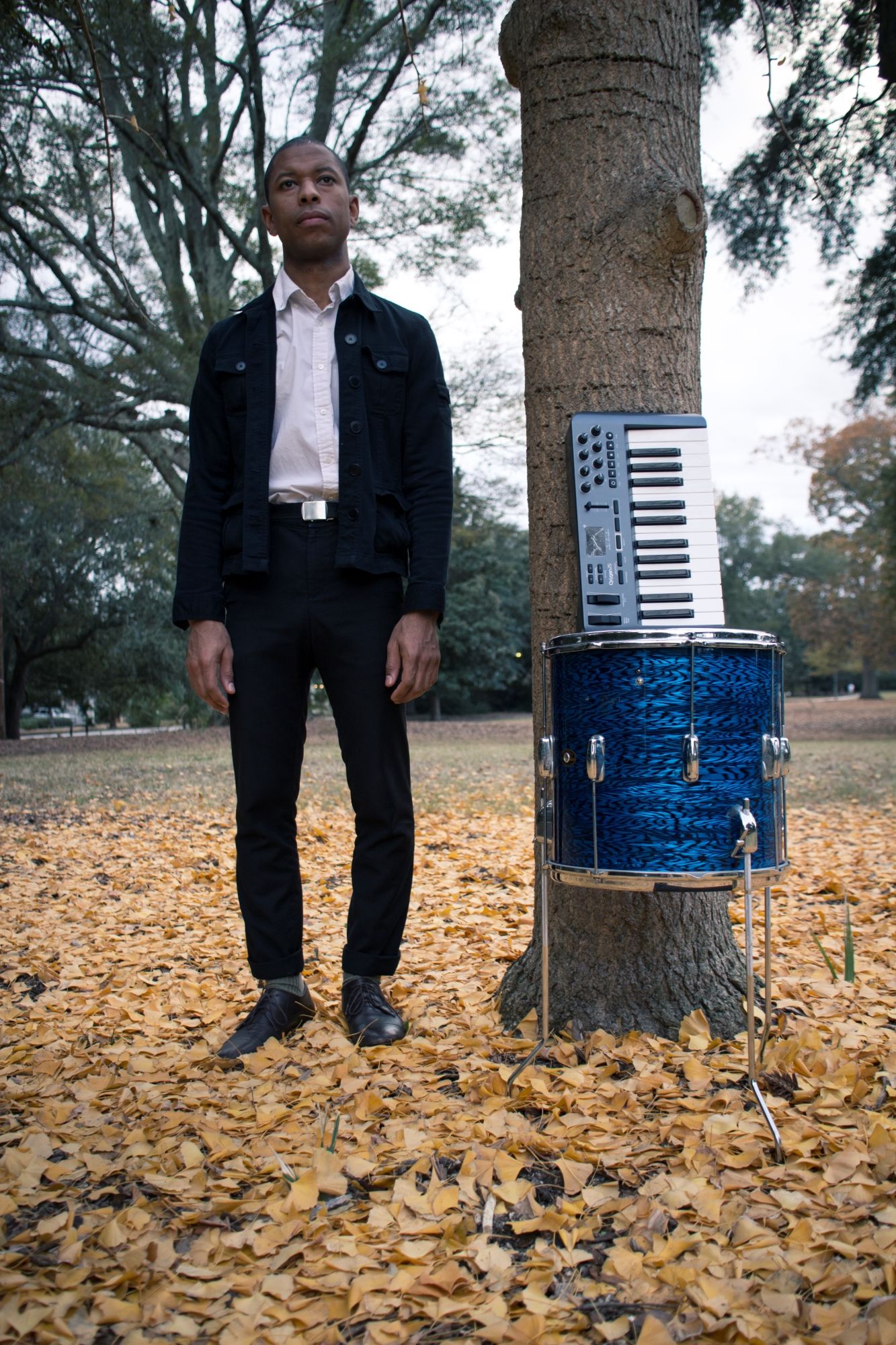 Infinitikiss is an ever-evolving musical and visual recording project conceptualized by Nic Jenkins, featuring a revolving ensemble of curious and experimental artists, musicians, and performers. Jenkins latest album, titled ambient music, is due out on Fort Lowell Records March 3, 2023. The core material for ambient music came from live improvisations that were recorded to cassette tapes, which originally served as backing tracks for live solo performances and with rotating ensembles (circa 2015-2020), in and around Charleston + Columbia, SC. Since then, the tapes have since become a kind of sample library of colors & shapes that have served a variety of sound collage / design situations, as well as fodder for other strange + beautiful collaborations. 
How did the band form and what does the band name mean? 
INFINITIKISS formed sometime in the middle of 2014 & somewhere in-between bus rides from Charleston to Columbia, SC. I was interested in a relationship that led me to other relationships that extended from the nucleus of the art, film, & music community there. Soda City & CHS have very interconnected music scenes, actually! Around this time is when I crossed paths with BAND & THE BEAT for the first time, which was a lovely moment in that chapter of my life. I journaled a lot on road trips about ways to evolve as an artist, and some of that journaling included lists of concepts and potential monikers. I wanted to go with something slightly more ambiguous and a bit quirky, since performing as "Mr. Jenkins" felt strange after a while (and once I started to try assembling groups of friends to play together). Other names on the list suggested  imagery of palindromes, cyclical patterns, and even conveyor belts (of sound). 
I had reached a point in my musical journey (and a season of re-examining my relationship with my own ego) that made me reconsider introducing a band or ensemble as my name, basically. Deciding on "infinitikiss" as a new working title for this dimension of self-expression & exploration was a choice to welcome more newness & elasticity into my life, and to celebrate that more, and to also suggest timelessness & weightlessness… through song? 
Previous musical projects? How'd you first get into music? 
I'm not sure of a fair way to condense this, but a short list of some important musical  projects I've been fortunate to work with are: Josh Martin (drums), Sabine Colleen  (percussion) 2 Slices (drums), Grace Joyner (drums), Falling Off A Building (bass  guitar), Asphalt Orchestra (bass drum), San Fermin (drums), Tracy Shedd (drums,  bass), BODYPARTS (drums), Future Wife (bass guitar, drums), Run Dan Run (drums),  Jack Of Knives (drums) Lindsay Holler (drums) … [ also credited as: Nick Jenkins ] 
I grew up in a religious family in a small town and my parents loved music, so there  was: church music, camp songs, MTV, marching & symphonic bands (through middle &  high school) as my introduction to music, which led to an early appreciation. My first  instrument was the drums. Guitar, bass, and piano followed a few years later. I am  almost 40 years old now! In 3rd grade, I might have almost been labeled a problem  child because of how much I tapped on the desk and was drawing all the time. The way  my parents saw me and nurtured that part of my passion was pivotal! 
I'm not sure where I would be if I had never heard 'Songs From The Big Chair' by Tears  For Fears. Thanks, Mom&Dad: your record collection has always been an inspiration. 
First concert that you ever went to?
My first official CONCERT was probably a Christian rock concert or good old Gospel  music extravaganza of some kind. I'm gonna go with Carmen (pop contemporary gospel  artist) at the North Charleston Coliseum. That would've been in the early '90s. It was  definitely a national act production. There may have been pyrotechnics? I also have to  shout-out my mom's community choir, The Colleton County Mass Choir, for encouraging  & welcoming the high school version of me to play bass with them in such early,  formative years. Before I started playing with them, I would have probably seen them  over a dozen times before. 
What's your writing process like? 
My process has gone through a few different phases. At first it was more of a lyrical based approach, and then grew more comfortable with my primary instrument (the  drums) and then more with guitars, which led to more of a compositional direction. After  that, computers & sample-based music threw me into a sound collage headspace.  Presently, I am allowing life to happen and I'm practicing being present as much as  possible. The arrangement and production of 'ambient music' happened through a time based accumulation process of documentation & mediation. In a way, it was done  before I began to assemble the album. The music I'm starting to think about working on  now is more formulaic and song-based. Overall, the shortest answer is: the process is a  practice of using collectable sound collage fodder for the improvised assemblages of  songs. 
Even though this project is mostly a solo endeavor, there are sometimes lovely guest  collaborators in the performance and recording scenarios of the music, so there is a bit  of a revolving door of artists I trust to reimagine my music with me, and to make  something totally new. For that & to them I am grateful! 
The first piece of music I ever wrote for infinitikiss was called, "See The Other / Be The  Other / Free The Other", which was made on GarageBand for iPod touch; composed for  an octet. Jazz has also influenced the way I interpret lots of musical concepts and  possibilities. 
What other artists or songs inspire your music? 
Aloha : one of my favorite bands of all time. Pretty much anything they've written and  released has been some perfect soundtrack to my life at that very moment. Their album  'Sugar' found me at an especially tender moment in my life, and still brings tremendous  comfort when I hear it. If I had to pick one favorite song, it would be "Water Your Hands" from the album 'Here Comes Everyone' (Polyvinyl Records). 
Baxter (Quentin Baxter) was my drum instructor and mentor throughout college. His  knowledge of music is uncannily broad and He taught me a lot about how your life  practice influences how you practice with your instrument. Being genuine to one's own  story was also a recurring theme during my studies with him. He is also a founding  member of Ranky Tanky, The Gradual Lean, and frequent collaborator of vocalist Rene  Marie. He was the first person to introduce me to the music of… 
Bjork! Bjork's music has always been some kind of underlying subliminal poetry that I  consult when I want to imagine the terrifyingly motherly voice of the universe  personified. The mysteries of existence seem a little easier to understand when I listen  to Bjork. 
The music of Broadcast is timeless, is brilliant, is so many great things. _favorite album: 'The Future Crayon' 
my friends & fam 
Sade – the album 'Love Is Stronger Than Pride' 
Hiroshi Yoshimura – the album 'Green' 
James Tritten of Fort Lowell Records created this Spotify Playlist that Blood Makes Noise readers may find of interest.  It highlights what they as a label feel are some of the most important works within the ambient genre, having come from a background in shoegaze indie rock:  
 
What's the live experience like and your philosophy on playing live? Do you think the music live should be identical to the recorded version or should it  be it's own thing?
Infinitikiss "live" is close to what you'd expect walking into a living art exhibition to be  like. As with conveyor belts and things that are just "on" all the time (like espresso  machines or pilot lights), the sets are arranged to flow like the trajectory of a walkabout  or spirit quest. Live performances tend to start… and seamlessly float through songs  until "the end". I try to make it easy for my collaborators to jump in with very minimal  preparation (with clear requests & parameters), which allow them to improvise in ways  that don't require lots of rehearsal time. With the use of incorporating graphic scores  and experimental notation, there is more for the players to interpret and bring out of the  musical blueprints. The live experience of this music is also kind of like going to a  science fair and witnessing people explore the various colors & shapes of sounds.  Having songs are what keep things from being completely nebulous. I love when  concerts seem more alive than recordings. I find it rather refreshing to feel at least a  little disoriented when seeing something created in front of me and in real-time. 
Has the band toured? What has the touring experience been, best shows?  worst shows? 
The only touring that has happened has been around the Southeast, in a variety of  small rock clubs, indie film cinemas, contemporary art installations, dance company  collaborations, "happenings", and special events. When it is a band/group/ensemble, it  isn't a very conventional one, and because it is still a rather young project, it has yet to  really sprout wings in this way. Thanks to so, so many beautiful beings & generous  creatives in my life, the ensemble size has been anywhere from 2-8 players at once.  South Carolina has a very unique network of artists and musicians. There was this one  time I agreed to perform during a film festival curated by The Nickelodeon / Indie Grits in  Columbia, SC the same night I was playing percussion in a production of Animal Farm:  The Musical at USC. Unfortunately I couldn't be present for both things, so what did I  do? I asked some friends to perform music written specifically FOR them (to improvise  with), but without me. Even though I double-booked myself, it somehow worked out? I  refer to that ensemble as INFINITIKISS XL, because it was a huge favor to ask. The  piece was called "Disco Limbo Vision", which was named after a film in the same  programming that night. It was only my "worst" show because I wasn't there, but also a  fun exercise in trusting others to bring a composition to life. 
The "best" show is probably one in Charleston, SC that has been documented and can  be found on the interwebs. 
Search: Lab Sessions / curated by Khari Lucas & HedHi Media / costumes by: Cara  Persona 
What's up next for the band? 
There currently is not a band to plan for / with. However, I did just play in Santa Fe with  my friend an Albuquerque-based musician named Mark Nava (who also plays bass with  Sabine Colleen). Mark operated a tasty combo of guitar pedals while I sent audio from  cassette tapes (of 'ambient music' loops) and played synth bass / drum machine. It was  super mellow & a gentle kind of fun. I've been working on a "dark wave" solo set, which  is a minimal configuration of bass guitar, drum machine, & vocals. My next  compositional fixation will most likely be called 'Jingle Jangle' –– a more guitar-centric  batch of songs. 
We've been in NM for just over 2 years, and I hope that we continue to build community  and connections with people here to organically grow beautiful life moments, and even  some weird stuff.


Pre-order infinitikiss ambient music on translucent chartreuse green here: https://fortlowell.square.site/product/infinitikiss-ambient-music-/66