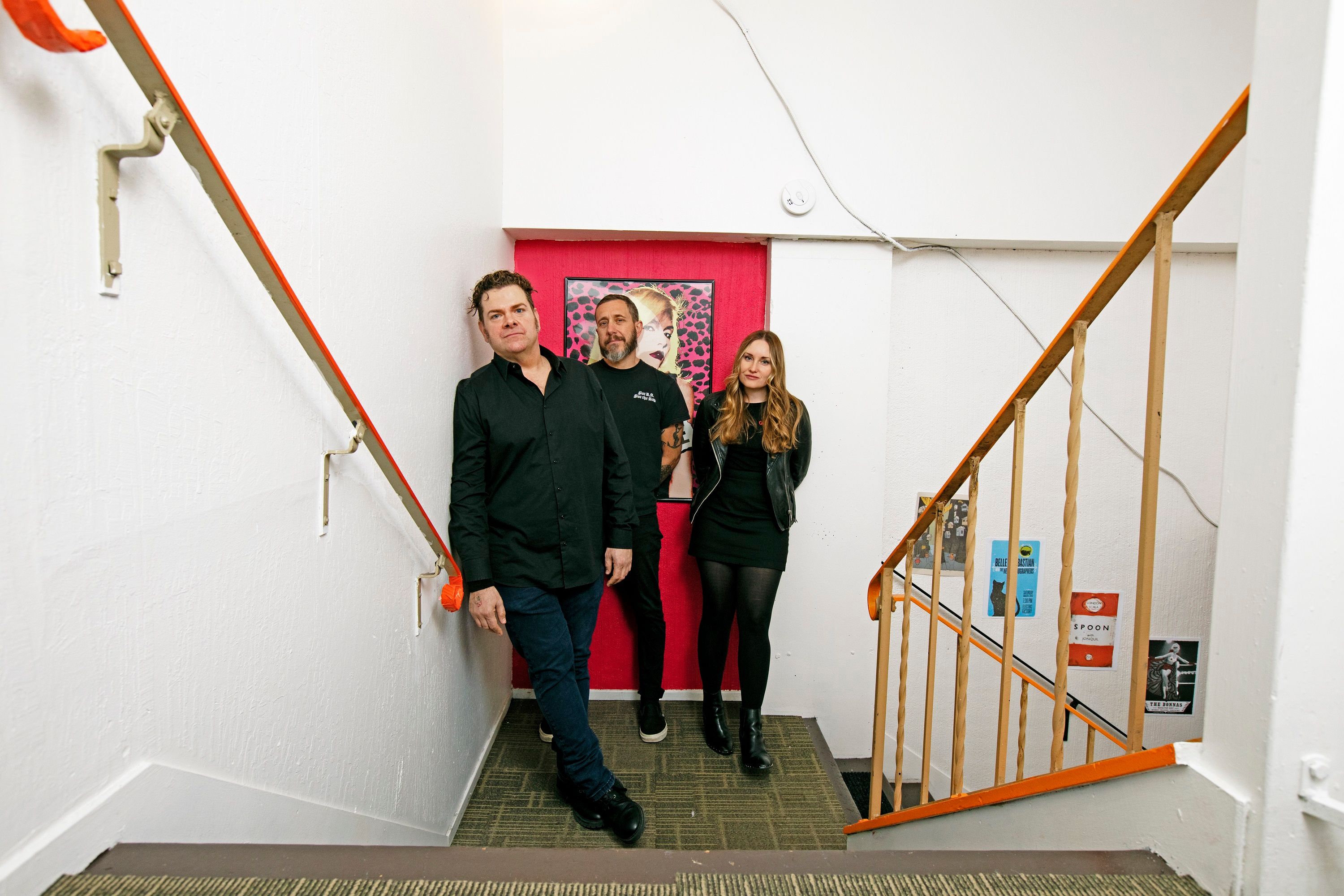 Coming from the Bay Area of California, Greg Hoy & The Boys are an independent group with a drive and dedication that make them impossible not to root for. They're closing off another busy year of touring and new releases with the song and music video, "Everybody Wants To Be Somebody." BMN recently interview Greg Hoy all about this new project, which can be read below. 
How do you hope "Everybody Wants To Be Somebody" impacts listeners? What would you like people to take away from this track? 
The chorus came through during the pandemic. Like most of us with an internet connection, watching hours of old videos online became a habit. One was of Sly & The Family Stone playing "Dance to the Music" on the Ed Sullivan Show. Inspired, I sampled and looped that drumbeat, and wrote the main guitar riff and chorus lyric to it. (And let's not deny the melody is a... er, "big nod" to "Feel Your Love Tonight" by Van Halen). Dave (the drummer) recorded drums long distance at Nuthouse with Tom Beaujour in New Jersey. 
I was stuck on the verse for "Everybody." It was the last song that needed to be finished. Given a rare quiet morning at my house, I made a pot of strong coffee, turned on the mic, and improvised a conversation. It reflects the chats I have with lots of friends, themselves struggling with the state of the world, and what to do with themselves. Once the first line came out – "Are you making time for the right thing?' - the rest followed. The lines balance nicely with the chorus: the idea of putting less energy into things that distort and warp us - like Snapchat, Instagram, and AI filters, and selfies - and more effort into finding your own true self, and purpose. It's bad enough to worry about other people's opinions. Now we gotta worry about what the AI thinks of us! 
Why was filming the live performance of the song the best choice for the music video? 
The last tour this year was up and down California. The night before, we watched the movie Sideways about the central CA wine region. We also streamed the first two hours ever aired of MTV. It may seem lost now, but in 1981, MTV was a punky, rebellious idea. And those first videos were primitive in a very simple, cool way! That spirit carried into our last rehearsal. Our video guru Will (Toft) shot us playing the song in one take. After the tour was over, I feverishly added lyrical graphics using stickers, x-acto knife, glue, and my old typewriter on Chroma Key (actually, my daughter's green construction paper). The result is our version of an 80's new wave video.   
What have you learned about yourselves as songwriters and musicians during the process of creating and filming "Everybody Wants To Be Somebody"? 
My learning is that it's ok to purposefully take something from the past to use as a foundation for new work. There's a set of cards in my studio invented by the artist Brian Eno called "Oblique Strategies." The idea is when you're stuck on something, you pull a card, and it gives you a bit of a nudge with a simple direction. During the pandemic, one of the cards I pulled said "Don't be frightened of clichés." So, the songs we finally put out this fall definitely fall into directly familiar territory, at least to me! Sly & The Family Stone, Van Halen, MTV... that's some strong origin material right there. 
What have been one of your most memorable moments as a group thus far? 
Each tour this year had incredible highlights, great shows, meeting awesome club owners, and fellow rock bands. LA in May with the five-piece band... got a little hazy in that town! New York City in September is always the best. This latest tour, we had a full day visiting wineries in Los Olivos, California, for our "Holiday Party" as a nod to Sideways, and also brought our significant others. Surround yourself with great people and you'll never worry for a good time. 
What do you imagine for the future of Greg Hoy & The Boys? Are there goals that the group would like to achieve in 2023? 
As usual we have more ideas than time. There's going to be a long break from performing for financial and life reasons. Times are hard right now so hibernation is a good plan. We played this incredible, inspiring performance space in Lititz, Pennsylvania, on tour. I'd like to take the band there to record an album in that room. There's about two dozen songs half-finished waiting for my attention. And I'm in the middle of moving out of California to Nashville which will bring its own new adventures. 
Is there anything that we have not discussed about this project that you'd like to share with your audience? 
This year was a time of rebuilding creatively, and physically, for me. I was very sick after being bit by a tick on tour last fall. My hearing began to fail, and my hands stopped working. There was a chance I would be unable to play guitar or perform live again. There's a song we wrote in 2016 called "Someday Could Be Today." It's sort of a double meaning: it's an answer to that feeling of putting off something you say you want to do... like, 'Hey, you could do that *now*, you know?'. And it's also a real reminder that no future is guaranteed. In some ways, it's like all the clichés I followed this year, but it really rings true. Whatever it is? Get to it! And if you're thoughtful about your approach, it can be really fun, too.   
Follow Greg Hoy & The Boys: 
https://www.facebook.com/greghoyandtheboys 
https://twitter.com/thegreghoy