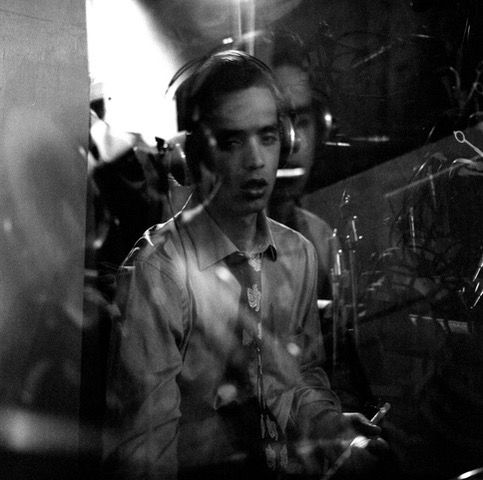 Echoes of the road, the long lost road.  
Is it folk? Is he a singer/songwriter? Who cares anymore. Listen to the sounds maaaaan.  
The teaser videos are little gems of precious animation and subdued piano playing, which are both peaceful and contemplative.  
I can hear Americana creeping in. This isn't necessarily a bad thing. In fact, Mr. Sambol does it well. He's clever with his lyrics: "Let her do her thing, without being exploited for once in her life." & "Are you stronger than the strongest thing that makes you weak?" He plays with words and meaning, makes me think a bit. His lament of a love interest that has since gone, but still he wishes, "she drove a less common car." I like that. He has a sense of humor. I think he can laugh at himself a bit. His lyrics are essential to creating his style. 
I wonder if without the backing band Mr. Sambol would come across as another neofolk hipster. I know that is reductive. Sue me. I tend to think not, because he has personalized this genre. It feels much more honest than so much of that shitty new folk crap. Sorry, I just don't get that stuff, maaaaan. The discomfort he evokes with his trilling voice and soulful melody feel honest, a bit Leonard Cohen, a bit Tom Petty, and I know I said to myself I wouldn't make comparisons to other musicians, but it came out. Call the goddamned lawyer.  
Some of the later songs on the album transport me to late night drinking sessions on a front porch of someone's house in The South, someone who had been nice enough to put my band up after a show. You can hear the crickets on the recording. Seriously. The camaraderie is there, and it is a nice contrast to his melancholy style. The two instrumental tracks are unexpected, and rather than create a schism, they offer depth to a sometimes brooding album.  
I think my favorite track is Dearborn.   
Great production, so crisp and clear in the first six or seven tracks, then they ease off and let that live sound go. The instrumentation and musicianship simply can't be overlooked. I can hear all of the pieces clearly and the vocals sit in a comfortable spot hovering just above the instruments. Listen to this with your headphones on. If you submit, it will transport you to a place you've never been, a place where you might want to stay. The last few tracks are a thoughtful reminder that though the album is at times not afraid to be more fun and laid back, it is ultimately an album of meandering, meditative poetry.
The album will drop 8/21 via indie label Perpetual Doom. You can pre-order the Limited Edition cassette release here. Check these other links for more info & music:
Facebook
Soundcloud
YouTube
Bandcamp
Twitter
Instagram
-Gregory Jaw, BMN Contributor