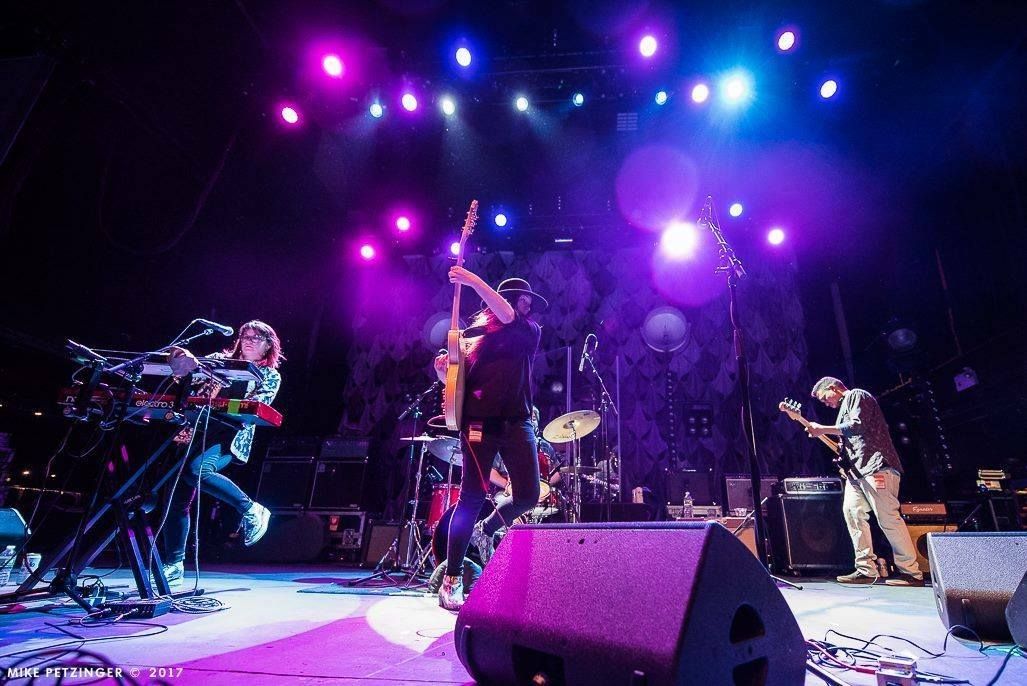 Lowlight from Asbury Park, NJ describes themselves as "a synth-soaked indie-rock band from Asbury Park, NJ. They blend psychedelic rock with sweeping country twang; at once tightly written while also cinematic." If you have ever caught them live, you know this is true. The band is an eclectic blend that feels like it's destined for larger stages. You may have heard the name before as the band in recent years is signed to Telegraph Hill Records, toured with The Pretenders and have played the Sea.Hear.Now Music Fest. Here is our interview with Lowlight front woman Renee Maskin as we delve into those topics and more: 
What does your band name mean, is it a play on the word Highlight and do you feel the name relates to the music or attitude of the band? 
"Lowlight" took us forever to decide upon. Band names are difficult. There isn't really too much deep meaning behind our name, although I suppose Lowlight does evoke an atmosphere that compliments our music. I can't speak for the rest of the band, but I myself am definitely a night person. So, a little mood lighting in a band name works well for me, and I suppose we all grew into it together. 
Describe the current lineup of the band and each member's influence over the material? What's Your Songwriting Process? You guys live together as a band, how does that effect the band dynamic? Does the band stand over your shoulder as you are writing new material and interject into every second of it's creation, do things get created as a group or do you get to formulate things before you bring them to the band?  
Last year I would have been able to give you a more concrete answer about what our writing processes tend to look like. Lockdown has kind of upended the way we work these days, and it's been a bit of an ongoing exercise figuring out how to move forward and create when we can't necessarily be around each other like we used to.  I was mostly living at The Church - our new HQ - with Derril Sellers (guitarist/percussionist/engineer) and Dana Sellers (keys/synths/organ) when lockdown first happened. That was good because we did a lot of jamming while the whole world seemed to be coming down around us. But Rey Rivera (bass/mpc2000xl) started sending us beats he was working on remotely from the pine barrens.  Everyone got pretty jazzed on the material, so that's been our focus lately and we've been keeping it weird. Colin Ryan (drums/percussion) is enjoying the process of not necessarily holding down the main beat and instead exploring other kinds of rhythmic space. I've been back in Asbury Park and also spending some time way down in south Jersey figuring out my own recording setup and doing my own writing. 
The hat has become iconic, so what's the story with it? Is it always the same hat or do you have many? Did you consciously decide this is now my thing and how people are going to recognize me on stage?  
I have a collection of hats in various states of disrepair.  I've always been into hats. Since I was a kid. I think it's a reflection of my weird personality. I want to be noticed but I also don't want to be totally exposed. I'm a cat like that. And yeah, it actually has ended up being useful for the stage stuff. People who wouldn't recognize me otherwise will recognize the hat. I've literally had folks shout at me from cars and from across the street "Hey, are you Lowlight?" so it seems to be working. Conversely, when I want to go out and I'm not really in the mood to talk to anybody, leaving the hat at home has also been effective for that. I'd call that a win-win. 
Tell us about playing opening for The Pretenders, how did it come about and how was the overall experience? Were they cool people? 
Oh man, the Pretenders. Yeah, that was something. The long-story-short of that was we were invited to be their local opener by the Count Basie Center.  At the end of the night I managed to flag Chrissie down. We not only got a chance to tell her thank you, but she actually stuck around to chat for a little bit. Before we knew it, we were invited to open for them at Terminal 5, and then they let us tag along for their last east coast run. I mean, I've said over and over again, but it was just such an honor and a thrill, the time we spent with the Pretenders and the crew. They taught us a lot. And they gave a shit about us too. Chrissie attended our sound checks. She assigned some of her people to engineer us because she trusted them to do a good job every night. She was really generous with us. She has a reputation of being tough, and she is. But she also has such a dedicated work ethic.  She wants to get shit done and she wants to do it right, which is something I both very much related to and admire. 
Tell us about Telegraph Hill Records, how did you guys get hooked up with them, what has been released and how has the experience been?  
Telegraph Hill came to us, actually. We knew some of the guys from around Asbury Park. They have a lot of ambition, which definitely appealed to our way of thinking and doing things.  So we put out our last LP Endless Bummer with them, and on July 31st of this year released our own brand of remix of our song "Horsefoot" with them as well. Telegraph also has a pretty amazing studio setup in New York City, which has been fun. Derril does most of our recording, but we did two songs at Telegraph Hill Studios ("NYE" and Julian") and that was a really great experiment for us. We tend to get a little overdub-happy when left to our own devices. We also tend to mix and mix and mix until our heads spin. It was nice to have a situation where there was a time cap on what we could do and how much we could nitpick after the fact. You learn you can get pretty ambitious and still do things pretty quickly if you set your mind to it. 
Asbury Park is a weird mythical land with bands that are everything from delicate solo people to screamy punk. How do you fit into that landscape and has the Asbury Park scene shaped your band at all? What other locals are you guys excited about? 
There really is no place like Asbury Park. Even as it gets further and further away from the town I knew years ago, there's still plenty of weirdness to be found if that's what you're looking for.  I'm not sure Town has had much of an impact on Lowight's or my sound per se. I've got plenty of "fuck you" punk spirit in me, but that's not really where I live in my artistic endeavors most of the time.  But Asbury certainly has afforded us a lot of opportunities to play in front of people, and we've definitely grown a lot as a band because of it. I lived in Brooklyn for a few years and could barely get a gig, let alone one that was decently attended. Last year Lowlight was playing Sea Hear Now on the big stage and one of the late night showcases the year before. So you know, Asbury Park has been kind of special for me. 
What's on the horizon for Lowlight?  
Lowlight has a lot going on. We're hoping to have some new music out by the end of the year, or early 2021 at the latest. We're also working on a few visual projects and some other non-music collaborations. We're always spinning as many plates as we can muster.  Solo-wise, this fall I'm going to put out a bedroom record I made a few years ago with my best friend in the mountains. That one's coming out via Brooklyn label and friends BNS Sessions. I've also been writing a lot, so I'd like to focus on some more solo recording efforts as well.  
Anything else you'd like to promote or talk about? 
What else to talk about... Well, the weekend before lockdown I saw Johnathan Richman and Bonnie 'Prince' Billy at Union Transfer, and my friend took me backstage to meet Johnathan. He was really nice! And really interesting and gracious.  And what a fantastic show.  That was definitely a highlight of an otherwise crappy year. Lowlight's been converting a church into a music studio, which is exciting. It sounds great in there. I keep getting show offers, but it's going to take a lot to get me back into the live game unless things with the virus start looking a lot better. "Stranger danger" has never felt so real.  
But, I suppose if I have anything to really "promote" this year, it would be kindness, empathy, and wearing a mask when you know you're going to be around other people. It's all pretty easy, I swear, and all beneficial to everyone.
Check out their new single, and links below:
Facebook
lowlightnj.com
Bandcamp
- Sam Lowry, BMN Contributor