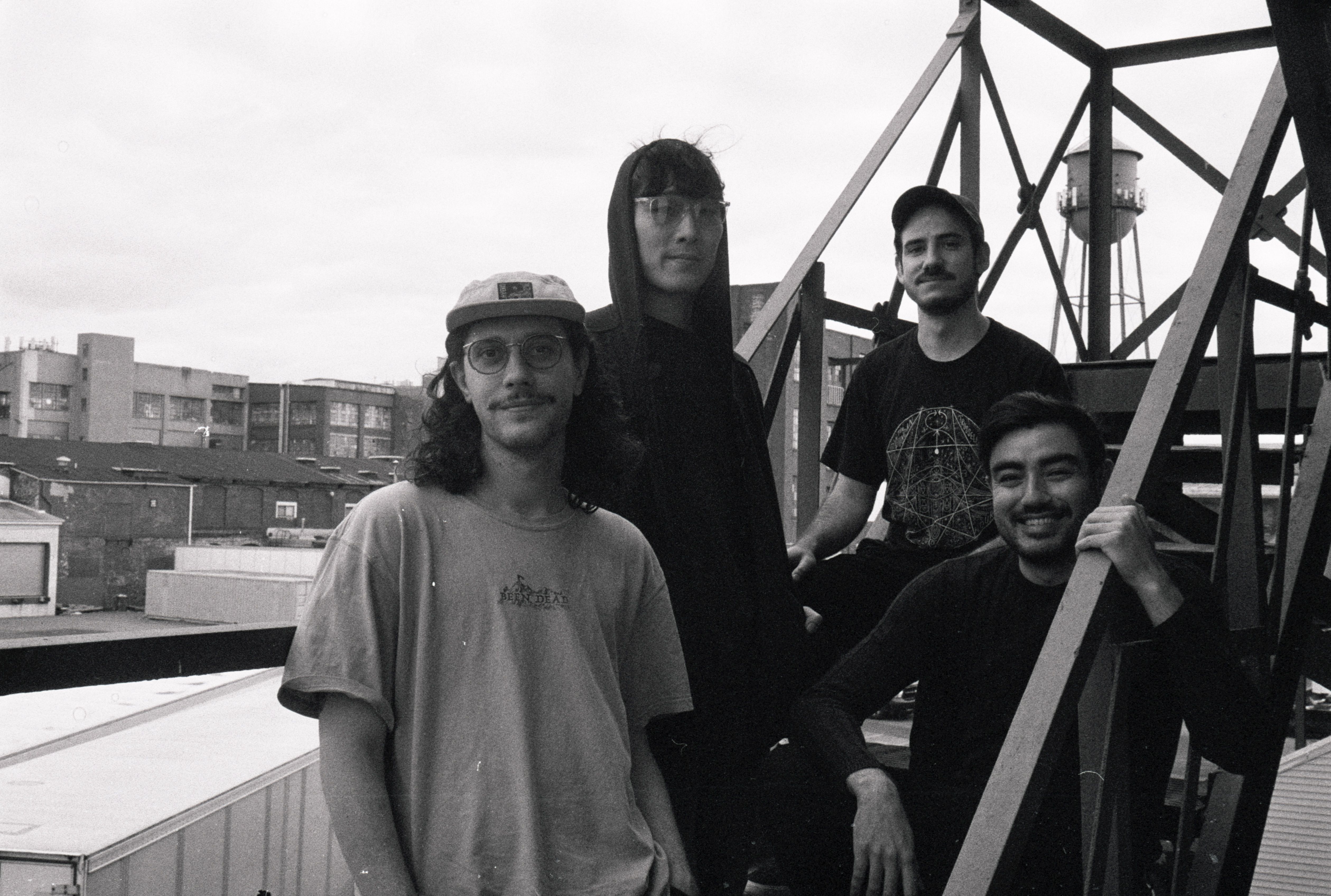 Cantations is a four piece from Hudson County that specialize in post-punk song styles.  Comprised of Nicholas Maratta (guitar/vox), Jeff Mckeon (bass/vox), Dan Nagano-Gerace (saxophone), and Ryan Treppedi (drums/vox), Cantations offers lyricism, a wide range of inspirations, and potent instrumentation to offer a profound and dramatic experience.

The Water Won't Go Down is the first full length from Hudson county outfit, Cantations. Coming after three EP releases leading up to it, the record rallies together Dan Nagano-Gerace, Jeff McKeon, and Ryan Treppedi to create a proper band format around primary songwriter Nick Maratta's compositions. This release pulls threads from an eclectic group of influences and individual contributions to form  a dirty alchemy all of its own. The record itself deals with themes of longing and resilience under what often feels like the difficult or even impossible odds. The Water Won't Go Down was engineered and mixed by Matt Olsson at North End Recording in Passaic, NJ. Mastering was provided by Nick Bolton at Bolton Sound Studios. Album art by Shantell Batista.. (photo credit Ryan Treppedi)
1. How did the band form and what does the band name mean?
Cantations originally began as a recording project for Nick Maratta, harnessing contributions from other musicians (Matt Olsson, Ryan Treppedi, Jared Hart, Dan Nagano-Gerace, Jeff Mckeon, Nick Jorgensen, and Amanda DaSilva).  The band has now cemented itself as a more traditional four piece with Nick Maratta, Jeff Mckeon, Dan Nagano-Gerace, and Ryan Treppedi.
The name Cantations was born from trial and error: originally CANTS as a play on "chant
", "gantz", and personal negativities like "I CANT do this"; "I CANT do that".  Later, Cantations was chosen as the name, keeping true to the simple direction of the music: singing and songs with a bit of an esoteric flair.
2. Previous musical projects? How'd you first get into music?
Nick: Previous musical projects include Shithead's Rainbow and St. Sunday.  I first got into music by being absorbed in the teenage punk rock scene of Bayonne NJ.  Later growth came from influence from high school musical theatre.  Things have been adrift ever since.
Ryan: among previous and current: Shithead's Rainbow, Hollow-Eyed, Inertia., VARLOTS. My dad is a drummer so music was sort of in the fabric of every conversation growing up, and how I made my decisions and saw the world. I eventually gravitated into the punk scene and beyond but met of these guys on a fateful show in 2009/2010 and we haven't stopped hanging out and making music since - I've been making music with the same group of 7 or so people for 15 years haha. 
3. First concert that you ever went to? 
Nick: Locally around the time of my first kiss, I saw bands Notify Simon and No Say play in a public park.  National acts, I remember seeing My Chemical Romance and The Offspring and The Transplants at Warped Tour 2005.
Ryan: nationally it was green day and James brown pretty close together. Locally it was a punky shoegaze band called The Medics from my high school I saw them play in 8th grade and they blew my mind. 
4. What's your writing process like?
Usually there will be the sembelance of a song written with lyrics and chord structure and general melody created and brought to the table for the full band to tinker with and debate over.  That being said, we have been successfully dabbling with developing a song using a riff or a drum beat as the beginning focal point and then layering other parts on top, reworking as we go.
5. What other artists or songs inspire your music? 
Nick: I learned a lot of songwriting structural taste by listening to my friend Jared Hart play music for almost two decades.  A lot of 80's bands informed some of my melodies, with Siouxie and the Banshees not necessarily being my favorite but her cover of The Passenger checks a lot of boxes for the era's influence on my writing.  Lastly I definitely have binged Now Now a lot since I am a softie at heart.
Ryan: Pile is such an incredible band from both a songwriting perspective and musically: they rock, they are beautiful and fluid, and they constantly reinvent themselves - Kris Kuss is also an incredibly innovative and melodic drummer to me. Erykah Badu is a classic who has just been a staple of much of my adult life, her and her peers have a special place in the DNA of how I think about music making - the way the drummer approaches this track resonates with how I want to work my way into a groove for a lot of the stuff we make. Combo Chimbita I think is the best band in New York since I saw them first play to 30 people in 2017, they are psychy, heavy, anti-colonial, mystical, hypnotic - Carolina Oliveros's vocals here have a haunting power and gravity to them - I love the way the drummer works around the set here, ghostly and then thunderous when he needs to be. The Cure are another classic I've been getting heavy back into recently - had to throw in a little goth for Cantations and Nick stole Siouxsie already haha. I love the hooks in this song and the sort of production that exists in this record was a playful break from some of the density of those earlier legendary records - but still hits hard. 
6. What's the live experience like and your philosophy on playing live? Do you think the music live should be identical to the recorded version or should it be it's own thing?
Nick: The live experience for all intents and purposes should replicate the sound of the latest album, The Water Won't Go Down, within a reasonable margin of error.  That being said, we are perfectly comfortable changing the arrangement of songs on a case by case basis.  
Ryan: I try to approach the live experience as a different thing from an album usually - I want this to be visceral and immediate, to carry you. A show is a call and response experience of you and the audience so nothing is ever the same, always aqueous. Cantations and all of Nick's projects have always worked well around the flexibility of whomever is creating together for any given project. That being said we really wanted this record to be as close to the live version of us as possible - which is a bit of a different approach than we've done in the past. 
7. Has the band toured? 
The band has not toured yet, but are open to future prospects.  The time is ripe.
8. What's up next for the band?
Anything and Everything by Hook or by Crook