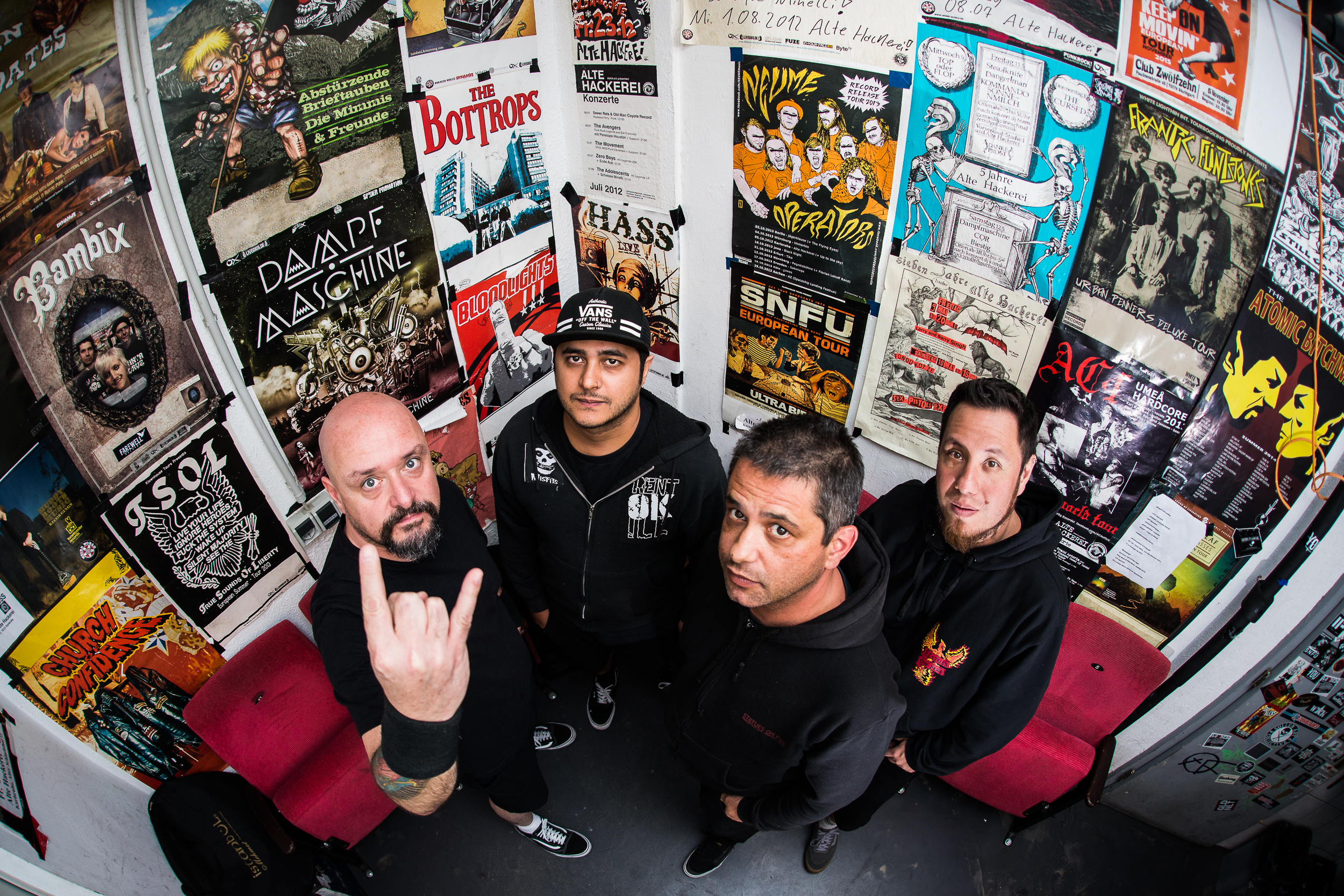 Brazilian punk and hardcore band, Statues On Fire, formed in 2013, has marked a decade of success with five European tours, solidifying their position as one of the country's premier bands. Despite facing setbacks from the Covid-19 pandemic, their anticipated tours and festival appearances in 2020-2022 have been rescheduled for 2023. The band, fueled by the challenges of the Bolsonaro era, returns with a powerful new album, "IV," featuring 13 tracks blending hardness, melody, metal, and hardcore. Comprising Andre Alves, Lalo Tonus, Alex Silva, and Regis Ferri, Statues On Fire's journey includes prior engagements in notable projects like Nitrominds and Musica Diablo.

How did the band form and what does the band name mean?
Hallo! Thanks for the interview. Statues on Fire did the first rehearsal in October 2012 and that time we had no band's name, just an idea what kind of music we would like to do. The first concert and band's announce was April/2013 where i consider our starting point as a band. The name Statues on Fire means the habit governaments create false idols like heroes. Mostly of these statues representing murderers, colonizers and years of invasions/exploration around the world. Statues on Fire means burn all these symbols that keeps mostly of the society blind of the real history behind them.

Previous musical projects? How'd you first get into music?
André and Lalo had a band called Nitrominds where they did a lot of tours in Europe, also South America and Canada. I came from a band called Kacttus where i played one european tour and lot of concerts here. Regis had a Kiss cover band where he was Ace. I started 20 years ago on high school with friends, we met at the weekend to listen Ramones, Nofx, and share tapes and cds to discovery new bands.

First concert that you ever went to? 
When i was 15 i went to a local bar pretty near to my home with some friends, i dont remember the band's name but i got impressed because i saw the drummer kicking ass there and i would like to play like that, but i didnt know how to kick in the kick drums on that time haha.

What's your writing process like?
Starting  with the guys showing some riffs and with this we mix our ideas together and try to make the song without any specs, i mean, we dont follow any music genre because we're into a punk rock scene, or metal or whatever, we let the music flow. After that Andre starts to the writing the lyrics (he''s wrote all the lyrics and a lot of riffs) based on our political/social situation or a personal life and the society we are into at that moment.

What other artists or songs inspire your music?
We just listen all kinds of music, but certain you can find a lot of influence from bands like Metallica, The police, Pennywise, Rise Against, Propagandhi and we try to mix something punk with thrash metal and also pop and catchy melodies from 80's and 90's.

What's the live experience like and your philosophy on playing live? Do you think the music live should be identical to the recorded version or should it be it's own thing?
Live music has to be feeling and doesnt matter if the concert is too big or small one. Of course we do a lot of rehearsals to try to make everything perfect on the stage and people recognize our songs they like, but since there are people watching your band (and i dont care how many in numbers) we put our hearts in front of and our mostly high level respect for them and we just play as were our last concert of our lives. Live music is  the best oportunitty to express your feelings and your music ideas and i don't care to be identical because each concert is not equal as your day isnt.

Has the band toured? What has the touring experience been, best shows?worst shows?
Since we are from a huge country like Brazil we cannot touring here like we do once a year in Europe, playing every day. Traveling and the costs it's a pain in the ass and the concerts here is only from friday till sunday but we do concerts often here and since 2014 every year we are touring in Europe (except during last two years because covid-19 issues). Everywhere we go it's a great experience, meet new people, old friends and so on. This year we supported Rise against here in Brazil and was a big opportunity to spread our music, im a bit anxiety to our next european tour in October/2023, so, probably when you read this interview we will be on the road and i hope this tour going to be good with a new album on hands and a great job that our label Rookie records did again, an amazing partner since 10 years ago. I cannot said a worst concert, but sometimes we have problems with food, place to sleep, but we can figure out and make this bad experience turns in a lot of jokes after that.

What's up next for the band?
We just release a new album called "IV" via Rookie Records, i think is one of our best albuns and we will promote them in every part of this planet we can reach, playing or just spreading digital, sending vinyls and making new friends on this crazy road.

European tour 2023
11/10/2023 - STATUES ON FIRE @ Wiesbaden, DE - KreativFabrik
12/10/2023 - STATUES ON FIRE @ Wermelskirchen, AJZ Bahndamm
13/10/2023 - STATUES ON FIRE @ Koln, DE - Sonic Ballroom
14/10/2023 - STATUES ON FIRE @ Dusseldorf, DE - AK47
15/10/2023 - STATUES ON FIRE @ Heerlen, NL - Café Bluff
17/10/2023 - STATUES ON FIRE @ Erfurt, DE - Cafe Tikolor
18/10/2023 - STATUES ON FIRE @ Hamburg, DE
19/10/2023 - STATUES ON FIRE @ Dortmund, DE - FZW Festival
20/10/2023 - STATUES ON FIRE @ Kiel, DE - Hansa48
21/10/2023 - STATUES ON FIRE @ Oldenburg, DE - Umbaubar

Links:
https://www.facebook.com/statuesonfire (https://www.facebook.com/statuesonfire/
https://www.instagram.com/statuesonfire (https://www.instagram.com/statuesonfire/
https://statuesonfire.bandcamp.com (https://statuesonfire.bandcamp.com/