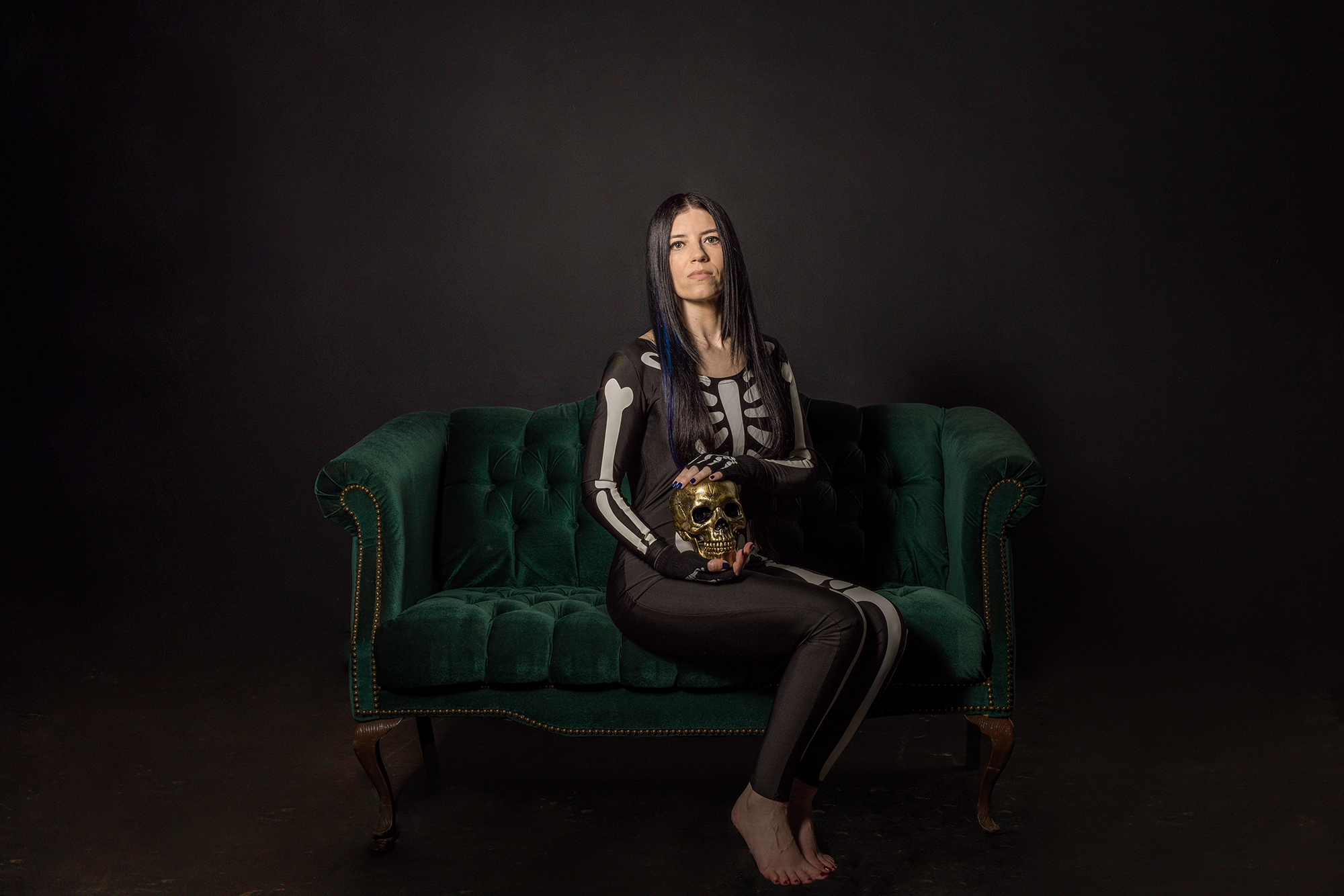 Emily Whitehurst, the creative force behind Survival Guide, describes her music as "cinematic alterny-electropop," blending electronic beats and synths with vibrant melodies and her captivating vocals. Whitehurst's musical journey began with punk rock, fronting the band Tsunami Bomb, before transitioning to synth pop and electronic indie-pop as Survival Guide. She recently released the mini-album "RHV1.5," featuring covers with her unique twist, inspired by interactions with her dedicated Patreon community. Now, she's preparing to release "deathdreams," an album that explores themes ranging from anxiety to dreams about death, showcasing her diverse songwriting and vocal prowess. Produced by Bob Hoag, the album includes real acoustic drums, adding depth to her sound. Ultimately, Whitehurst hopes her music resonates emotionally with listeners, offering a cathartic experience that elicits a range of feelings.

How did Survival Guide form and what does the band name mean?
Survival Guide was initially a 2-piece band that formed from the remains of my previous band. Jaycen was the guitar player of The Action Design, and I was on vocals and keyboards. As that band was dissolving, we decided to do something a little different (for us) and try a mostly electronic 2-piece as Survival Guide. We chose the name partially because we felt we were doing whatever we could at that point to continue playing music -- basically just surviving as musicians and not giving up. I still really identify with this, considering Jaycen left the band a while back due to shifting life priorities so I'm on my own. Although, I'd love it if someone would hand me the "guide" part of the name... maybe that's what I need to live up to, to be both the survival and the guide. Haha, you've got me thinking deep about this one! 

Previous musical projects? How'd you first get into music?
There's the aforementioned The Action Design, which was kinda high-energy power pop, and before that I fronted the punk band Tsunami Bomb and toured internationally. I first got into music when I heard Green Day. I connected DEEPLY with pop punk -- so deeply that I felt compelled to be part of it and start my own band. I had two pop punk garage bands before Tsunami Bomb: Generic Asphalt and Plinky.  

First concert that you ever went to? (Locally and National acts)
I wouldn't say there were really any local artists in my area when I was growing up -- I lived in a very small town and had to drive almost two hours for my first "real" concert, which was Green Day! I was part of their fan club (which I think was called the "Idiot Club"? Haha) and had a chance to get some advance tickets, and convinced my parents to let me go with my best friend and our two older brothers. We made our way to the front row, I got crushed a lot and came away from it sweaty and bruised, but it was epic and I'll always treasure the memories! 

What's your writing process like?
My new album, deathdreams, is the first music I've written by myself, so I'm still kinda searching for what works best for me! For most of these songs, I semi-replicated what would have happened in a full band. In all of the bands I've been in, songs start when one person brings one piece to the table. I've never been in a band where one person wrote all the songs and brought them to practice in a completed form. Thankfully! Because otherwise I may have had an even tougher time figuring out how to write everything myself. So my method has been to pick up an instrument, see if I can write a little piece on it that I like, and expand it from there. I tend to write vocals and lyrics better when there's music to write to, so I try getting a fairly solid instrumental song before writing words and melody to it. I may start a song on drums, piano, a synth sound or bass, and see where it takes me. 

What other artists or songs inspire your music? (Please talk about the artists you've chosen on your Spotify Playlist that you've given to us)
I had a super fun time creating the playlist that reflects my influences on the album! It's not really what you may think though. These are not necessarily what I would call my "top" artists (though I do have a few all-time faves in here). These are specific feelings that I sensed pieces of some of my songs resembling as I was writing them. For example, as I was writing the first track (Bad Little Seed), I thought "hey, I'm hearing a change on this bridge that makes it slightly heavier, but in a bassy electronic Bjork kind of way". Then, as I continued to fill out the section, I considered what Bjork might do with that piece. That's mostly what you'll find on this playlist. deathdreams has some darkness and simple yet driving electronic drums, a-la Trent Reznor (with NIN and with the Halsey song that he co-wrote), some quirky bleepy beats like Sylvan Esso, some dramatic and strong vocals like Adele, some wispy and soft (yet somehow still dramatic) vocals like Lana Del Rey, pop punk melodies like MxPx, piano as a strong bass instrument like MSTRKRFT, a bouncy Pat Benetar-esque bridge, and a heartbreaking love song about death like Death Cab For Cutie. Oh, and a tribute to over-the-top Bond songs like Shirley Bassey's "Goldfinger"! 

What's the live experience like and your philosophy on playing live? Do you think the music live should be identical to the recorded version or should it be its own thing?
I would like my live show to resemble the recorded version, but I'd like it to be better. Not necessarily musically, but better in the sense that the concertgoer feels energized by the live performance in front of them, and the weight of the bass and drums, and the contagious happiness coming from the stage. If the music is too identical to the recording, it gives people no reason to attend a show. It needs to be special in some way. But if the music is too different from the recording, the people who already know and love the songs feel disappointed. It's an important balance. 

7. What has the touring experience been with Survival Guide, best shows? Worst shows?
I got to open for Joan Jett once! That was probably my most notable show so far as Survival Guide. My worst shows were very traumatic -- I had a string of shows on tour where my gear was malfunctioning and the backing track (which had ALL the drums and guitar on it!) would just completely stop mid-song. I'd be stuck up on stage by myself with just keyboards and vocals and crickets, trying to decide whether to start that song over completely or go to the next one and hope it didn't happen again! (It did.) Those shows gave me nightmares! 

What's up next for Survival Guide?
The album comes out in October, so I'm currently working on singles and music videos leading up to that, plus putting together some release shows to celebrate. After that, I'll be working on booking some small tours to support the album, and hopefully starting to write the next one! 
 
Web/socials: 
https://www.srvvlgd.com/ 
https://twitter.com/srvvlgd 
https://www.facebook.com/srvvlgd 
https://www.instagram.com/survivalguidemusic/