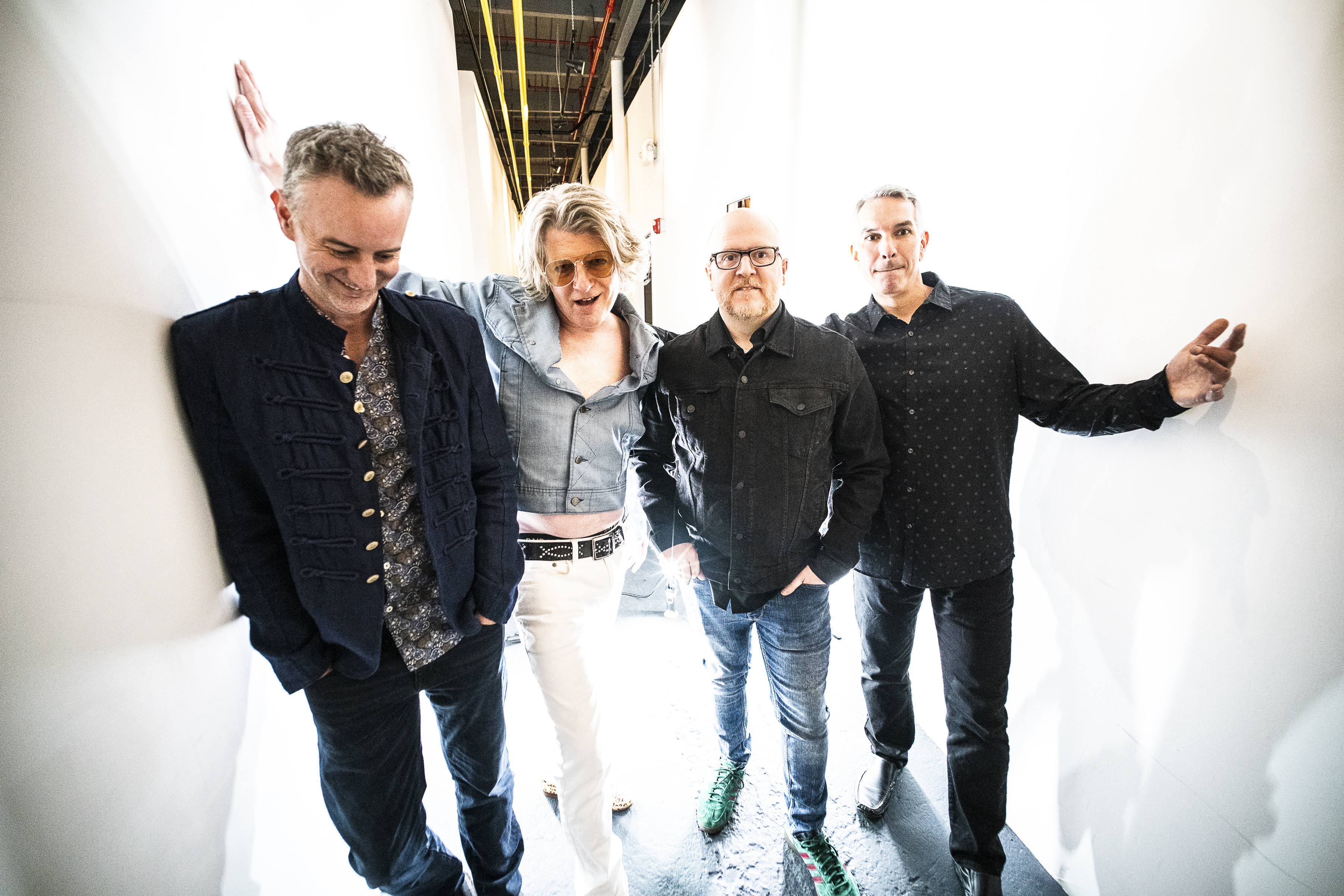 In the autumnal embrace of 2022, the forces of Goddamn Glenn and Tony Porter, stalwarts of Parlour Bells, converged with seasoned Boston comrades Pete Zeigler (of The Easy Reasons and The Rationales) and Mike Ackley (of Strangeways), seeking a musical communion that would reignite their creative spirits. A magnetic impulse drew them together, sparking an immediate connection that birthed the audacious fusion known as Looking Glass War, blending Glenn's theatrical vocals with Pete's shimmering post-punk guitar, all anchored by Mike's propulsive UK bass lines and Tony's precise drumming. This was no ordinary musical venture; it was a sonic tempest, a show of the enduring power of artistic alchemy in the heart of Boston's music scene.
How did the band form and what does the band name mean?
Goddamn Glenn, vocals: We had this running list of band names. Then one night I put on this movie "The Looking Glass War," which is based on the John le Carré novel of the same name and features a very young Anthony Hopkins. I loved the neo-noir vibe of the film and added the title to our running list of band names. We dropped the "The," made a logo for it, and "Looking Glass War" the band was officially christened. 
Pete Zeigler, guitar: Mike (Ackley, bass) and I had been writing songs throughout the pandemic and had done a couple of demos. In the fall of 2022, Glenn gave me a call to see if I was available and interested in working together with him and Tony (Porter, drums).  He also asked if I knew any bassists. I let him know that Mike and I had been working on material and we decided to put the two parts together and see if the sum of the parts was something good. We all got together and ran through early versions of some of the material Mike and I had. Glenn and Tony helped rearrange and craft melodies for the tunes and Looking Glass War emerged. We went on to write new material as well, following that same workflow, and here we are.
Previous musical projects? How'd you first get into music?
Pete: I first got into music as a kid growing up in rural New York. Initially into Led Zeppelin and hair metal, I became obsessed with UK import magazines and the UK indie scene/madchester stuff. I dabbled in some hardcore bands in college and then took a few years off until I came back to the Boston Indie scene. Played with The Blue Wires, Hey Now Morris Fader, The Rationales, The Easy Reasons, and now Looking Glass War. Also filled in with numerous Boston bands over the years.  

Mike: I grew up close to Manchester, England, so you absorbed amazing music by osmosis. I started playing relatively late in my early 20s. I was in Leeds (UK) at the time and a couple of friends and I one day decided that we needed to be in a band. So we went out, bought cheap shitty instruments and taught ourselves to play. Our first real band was called BiNGO and we actually got relatively successful on the local Leeds scene. We got played by John Peel! Fast forward a few years and a different continent & after moving to Boston I played in Strangeways for a while and then briefly the Shallows. Then came COVID and I needed music, so I learned synths and wrote a solo electronic album which was a bit left field for me. 
Tony: I grew up around Boston and had played drums for a few years before entering a Berklee College of Music Summer Program during High School and eventually attended college there. I've played in a wide variety of bands over the years, engineered in local studios, and toured as a front-of-house engineer. I even DJ'd at some raves and clubs back in the mid-'90s, early 2000s since matching beats on vinyl came easy to me as a drummer. I hit a lull in the few years leading up to the pandemic and then Glenn approached me to take over as drummer for his band Parlour Bells. What happened afterwards, is where the Looking Glass War origin story came into play. 
Glenn: I've been playing in bands since I was 13. I was strictly a hair metal kid until I discovered Jane's Addiction and sold all my glam rock CDs. (Kinda wish I didn't do that now). After ducking out of music for several years, I started a band called Parlour Bells, which Tony from this band is a part of as well. Tony and I wanted to try collaborating on something new, which is how we connected with Pete and Mike.
 
First concert that you ever went to? 
Pete: The Black Crowes, at Cornell University. Great show!  
 
Mike: James at the Blackpool Empress Ballroom. Everyone sat cross legged on the floor for "Sit Down" and I was like "what the fuck?!"
Tony: This may come as a shock, but it was Megadeth on the "So Far, So Good, So What" tour. I was always blown away by the technicality of metal drummers. My friend's dad had to come as a chaperone since we were so young. I remember him laughing at all the people headbanging.
Glenn: The Cars at the Worcester Centrum. They opened up with "Hello Again" and little Glenn was floored!
What's your writing process like?
Pete: So far it has been Mike and I getting a rough draft together then bringing it to Glenn and Tony. Then as a group we arrange the material and Glenn really crafts the heart of the song with his melodies and lyrics. That is where the magic happens.  
 
Glenn: I never like to just punt or phone it in when it comes to a lyrical melody. So when Pete and Mike give me a song sketch, the first thing I do is put it on my iPhone, pop in my earbuds and listen to it repeatedly. To the point where it's then just stuck in my head. Then it sits in my brain for a while like an irritating grain of sand inside of an oyster, around which the proverbial pearl is formed.
 
What other artists or songs inspire your music? 
Pete: Johnny Marr and the Smiths is huge. Also Richard Oakes from Suede, particularly on Coming Up.  Interpol has been a shared love of ours as well.  

 Mike: Growing up close to Manchester you are obligated to love New Order, the Smiths, Stone Roses, the Mondays etc. I'm a huge Joy Division fan and Hooky is one of my favorite bass players – "Shadowplay" is a great example of his more simple, but highly effective bass lines.  For this project we're also drawing from that '80s post punk vibe, particularly bands like The Chameleons and The Church.
Glenn: I've always loved the soft on heavy juxtaposition of the Smashing Pumpkins. The guitars on one their newest tracks "Moss" are incredibly mean and awesome sounding. The band boygenius is a new discovery for me. I love the '90s sound which seems to be totally back and I feel that a lot from several of their tunes, especially on "Satanist."
Tony: Danny Carey from Tool has been one of my favorite drummers and I love the way his band has an ebb and flow between being calm, pensive, and hazily psychedelic one moment to having tremendous energy and ferocity the next. For me, they cover a lot of emotional and energetic ground within the timeline of one track. Queens of the Stone Age also covers a lot of range with their off-kilter, almost drunk or stoned sounding vibe. Their guitar tones are all over the place and vary a ton from track to track. I dig their huge sonic palette since I'm also an audio engineer.  
What's the live experience like and your philosophy on playing live? Do you think the music live should be identical to the recorded version or should it be its own thing?
Pete: First and foremost, I am a proponent of a loud, visceral live experience. It should get hearts racing. As a single guitar band, exact recreation of some recorded work is tricky, but I try to stick to the plan.  Not a fan of "jamming" or loose interpretations.  
Mike: I like it when the core of the song and arrangement is the same live as the recorded version but I do think you can add subtle textures with extra guitar parts, synths, etc., when recording, that you don't necessarily need live.]
 
Tony: I play pretty similarly to what was done on the recordings, but I don't get hung up on playing all the fills exactly. In the studio, each take wasn't played as a carbon copy either, so I kind of work within certain parameters for each song. The main beats themselves don't change, but now that I think of it, maybe I should try a samba beat over "Arrive!" some time (joking of course). 
Glenn: I don't veer too far off course in terms of vocal delivery when performing live vs. studio work. That being said, I always want to give each audience something unique and special, so I might deliver a particular line with a bit more drama or bravado… or whatever feels right at the moment.
Has the band toured? What has the touring experience been? 
Pete:  We have not been out on the road yet, as it is a brand new project for us, but definitely excited to share our music and meet fans on both sides of the Atlantic in the coming months.  
What's up next for the band?
Mike: Our next single "A Tsar is Torn" is another banger and will be released in September with the EP to follow. We have a few more local shows lined up for the fall and we're also actively writing with plans to get back into the studio soon.
Socials: