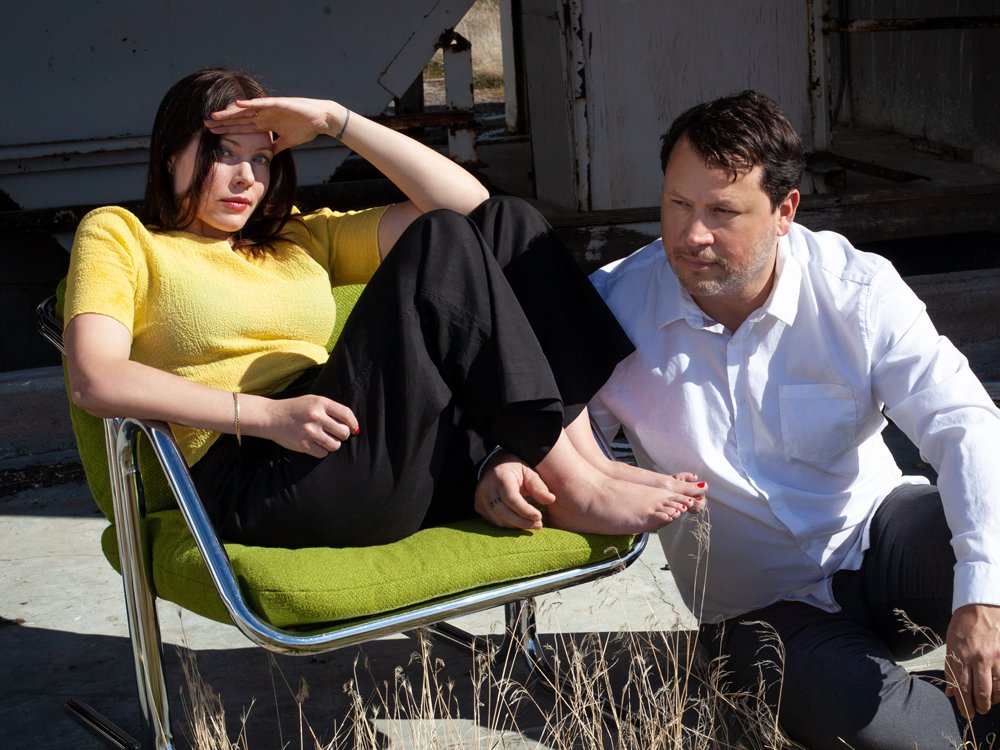 Corvair is a Portland-based power duo comprised of Brian Naubert (Ruston Mire, Tube Top, Pop Sickle, The Service Providers) and Heather Larimer (Eux Autres). Combined, Brian and Heather have created or performed on more than twenty albums, but Corvair marks the first time they have joined forces on a musical project. Although the band started in 2019, their eponymous debut album was largely created the early days of the pandemic. "Recording and writing new music in a total vacuum really emboldened us to go new places songwriting-wise and figure out how to converge our established styles in a powerful way and play to each other's strengths."

How did the band form?
We have been married for five years and had known each other for a long time before that and had watched each other's musical projects for years. We used to joke about trying to be in a band together, but Heather was nervous Brian would get frustrated by her unusual way of writing. Then the pandemic shut the world down and they decided to get to work, and loved it. 
What are your previous musical projects? How'd you first get into music?
Heather was in a garage pop band called Eux Autres with her brother for a long time, but she started playing music as a kid via Suzuki violin, then tried to teach herself bass and then finally learned how to play drums and keyboard. Brian has been in several notable bands including Tube Top, Pop Sickle and Ruston Mire. He started his first band in 7th grade, and they would wrestle each other and pretend they were playing The Tacoma Dome to get pumped for each practice. 
First concert that you ever went to?
Fugazi was Heather's first real "rock show" at Sokol Hall in Omaha Nebraska–she's seen them more than any other band in her life. Brian first saw Van Halen with his big sister and five of her Jr. High friends, ala Dazed and Confused. 
Can you explain what your writing process is like?
Brian starts most of the songs on the guitar–and sometimes Heather starts them on piano–and then we sit on the couch or the porch and hash them out. This record we tried something new, a 30-day songwriting challenge to fight the sophomore slump. But we ended up with way more than 30 parts. We cranked out a lot of fragments, but didn't worry about completeness. Next we got out a bunch of paper and wrote them out and grouped the snippets by key, tempo, and feeling. We strung together pieces–sometimes it failed, but other times it clicked brilliantly. In the studio, Brian creates a skeleton with a drummer–more sparse than a true "basic track", and then we write and record overdubs at home over many months. We often have a handful of scratch lyrics early, but the stories and vocal melodies don't fully emerge til pretty late. It's very different than how Heather has ever worked but familiar to Brian as a former 4-track hero. It is definitely a function of sharing a home and being completely self-contained. 
What other artists or songs inspire your music? 
Lee and Nancy  - some velvet morning
Bowie  - What in the world
Blondie  - Call Me
Frank Black - Los Angeles 
Breeders - Cannonball
King Crimson - one time 
PJ Harvey  - Dry
Devo Girl You want
Liz Phair  - Stratford on guy
America   - Sister Golden Hair
Part of what this band is to us is a band of permission to do the things we couldn't do in other projects. For Brian, that is messing with music theory rules. For Heather that's being more emotional and overtly referential. And for us together that means drawing on a lot of different eras of music. We feel like our sound on this record is equal parts 70s pop, 80s edgier art rock stuff and then 90s indie rock. We drew from Berlin-era Bowie, some Americana stuff like America, weirder new wave and synthy stuff, big ballsy indie rock–and then a little countrified psychedelia from Lee and Nancy vis a vis Jenny and Johnny. Thematically, Heather was also inspired by Liz Phair and PJ Harvey's beautiful frankness.
What's the live experience like and your philosophy on playing live? Do you think the music live should be identical to the recorded version or should it be its own thing?
Our live unit is a work in progress and still crawling out of the primordial covid ooze. We've both toured in the past and have experienced highs and lows and hilarity but we believe in being grateful and humble and no matter how many people you are playing to, you always leave it all on the stage, give them everything you got. 
What has your touring experience been, best shows? Worst shows?
Corvair hasn't toured yet because we are a pandemic puppy and have been in the studio slo-mo ever since we started, but we've toured plenty in other bands. 
Heather's worst show was where she got slow clapped while her bandmate/brother was being electrocuted by a mic, or maybe one where she set up full drums in a student bagel shop in Las Cruces, NM and felt terrible for all the unwitting people in there. Best memorable shows were playing the 100 Club at London Popfest, a very well-played show at the Bang Bang Club in Berlin, and a lucky Philly show where some guy named "Kurt Vile" asked her band to play. Her drums kept scooting off the tiny stage, and Kurt was selling 10 hand-burned CD albums he had made (pre Matador) all of which Heather still has because she had a hunch–and then post-show, Kurt's friends DJed a mostly-Springsteen set and they all danced on tables.
Brian's highlights were playing right before Nirvana at their first-ever show, or opening for the Cure, Green Day, and Weezer. Lowlights were playing the end-of-the-season party for a men's basketball team in an aquarium, playing after a teen fashion show in the baby clothes section of a Naval Base PX, playing with Everclear to one person in New York, then playing a burrito shop in Georgia with them as well (which they mentioned on VH1's Behind the Music as Exhibit A of "Things weren't always so good for the band…"). 
What's up next for the band?
 We are going to do a holiday EP this fall and start playing show shows on the West Coast soon, all while writing record #3. Plus we still have a bunch of videos to shoot for this record. We love making videos, we get to drive around to weird places with our dog and act stupid and laugh a lot.