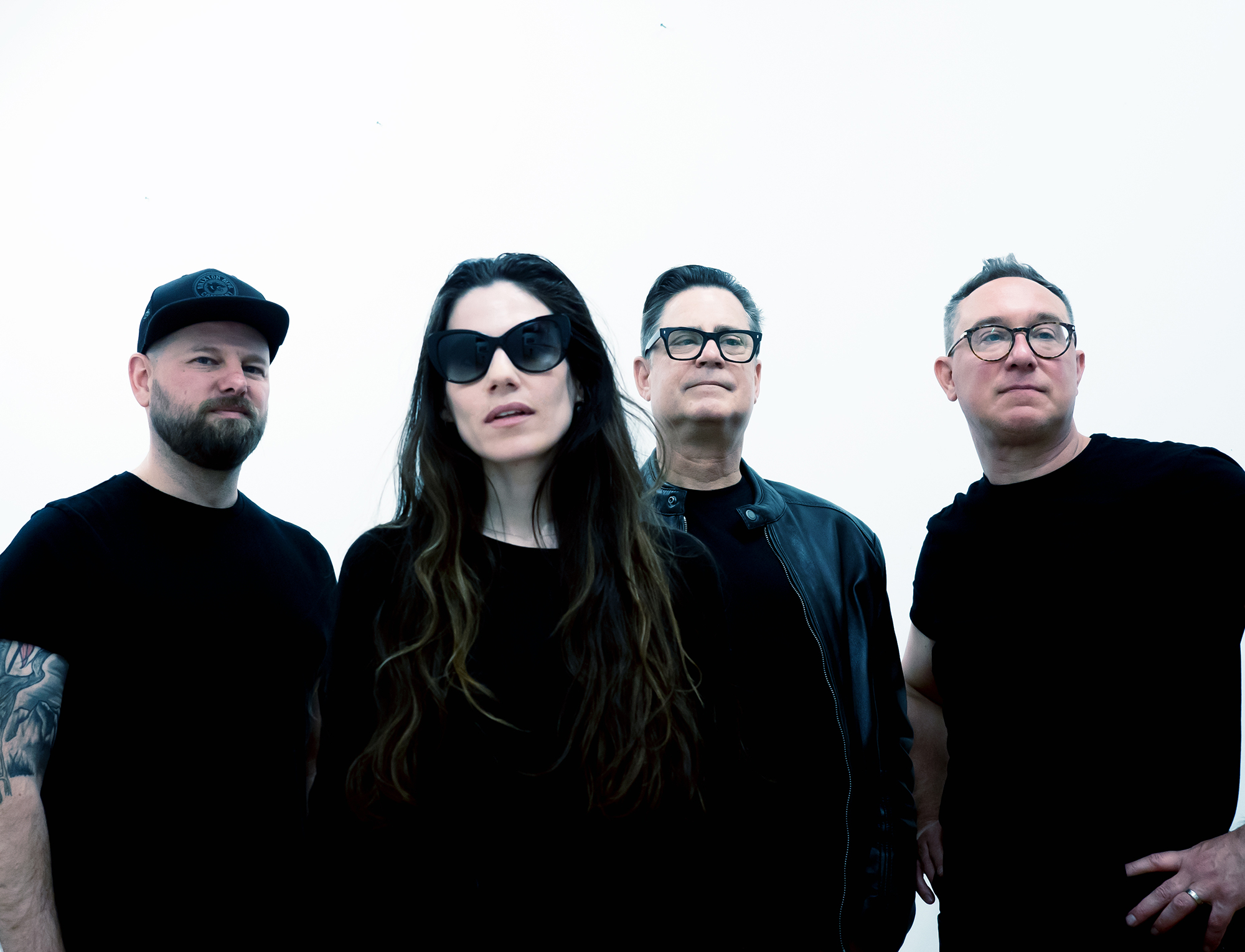 The Shallows are a shoegaze and dream pop band from Somerville, MA. The band formed in 2019 and consists of Jess Baggia on vocals and guitar, Brad Emerson on guitar and soundscapes, Ben Didsbury on bass, and Jason Keisch on drums. To date, the Shallows have released an EP and one full-length album. The band plays actively in the greater Boston area and expects to be visiting other East Coast locations in the coming months.  
 
How did the band form and what does the band name mean?  

Brad - Jason and I go back almost 30 years. For five years before the Shallows we were together in a band called Strangeways, which had a little more of a britpop sound. That was the first band for which I did any substantial writing and as time went on, I wanted to get back to my shoegaze roots. Strangeways broke up, and The Shallows formed just as the pandemic hit. There was a bit of a revolving door member-wise, but we eventually found Jess, she brought Ben in, and we all gelled.

The name, 'the Shallows', was among a few names in consideration. I like how it is both a thing of danger (if stuck in a boat) as well as serenity and relief (if back floating on a scorching summer day). I also gravitate to a lot of records behind the S divider in the record bin (Simple Minds, Slowdive, Swirlies, Secret Shine, Swervedriver). 
Previous musical projects? How'd you first get into music?
 Brad - Many. Jason and I started together in a shoegaze band in Hartford called Scuba, I was super lucky to land a touring gig for a while with an LA band called Ugly Beauty and started way back in the day with a band called The Wall Spiders with high school friends that regrouped after college.
 Jason - Like any angsty misfit kid in the 80s, it all began with punk. I bought a drum kit and learned to play while starting a band called Fleshwound and the Scabs. We were awful, so bad we got unplugged by a teacher at my high school talent show. I played in a couple boring bar rock-ish bands in college, then formed Scuba in about 1995 where I was eventually lucky enough to meet and play with Brad.
 Ben - I was a bass player that grew up basking in the glory of the many great bass players of the 90s. Those players' musicality and progressive approach to the instrument drove me to create and be in bands that were trying to do a unique thing, from the evil jam band Ownership of the Head at Ithaca College and eventually New Brunswick, New Jersey, to progressive heavy rock band The Vital Might in Boston, and then a long stint with the experimental indie pop band Coo & Howl. And now The Shallows brings it full circle back to the 90s but chasing a very focused vibe from that era. 
 Jess - I started as a solo singer/songwriter, got a backing band, and then transitioned into an original indie rock band a la PJ Harvey (Man Trouble, formerly known as Red Right Hand). I currently write and sing with This Bliss and love all things pop, electronic, and throwback funk/R&B. I also am learning classical voice which is a wonderful outlet for experimenting with my own instrument. 
First concert that you ever went to?
 Brad - in 8th grade with my dad - Asia. First meaningful show - Inxs with a little known band at the time - REM at a small club in Hartford. Best show - one of my previous bands was lucky enough to open for Chameleons Vox a couple times - both times Mark Burgess blew me away.
 Jason - My first rock concert was Pink Floyd on their Momentary Lapse of Reason tour, it was incredible with all the props and theatrics that are part of their shows. About a year later I went to an all day punk show at Trinity College in Hartford, CT and watching all these young people playing such raw, passionate music was when it clicked that I could do that too.
 Ben - Primus at the Orpheum in 1994. Still one of the greatest shows I've ever seen. It felt like everyone there was a part of something just outside of the main stream and shared this hidden secret gem. It was ritualistic, hedonistic, and fucking glorious. I was buzzing for days after that and I spent much of the next decade really trying to use Les Claypool as a north star towards making the bass guitar my vehicle to explore a new formula for what popular music could be. 
 Jess - Tori Amos. I can't remember the date but I was barely a teenager.
 What's your writing process like?
Brad  -  I am still working on that. Generally start with a simple guitar part and layer from there - usually in Logic. Chords emerge out of the layers. I've tried sitting down and strumming some chords and trying to create a melody - it just doesn't work for me - I wish it did. For most of the album, Jess has taken instrumentals I've worked on and added the lyrics and melodies.
 Jess - For melodies, I get an idea and if that sticks (i.e. I don't forget it and it turns into an earworm) I keep it. Lyrically I riff off of Brad's placeholder titles because it is a fun challenge. 
What other artists or songs inspire your music? 
Brad - Everything from 80's Post Punk/New Romantic/Darkwave to current Dream Pop/Shoegaze bands. One common thread - expansive and cinematic - I think you can hear that in most of the songs on the Spotify playlist. It goes without saying that Slowdive is a huge influence (both then and now - their most recent album is honestly my favorite) as is Beach House (I find their instrumentation fascinating). I think I always wish I had been cool enough to be goth - Verdant (from the new album) was inspired by Sodus from Cemeteries. Guitarwise - Robin Guthrie is a huge influence - especially in the sparing use of drive.  
Jason - I align well with Brad's tastes which might be why we keep playing music together, but add some hip-hop (Run the Jewels, Dan the Automator, DJ Shadow) or UK Grime (Lady Leshurr, Sleaford Mods) into my playlists. I think you can hear a hint of that in some of the way the percussion is done on the record. I love Slowdive, Simon Scott is definitely a big influence on my sound. On the modern side of dream pop/shoegaze I like DIIV, Pinkshinyultrablast, and Still Corners too.
What's the live experience like and your philosophy on playing live? Do you think the music live should be identical to the recorded version or should it be its own thing?
 Brad - Both are equally valid. Live we play with triggered keyboard tracks and a click-track, so there is no room to improvise.  
 Ben - I think on this record we tried to make it the best version of our live set that it can be. It definitely sounds "Played", and there really isn't much added to it that we don't do live. 
 Has the band toured? What has the touring experience been, best shows?worst shows?
 Brad - Haven't toured yet - hopefully soon!
 What's up next for the band?
 Brad - We just signed a deal with Mint 400 Records - looking forward to seeing where that leads. We have half of a new album written, going to enjoy working new songs into the set.