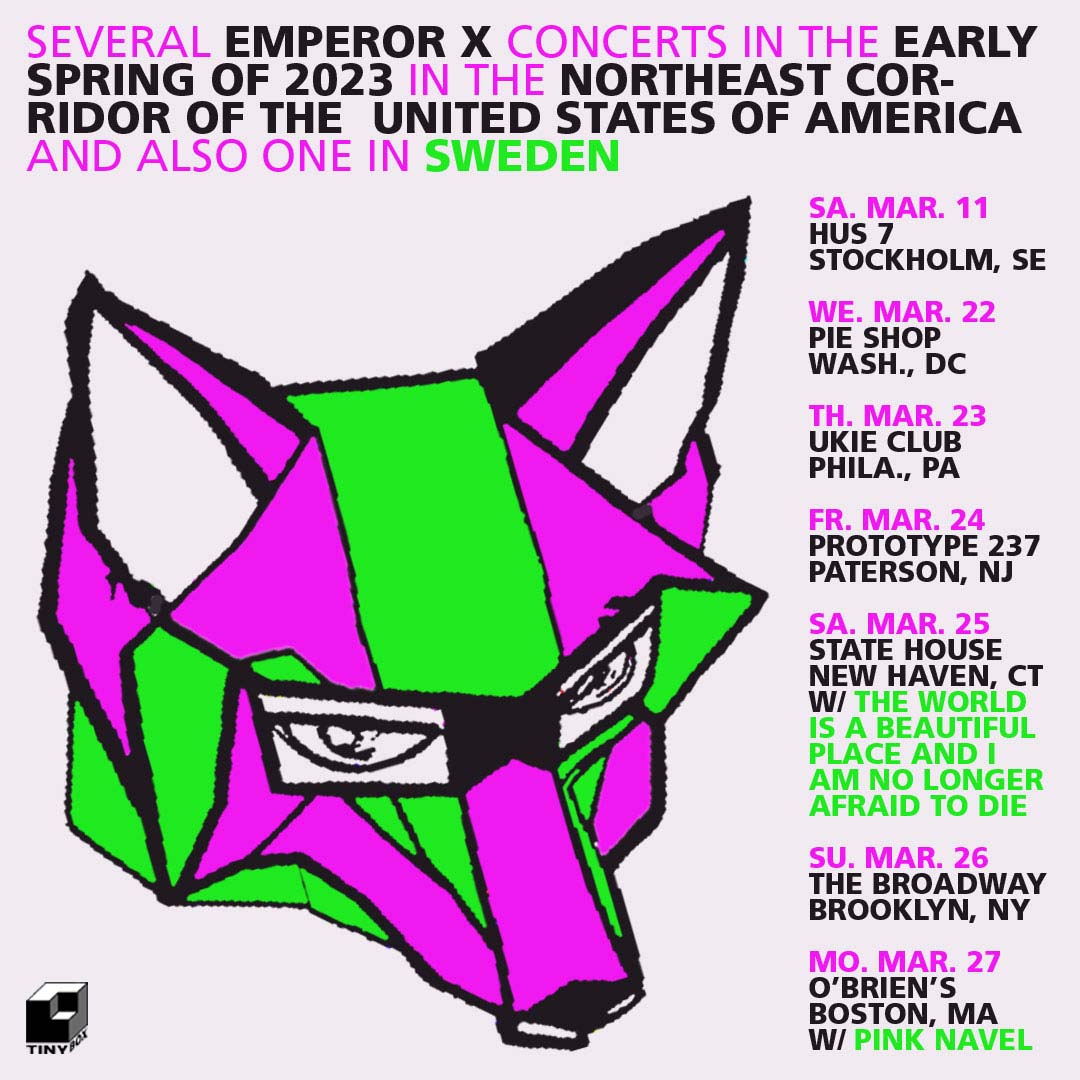 Emperor X has a track in the
Veronica Mars
movie, features in three NPR stories, and composes video soundtrack music for Planned Parenthood and SEIU. Listeners of the 99% Invisible podcast might be familiar with him as the guy commissioned to write a song that would last 10,000 years for discouraging settlement near nuclear waste repositories, created in the form of a folk song about genetically engineered cats. 
So why is Emperor X now concerned about the Passaic–Bergen–Hudson Transit Project – and more importantly, what is he doing coming to Paterson from Germany to make demands by song to NJ Transit for train service connecting Hawthorne and Paterson to the Hudson-Bergen Light Rail?
Indie-folktronica musician Chad Matheny, who has been releasing music as Emperor X since 1998, will appear at Prototype 237 in Paterson NJ on his surprise U.S. (and Sweden) EP tour to premiere the NJ-focused track off his brand new EP of emotionally charged songs about transportation infrastructure of the Northeast Corridor. The tour's six U.S. shows correspond to the EP's 6 tracks, with stops (and tracks critiquing transit) also in DC, Philly, Brooklyn, Boston and New Haven. The track, "We Demand Tri-County Rail Now! (for NJDOT)," refers to a project under study by NJ Transit to reintroduce passenger service in Passaic, Bergen and Hudson counties using newly built, FRA-compliant diesel multiple unit rail cars to run from Hawthorne south through Paterson, east to Hackensack and then southeast to North Bergen, where it would join the Hudson-Bergen Light Rail.
Described as "a spastic, legally blind, nomadic songwriter whose performances transform venues/living rooms/arts spaces into punk rock micro-raves" (Alternative Press), Emperor X should find himself quite at home headlining on the Prototype stage.
He'll be joined by a performance from "one of the hidden jewels of the urban Northeast" (Big Takeover), when instrumental post-punk cinematic jazz ensemble The Royal Arctic Institute returns to P237 following its second release in two years recorded and produced by Yo La Tengo's James McNew. Decades after making "indelible marks on the east coast's underground rock heyday of the 80s and 90s" (Chicago Reader), TRAI's recently released mini-album of chill post-rock instrumentals, From Coma to Catharsis, follows up on their 2022 EP From Catnip to Coma. An attempt to capture the auditory experience of waking from a coma, the new album "favors a mysterious, semi-ambient wash of cosmic Americana, as if filtering the Southwestern vistas of their imagination through the lens of a telescope tuned to the stars," writes Austin-based journalist Michael Toland.
The Adventure Soundtrack will get the night started with its quirky original songs and psychedelic improvisational textures. Influenced by bands such as Pink Floyd, Talking Heads and Tom Petty, the four-piece band plays from a 20-year catalog of unique songwriting captured over four studio albums.

Friday, March 24 @ 8pm
Prototype 237
Tix: $10 adv, $15 door