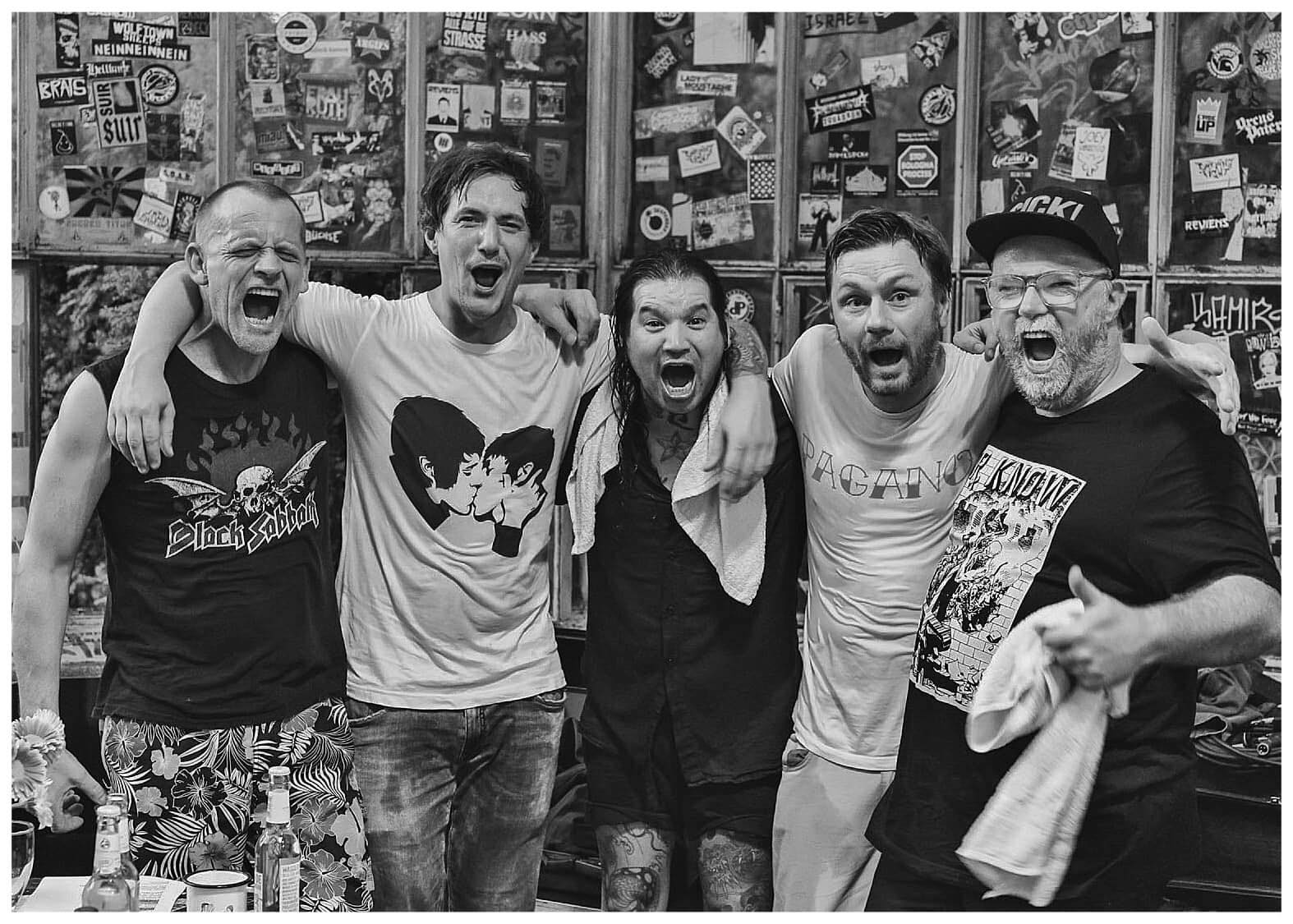 From their Wikipedia page: Bubonix was founded in Limburg an der Lahn in 1994 and has been rehearsing in the self-governing cultural center in the old lime works between Limburg and Diez ever since. The name is probably derived from the English bubonic plaque and means bubonic plague. The mainly English lyrics deal with topics such as fascism , violence , sexism and repression, but also personal experiences and reflections.
How did the band form and what does the band name mean?
Oliver and Thorsten started Bubonix around 1994. The Band Name is a Short Version of Bubonic Plaque.
Bubonic plague is one of the deadliest diseases humanity has ever faced. The 'Black Death' of the 14th century killed a quarter of Europe's population.
Previous musical projects? How'd you first get into music?
Our Drummer Herman and Lead guitarrist Sascha played together in the legendary German Punkband Toxoplasma, Bassplayer Oliver and Guitarist Markus played in Conmoto, Oliver also in Trend.
Thorsten also did Vocals and Guitar in the Zürich (Switzerland) based Postpunk Band Lyvten and is still playing the Bass in Winterthur based Noiserock/Grunge Trio Hathors.
First concert that you ever went to?
Thorstens first concert was One Step Further, his Cousins first Metal/Rock Band. His First HC Punk concert was The Notwist & Schwarze Feuer in 1991 in Kakadu Limburg.
Olei is not sure, cause that was a long time ago. Maybe Slapshot in 1992 in Koblenz (Germany) together with Thorsten.
What's your writing process like?
We had an uncomplicated writing process, because each Bandmember brought ideas. We went Back to a Mindsetting like, if you start to discover HC and Punk in your youth and  you are passionated about. 
We felt a burning flame in our hearts und the music came out like lava bombs.
What other artists or songs inspire your music? 

We are influenced by Minor Threat, Gorilla Biscuits, Be Well, Hot Water Music, Avail, Snapcase, Blood Brother, Nya Krösus. But also By Rockbands like Pearl Jam and electronic and Hip Hop as SebastiAn and Advanced Chemistry. We like it political, antiracist, the unity thing, mindfulness and how to change your behaviours, reflexion and how to find yourself in this Kali Yuga.
What's the live experience like and your philosophy on playing live? Do you think the music live should be identical to the recorded version or should it be it's own thing?
We wanna be authentic in a positive and Powerful Way. Live is always live, but we recorded mainly how we play it live. We wanna create a good time as  band, the crew, the host and the audience. In this dark days it is also important to bring back the power of unity and the feeling of a positive movemen and DIY to create something together.
Has the band toured? What has the touring experience been, best shows?
We had a couple of tours and one of the best things are, if the Band feels like a harmonic Family, the worst is if it doesnt. But it beed both sides to reflect yourself,
We are really thankful, to live a country, where we are able to make Music and write Lyrix like this, not like in Countries, where this is forbidden. But at least its awesome to share a mood together with the Audience and People, like you who support us and make this happen.
What's up next for the band?
We will release our Record at the 12th of May and a tour in Germany and Switzerland. Then we'll see if we play some shows around in Europe or US..