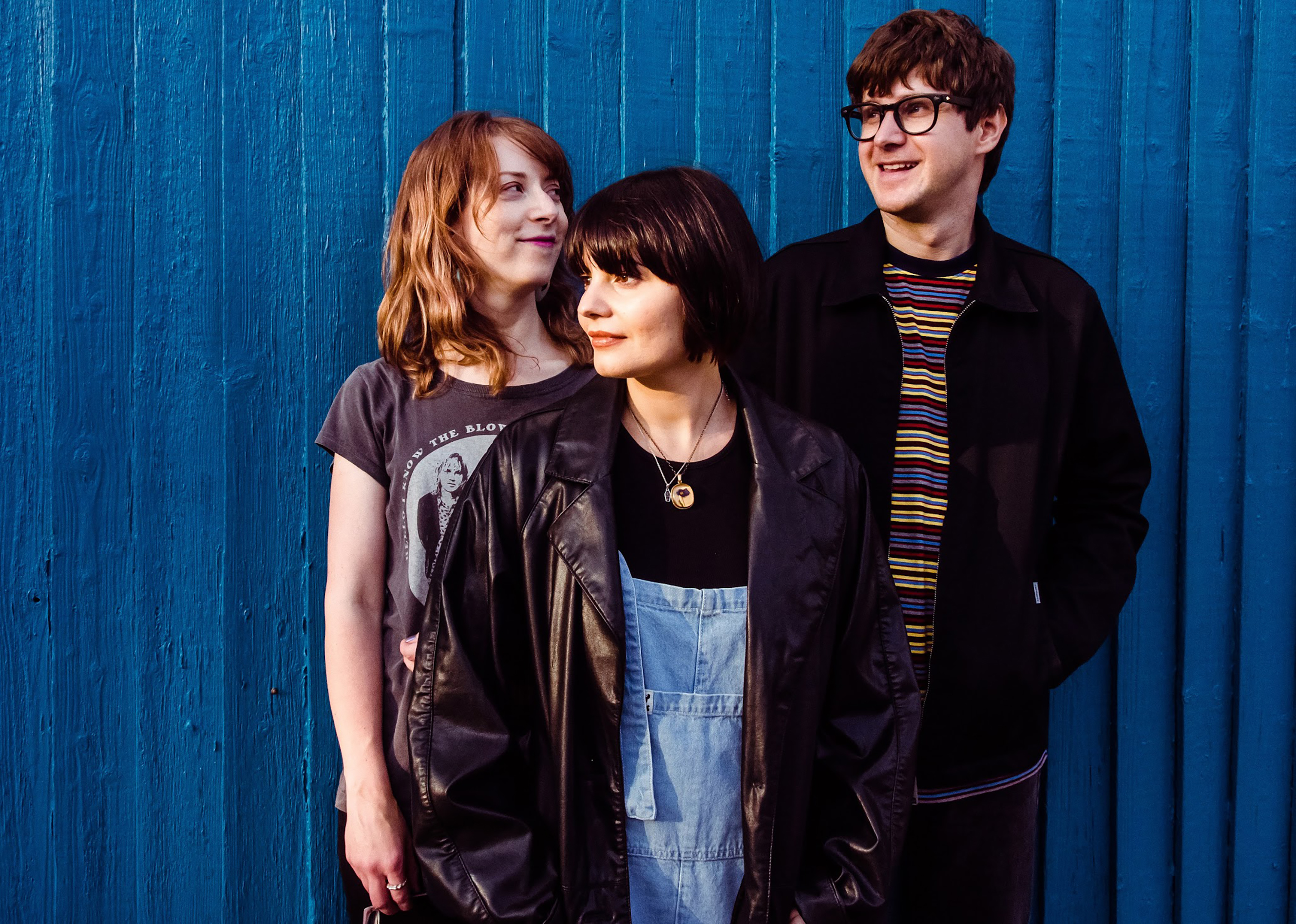 London based three piece Holy Springs are Neil Atkinson Jr, Maria Bellucci and Suzanne Sims. The band blend psychedelic influences with their love of lo-fi guitars and keyboards. In 2020 they self released the cassette mini album 'Indoor Tapes'. Shortly after the EP 'Camera' and they have recently released their debut full length 'E.A.T' on Up In Her Room Records in 2022.


How did the band form and what does the band name mean?
Suzanne: Neil asked if I'd like to play in his new project. Then he moved to a different city, then covid happened haha. But I'm still here, he's not shaken me off yet :)
Neil: I had left my previous band and wanted to get something going again. So I asked Suzanne and Maria to help out. I took the name from a Dylan Thomas poem called 'Holy Spring'. 

Previous musical projects? How'd you first get into music?
Suzanne: I've always had a predilection for music… as a child I desperately wanted to be on Top of the Pops, though I played clarinet so it was unlikely. I learned guitar at school/college age but wasn't great, then was a music journalist for a few years, but really wanted to be playing rather than writing about it. I took up drums in my mid/late 20s and joined Dead Rabbits shortly after. I've also played dream pop/shoegaze with Heroes of the Modern World, and joined an indie pop band last summer. Though we only rehearsed twice so not sure that counts!
Neil: I was in DR with Suzanne for a number of years as a songwriter/guitarist but decided to move on and pursue different things...I got into music at a pretty young age. I remember hearing old records my parents were playing as a kid and being intrigued but it was when I was in my early teens I started getting into bands. Mostly punk bands at the time but as I grew up I kept discovering more and more music. 
Maria:  I played the keyboards from when I was very young. I learnt the bass to play in Holy Springs.

First concert that you ever went to?
Neil: Sorry I can't remember the names but It was probably while I was still in school or college. 
Suzanne: First gig would have been college bands that I vaguely knew, then I think it was The SAS Band eg Roger Taylor (Queen), Graham Gouldman (Hollies, Yardbirds), Chris Thompson (Manfred Manns Earth Band) all coming on and doing a couple of their songs.
Maria: I don't remember either...
What's your writing process like?
Neil: I play 2 or 3 chords in open tuning until a melody or something appears then I try recording a demo. Lyrically I don't try to complicate things. I tend to stick to the '3 chords and the truth' model. Although 2 chords would be better.
Suzanne: I live a few hours away from Neil and Maria, so we'll either jam something out in rehearsal, or they'll send me something they've done to listen to and work out drums for.
Maria: We keep things pretty minimalist. Usually working things out in rehearsals.

What other artists or songs inspire your music? 
Neil: Spiritualized (Jason Pierce) has always been an influence on the way I write. He keeps it pretty simple with the chords and lyrics too. The Velvet Underground are ground zero for all that is great in music as far as I'm concerned... And of course My Bloody Valentine! When I first heard their music I couldn't make out the words or even instruments! But after a while and a lot of repeated listens I became obsessed with that style of guitar playing. The glide guitar is what Kevin Shields calls it. It's a huge inspiration for my own playing. 
Maria: DIIV has a fresh take on the typical shoegaze sound. I love how Bowery Electric incorporates electronics and trip hop into the sound of guitars. The Telescopes have a cool dark repetitive and stripped back sound. Sonic Youth really represents that NY noise rock underground era. I identify with Kim Gordon in that I also don't really think I'm a bass player! 
What's the live experience like and your philosophy on playing live? Do you think the live music should be identical to the recorded version or should it be it's own thing?
 Neil: I really enjoy playing live, providing it sounds good on stage and you can get into it. Sometimes that can be tricky but I think it should at least be fun. We play some songs differently from the recording. For example 'If I Had A Reason' doesn't have any guitars on it. When we play it live it's guitar, keys and drums and so has a new energy. As we're only a 3 piece we have to be creative with how we fill the space.
 Suzanne: I've always preferred live music - the passion, the unpredictability, the musicians personalities, the mistakes (I'm guilty of many, but nowadays I can laugh them off and move on!) A few cheeky changes can be refreshing, and after all no one's who they were 5 years ago, and songs still evolve as you play them.
 Maria: You can always play different versions and make the experience more unique for us and whoever is watching. 

Has the band toured? What has the touring experience been, best shows?worst shows?
Neil: We haven't toured yet in this band but I have quite a bit in other bands. Touring has its ups and downs...The long drives, the hotels, not eating so well but it's also really fun playing music and hanging out in different cities. As for Holy Springs the best one so far was probably at the Hope and Ruin in Brighton for Acid Box Promotions. 
Suzanne: I haven't toured with the Springs as of yet, but Dead Rabbits have been away on a number of occasions. For me best shows have been in Vienna, Tel Aviv, and France in general, due to audience responses. Worst touring experiences generally involve a run in with 'the man', whether you're being yelled at by border guards (who then nick cigarettes out the van -true story) or you've forgotten a post-brexit carnet stamp and are now being bollocked by four different customs officers… well it makes a good story several months later, but not at the time! However positives always outweigh the negatives. I love playing to people and chatting to everyone afterwards.
Maria: I suppose even the bad shows give you something!

What's up next for the band?
Maria: A second album? and it would be good to go to Europe.
Suzanne: My immediate future involves the rest of this glass of wine, but bandwise we're hoping to play more shows soon, and it might be time to start putting some new songs together as well…
Spotify: holy springs
instagram: @holy_springs
twitter: @holyspringsband
www.facebook.com/holyspringsband