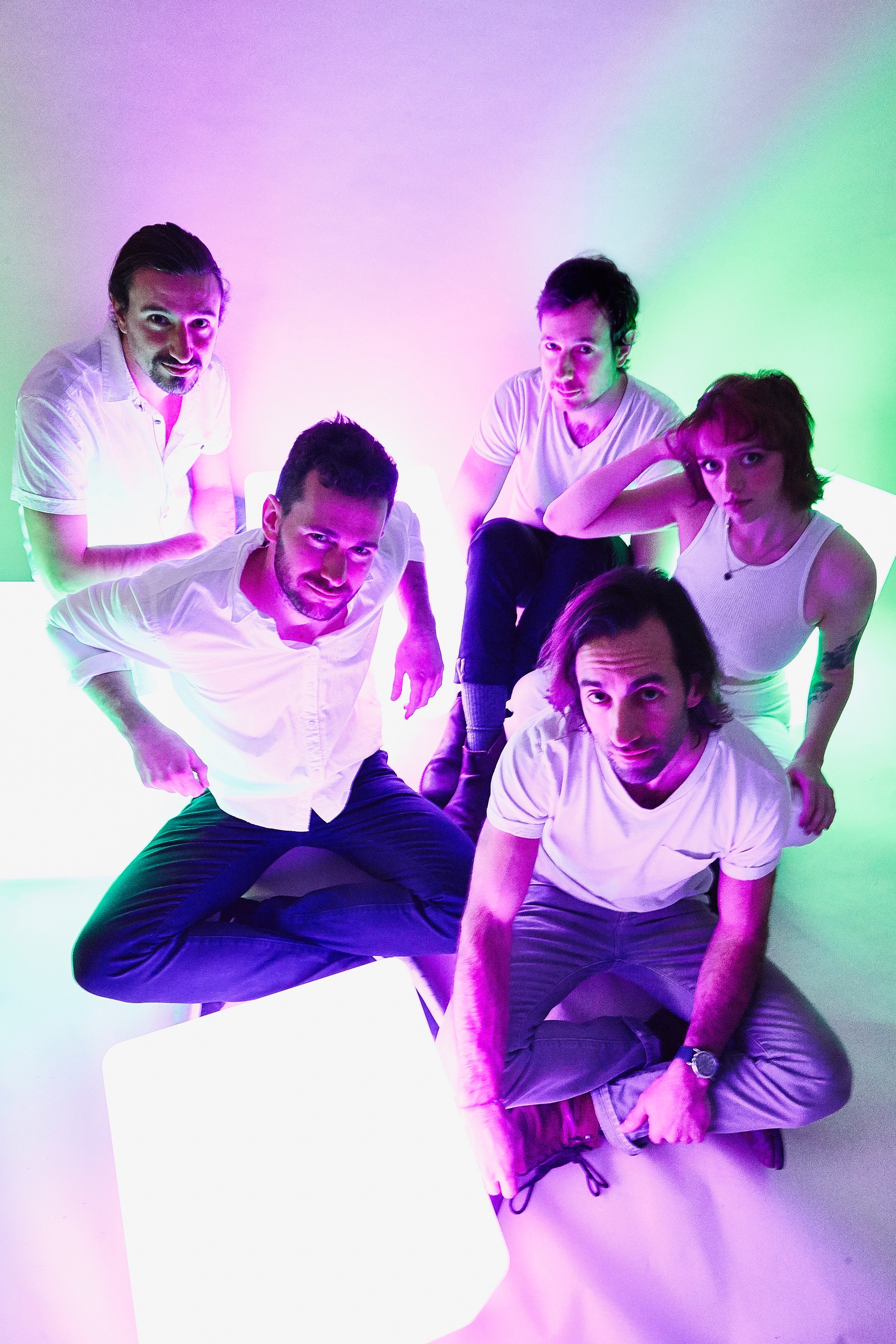 Before being diagnosed with Lyme disease, Brooklyn multi-instrumentalist/producer Nick LaFalce had been stumping doctors for years, a journey he processes on Atlas Engine's sprawling debut LP, When the Compass Resets, There Can Be No Regrets, out 3/1/23. Atlas Engine's blend of Celestial Indie Rock is defined by an "expansive universe of sound" (The Wild Honey Pie) with "cinematic, multipart compositions…hooky and sprawling with a locked-in rhythm section"(Look at My Records). Blood Makes Noise recently described the band as "painting a more modern-day Beatles-like feel and an 80s Tron-imbued car chase with…emotional crescendo and visualization [that] would make the blindest see", while the cinematic mix of grunge, arena rock, dream pop, and psychedelia on Atlas Engine's debut full length expands their pallet further.
When the Compass… is an ambitious, world-building project that aims to make sense of the last decade through lush, atmospheric landscapes and personal narratives of living with a chronic illness. LaFalce channels his health odyssey into a series of expansive, interconnected tracks that grapple with themes like illness, anxiety, coping with change, and technology-driven existential dread.
"I went years thinking I was crazy," LaFalce admits, after 10 years living undiagnosed. "With a chronic illness, even when you're feeling better, you know it's only temporary. It's a cycle that keeps repeating itself."
Likewise, the entire record is written as a cycle that repeats itself, full of lyrical and musical motifs that weave in and out of the album's 47 minutes. Everything about this album was crafted with intention - whether it's the artwork and overture track (both of which contain elements from all 12 songs), its interludes and seamless transitions, or production that creates its own immersive universe, this is a record that rewards those who give it the attention it requests. The band is rounded out by Patrick Cochrane (Bass), Brendan McGuckin (Drums), Katie Glasgow (Vocals, Synths), and Garrett Hess (Guitar). Brooklyn five-piece has shared the stage with Japanese Breakfast, Nation of Language, French Cassettes, and OkeyDokey.
How did the band form and what does the band name mean? 
When I moved to New York it was hard to find a band that had the style, talent, and commitment I was looking for so I finally started Atlas Engine as a solo recording project. After some imperfect matches, Pat (Bass) and Brendan (Drums) both came into the mix via Craigslist and they've been integral pieces ever since. Garrett and Katie both joined in 2021 - I'd known Garrett for a few years from the Brooklyn music scene and Katie found us through a classified ad we posted on Bands Do BK. While they're newer to the gang, they instantly fit right into this demented little framily. As for the band name, I like letting people decide what it means for themselves, so I'll leave that to your imagination!
What's your writing process like? How did it change with a concept record like this one?
The songs we were working on started to come together and take shape right around lockdown, which allowed me way more time than usual to put into this project. If 2020 wasn't bad enough, I had also just gotten diagnosed with Lyme Disease after 10 years and literally dozens of doctors. 10 years of symptoms - fatigue, joint pain, brain fog, etc. - plus the resulting frustration, depression, and anxiety from the doctors' promises and subsequent letdowns really took its effect on me. So all of these songs reflect how a chronic illness can show itself in everyday life. With something like Lyme that never fully goes away, the entire record was constructed as a cycle that repeats itself.  Working on all of the songs at the same time allowed me to bounce between them and connect them with lyrical/sonic motifs.  Melodies from the beginning creep back in at the end; lyrics are repeated with different meanings; intentional transitions and interludes create a gapless listening experience.
I was going through some heavy treatment and felt pretty bad most days. Plus that pandemic thing and everything related to lockdown, so I knew that writing and recording a 12 song record with the full band was going to take a while. So we decided to release the record in 3 chunks - Part 1, Part 2, and now the full album, which contains those two parts plus an opening Overture track and two more songs at the end. While it took longer to put it all together, the extra time allowed everything to be more intentional, and it allowed me to take more risks as a songwriter, singer, guitar player, producer, etc. etc. I tried a lot of new things, and there are plenty of those that didn't make the record, but trying is the only way to know. 
What other artists or songs inspire your music? 
 As a fulltime composer/producer, I get inspired by everything I hear in some way. These are some of the songs I was listening to as references when producing the record - whether it's the overall way the song sounds, specific instrumentation, the way they make you feel, there is something from each of these songs that I wanted to capture in at least one song on the record. Here are a few:
Mew has always been a huge influence on this project - they have these big, beautiful soaring moments that I really try to lead with. Their album "Mew and the Glass Handed Kites" flows seamlessly between each song, and that was something I always loved.
Minus the Bear, As Tall as Lions, Mutemath, and Circa Survive were bands I have loved since high school for their continued dedication to evolving beyond whatever mess of a genre they usually get grouped into.
Pretty and Nice is the best band you've likely never heard of. But you can change that now!
Radiohead, Bjork, The Mars Volta, Of Montreal - Truly insane masterminds that I admire so much 
And more recently, I've been into bands like Broken Social Scene, Melody's Echo Chamber, Deep Sea Diver, Local Natives from the minute I heard them.
Honorable mention has to go to bands that directly inspired me to make this a concept album - Thrice's Artist In the Ambulance, Dream Theater's Metropolis Pt 2, anything from Pink Floyd and Rush. All of those albums are so well thought-out that one song on a playlist would completely miss the point.

What's the live experience like and your philosophy on playing live? Do you think the music live should be identical to the recorded version or should it be its own thing?
There are different choices you make depending on the environment you're working in. That context is so important, so there are plenty of things on the record that you won't hear live, and vice versa. Every choice we make comes with intention, and I think that's what matters. 
What's up next for the band?
We'll be celebrating with two release shows this week with some of our favorite friends! Thursday, 3/2 we'll be at Berlin with Van Chamberlain, CR and the Nones, and the Dracu-Las, who are fresh off playing their asses off the last few weeks at each round of Our Wicked Lady's Winter Madness. 3/4 We'll be at Our Wicked Lady on the covered/heated rooftop for a Bands Do BK show with Couch Prints, Karma Brigade from Iceland, Wetsuit, and Sandile. 
We've got some regional touring that we'll be announcing soon so follow us on Instagram and Spotify to keep in the know!