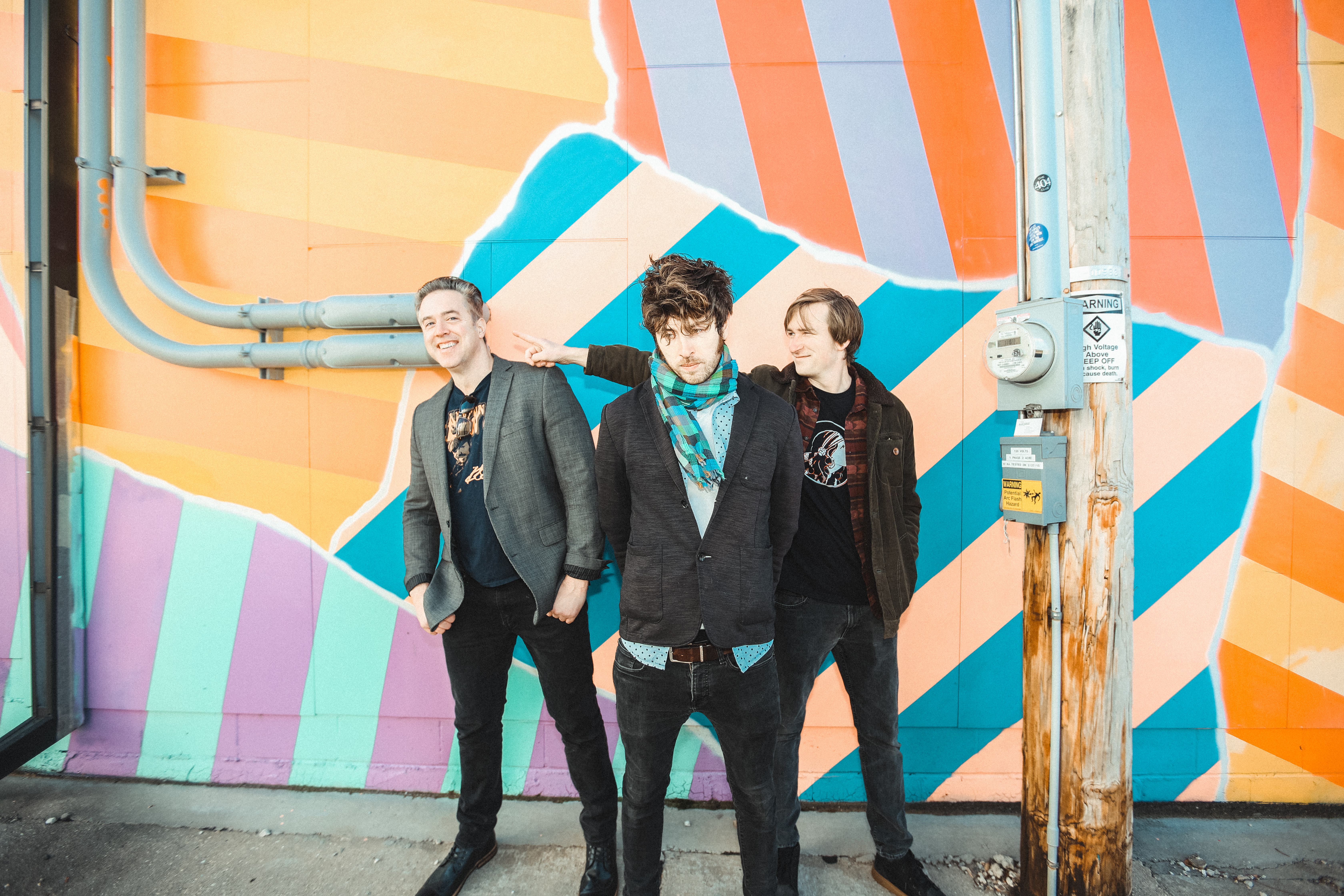 A revival of 90's alternative, Wisconsin alt/jangle pop trio NEWSKI, enlist a friend/musical influence on every track for their new LP Friend Rock (April 7). From veterans like Matthew Caws (Nada Surf), Brian Vander Ark (the Verve Pipe), Ryan Miller (Guster), Miles Nielsen, and Scott Terry (Red Wanting Blue) to overseas acts like H Burns (France), The Secret Beach (Canada), and The Shabs (South Africa), NEWSKI compiles an internationally collaborative album from his own tiny house in Wisconsin. The durable three-piece will hit American, European and South African highways for a 100 date touring year behind the new LP. We caught up with the band to speak with them on their formation and inspirations!
 How did the band form?
 We met at a Friday fish fry at a supper club in Wisconsin. 
 What are your previous musical projects? How'd you first get into music?
 Had a bar band when I was 18 called Toastmaster Generals. I wasn't allowed into the bars so we only played one show. I drank too much at that show and woke up in a cop car. 
First concert that you ever went to?
Matchbox 20 in Milwaukee 
Can you explain what your writing process is like?
Clear a half day and force myself to eeeek something out. I keep notes in my phone for cool phrases and words so I'm not starting from zero. I like making up song titles when I have an hour to kill on a bus or plane. 
What other artists or songs inspire your music?
Nada surf, guster, the verve pipe, matthew caws, Steven page of barenaked ladies, pat MacDonald, gin blossoms, bony macaroni from Holland, the Shabs from South Africa, the secret beach from Winnipeg
What's the live experience like and your philosophy on playing live? Do you think the music live should be identical to the recorded version or should it be its own thing?
Playing live is the litmus test for a real band. Anyone can make an album in their bedroom. The hardest thing in music is getting a band tight and keeping a crowd. If we can do that, we're gonna be ok. 
 What has your touring experience been, best shows? 
I wrote a song about the worst show of my life in St Louis on a Monday In the winter snow:

What's up next for the band?
TOUR Dates
3/29 - YPSILANTI, MI - Ziggys
3/30 - HAMILTON, ON - Mill's Hardware
3/31 - TORONTO, ON - Horseshoe Tavern
4/1 - ELORA, ON - Elora Brewing Co
4/2 - BARRIE, ON - Queens Hotel
4/6 - STEVEN'S POINT, WI - UWSP Dreyfus Center
4/7 - MILWAUKEE, WI - Anodyne Walkers Point
4/8 - MANITOWOC, WI - Sabbatical Brewing
4/12 - CHICAGO, IL - Golden Dagger
4/13 - ST PAUL, MN - Turf Club
4/14 - APPLETON, WI - Appleton Beer Factory 
4/21 - COLUMBUS, OH - Rambling House Series
4/22 - YOUNGSTOWN, OH - Westside Bowl
4/23 - PHILADELPHIA, PA- Krobath Concert Series
4/26 - NYC - Bowery Electric (early 6pm)
4/27 - DEWEY BEACH, DE - Fort Ishu House Show
4/28 - WASHINGTON DC - Pearl St Warehouse
4/30 - RICHMOND, VA - Hardywood Brewing
5/3 - ORLANDO, FL - Will's Pub
5/4 - ST AUGUSTINE - Sarbez
5/5 - WEST DESTIN, FL - Rock by the Sea Fest
5/6 - WEST DESTIN, FL - Rock by the Sea Fest
5/20 - HAVANA, IL - Havana Songwriters Fest (solo)
5/23 - SEATTLE, WA - Fun House
5/24 - BEND, OR - Old St Francis School
5/25 - PORTLAND, OR - The White Eagle
5/26 - PORT ANGELES, WA - JFFA Festival 
6/2- MARSHFIELD, WI - Hub City Days
6/17 - SHEBOYGAN, WI - Three Sheeps
6/23 - CEDAR RAPIDS, IA - Newbo City Market
6/30 - BARABOO, WI - Tumbled Rock Brewing
7/1 - MADISON, WI - Terrace at Memorial Union
7/12 - GOSHEN, IN - Goshen Brewing
7/14 - LANSING, MI - Bridge Fest
7/15 - GRAND RAPIDS, MI - Founders
7/16 - THREE OAKS, MI - Acorn Theatre