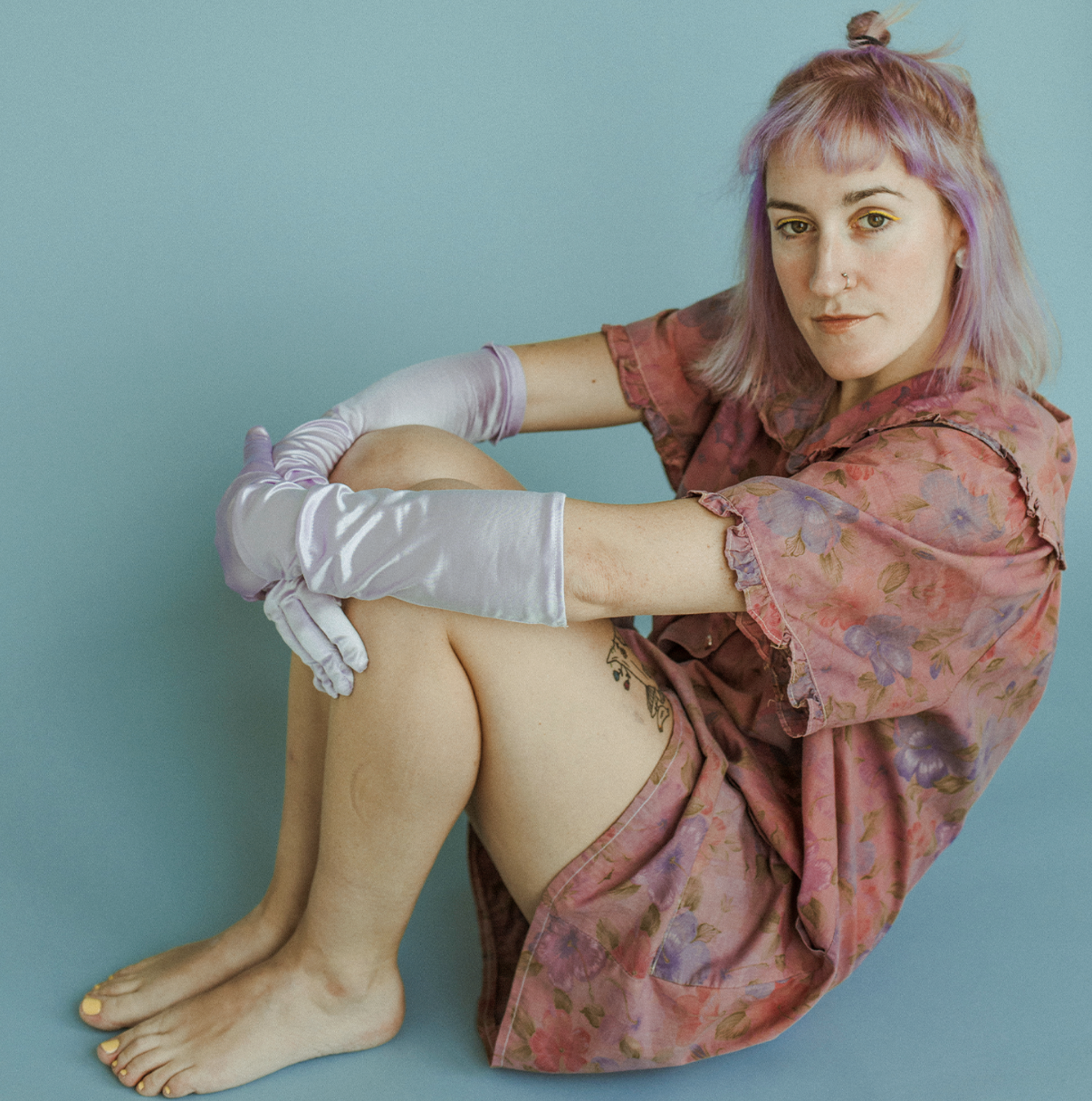 Joanna Schubert, the Brooklyn-based singer/keyboardist/composer/arranger behind Oropendola, creates kaleidoscopic chamber pop filled to the brim with energy and emotion. Her debut full-length album, Waiting for the Sky to Speak (recorded with Zubin Hensler) will be released in March 2023 with Spirit House Records and Wilbur & Moore Records. It is an imaginative and colorful chimera of a collection peppered with the raw theatricality of Kate Bush and FKA Twigs; the off-kilter humor of Miranda July; the surrealism of Alice in Wonderland; and the melodic core of Joanna's childhood soundtrack (90s pop, jazz standards, and the Beatles). The Oropendola live crü is a rotating cast of of 1-7 musicians, including synths, clarinet, flute, and 3 part harmonies. Joanna has also been a touring member of Half Waif and Barrie, sung with Samir Langus, and currently plays in Brooklyn bands Nicomo and beccs. When she isn't making music, Joanna is helping other humans make music. She teaches lessons in piano and songwriting, has led contemporary vocal groups, and writes and music directs eccentric musicals with kids. She lives in a 5th floor walk-up with her almost-8 year old cat Moose, and frolics in Greenwood Cemetery every chance she gets.
 How did the band form and what does the band name mean? 
Oropendola is my solo project that often includes various friends and collaborators. I had only written and performed under my given name - Joanna Schubert - up until January 1st, 2020, and by that point, I had come to feel so hindered by it. I knew I was unintentionally holding tightly to some fixed version of myself, which inevitably affected all of my writing. I wanted to feel free to think, express, create, and simply BE, from a more liberated, open-ended place. The only way was to reinvent. The moniker comes from a bird - the oropendola! - who I encountered during a 2019 trip to the Peruvian Amazon. I became rather enamored with its call, a complex and mesmerizing mix of textures that I convinced myself encapsulated the entirety of existence: birth's first gurgle to death's final rattle. (You should look up a video - it's really quite amazing.) I also resonated deeply with the translation of oropendola: Latin for "golden pendulum."
 After adopting the new name, I entered a very fertile creative period of endless solo exploration and writing. In a strange silver lining sort of way, the extreme nonlinearity and liminal nature of the pandemic only deepened this period. I spent hours upon hours every day creating, not with any tangible goal in mind, just because it was feeding my soul. That led to podding up with collaborator Zubin Hensler in October 2020 to record an album, an incredible experience that dramatically shaped and helped me understand who Oropendola was/is. Next came figuring out the most effective and exciting ways to play the music live and gathering a beloved rotating cast of talented musician pals: solo shows all the way up to an 8-piece band.
 Previous musical projects? How'd you first get into music? 
My previous musical project was under my given name, Joanna Schubert. The music was a bit more  "acoustic singer-songwriter" than what I've been gravitating towards the past few years, heavily influenced by songwriters like Regina Spektor, Sara Bareilles, and Carole King, as well as my past interest in musical theater. I have often felt the urge to distance myself from my older music, but that inevitably feels like pushing away a part of myself, so I'm trying to feel more compassion and tenderness instead.
 My parents always encouraged my creativity; they deeply value artistic expression. My dad was a jazz pianist before I was born and maintained his skill and passion throughout the years, so I grew up listening to him play and singing with him. My mom also plays piano (not regularly, but beautifully), and she especially loves singing and musical theater. I started taking piano lessons at the age of 6, doing musical theater soon after, and was always making up little songs and harmonizing with my older sister Erica. I begged my parents to let me quit piano lessons, but they wouldn't let me. Consider me very grateful.
First concert that you ever went to? 
Alas, my memory space is not including this specific information. But my first concert was probably some kind of local pop-punk show at the Ethical Cultural Society of Bergen County (I grew up in Teaneck, NJ) when I was in middle school and religiously (and semi-embarrassingly) listening to bands like Good Charlotte, Taking Back Sunday, Something Corporate, Sugarcult, etc.
What's your writing process like? 
My writing process changes all the time. When I was younger, I had a pretty methodical approach of writing lyrics first and then setting them to music. Sometimes a whole song comes out at once in an emotional deluge. In the past couple years, my process has mostly stemmed from a ritual I took up in early 2020 while working my way through "The Artists' Way: A Spiritual Guide to Higher Creativity." Julia Cameron, the author, gives the reader a daily assignment of "morning pages," a stream-of-consciousness writing exercise, intended to get out of your head and onto the page. After the first week, I wasn't really feeling the writing, so, with the encouragement of my then-creativity coach, Emily Mure, I transposed the prompt into a musical one. I would record myself stream-of-consciousness improvising every morning, for however long I needed to. (These days, way less frequently, though I would like to get back to it after the album is out.) Sometimes a song will come out of it, though mostly the experience will just be for that moment. In the former circumstance, occasionally the song will form very quickly, and sometimes I'll get really nitty gritty about crafting the initial seed. Regardless of the scenario, I get rather obsessive when I'm in songwriting mode (as opposed to morning pages improvising mode), barely eating, drinking, sleeping, until I'm all done. It makes me feel kind of perpetually disoriented and drunk and hazy, and I do question how healthy it is to put those basic needs on hold, but it's like… I'm getting all the nourishment I need from the creative energy coursing through and can't seem to handle anything else. Fun fact: Over half the songs on the upcoming album started as morning pages; Knocking Down Flowers was the very first one.
 What other artists or songs inspire your music? 
Though I am inspired by so many artists, 99.9% of the time that I write I am not (consciously) referring to anyone or anything else. It makes its way into the bones and blood, and then it's just some infinite swirling well that gets dipped into. Even in the studio, I had such trouble coming up with references. I tend to hear music fully formed in my head, but not in a way that's always easy to translate or explain. Having said that, though, here is a long (but actually short because it is still leaving out too many people) list of artists who I have been quite inspired by throughout the process of making Waiting for the Sky to Speak: 

 
The artful, raw theatricality of Kate Bush, the expansive ways she uses her voice, her everything-and-the-kitchen-sink production… I got into her in 2017, and she opened up my world. I felt like I was given full permission to try to include every bit of who I was into my music. 

The melodic, expansive arrangements of the Beatles and Sufjan Stevens. I love arrangements that can be sung/recalled as easily as the main vocal line.

All the artists who I play with! I end up living with their music for so long, getting their melodies in my mouth and keyboard parts in my fingers, and inevitably parts of them pour out into my music. I have included Half Waif, Barrie, and Emmerson on here, whose bands I have played in and whose music has deeply affected me in different ways. For the main synth in Drop the Stone - track 6 on the album - I used the emotional, evocative main synth in Half Waif's Lavender Burning as a sonic reference. When writing Flowers on My Front Stoop and Shimmy Up Melt Down - tracks 2 and 5 - I was fresh off of tour with Barrie, and inspired by the style of her keyboard parts. And Emma from Emmerson helped me flesh out the last track on the album, When You Carried Me, when it was only halfway written. I usually tend to shift gears constantly throughout the course of a song, and Emma helped me find the beauty in simplicity.

Regina Spektor was one of my early influences, and though she was not a direct reference for this album, she lives so strongly and perpetually within me and my style. I learned so much about songwriting, playful flow, and deep childlike whimsy from her.

I 100% owe my deep deep love of complex vocal harmonies and catchy vocal riffs to Destiny's Child. I listened to (and harmonized with) Writing on the Wall incessantly (and then formed a short-lived pop harmony trio called "The Three Faces of Heaven" at the age of 12. Yes I still remember the songs. Yes I will sing them to you). I'm also pretty into most late 90s/early aughts pop beats. Super wacky and hard-hitting.

I can't believe I didn't listen to FKA Twigs before the album process, but I am indebted to Zubin for introducing me to her music (and insane videos). Her vocal-centered and subtlety in experimental production ended up being a huge inspiration for "Trust the Sun." I also got quite inspired by her propensity to go hard into learning a skill for the purpose of a show or music video (ie: pole dancing, wushu) and have vowed to myself to emulate that… one day.

Getting into both Lomelda and Sidney Gish around 2019/2020 helped me majorly lean into the poignancy of super-specificity in lyrics and casual-spoken-like vocal delivery.

I watched Twin Peaks for the first time in 2020 (when the world was watching Tiger King), and pretty much every single-note guitar line on this album was just trying to emulate the Twin Peaks guitar sound.

Blanche Blanche Blanche made my ears perk all the way up and was a big reference for the production style of zany elements flitting in and out without a big to-do, like in AHFTKC (track 9).

Alice in Wonderland as a way of life is the inspiration that just keeps on giving.

I can't not mention Joni Mitchell and Joanna Newsom, two major influences. Their music is not on Spotify (which I deeply respect - I have not had a paid Spotify membership since 2020), so I couldn't include them in this playlist. But I would have included The Last Time I Saw Richard and Leaving the City.
 
What's the live experience like and your philosophy on playing live? Do you think the music live should be identical to the recorded version or should it be its own thing?
The live experience is inevitably so different from the recording experience, and I have come to believe that it's most interesting and fulfilling for both artist and audience to find the aliveness and energy in the space between the two. But that can look very different and vary wildly for everyone. I have, though, always admired artists whose live performances feel a bit like a surprise. Around 2012, I was super into Kimbra, and was always so excited to see her live studio sessions, how she constantly reinvented her arrangements. My friend Elizabeth Ziman of Elizabeth & the Catapult is one of my favorite live performers, mainly because she's so free and playful. She seems to follow whatever impulses come from being deeply connected to the present moment, to the energy of the audience, and to whatever her relationship is with her music that particular day. 
 March 2022 to now has been a wild ride of figuring out how to "best" play the songs on my album live. There has been a ton of experimentation. I think I change my own setup pretty much every show. I've found that trying to hold tightly to the album version can do a disservice to my music and to the people involved in playing it. Ultimately, there is so much more aliveness in a bit of letting go and re-imagining and collaborating with my band members. I'm trying to get better and better at the combination of honoring fun, precise arrangements while leaving space for playfulness/artful accidents/the magic that comes when everyone feels present and free. Also, it's just fun to regularly check in with the songs and see what they're trying to say now. Maybe they don't want to say the same things they said many months ago when we had endless production tools at our disposal. When you make music, it becomes your baby, and you become very receptive to your baby's wants and needs. I'm just trying to get better at listening to what my music wants and needs in any given scenario.
 Has the band toured? What has the touring experience been, best shows? Worst shows?
The band has not toured yet! Just lots of beautiful NYC shows in all different band combinations. I am feeling really grateful for my band and lucky to share bills with other musicians and friends I admire, of all different styles. Some light DIY touring may happen in the spring, only time will tell…
 What's up next for the band?
The album release show is on April 6th at Littlefield in Brooklyn. Full chamber pop band with bass, drums, keys, synths, guitar, harmonies, clarinet, flute, and flugelhorn! Katy Pinke and Alena Spanger are opening. It's gonna be a really, really special one. After that, I'm taking a nap.
IG: @_oropendola / https://www.instagram.com/_oropendola/?hl=en
TIKTOK: https://www.tiktok.com/@_oropendola