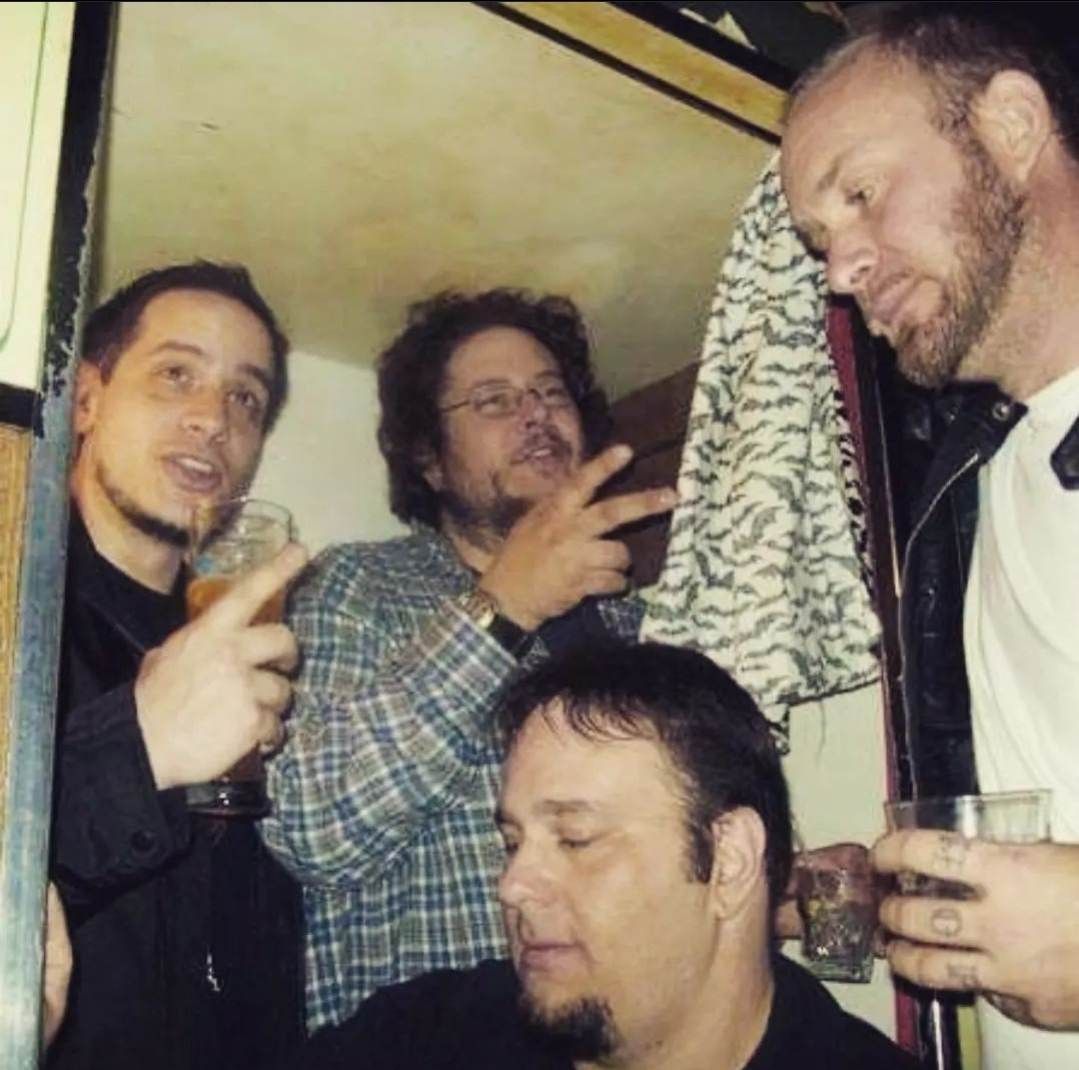 The Dark Brothers have released "The Dark Brothers" - a 20 song collection, consisting of their only 2 recordings, 2005's "Karma Kills" & 2007's "The 7 Steps to Enlightenment". The first record recorded digitally in a garage, the 2nd analog, reel to reel, 2" tape and all. There is a contrast of sounds between the recordings, but a certain consistency in their vibe - a sort of nihilistic alt-country/punk hybrid of sorts. A commemorative CD is in the works.
Drummer John Steele shared the following retrospective, providing background and perspective regarding the new release.
DARK BROTHERS RETROSPECTIVE 
Dark Bros days have become kind of a blur to me (as a lot of things have) in the last few years but there definitely were some key memorable moments during that time, especially early on in the bands development. In 2004 I had been revisiting the Johnny and the HasBeens record I'd done with Josh Silverman in 1999. I was always a fan of his work with Shirk Circus, and I appreciated his style and sound. His approach to song writing had a quality I hadn't seen in local musicians. So, I decided to reach out to him to see if he'd be into doing something. His response was that he had already started playing again, and was co-writing with Joe Puggle (who I had not known personally at the time, but was familiar with his previous bands.) We decided to set up a rehearsal, hash out some new material he and Joe had been working on, and possibly revamp some Shirk songs, which Josh felt would be a bit heavier with Joe and I playing on them. Soon after, Jeff Gashler was brought in on bass, who I had never met before but quickly appreciated his heavy bass playing, somewhat reminiscent of Nick Oliveri to me. I think all four of us realized the magic of this group, we started writing and quickly fleshed out some new songs we decided to take into the studio. Rough demos quickly became keeper tracks for a debut record...tossed in the revamped Shirk Circus songs like I had previously mentioned, and "Karma Kills" was produced. 
The combo of Josh and Joe's alternate lead vocals were something I always liked in this type of band, and I felt was important in our sound. DB had a type of looseness and casualness to playing that would almost consist of the four of us doing completely different things within the same song but yet staying together. Josh would alternate between guitar and pedal steel, sometimes acoustic guitar. We could jam for long periods inside certain songs. I never felt we had the right audience for this band though..sometimes it's like that though, bands come along at a time when people aren't ready for them. Sadly since the passing of Josh and Jeff this is all we have left, the two records we made in a few short years.