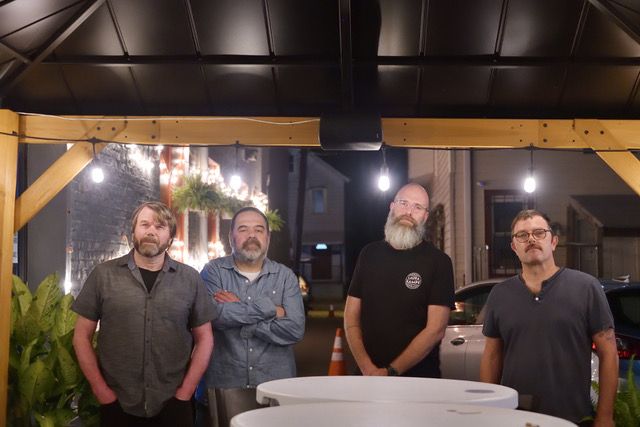 San Tropez is Ralph Nicastro (guitars/keyboards/vocals), Albie Connelly (guitars/vocals), Frank Bridges (bass), and Andy Fountas (drums). The band calls Central New Jersey home and has been together for five years. San Tropez's 10-song debut album, Maybe Tomorrow, is out now on Mint 400 Records. 
How did the band form and what does the band name mean? 
Frank posted a picture of a Guild Starfire bass on Facebook and asked, "Who wants to start a shoegaze band?" A few hours later the band was formed, and a practice date was set. 
The band name is more about the Brigitte Bardot-era vibe of Saint-Tropez rather than the Pink Floyd song. 
How'd you first get into music? Previous musical projects? 
We've all been playing in bands since the early-90s with most of them being out of New Brunswick, NJ. 
Ralph was in Wreaths, Aviso Hara, Sparks Fly from a Kiss; Albie was in Angular Brothers, Stuntcocks, and Urchins; Frank was in Magic Mountain, Duochrome, and kiaro skuro; and Andy was in Magic Mountain, The Border States, and Duochrome. 
First concert that you ever went to? 
Ralph – David Lee Roth - Eat 'Em and Smile Tour 
Albie – Live Aid in Philly 
Frank – The Go Go's and INXS - Prime Time Tour 
Andy – Bruce Springsteen - Born in the USA Tour 
What's your writing process like? 
The songs all start with Ralph - drum machine, late at night, with a buzz. Every song starts with a mood, a tone, a feeling, and from there parts are worked out and elements layered. These come to the band in various states, and we keep building them into songs. We'll play them out and make more adjustments and finally solidify everything in the studio. Age has given us the freedom to check our egos and just work on making good music. It's very freeing and productive. 
What other artists or songs inspire your music?
This ties into the writing process as well. Each of us likes a wide variety of music that might be different in some ways to others in the band, but we also have a core overlap of music that we grew up listening to in the 80s. And then in the 90s, we were in different bands that carried those similar influences through. From Sabbath to The Cure and New Order to Pavement and Built to Spill to The Black Angels. All of these artists are building on each other's efforts – moving things forward – and we've all been building on that process along the way for the past 30+ years. 
 
What's the live experience like and your philosophy on playing live? Do you think the music live should be identical to the recorded version or should it be its own thing? 
The live versions of our songs are never identical to the recorded version because the recorded versions have so many tracks layered on them. However, we do try to stay true to the songs–like tempos and stuff–once they are recorded, though we might extend an intro or an outro live if we feel it's necessary. Also, our friend, Phil Pirri, has been playing keyboards with us the last few shows and it has really helped to round out the live sound we've been looking for. 
If a song hasn't been recorded yet we're still feeling out how it should be, so those can have a wider variety to how we play them out. We're always noodling with guitar parts and keyboard parts. We're always looking for new touches to make the songs whole. 
Our main philosophy for playing live is getting into character with a little drink and/or smoke and having fun with the songs. The best feeling is when it sounds like we're barely hanging on and could go off the fucking rails at any second. 
7. Has the band toured? 
We have not formally toured. We've played throughout New Jersey in Asbury Park, Jersey City, and Highland Park, and played in Brooklyn, as well. 
8. What's up next for the band? 
With Maybe Tomorrow coming out we plan to play out more and do some video work around the album. We already have several new songs fleshed out and plan on getting back into the studio in early '23, as well. 
https://santropez.bandcamp.com/ 
https://www.facebook.com/Santropezband