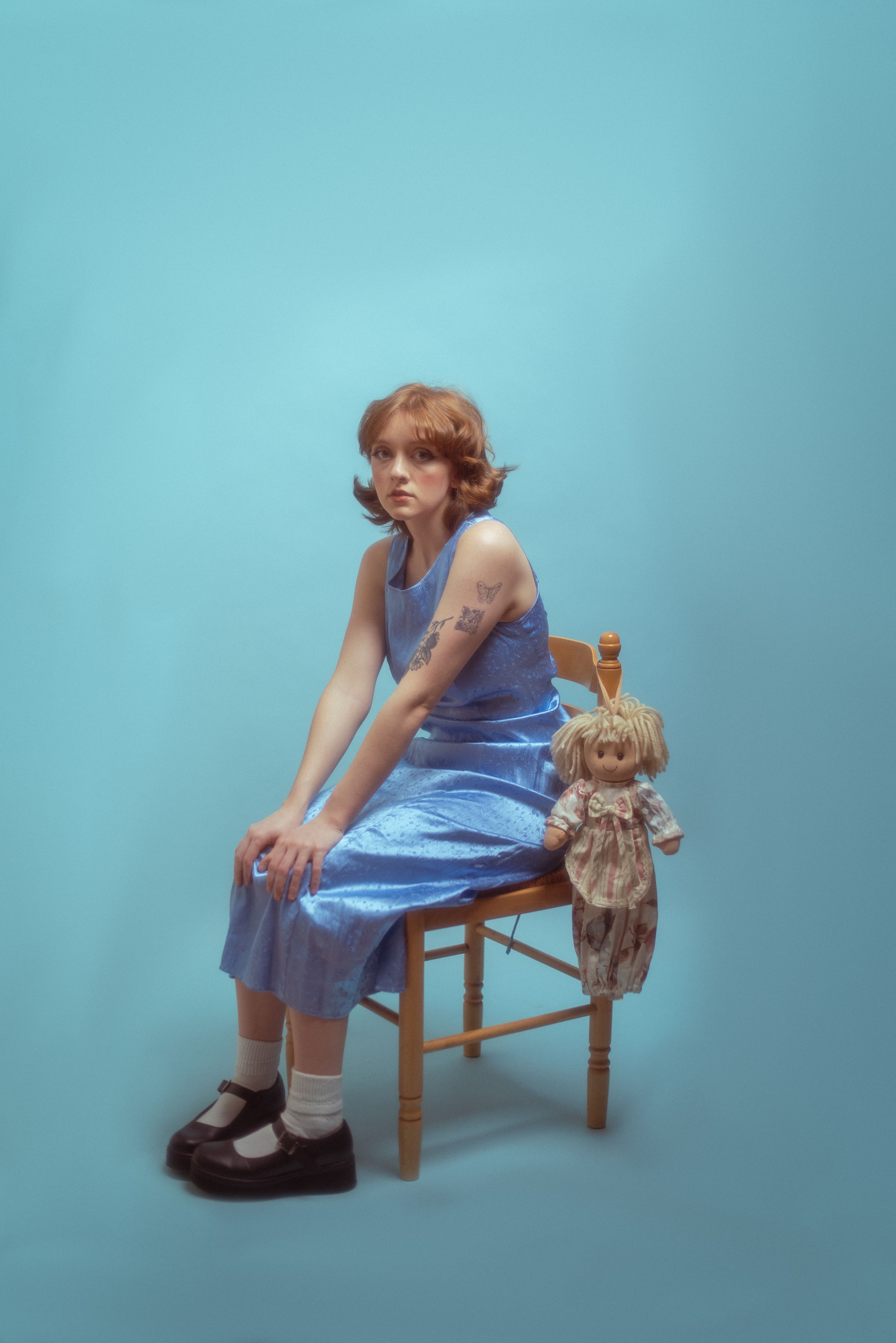 Somewhere between a band and an alter-ego, Sally Hatchet douses songwriter Katie Glasgow's confessional and vulnerable lyrics in sticky 90s nostalgia. Born from a desire to escape more fully into music and characters, Sally 
Hatchet parts from indie-pop niceties and looks toward the unapologetic moxie of The Cranberries, Pixies, and The Breeders. The newest addition to the excellent Favorite Friends Record label in Jersey City, we got to learn more about this exciting new artist who's newest effort drops on 1/20/23: 
How did the band form and what does the band name mean? 
I'd been playing as a solo artist under my own name (Katie Glasgow) for some time with various iterations of bandmates and set-lists. Luckily for me, our drummer Jonah is the brother of my best-friend/roommate, so he joined on pretty early and has played probably every version of my songs in every possible arrangement. It's been fun to explore so many different ways of playing together and Jonah now has an incredible ear for interpreting what I mean when I'm talking gibberish. 
Jonah's best-friend/roommate is conveniently a multi-talented musician (Max) who has been a part of the project for a while now as well, and has transitioned from guitarist to Sally Hatchet resident bassist. Our guitarist (Carissa) was roped in very recently, shockingly not via a best-friend/roommate, but through a listing on BandsDoBK , which is the holy-grail of music classifieds here in Brooklyn. Her joining was the final piece in the Sally-Hatchet-as-a-Real-Band puzzle. 
The name Sally Hatchet is less of an homage to Father John Misty's "This Is Sally Hatchet", and more, if anything, an homage to my friend Garrett who dropped by a recording session and referred to me by the name in passing. I guess it stuck to me, and I do love the pre-populated lore from the Father John Misty song. "Sally Hatchet lives in a hole in the ground…" 
Previous musical projects? How'd you first get into music? 
I studied classical music for most of growing up and went to college for opera performance, but I was always drawn to explore all kinds of music. I was briefly half of an indie-pop duo called minikit that was great practice in different writing styles and performing contexts. The more involved I became with the Brooklyn indie music scene, the more and more like-minded people I connected with and the more sounds I heard that excited me. I eventually shifted away from the classical world and started writing, recording, and performing my own stuff. 
What other artists or songs inspire your music? 
I find the self-indulgence and attitude in so much of the great 90s grunge and rock music to be really refreshing. In the past, I've leaned toward headier lyric writing and singer/songwriter structures, but I feel that can be exhausting both to write and to listen to, though I believe there's still a time and place for it. 
There's an air of ease buried within the grit of these 90s records - Forsythia by Veruca Salt, Scentless Apprentice by Nirvana, to name a few, where the lyrics are detached and illegible like passing thoughts. I love the moments in these songs that burst into noise-for-noise's sake before running out of steam and retreating, expelling and decaying like human bodies. There's something brave about it, and I hope I captured some of that violent, apathetic freedom in [the band's upcoming single] *Habitat*. 


What's up next for the band? 
Hopefully lots of shows in the Brooklyn and NYC area in 2023! And our first singles will be coming out this year as well, starting with *Habitat, *which comes out January 20th via Favorite Friend Records (Pre-Save/Stream here https://distrokid.com/hyperfollow/sallyhatchet/habitat). Follow us on Instagram and Spotify to keep up to date with us https://www.instagram.com/whoissallyhatchet/