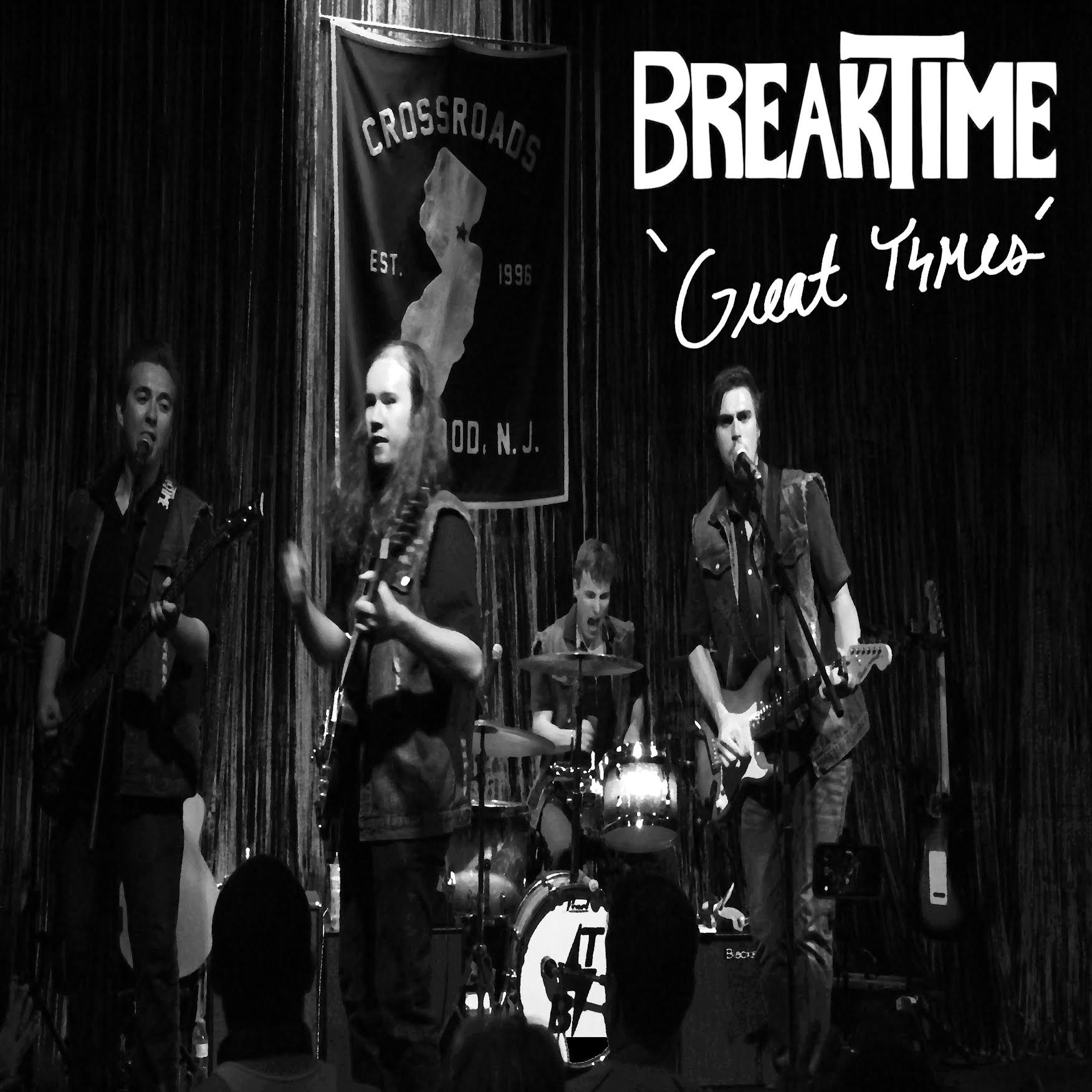 Do you think rock 'n' roll is a past generation's relic? Think again. BreakTime champions an upbeat, optimistic pop rock songwriting style with generous vintage touches. BreakTime formed in 2018 to inject long-loved classic rock songs' youthful energy back into their present performance. In 2021, the objective shifted to supplementing modern pop songwriting with vintage flair. A common occurrence emerged at BreakTime's live shows: listeners who primarily stream anything from hard rock and punk to shoegaze and country told the band they enjoyed their modern vintage sonic profile! When BreakTime is not releasing new material, the "spuds" (term of endearment) perform the odd cover show and share dockets with original acts around the NY-NJ Metro Area. We caught up with the band to chat about their project: 
How did the band form and what does the band name mean? 
Sean: I founded BreakTime as a hastily-assembled five-piece in my junior year of high school, May 2018. It was done so hastily because, upon learning a local talent booker sought acts for a fairly big carnival in my hometown, I pitched a band I did not have and (an arrogant teenager I was) bet on myself to get a then-cover act onstage within two weeks' time. My uncle and a friend spawned the name "BreakTime" over drinks at a local bar called The Starting Point, the friend commenting, "You know…Everyone needs a good BreakTime." Though my uncle believed it was silly, I went with "BreakTime" and it stuck! Though we showed how "green" we were, I did get BreakTime onstage at that carnival. Huzzah! BreakTime soon folded in July 2018, however, and underwent frequent lineup changes. The high school colleagues I enlisted proved amateur and averse to long-term commitment while I craved consistency to build a sustainable business structure. Thommy Delaney, our lead guitarist, joined in March 2019 and remained loyal while others faltered from the pandemic. Observing my writing ability and breadth of originals I compiled since 2018, we shifted to originals and released our debut single "Rock N' Roll Refugee" in July 2021 with BreakTime being a studio duo. We then gigged with a few part-time players and recruited Douglas on rhythm guitar in September 2021. Almost a year to the day, Peter came to drum for BreakTime in January 2022. We finally had our first full year with "real" paying gigs and released our debut EP Great Times alongside the single "Maybe No, Maybe Yes" on Friday, December 16th, 2022. 
Previous musical projects? How'd you first get into music? 
Sean: I used to perform instrumental piano pieces before BreakTime became my lifestyle. Music from the British Invasion dominated my formative childhood years. My parents recall my keen observation of Paul McCartney in The Beatles's "Hello Goodbye" music video when I was but a toddler. I did not feel confident I could play the guitar or bass when I was younger; so, I gravitated to the light-up keys on a 1999 Casio keyboard my mom bought for my dad. My dad soon pushed me to take piano lessons and I obliged; although, I detested learning classical music. My teacher adapted, arranging Beatles songs on piano for me. She cultivated my musical abilities and love for the art, equipping me for continued training in high school and university. I first had trouble finding bassists for BreakTime; so, I decided I could do it in 2018 and trust the person in that position would not quit and knew what he was doing. 
Thommy: I sat in on a few performances with a local rockabilly group prior to BreakTime. The Beatles, The Monkees, Elton John, and Brian Setzer curated my childhood playlist. I became interested in the guitar after I thoroughly enjoyed the games "Guitar Hero 3" and "Rock Band." Similar to Sean, I mastered tunes from The Beatles's catalog and decided it was a career path I liked. 
Douglas: I released some projects under the name Loop prior to my membership in BreakTime (and still continue to do on occasion); however, I didn't really gig before this. My journey in music started when I was a kid performing in local musicals. I picked the guitar up in high school through a mix of playing by ear and guitar lessons from the legendary Vin Downes. Downes's constant encouragement inspired me to write, perform, and record my original music. 
Peter: I collaborated with an indie artist in Brooklyn studio work pre-BreakTime. Michael Jackson's performances first entranced me when I was a child. Dancing first, I faithfully copied MJ's moves from the TV screen until I had a perfect re-enactment. The piano and guitar first lured me to instrumental music; but, the drums hooked me. 
First concert that you ever went to? 
Sean: David Cassidy gave me my first concert experience. Since I may have fallen asleep (no offense directed at him as I was extremely young), I don't remember much of it! With some time going into my teen years, I went to see Billy Joel during his still-running-strong Madison Square Garden residency. The mix's clear fidelity—in a truly unique space as Madison Square Garden—and Joel's motorized piano platform impressed me. 
Thommy: My first concert experience was with Elton John.  I don't remember much of the concert since I was younger then; but, when I got older, I fell in love with Elton's music. It truly began to inspire me now that I'm a musician too. 
Douglas: I'll never forget it. My dad is a huge fan of the country band Sugarland; so, when I was around 7 years old, he took my family to one of their shows. I remember when they first took the stage, the bass's loudness caused me to panic to my dad how my chest was going to explode! I calmed down after that initial shock and the concert turned out to be pretty awesome. We still always joke about that. 
Peter: I had my first concert experience with the Avett Brothers. Funnily enough, I had never heard their music before; though, I was happy witnessing all the people either just happy or drunk listening to the group. I was 13 and the Avett Brothers' performance excited me. As we were leaving—a memory I will never forget—some guy who looked like my older doppelganger offered me a blunt. I ran to him and my dad pulled me away, giving me the wildest look. 
What's your writing process like? 
Sean: I'm very flexible in my writing process. Sometimes, I start with a melodic idea and construct a song melody-first; meanwhile, I sometimes hear or read a phrase, find it poetic, and render a lyrical form instructing melodic structure and chordal rhythm. 
Thommy: I typically start with a chord progression. After I have a foundation for the song's tone, I work the melody out. Lyrics take the longest for me and come last. Regarding guitar solos, I mix and match scales until I arrive at a perfect, magical lead. 
Douglas: I don't really have a go-to process for songwriting. I try to experiment with different techniques like thinking of a certain phrase or words I read somewhere, or coming up with a chord progression that has something unique to it. I strongly lean on the lyrical side of my songs and attempt to create enthralling, relatable stories. 
Peter: My personal form begins on the drums. I assign percussive themes to each section I develop and build the chord progression from there. Jazz education dictates my arrangement choices since I like to pick from an atypical genre array (like Latin, funk, reggae, and hip hop). I make drum solos in the form of a crescendo and utilize techniques like pitch-bending on the toms and loosening the snare wires. 
What other artists or songs inspire your music? 
Sean: My melodic instincts and chord progression construction are heavily dictated by my fandom for The Beatles; meanwhile, I aspire for The Beach Boys' aura when I construct BreakTime's harmonies. The lyrical aim is light-hearted and fun like Elvis Presley's early catalog. I channel the Rolling Stones in harder material. 
Thommy: Two other artists that have really inspired my music are Brian Setzer and Adam Schlesinger.  From the Stray Cats to the Brian Setzer Orchestra, Setzer's music still fascinates me and opened my mind to other genres of music such as rockabilly, big band jazz, swing, and much more.  Adam Schlesinger is one of my favorite songwriters from the more modern era of music.  Even though he's known for writing the Fountains of Wayne hit "Stacey's Mom," I will always remember him as the guy who wrote "That Thing You Do!" from the movie with the same title.  The two songs are very different in sound which made me realize Schlesinger can write more than just modern sounding pop rock hits.  From hearing "That Thing You Do!", I wound up writing my first original in 2020. 
Douglas: I find The Black Keys a modern version of The Rolling Stones and enjoy their indie blues production. Dr. Dog's versatility to genre hop from folk to psychedelia and lofi-rock is a similar quality we emulate in our music. 
Peter: The Bill Evans Trio and Sting greatly inspire me. I love the Bill Evans Trio—especially his early stuff with Paul Motian and Scott Lafaro. Their ability to be one huge unit dynamically adding to the solo conversation pushes me to create great music. Sting's ability to make odd songwriting choices feel comfortable reminds me how there exists a vast wealth of possibilities in the creative process and, with focus and skill, nothing is unattainable. 
What's the live experience like and your philosophy on playing live? Do you think the music live should be identical to the recorded version or should it be its own thing? 
Sean: Live music is exhilarating. As I am the director for our live shows, I construct them from a perspective grounded in quality control; therefore, I normally veer on the side of playing our music identical to the recorded version. In some cases, however, we feel the temptation to arrange special live versions for spontaneity. Be on the lookout! Anything is on the table for the fans' entertainment. 
Has the band toured? What has the touring experience been, best shows/worst shows? 
Douglas: After our first full year gigging together, I believe our July 2 headlining show at The Crossroads in Garwood was our best show of the year and a "watershed moment" for BreakTime. Our worst show wasn't truly bad in any way other than it taking a village to put it together. We performed for October 8's Cranford Porchfest and volunteered our PA system for the event. Our porch's lineup was fantastic! As we did not have a live sound engineer on-staff, however, we ran the board for everyone. Though a bit stressful, the production was stellar and the neighborhood received the acts extremely well. 
What's up next for the band? 
Sean: BreakTime plans on a follow-up double single TBA in February and...let's keep it hush-hush 😉...a Summer 2023 EP. BreakTime 2023 show dates coming soon! Follow us @breaktimelivenj (you'll find us anywhere).