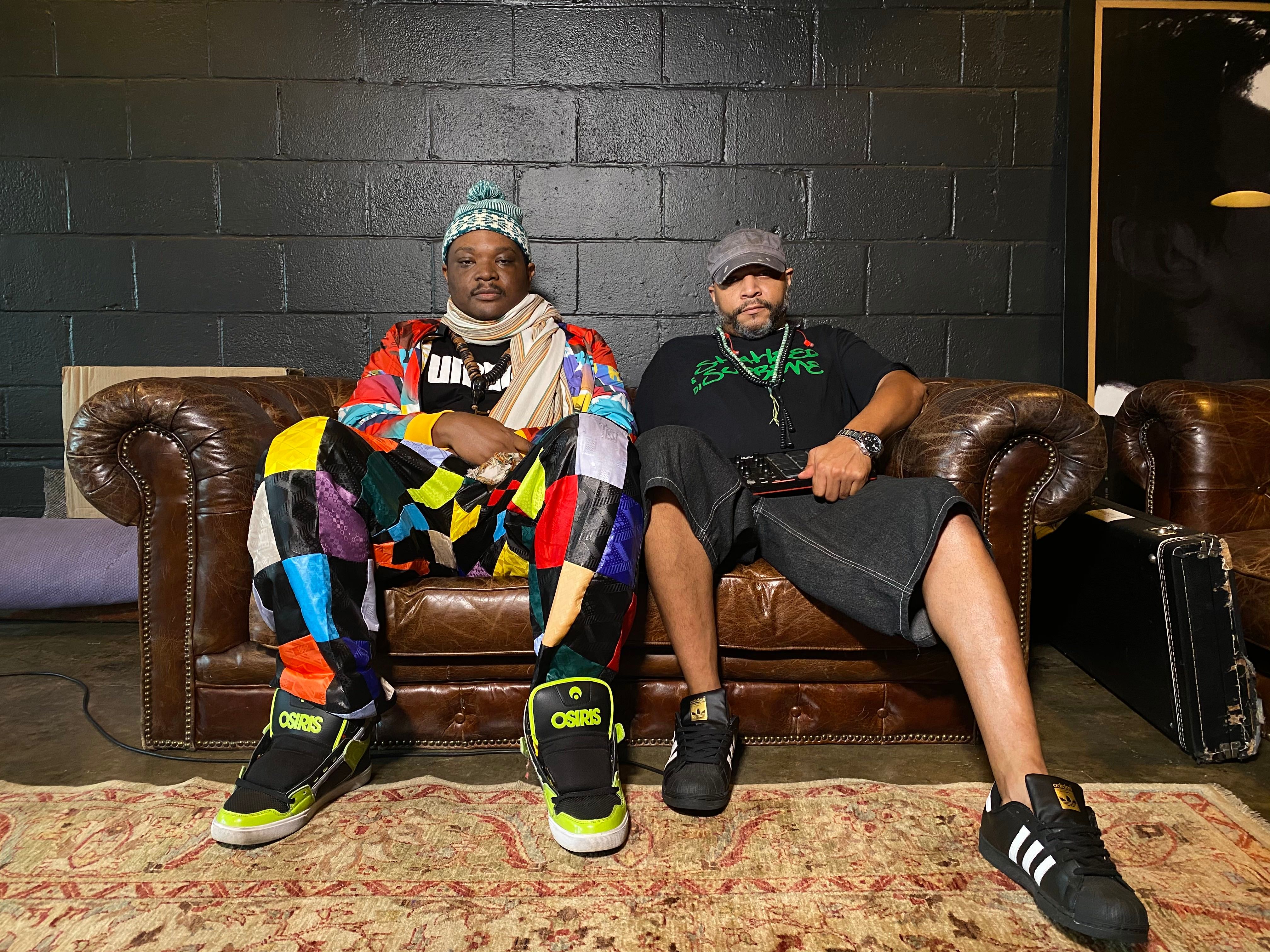 Birmingham, Alabama hip-hop duo Shaheed and DJ Supreme have just released two brand new music videos. Both "Skates and Crates" and "Life as a Farmer" celebrate some of the things their city is doing exceedingly well, and BMN recently interviewed the duo about the clips. Read the interview below. 
 Why was it important to create a track about the skateboarding scene? Was there a particular moment that inspired the concept for the song?  
Shaheed: It was important because here in Birmingham, Alabama, it took a very long time to get a skate park and a lot of my friends are great skaters and I know they have waited a long time. We also have one of the best skate shops in the world here called Faith Skate Supply, run by Peter Karvonen, so we wanted to highlight them and their hard work. This song I sat on for a long time but at the grand opening of the skate park here I was spitting the hook and one of the organizers loved it and I told him I had a whole song and we went in the lab and knocked out. 
DJ Supreme: We've aways felt that hip hop and skate culture go hand in hand. The city of Birmingham is progressing with pushing skate culture forward with the recent building of the City Wark Skate park. That along with the longtime contribution and commitment of Peter Karvonen and Faith Skate Shop to the Birmingham skate and hip hop communities inspired us to move forward with "Skates and Crates". 
Can you describe the experience of filming the music video for "Skates & Crates"? Is their a favorite moment from the shoot? 
Shaheed: This video was so fun to shoot because of the breaking and the skating and the skate shop and skate park. The director Richard Giles captured the moments perfectly. My favorite moment was when my friend Carlo did an Ollie over me. 
DJ Supreme: What I remember is that it was REALLY COLD on the day we shot the video. I could barely stand it lol. 
Both tracks have such a wonderfully classic hip hop essence! Why is it important to keep that "old school" hip hop feel alive?  
Shaheed: Well, we don't say old school we honestly say classic and vintage. It's important because we are trying to preserve the art form for the next generation and show them that there is still value in it. We teach our students this at our foundation called Knowledge Rhythm and Understanding and it's one of the places where we practice and keep it alive. 
DJ Supreme: Classic hip hop is what we were brought up on. The old school feel is undeniable. There's something about the vibrations that make it palatable for all ages. Kids and adults can't help but gravitate toward it. That's why we make our music available for all ages. We want everyone to be able to listen to our music. 
At the start of your musical careers did you instantly know you both wanted to create meaningful music that would make a difference?  
Shaheed: Yes absolutely. Meaningful music means it can touch someone's life in a positive way and when that happens you can make a difference of positive change. 
DJ Supreme: I was brought up listening to emcees like Chuck D, Rakim, KRS One, and Wise Intelligent among others. Messages are the cornerstone of real emceeing. I always said when I start making records, I wanted to make them sound like the emcees I admired the most. 
The "Life as a farmer, make sure that you dig it…" lyric is so insightful! What does that lyric mean to you both?  
Shaheed: The line "life is a farm, make sure that you dig it" means to live life to the fullest. It means enjoy nature and enjoy all the beautiful things that life has to offer and enjoy all of your blessings in a good way and be thankful. 
DJ Supreme: I wanted to make sure to bring attention to the importance of farming as a skill. Eating healthier is a hot button topic all over the world. The only remedy to making sure what we consume is good for us is to ensure we are the ones cultivating and growing the food we're consuming. 
What do you both envision for the future of Shaheed and DJ Supreme as a duo? 
Shaheed: New music and growth as artist. We have a new album called The Art of Throwing Darts coming in the near future on the record label Communicating Vessels and a project with the legendary jazz artist Eric Essix, and continuing teach the elements of hip-hop at our foundation called Knowledge Rhythm and Understanding. 
DJ Supreme: We have recently launched our imprint K.R.U. Recordings and a new distribution deal with WhoMag/Sony Orchard Distribution. We have a new album entitled The Art of Throwing Darts releasing soon with guest appearances by Slug from Atmosphere and r&b star Raheem Devaughn. Additionally, we're dropping new projects with hip hop legends Akil the MC (from Jurassic 5) and Ishues, as well as Birmingham-based jazz legend Eric Essix.