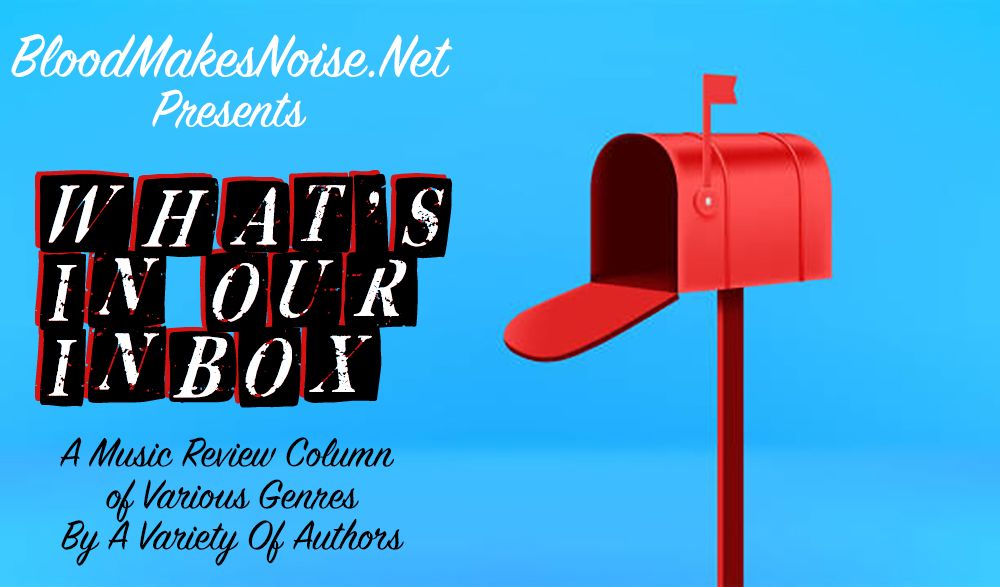 Our inbox is over flowing again so we are letting you good people know exactly what is new and available out there in the music world. We have been so overloaded this fall that we've had to extend our coverage to more bands per article but we want you to know we get hundreds of releases and only bring you the best of the best. So we hope you appreciate that! I'd say 95% of it is worth adding to a playlist. If you want to see your band on one of these lists, send us streaming music and as short bio. 
Band: American Thrills
BloodMakesNoise Rating: 7.7/10

What they say they sound like: In regards to the song, the band says "We reached out to Scott Stapp on multiple platforms and he refused to sing on this track. Dude is a poser. We will be spitefully playing Creed songs at Fest later this month. Be there or be square."
What we think they sound like: On "Ego Death", American Thrills deliver a snarling emo/punk anthem decrying the pitfalls of adulthood and quarter-life unease. It's the type of in-your-face rebuke to the demands of modern life we've come to expect from modern American punk bands, but its steady, pounding rhythms and impassioned riffs nonetheless gets your blood moving.
Band: Joe Baughman + The Righteous Few
BloodMakesNoise Rating: 8.8/10
What they say they sound like: The new single and video follows the album announcement and recently released single "Prophets Mouth," which Glide Magazine described as, "an ambitious musical concept with snippets of old-time folk with a true troubadour ethos."
What we think they sound like: Single "Vacant Spaces", and its accompanying stop-motion visual created by bandleader Joe Baughman himself, is a delight. The band's sound feel like a chamber-pop Punch Brothers, or supergroup BNQT. It's rootsy, heartfelt, and clearly a labor of the utmost love from start to finish. Anyone who calls themself a fan of folk would do well to check this one out.
Band: The Bellwether Syndicate
BloodMakesNoise Rating: 8.1/10
What they say they sound like: "Dystopian Mirror was written about a dear friend of ours, who lost his mind, and eventually his life, to drugs and alcohol. I found that I was still grappling with the sense of loss and lingering anger about the whole thing years after the fact and, ultimately, all those feelings and emotions ended up coming out here, in this song. The lyric is meant to be coming from the voices inside his own head, during his descent into the realm of the unwell," says William Faith.
What we think they sound like: Lead single "Dystopian Mirror" kicks off the band's upcoming 'Vestige & Vigil', a new full-length album out in 2023. With its gritty, distorted guitars and haunting vocals, the new offering reminds us a bit of The Damned, with a little Molchat Doma mixed in. It's sure to please any goth rockers out there. 
Band: Jei-Rynn
BloodMakesNoise Rating: 7.7/10
What they say they sound like: Jei-Rynn's songs have been described as "journal entries." Based in and native to southern California, the artist began writing his own songs as early as 12. Jei-Rynn's art and songwriting was always an oasis to him, an outlet. His music is evocative of familiar alternative artists like Nirvana or more modern alt acts like Yungblud or Twenty One Pilots, but his sound is also singular and new. It's the voice of a misfit; outsider music in a pop-friendly package. 
What we think they sound like: Jei-Rynn is an interesting new figure in this generation's wave of rock. His catchy rock tunes certainly nod to pop-punk influences (think All-American Rejects or Mayday Parade), but upon closer listen, there is quite a bit of potential for full-on pop crossover. Tracks like the trap-inspired "walk away" would work well on a Lil Peep-themed playlist, while piano-driven dark pop earworm "sleeping (all day)" sounds like it could have been written for Bella Poarch. 
Band: Dosser
BloodMakesNoise Rating: 8.0/10
What they say they sound like: Over the past decade, it's become increasingly in vogue for bands to pay lip service to 90s alt rock, but many of them capture only the most surface level cosmetic elements, missing the critical components that defined that decade's underground scene. A chorus pedal, a Big Muff, and a flannel don't go far on their own merits. To put it bluntly, many groups fundamentally do not "get it". But Baltimore, MD's Dosser absolutely does.
What we think they sound like: Grungy noise-rock act Dosser is sure to excite fans of Nirvana and Foo Fighters, but also push boundaries with harmonics that demonstrate their skill as musicians and add a modern, experimental-rock edge to their formidable sound. The Baltimore, Maryland-based act's full-length debut, 'Violent Picture / Violent Sound' arrives in January 2023.
Band: Letdown. (The Bloody Beetroots remix)
BloodMakesNoise Rating: 7.8/10
What they say they sound like: a reimagining of the Chicago/Nashville-based songwriter and vocalist's emotionally charged single. Teaming up with the acclaimed electronic act The Bloody Beetroots — the punk rock and comic book-inspired creation of Sir Bob Cornelius Rifo that mixes his classical training, his punk obsession and his passion for electronic music into an edgy rock-meets-dance hybrid sound — the remix is a dark and harrowing offering that pairs well with the song that details the internal strife that heavily informs Blake Coddington of Letdown.'s songwriting. 
What we think they sound like: On this interesting fusion of genres, Chicago-based rocker Letdown. (AKA Blake Coddington) opts for an EDM reimagining of his work, courtesy of electronic duo The Bloody Beetroots. It recalls the heyday of late-2000s artists like Skrillex or Linkin Park with its mix of electronic with Letdown.'s original heavier rock sound. It's a unique creative endeavor sure to satisfy music lovers in both camps.