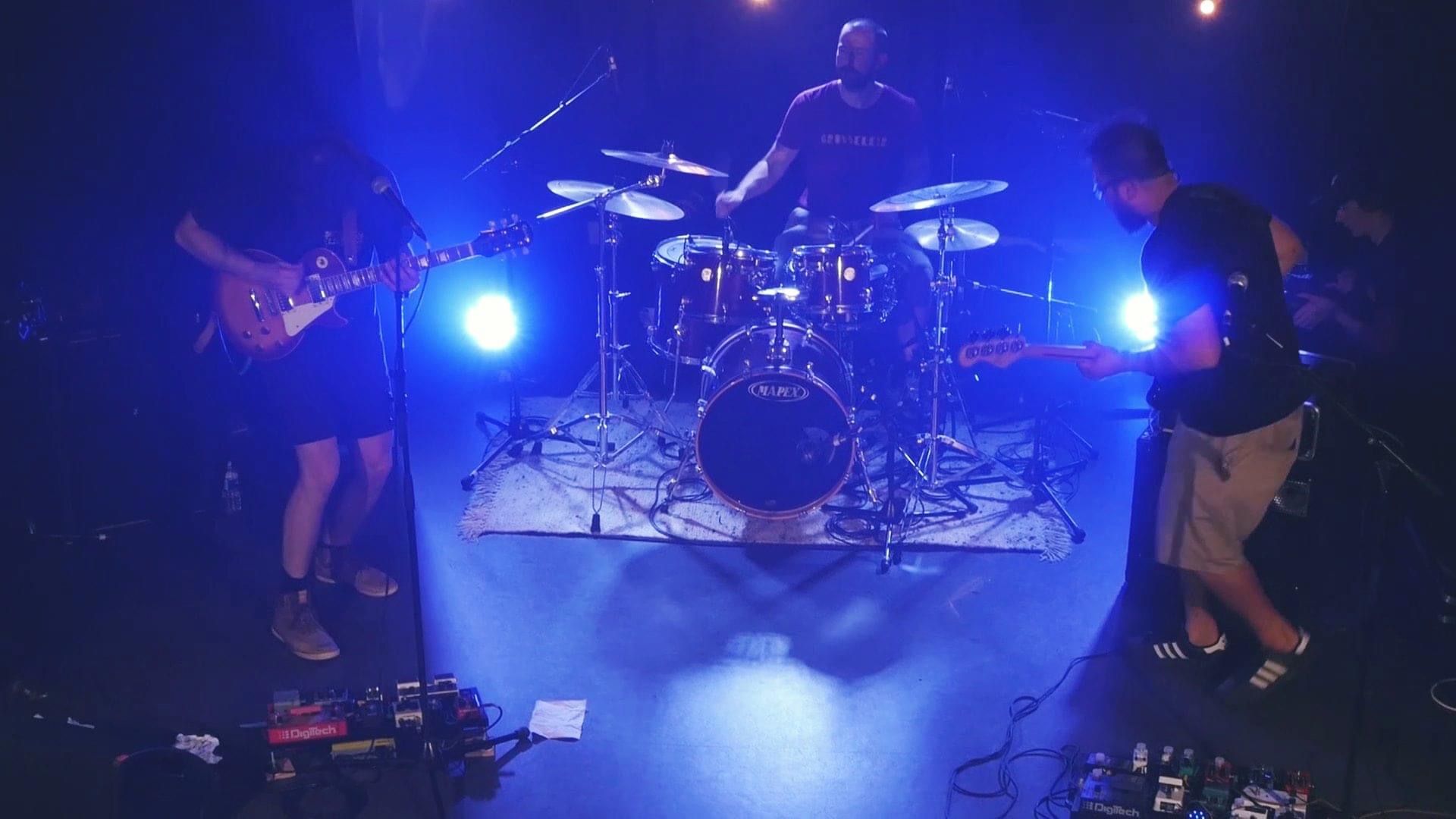 Hi, we came across this amazing fusion band from France but English is not their first language. They carefully put this together and we don't want to change any of their wording. Directly from the band here is their bio and they were kind enough to do a full interview with us:

KOS is born in 2017 on a french limestone tableland called "causses du quercy". It's the result of a mix between a jazz 
drummer, a metal bassist and an imaginative guitarist. guys are traveling between powerful lines and attractive 
melodies. let's call it brambles prog rock. A 3 song demo is out in 2019 and gives the direction fellows are taking together. The second one called "la caussenarde", in 2020, definitely brands the identity of that band. 
In 2022, they produce a new EP called "3", 3 homemade songs sustained by a great animation video of Pevin Kinel for 
"le bus". KOS heatedly wants to spread their music out. 
How did the band form and what does the band name mean? 

Initially we were 3 musicians with our own projects. We knew each other before 2017 through our girlfriend who worked 
together and also with Kewin. We saw each other at work parties and we often talked about music. In fact, Kewin was 
composing quite a bit alone and he was chasing us with Simon so that we could do something together. In 2017, the 
band I was playing in broke up. For Simon it was a bit the same. Suddenly one evening, we brought our musical 
instruments back to Kewin and we started to work around his riffs and songs. 
The name KOS was formed by the first letter of our 3 first names (Kewin, Olivier, Simon). It quickly put us in agreement 
because it showed the union of our 3 universes (Jazz, Rock, Metal) and it highlighted the fact that our music is eclectic. 
In addition, as we play music on the Causse, a very inspiring landscape, it sounded perfect. 

Previous musical projects? How'd you first get into music? 

Kewin (Guitar): I remember Bob Dylan is the musician who made me switch into music. I found an old orange tape in 
my father's furniture, It was the "Slow train coming". After a hundred listening I decided to learn the chords I needed to 
sing it. Thank you Bob. 

Olivier (Bass guitar) : I used to be a guitarist and singer (screamer) in several bands (Psoreasy, resentful mind, 
absded). oh, there was also this solo project where I was writing songs about dying cats (neurOne) 
I began playing music around 15. There wasn't any musician around to bring me up, or school music, but often music at 
home. Than someday a friend of mine brought me to a rehearsal, and I discovered that these guys ain't pro musicians, it was unsteady but there was so much fun! So I was thinking, man, you can do it, it's not so far! 
Back home, I recovered an old guitar and began to work and quickly I found a band at school, they were searching for a 
second guitar…they were more gifted than me so I had to work hard. 

Simon (Drums) : I've been in several cover bands and jazz ones. I began drums when I was 12 with my uncle, who was a great jazz drum player (he played with Nino Ferrer), then in a rock band at school. 

First concert that you ever went to? 

Kewin (Guitar) : I was around 15 yo. My teacher proposed me to go to an Elton John concert in Brussels, we both 
liked it. I was so excited, because of the gig of course, but also because I was a litle bit in love with her....unfortunately 
she didn't deflowered me. Nice gig though! 

Olivier (Bass guitar) : The first gig I've been by myself, around 16, was a local band called Groovyshiva. These guys 
used to play with some french bands like lofofora or aqme, they did it fucking good and convinced me I had to play 
music. 
Simon (Drums) : I've been to some jazz gigs in a pub when I was 15, than that Ben Harper concert in Toulouse at 
seventeen. 

What's your writing process like? 

Kewin (Guitar) : Well we build together a progression around an idea. This idea may be a 4 notes riff or an entire song. 
Than begins a kind of Lego game: we add two red bricks, than a window or some green stairs, and slowly try to build 
something nice and interesting by maintaining the balance of the house. We love to add some surprises, it's important to 
us! 

Olivier (Bass guitar) : Seeds of our songs is often brought by Kewin. He comes with an idea, a rhythm, the beginning 
of melody or sometimes an entire song. I think Simon and I are building a kind of rhyming or tuning clothes around this 
idea. My point is to move our audience's heads, regardless the kind of tune, jazz, latino or metal stuff, I always focus 
about what I'd love to feel and hear as a spectator. 

Simon (Drums) : As a drummer I follow the ideas of my fellows 

What other artists or songs inspire your music?
 
Olivier (Bass Guitar) : Before any other, I say Limp Bizkit. I'm a fan of Wes Borland's playing style. Technical stuffs 
are not my cup of beer, I like simple and efficient things, and this guy has a sound you will easily recognise. As Tom 
Morello, they worked hard at the quality and identity of their sound. For Nookie, he played a guitar modified with bass 
strings, I love it! Tool was another revelation to me, they brought me out of the verse/chorus structure and made me 
thinking about the album's concepts. 

Simon (Drums) : Jon Théodore, Jose Pasillas, Ian Paice, Brad Wilk.. 

Kewin (Guitar) : 
● primus: my name is mud  
● sonic youth: becuz  
● deus: suds & soda  
Olivier (Bass guitar) :  
● Limp Bizkit : Nookie  
● Tool : Parabola  
● The Chariot : The City  
Simon (Drums) :  
● The Mars Volta: Roulette Dares.  
● Incubus : The Warmth  
● Deep Purple: Strange kind of woman (live made in Japan)  
● Rage Against The Machine : Wake Up 
 What's the live experience like and your philosophy on playin live? Do you think the music live should be 
identical to the recorded version or should it be it's own thing? 

Olivier (Bass Guitar) : I love the band "the chariot", they helped me to rethink my view of live music. The live video of 
the song « The City » was a real slap to me, so much energy! Live is the center of kos project. We never record a song 
before testing it to an audience. Than we often improve it. Some song have been improved even a long time after 
recording sessions, we don't change the structure but try to add stuffs because we finally realize that some parts of our 
proposition are like unfinished. 

Simon (Drums) : Having fun is my main point. I like to modify our interpretation in live and taking risks. I think a song 
will always change. 
Has the band tour? What has the touring experience been, best shows? worst shows? 

Olivier (Bass Guitar) : We had some gigs this year and tried to get out of our surroundings and meet another 
audience. we have played around 20 concerts now, and the worst for me is the night at cransac (12). We were playing 
in a pub-restaurant during people was quietly eating. We didn' fit at all to the context, we just felt alone and had the 
sensation to disrupt. 
Simon (Drums) : Best: Theminettes and St Cirgues. Worst: the first music day at figeac. 

What's up next for the band? 

Olivier (Bass Guitar) : During winter break we forecast to write new songs for 2023, our set has to evolve, probably 
some old songs will be thrown out. We also work with "les docks", a place in cahors (46). They coach us to improve our 
live performances.