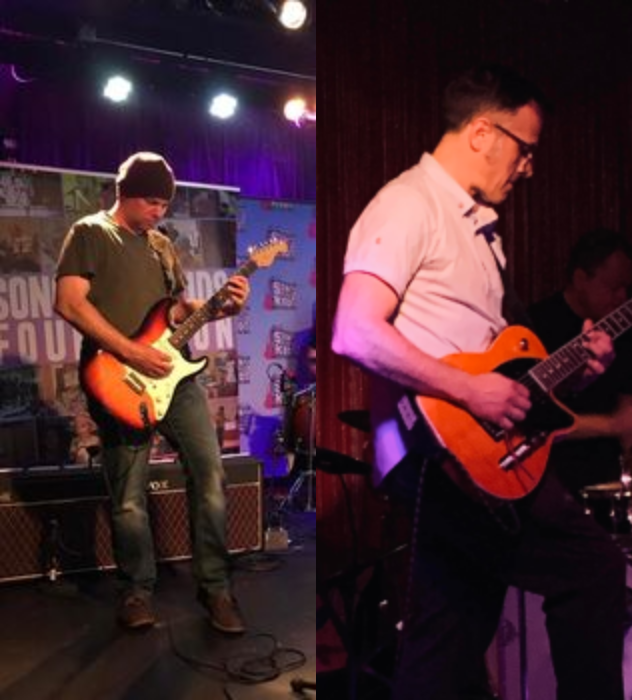 The Fondeleros self-titled 9-song debut, dropping November 4th, is the product of two music junkie friends, Van Kapeghian (furiousBall, Camino Sound) and James DuBois, both formerly of 13 Stories and The Palletjacks, reconnecting in 2020 after losing touch for almost a decade.   Following some lengthy conversations about shared favorite bands like Radiohead, Wilco, Pavement, Widespread Panic, et al., the two friends discussed writing and recording some original music.  But how to do it?  Being 800 miles apart, particularly in May 2020, meant home studios and file-sharing…as well a slow pace.  And while recording and mixing the songs was a 21st century process for sure, the themes in these songs -  joy, consequence, temptation, heartbreak, luck - aren't new; and the music has a vague sense of familiarity, as well as the feeling of connection.  Some have described the sound as "classic new rock"...and that's just fine with The Fondeleros. 
1. How did you first get involved in music in any capacity? 

James: Middle school band playing the trombone 

Van: One day while at a mall in southern New Jersey with my Dad, I spotted a sparkly Kiss belt buckle. I didn't know who Kiss was in any regard, but I had to have that belt buckle. My dad caved that day, and a week later he brought home a copy of Kiss Alive II and I was hooked. I wanted to grow up to be Ace Frehley. 
2. Previous musical projects? 
James: 13 Stories is the only previous project of note.  In high school some guys were looking for a bass player for their band.  I lied and told them I played bass.  I bought a Mako bass and a Peavey 50W bass amp that afternoon for $125 and figured it out enough in 3 days to pass the audition.   
Van: My parents bought a baby grand piano for their home. My sister and I were then promptly signed up for lessons with our next door neighbor. I didn't expect to love the instrument, but I did. That same baby grand is in the front room of my home today. 
3. First concert that you ever went to?
James: Van Halen 
Van: Kiss on the Dynasty Tour (1979) with my dad. We sat in the very last row of the upper deck of the Philadelphia Spectrum. 
4. What's your writing process like?   
James: Remote but organic. 
Van: All of my ideas come from my Loops of the Day that I post on my Instagram. I'll send links to a few ideas to Jimmy, he'll pick what he likes, and then I'll work those ideas up into 8-16 bars of an idea. We then pass the songs back and forth, adding as we go. 
5. What other artists or songs inspire your music? 
Artists: Wilco, Pavement, The Replacements, Widespread Panic, Radiohead, Cage the Elephant, Modest Mouse, Tame Impala 
Van: When Jimmy and I were playing in The Palletjacks together in Athens, Ga. We would take these late night drives to Athens listening to tapes along the way. I learned so much more about bands like the Dead and Phish from Jimmy. 


6. What's the live experience like and your philosophy on playing live? Do you think the music live should be identical to the recorded version or should it be it's own thing?  
James: If we played live I would want it "to be it's own thing". 
Van: I agree, It would be tough to logistically work out a live show, but I would love it. I definitely don't worry about recording songs that can't be reproduced perfectly live. I find that challenge to be really exciting. How can we make this something else so that it isn't dependent on the recorded parts, but still maintain it's identity. That shit is awesome. Real inspiration can come from exercises like that. 
7. Has the band toured? 
Van: We have not as The Fondaleros. This all came about from both of us wanting to do something while cooped up during the pandemic. 
8. What's up next for the band?   
Van: Double Album, definitely. Like 20+ songs or something. It could be divided up into a couple of EPs initially. We will just have to see how it cleanly chunks up into portions. I want to keep writing and writing.