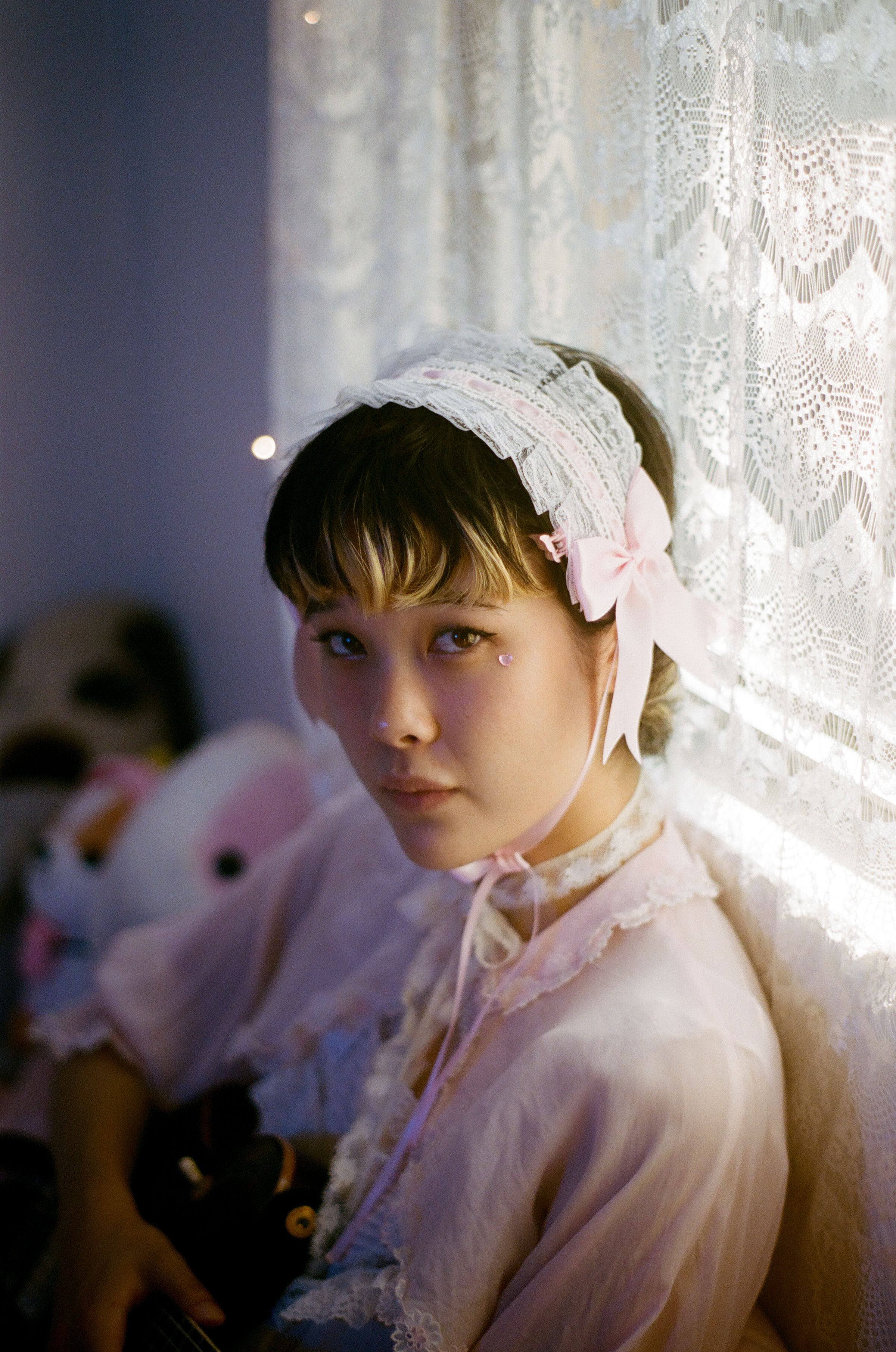 photo by Deanie Chen
 
Mei Semones is an artist creating jazz influenced indie pop songs with lyrics in both Japanese and English, currently based in Brooklyn, NY. Drawing from her background in jazz guitar and her Japanese heritage, she uses creative harmonic and rhythmic concepts and two different languages to write her songs. Mei's influences include John Coltrane, Wes Montgomery, Thelonious Monk, João Gilberto, The Smashing Pumpkins, and Nirvana, with a sprinkle of folk. Drawing from these different influences, her music incorporates a variety of genres. We were blown away by her music and needed to know more!
1. How did you first get involved in music in any capacity? 
My grandma bought me and my sister a piano when we were 4 years old, and I started taking piano lessons then. I switched to guitar around the age of 11 and have been playing guitar ever since. What first inspired me to play guitar was that scene in Back to the Future where Marty plays the Chuck Berry tune, Johnny B. Goode. 
2. Previous musical projects? How'd you first get into music? 
I started writing songs when I was in middle school, and I was introduced to jazz in highschool, after which I decided to attend Berklee College of Music and pursue a career in music. In highschool I played guitar in jazz combos at school and was in a R&B/pop band called Rosewood. I started releasing music under my own name sophomore year of college in 2020, and although I had written many songs previously and had been a part of some other musical projects, my first single, Hfoas, was the first time I felt like I was finding my own voice and sound. 
3. First concert that you ever went to? 
Honestly, I think the first concert I ever went to was Bruno Mars. Other than that, I went to my dad's concert band shows from a young age, in which he played euphonium. 
4. What's your writing process like? 
I usually start with chords, and then the melody comes from the harmony. Then I write lyrics to that melody. My choice of Japanese or English lyrics usually comes naturally (whichever language feels the most comfortable and easy for that part of the song), but sometimes I'll plan out the structure of the song (in terms of language) if I want a certain part of the song to have a specific impact. A lot of the time my inspiration for a song will start with something new I learned on the guitar, like a new voicing, a harmonic technique or snippet of a chord progression, an unusual arpeggio, etc. From there I write the rest of the song using my ear, and if I get stuck, music theory and harmonization/reharmonization of the melody, as well as development of motives and thinking about how to use repetition and contrast. 
5. What other artists or songs inspire your music?
I'm inspired by classic jazz and bossa nova artists, like John Coltrane, Jim Hall, João Gilberto, Wes Montgomery, Thelonious Monk, etc. I'm also inspired by my friends a lot. Specifically for the song Okashi, I was inspired by The Brazen Youth (who I play guitar for) and Clifford. Shinju, the other song on the double-single, has a bossa nova influence, mixed with some indie rock, which is the genre that a lot of my friends play. I've also been a fan of Nirvana and the Smashing Pumpkins since middle school. 
6. What's the live experience like and your philosophy on playing live? Do you think the music live should be identical to the recorded version or should it be it's own thing? 
I love playing live. It's so much fun to share my music with others, and my band is made up of some of the most amazing musicians I've ever met. Every time I play with them I am blown away by their musicianship, and although I get nervous on stage I feel very comfortable playing with them because I know they have my back. I don't think live music needs to be identical to the recorded version, but I also don't necessarily think it needs to be its own thing either. For my music, the live arrangement is very similar to the recorded version so I think it translates well. 
7. Has the band toured? What has the touring experience been, best shows? Worst shows? 
I haven't yet had the opportunity to tour with my own band, but I've been on tour as a guitarist with one of my favorite bands, The Brazen Youth. It's lots of fun and I hope I can tour with my own music soon too. 
8. What's up next for the band? 
After this release, I'm planning on finishing writing some new songs in the next couple months, recording demos, and hopefully getting into the studio and recording them by the end of the year. It would be great to have another project out early next year or in the spring -- I'm super excited about the new songs I've been writing. I can't wait to hear what my band will add!!!