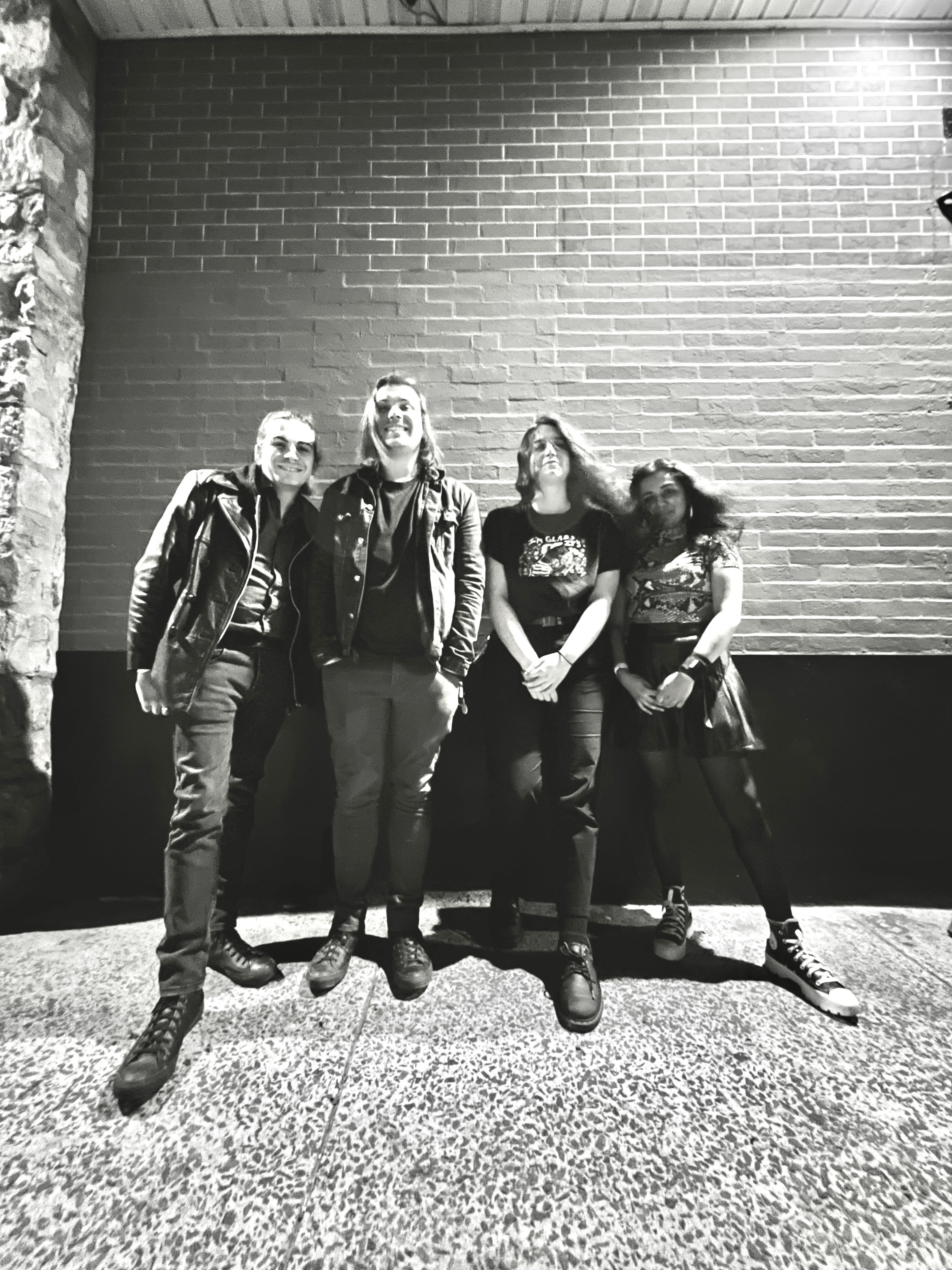 Dog In A Man Suit describe themselves as "riffy alternative rock/post-punk band currently based out of Jersey City and are WOC + non-binary fronted." It's really just good old rock n roll and it's a fun listen. Their previous release "Trapped!" is gaining some steam and next month on October 2nd you can catch them at Purgatory in Brooklyn or  October 27th you can catch them in Jersey City at Pet Shop! We got a chance to catch up with the band and learn about the band name, their writing process and what inspires them among other things. Here's what they had to say: 
1. How did the band form and what does the band name mean? 
The band name is based on the TV show Wilfred in which the main character sees his neighbor's dog Wilfred as a grown man dressed in a dog suit. We thought flipping it to "Dog In A Man Suit" was funny and evoked a vivid image. It could be imagined as kind of grotesque, but it could be interpreted metaphorically as well. Like the sense of not belonging or others perceiving you as something entirely different than what you actually feel you are.  
We've known each other for a long time. Billie and Chris are siblings so obviously, they grew up together and have been playing music together for years. Anjali met Billie and Chris at the Princeton School of Rock in 2010. It's a performance-based music program, so we all played shows together in different formations. We liked a lot of the same emo/pop-punk bands from the 2000s, so that bonded us initially. Billie and Anjali started dating towards the end of their time at SOR too. We each had our own musical projects outside of the school at the time, though. It wasn't until a couple of years later, after Anjali moved to Boston for college, that she and Billie started writing music together long-distance. The idea of Dog In A Man Suit came together during that period, but it wasn't possible to materialize because of the distance. It became something we'd always talk about wistfully until Anjali moved down to Brooklyn in 2017 and we decided to finally make it real.  
It was sadly stop and go for us a long time, because we struggled to find a drummer who stuck around - we literally went through 7 different drummers in 2 years. So even though we had a lot of music written and released a couple of EPs, it was difficult to keep up the momentum as a band. We took a long break during the pandemic because we were kind of disillusioned, even independent of the whole apocalypse vibe, but at the beginning of 2022, Lexi joined us on drums and she's been a really awesome addition to the band. Again, we all grew up on the same music, so there's a lot of synergies musically. It's been amazing to get to play a lot of shows this year and play some new places around Brooklyn, Jersey, and Philly that we didn't get to pre-2020.  
2. Previous musical projects? How'd you first get into music? 
Billie: Middle school was probably when I started wanting to do music as more than an audience member. I remember watching a lot of music videos on MTV or VH1 after school. Seeing bands like My Chemical Romance, Green Day, Panic! At the Disco, and Fall Out Boy made me want to pick up a bass guitar laying around in my basement.  
Chris: Basically what Billie said.  
Lexi: I have two uncles that play drums, my grandpa was in a barbershop quartet, and some other members of my family are instrumentalists, so music was always a part of my life. I started taking drum lessons when I was 9 and never stopped.  
Anjali: My great grandfather was a singer and my uncle is pretty musical, but no one else in my family is or was a musician. I didn't have a lot of guidance in that department. But I started lessons in Indian classical music when I was 6, which I continued for about 10 years as a vocalist. Somehow in the midst of that, I decided I wanted to play guitar. Hearing bands on the radio during that time influenced me - Panic! At the Disco was my first big obsession. I was kind of an angsty kid and didn't have many ways to channel it, so it wasn't too long before I started writing songs with super convoluted lyrics myself.  
We are all concurrently doing other musical projects: Billie and Chris are in a punk band called True Will. Anjali plays guitar in Brooklyn-based bands Endearments and Joyce. And Lexi has a band called Grayling, based in Philly.  
3. First concert that you ever went to? 
Billie and Chris: Green Day at The Spectrum in Philly with The Bravery opening. It was a stadium show, so it was so massive and for us as teenagers that was awesome. After seeing videos of big arena shows like Queen at Wembley, it was cool to actually see a band in a similar sort of stadium setting.  
Anjali: My parents took me to a concert at Giants Stadium called LiveEarth, which was a benefit concert to fight climate change. To be honest, I was not a little climate activist and I was just there because Fall Out Boy and Taking Back Sunday were playing. My parents wouldn't really let me go to shows alone with my friends as a 12 year old, so it was kind of my only path to see some of the bands I loved at the time. I remember we were sitting in the stadium really far away from the stage and I danced around in my seat and sang along really loudly, which the people around us found hilarious.  
Lexi: My first concert was Aaron Carter, unfortunately. 
4. What's your writing process like? 
Anjali and Billie co-write most of the songs. One of us usually has an idea sketched out, but then we come together to add and layer different parts. That's usually when a lot of the interesting parts come together - when someone throws in something way out of left field that the person who wrote the idea never would have done. Because of our close relationship, we know each others' stylistic influences and our evolving music tastes are on each others' radar. So we find that it flows really easily. The general crux of a song is pretty far along when we bring it to rehearsal. Lexi and Chris are usually really quick to pick up on the vibe of a song and come up with parts that tighten things up or make the sounds really gel. For the next release we're working on, we'd like to make it more collaborative. Chris wrote "Can't See It Changing" from our newest EP Trapped! which is such a fun song to play. Everyone in the band is a talented songwriter so we'd love to incorporate more of their voices.  
5. What other artists or songs inspire your music? 
So many! We've recorded all our EPs so far ourselves, so we've used a lot of the bands on the playlist as references for various aspects of the sound. The way that The Strokes and Speedy Ortiz layer their guitar parts is a big influence on the way we write and track guitars. MCR is a big guitar influence too - Frank & Ray always occupy different spaces in the mix of MCR songs. Screaming Females is another big influence. Chris is a very melodic bassist and songs like "Ripe" perpetually make their way back into our inspiration tracks. They have really different playing styles but the way they're layered creates a sound that's both huge and intricate. We always pan and EQ our guitars in a certain complementary way to create a similar effect. We bring in influences from Queens of the Stone Age - we really love the drive of their songs - they're kind of relentless. We have quite a few songs that drop beats and momentarily shift the meter - like the song "Weirdos" from Trapped!  Anjali has done that for a while now in her songs, maybe from the Indian classical rhythmic influence. But we also have leaned into that after getting really into PUP. Some of our heavier influences like Baroness and Thin Lizzy come through in songs like "Lines" and "Floodgates" in the guitar harmonies and dynamics of the drums.  
6. What's the live experience like and your philosophy on playing live? Do you think the music live should be identical to the recorded version or should it be its own thing? 
Live will always be its own thing. We do try to recreate certain parts live, but it will inevitably be different because of the people there and your mood, and just the day. Trying to contain or tame the sound to mimic the record usually doesn't land either because it's more about how the feeling gets across. We just try to bring a lot of energy to every set and always look forward to shows - getting to experience it together as a group and with whoever is there. Now more than ever, after not being able to play for 2 years, we wanted to make it a point to play as much as possible this year.  
7. Has the band toured? What has the touring experience been, best shows? Worst shows?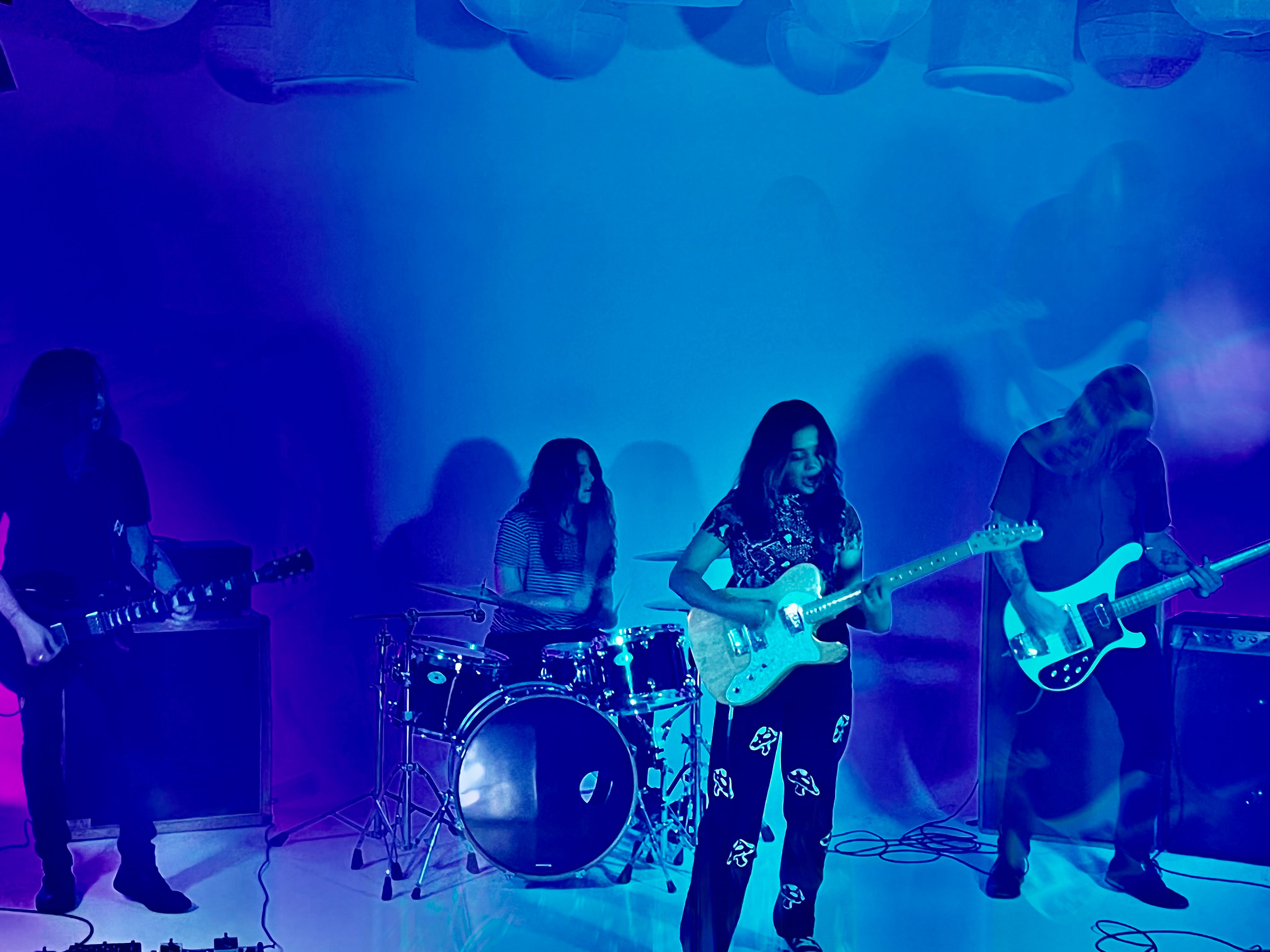 We did a short one back in 2019 after coming out with our EP "Screaming", which was about a week long and we did quite a few house shows as part of it. The best one was probably the first - which was a house show we played in Philly at The Root Cellar. It had that first show energy and we played with some sick bands. Everyone at Root Cellar was very welcoming even though it was our first time there. We also played at Crafts House in Massachusetts, which is a co-op that's part of Tufts University. That one was cool because Anjali used to live there in college and being in the same space again brought up a lot of memories.  
At one point we played in Burlington, Vermont. It was March and freezing, and we had to drag our gear into a basement through the snow. When we got in, it immediately had a frat house kind of vibe. We went on first and we'd never been to Vermont before, so there were only a few people there. After us, there was this party band playing covers and the place was packed, but immediately after their set, everyone filed out and didn't seem to stick around for the rest of the bill. So it was a bummer, but made us appreciate the awesome house show hosts we've met who put a lot of thought and care into cultivating a community in their space, where people show up excited to hear new bands and new music.  
8. What's up next for the band? 
We just shot a music video a couple of weeks ago for "Weirdos" so that will be coming out soon! We have some upcoming shows at Purgatory in Brooklyn on Oct 2 and QXT's in Newark Oct 9. And aside from that, we've been working on an album. It'll be our first full-length and we've been approaching it as having an overarching narrative and thinking of the relationships between each song. It's been a fun year so far and we're hoping to keep it going. 
https://instagram.com/doginamansuit_ 
https://www.facebook.com/doginamansuit 
https://bandnada.com/b/doginamansuit