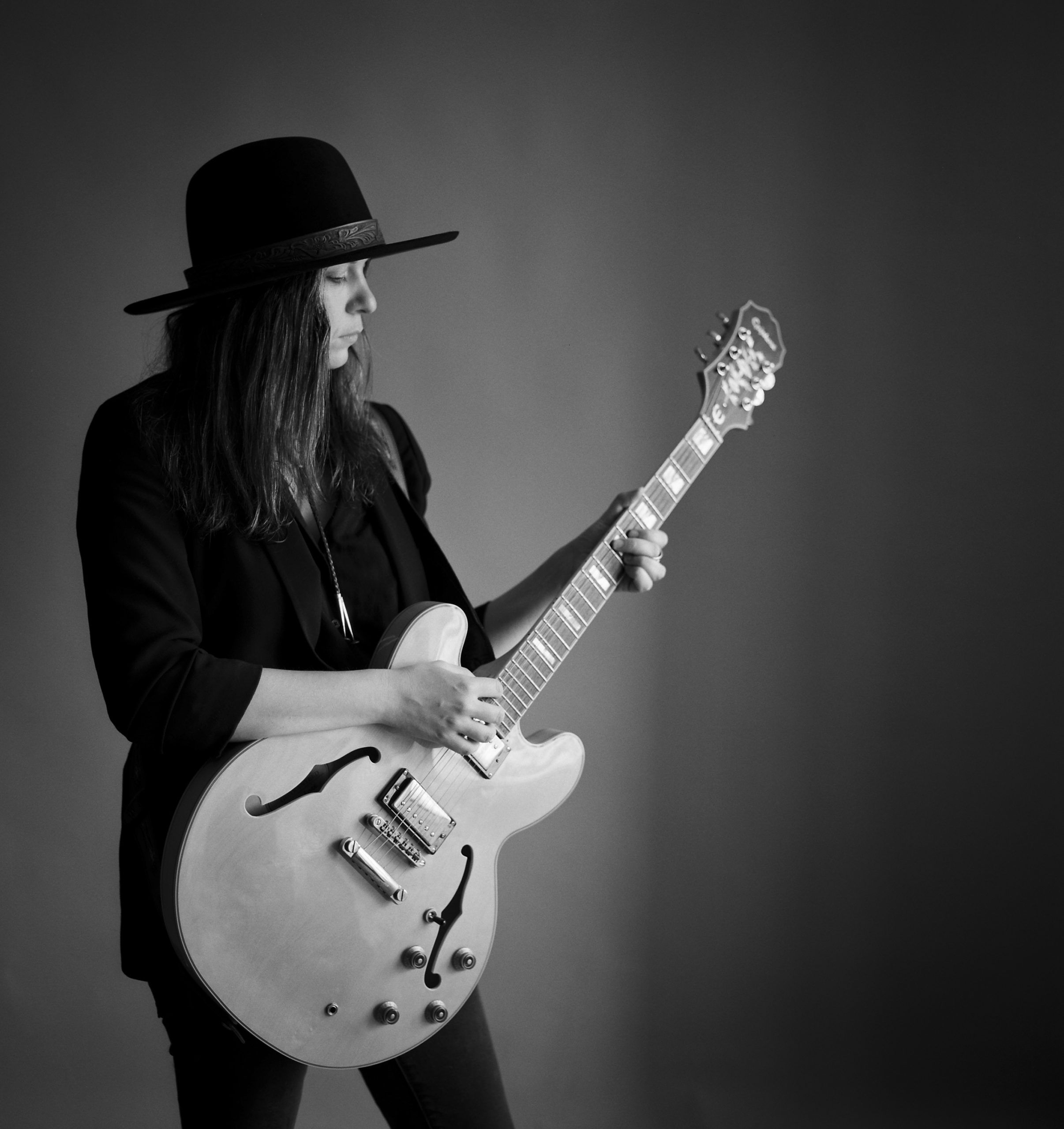 Songwriter Renee Maskin, photo by John Decker
Anyone who has been around Asbury Park New Jersey has heard of singer / songwriter Renee Maskin or at the very least they know her as "the girl in the hat". Renee Maskin is known as one of the best and most prolific songwriters in the town that Bruce Springsteen made famous, it's almost impossible to talk music in Asbury without hearing her name. Renee used to front the band Lowlight as they made waves opening for The Pretenders and on the Sea Hear Now fest. Maskin has branched out on her own over the last few years to pen some of her best work as a solo artist more in the folky Americana vein. Today we got to ask Renee some questions and we get to premiere her brand new track "Blue Without You", we hope you enjoy it: 

1. Why did you decide to go solo and is it easier than playing in a full band? 
I've been playing solo gigs since I was a teenager. After the pandemic lockdown, with a lot of time to myself to reflect, I decided to start putting records out under my own name. It was a long time coming, and I'm glad I finally got the courage to take that step. 
2. Previous musical projects? How'd you first get into music?  
I took my first guitar lesson when I was 13 years old, and that day some friends and I started a band. It lasted all of the rest of the afternoon. But I got the thirst for it. The bug to write and the bug to start projects. 
I've played in all sorts of bands and projects, most recently I fronted Lowlight. We put out some great records, played the Sea Hear Now main stage, and did an east coast tour with the Pretenders. Before that, I played in a prog punk band for a long time called Fun Machine. I'm a long way from prog these days, but I formed friendships in those years that have led to collaborations that are happening right now. It's amazing and kind of funny how gigantic and also how small the world of music can feel.  
3. First concert that you ever went to? 
Oh god, The Offspring at Roseland Ballroom. Thank goodness I can chock that one off to being a kid with undeveloped taste. I'm sure I was at concerts before then, but that's the first one that struck me as being a big music event.  
4. What's your writing process like? 
I've developed a routine of starting every morning by writing in some capacity. I wake up, fumble around for coffee, and get out a guitar. The chords generally come first, although the words are really what make the whole process fulfilling for me. When I get the words right, that's the drug. 
5. What other artists or songs inspire your music? 
I always go back to Bowie. "Blue Without You" is me thinking about "Sound and Vision" from Low and "Stay" from Station to Station. They're clearly different songs. What they mostly have in common is a loneliness and a longing that you can find woven into a lot of Bowie's work.  
I like a lot of seemingly disparate music. If I could get Brian Eno, Willie Nelson, Felt Kuti, and Bob Dylan to have a party in some kind of universe, I would be stoked. Lately, I've been listening to a lot of Mazzy Star and Widowspeak. I feel like I could be their classmate, vocally speaking. I'm also always thinking about sonic textures. My initial recording thoughts are to make a singer songwriter record like Pink Moon, and then some voice in my head says "wait, what about a synth part?".  It's silly. But it's fun. 
I'm not sure how it all translates exactly, the elements that go into the blender of my thoughts and wind up some kind of "Renee Maskin" song. You can't necessarily hear it all in a literal way. And that's probably better. 
6. What's the live experience like and your philosophy on playing live? 
The songs are sometimes heavy, but I try to keep the banter light. Although my humor is particular and doesn't always land. I've come to realize that stand up comedians are the true masochists of the performing arts, and I admire them but I do not envy them. 
7. Do you think the music live should be identical to the recorded version  or should it be its own thing? 
I don't generally subscribe to absolutes. Dylan's Rolling Thunder Revue is proof enough that you can throw out the studio script. Conversely, one of the best shows I've ever seen was Gillian Welch and Dave Rawlings. They are so tight on their records, it's stunning to see them do it live. 
For me at this point, my sonic ambitions on the recordings exceed the amount of hands I generally have on deck at a show. So it's not the same listening experience right now, and I'm more than comfortable with that.  
8. What has the touring experience been, best shows?  worst shows? 
Playing has been good! I feel like I'm finally coming into my stride again after lockdown. The best show of 2022 for me was opening for the legendary Jon Langford of Mekons / Sadies / Waco Brothers at the Old Franklin Schoolhouse in Metuchen, NJ. Jon is a really cool, funny guy. And the Schoolhouse is a special room if you can ever catch a show there.  
I can't recall any recent bad shows. There was a weird moment at one a few months ago. Some ladies were on one of those drunk carts that you have to pedal as you get trashed. They piled into my gig without a lot of self awareness of listening room etiquette. Although I think that situation was more awkward for the rest of the audience than it was for me. I just thought it was funny. 
9. What's up next for you? 
I'm psyched for Dreams A River to be released in full in November. I've got a full-band album on its heels in 2023 with Mike Noordzy and Ben Ross. Just generally keeping my label, Mint 400, on its toes. I'm also so psyched to be a part of the Late Night lineup of Sea Hear Now in Asbury Park. Those shows are always a party. Come say hi if you're in town for the festival, I'm friendly. 


And now for the first time anywhere "Blue Without You" Premieres exclusively here, full EP coming in November: